The Giselle that I have reviewed was a sample vibrator, and so it lacks the retail display packaging that it would normally arrive in and so I have had to be cheeky and borrow a pic from the Latex, Lether & Lace website to show you how it would come.
Everything that I have ever received from Latex, Leather & Lace has been well packaged and very discreetly shipped to me, and so you can rely on them to provide a discreet service to you.
You are probably thinking "not another rabbit vibe", and I have to admit that when I first saw it, I thought the same. But specific features on it caught my eye and drew me in.
The long rabbit ears looked interesting; I could imagine them nestled wither side of my clitoris. That left me wondering if the motor would be strong enough to give these long ears enough oompf or not.
It was when I started playing with the controls that I was amazed though. On the long gently curved shaft, there is a fantastic feature. I knew a vibrating motor would be there as this rabbit has two motors. I wasn't expecting to see a little ball moving back and forth under the silicone skin almost becoming me fourth like a finger making a come to me gesture.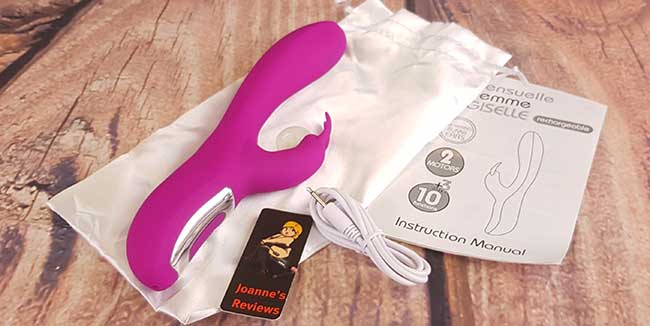 You get the Giselle, a storage bag, charging cable and instructions
I was immediately curious as to how this would feel nestled against my g-spot rubbing it gently.
I always charge new sex toys when they arrive, and this time I felt that time dragged while waiting as my mind was racing as I have never used a sex toy with a feature like this and it is always good to try new things.
Charging was easy, insert the included USB cables plug into the small hole in the base of the rabbit and wait, with your curious mind racing wait and then wait some more. Charging takes around two hours, and that gives you an hour of playtime. Once charged I couldn't wait to try it out.

The charging socket is easy to find
Traditional Shape
The Giselle is a traditionally shaped rabbit vibe with the controls near the base, and a clitoral stimulator rising from the shaft ending in bunny ears that flap and vibrate when in use. The shaft measures in at 9"/22.9cm long of which you can insert 5"/12.7cm, the widest part of the shaft has a circumference of 4"/10cm which makes it a pretty standard size. You get a very nice silky drawstring storage pouch which is a nice touch.
The long shaft is a nice change from some of the shorter rabbits that often leave me wanting more penetration. I love the fact that the clitoral stimulator is on a flexible shaft which makes lining it up with your genitals easy. Fixed shafts are terrible as we all differ in sizes and dimensions down there so it's nice to have a rabbit vibe that I could manoeuvre into position quickly and comfortably.

The rabbit ears are long and deliver some delightful sensations
It is constructed out of ABS and silicone, both of these materials are non-porous and body-safe which is fantastic, they are also latex and phthalate free. The silicone is very soft and silky but has a matte look to it that isn't as grabby as other silicone sex toys I have used. I love the colour and this sex toy gets a big thumbs up from me for its materials. Always opt for non-porous sex toys as they are so easy to clean and don't harbour bacteria.
It is fully waterproof, so you have no excuse for not giving your pussy some extra pampering the next time you are in the bath.
Powerful Clit Action
I was thrilled and impressed by the power of the clitoral stimulator element of the Giselle; the rabbit ears flap around as though they are on speed and the feeling of them caresses my clit is amazing.
I usually go for strong, steady vibes when enjoying a rabbit but some of the patterns on the Giselle feel just so good, I can lay there forever just enjoying having my clit pampered by the Giselle.

The Giselle is stunning in its silicone beauty
The controls are easy to use, and you can quickly cycle through the four steady speed settings and the six patterns of vibration so see what suits your mood. I have had some very lovely orgasms just using the clitoral stimulator while feeling full with the shaft buried in me.
Where Did That Ball Go?
I was surprised that when using the g-spot stimulation feature, the feeling wasn't more pronounced. I felt like giving my g-spot a good talking to for not paying attention, but I could feel something faint, something barely perceptible and yet I got that incredible feeling of my G-spot swelling and being pleasured.
It was strange I was getting aroused, but I could hardly feel anything and then bang a G-spot orgasm washed over me, and I lay there panting thinking where the hell did that come from?

The Giselle is a rabbit vibe that has really impressed me
I can hardly feel the ball moving on the tip of the shaft but it sure as hell does its job, throw in some delightfull clitoral stimulation from those fantastic rabbit ears, and I am writhing around on the bed clutching at the sheets as an orgasm rocks me in no time at all.
I love this little rabbit with its magic g-spot button pressing thingy-ma-jig, it really rocks my boat, and I can have quick or long drawn out orgasms if I feel like just pampering my pussy for a bit as it is so flexible.
Clean Up Required In Aisles 1,2 & 4
I find that I get very, very wet when using the Giselle and I put that down to the way it feels on my g-spot. I need to get myself a set of Sheets Of San Francisco bedding to save my sheets. Once again I find myself changing the sheets and tutting to myself for being such a messy mare.
Cleaning the Giselle is much easier than the sheets though, just wash off any vag-goo with warm soapy water and then wash it in an anti-bacterial sex toy cleaner to finish the job. Make sure that it is dry before placing it away until next time.
The Nu Sensuelle Giselle Rabbit Vibe from @LatexLeather breaks the mould, it just feels so good.
Click to Tweet

The Giselle has controls that are really easy to use
Key Features
Key features:
Medical grade Silicone and ABS construction
Two hours of charge gives one hour of play time
Waterproof
USB Rechargeable
Unique G-spot stimulating ball bearing
Two high powered motors
Storage bag included
Final Thoughts
This a rabbit that surprised me a lot, not only does it look amazing but it performs its job very well indeed. I still have no idea where that ball goes when I am using it as I can hardly feel it but the stimulation and effect that it has on me is mindblowing.
I can cum very quickly with it or tease myself over an extended period of time, and for me, that is what makes a sex toy stand out from the crowd. I even enjoyed the patterns of vibration which is unusual for me.
If you are looking for a new rabbit vibe or want an extremely capable one to add to your bedside rabbit hutch, you should give the Giselle some serious consideration. It's a little cracker.
I was sent the Giselle Rabbit Vibrator by Patrick at Latex, Leather & Lace and I would like to thank them for giving me the opportunity to review it for them.
Joanne's rating
Where Can I Get One From?
You can grab one of these amazing rabbit vibes from Latex, Leather & Lace for £74.95, they have a large range of other Nu Sensuelle vibrators that are worth checking out too.
Check them out and don't forget to tell them that Joanne says "Hi".
Disclaimer - I was sent the Giselle Rabbit Vibe to review free of charge and this has in no way affected the outcome of this review. This post contains affiliate links and if you purchase something when you follow one of these links I may receive a small commission at no cost to you. For more information check out my disclosure page.