You can always rely on Latex, Leather & Lace to get your purchase to you quickly, discreetly and in good shape. They have never let me down, and they are a pleasure to order from. Better yet drop by their physical shop in Barwell Leicestershire if you can, it is well worth the trip I can assure you.
I have reviewed a couple of other Nu Sensuelle vibrators for Latex Leather and Lace, and I really enjoyed them. Both the Remote Control Wireless Bullet Vibe and the Giselle 10+3 Function Rechargeable Rabbit Vibrator are two absolutely fantastic sex toys offering amazing performance at a very reasonable price.
The Bentlii like its cousins is also a fantastic vibrator and let me tell you why I like it so much. Firstly it is made out of ABS and 100% body safe silicone making it phthalate and latex free which is good news for anyone with any allergies. Silicone is my go-to choice for sex toys as this material is non-porous which means that harmful bacteria can't live within the surface of a silicone sex toy unlike in some other sex toy materials. Always go for a non-porous material like Silicone, metal, ABS, glass or ceramic when choosing an insertable sex toy - (rant over).
Silicone sex toys are also really easy to clean, simply wash in warm soapy water to dislodge any vag-goo and then clean with an anti-bacterial sex toy cleaner.
The Bentlii is available in two colours, Orchid and Magenta, this one that I am reviewing is the Magenta version. It comes with a USB charghing cable and a very nice satin drawstring bag to keep the vibe dust and lint free between uses.
It's waterproof and submersible so you can pamper yourself in the bath or shower and let's face it that can turn relaxing bath sessions into a mindblowing orgasmic session from which you emerge with a squeaky clean foof. I love the feeling of being immersed in hot water, and I always get horny in the bath so waterproof sex toys for me are part of my usual bathtime routine, you should try it.
You get a 1-year warranty with Nu Sensuelle sex toys so you can rest assured that the manufacturer is confident about the quality controls at their factory. I have never had a Nu Sensuelle sex toy fail on me, and that is surprising as these toys have fantastic power levels and it's incredible they don't rattle themselves to pieces in use.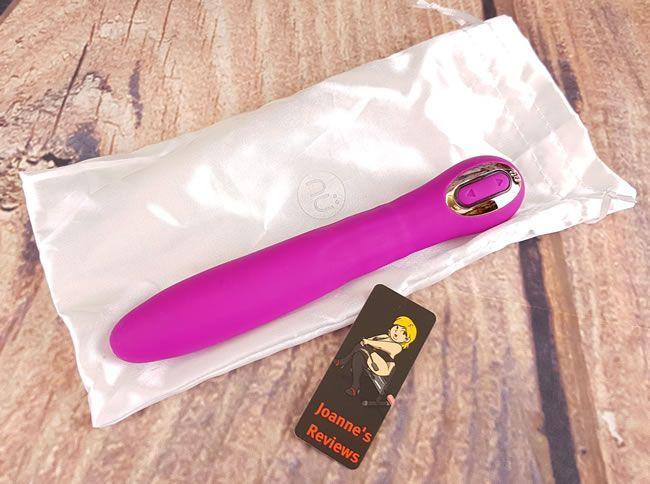 The Bentlii vibe from Nu Sensuelle comes with a branded silk drawstring storage bag
Definitely, the best thing about the Bentlii is the two powerful motors inside it. They deliver sports car like power and after switching it on mine made it all the way across the bed under its own steam. But it wasn't crawling it was jumping around, and it looked so funny. All of the Nu Sensuelle sex toys that I have tried have had these fantastic motors inside, and they really do pack a punch, delivering deep rumbly vibrations, just the sort that I love. the Bentlii has 5 speeds and 10 patterns which means everyone should be able to find a setting that they adore.
Apply that power to your clitoris or g-spot, and it's you who will be moving across the bed. This thing has power, lots of it in fact while also being gentle and discreet on the lower power levels. It is going to appeal to lots of different types of user.
The shaft of the Bentlii features ridges about a third of the way up it and these feel nice when thrusting it. The Bentlii is also flexible, and that makes it easy to line up with your most sensitive areas for maximum stimulation.
The Bentlii has a modest form measuring in at 7.5"/19cm long and 3.75"/9.5cm in circumference making it an ideal vibrator for anyone not wanting to be stretched.

Charging is easy using the included charging cable, just insert it into the hole in the base of the vibe
Charging is very easy, just insert the charging cables plug into the small hole in the bottom of the vibe and then attach the other end of the cable to a power source. A full charge takes around four hours, and that gives you one hour of play time. The Bentlii arrives with a half charge, but as with all rechargeable sex toys, you should give it a full charge before use.
The Bentlii features fifteen functions of vibration, escalation, and pulsation that are controlled by an intuitive interface located on the handle. The controls are surrounded by a rose gold ABS piece that frames them nicely and the controls light when in use, although on some settings it's a little bit like a disco down there and some people may find it a little distracting in a dark room, I like it though.
Performance
The Bentlii is a powerhouse, and I can use to on lower levels to deliver deep rumbly vibrations that I can readily control, using them to edge myself to orgasm before denying it and backing off and then starting again. When I finally allow myself to orgasm, it is amazingly strong, seeming to start deep inside me and explode outwards and upwards through my abdomen and down my legs.
I can also give myself convincing knee tremblers with this vibe, just crank up the power and I can make myself orgasm very quickly indeed. It's shape and size also makes it great for thrusting, and I love the sensation against my G-spot as I draw the Bentlii back and forward over it.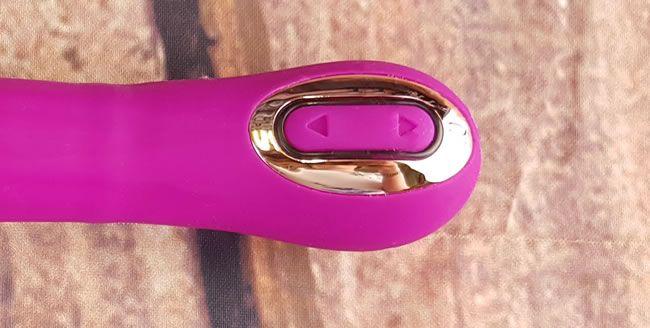 The controls on the Bentlii vibe are easy to use and intuitive
Performance usually comes with a price and that is generally in the form of noise. The Bentlii is whisper quiet though and even when on its highest power setting it is incredibly quiet, it's actually one of the quietest sex toys that I own and I have no idea how Nu Sensuelle have managed to get something so powerful to be so quiet.
The controls are straightforward to operate, and they are intuitive to use. It fits comfortably in my hand and is easy to hold during use, I can't really find any negatives about it at all.
The ability to bend it during use to target the vibrations is fantastic, and it has pretty much spoiled me now for future vibrator reviews as it is a really nice feature.
I wouldn't recommend this toy for anal use as without a broad base you risk losing it if you get carried away, but for vulva and vaginal use as well as for teasing nipples and penises it is incredible. Once again Nu Sensuelle has put a smile on the face of a hardened sex toy reviewer who is used to great toys, it's so lovely to be reviewing something that both inspires and pleases at the same time with its outstanding performance.
The Bentlii from @NuSensuelle is a powerhouse of a vibe, grab one from @LatexLeather and check out the rest of the range.
Click to Tweet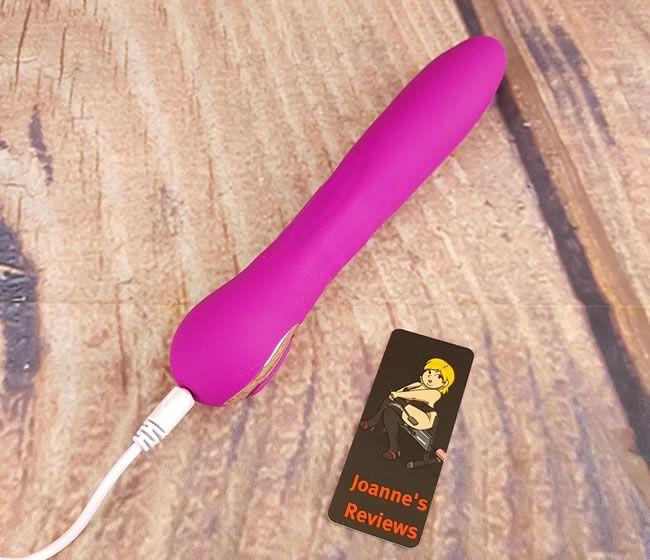 The tapered tip contains one of the powerful motors and its shape aids insertione
Key Features
Key features:
15 function rechargeable vibrator
Twin motors that are extremely powerful
Silicone and ABS means its body-safe
Phthalate and Latex free
Flexible
Two colour choices available
Easy to use controls
Extremely quiet in operation
Final Thoughts
Latex, Leather & Lace have hit the nail on the head again by stocking this great vibrator, they seem to have a knack of finding the best sex toys and lubes from around the globe.
The Nu Sensuelle range all have two things in common, fantastic power and superb performance. After reviewing a few things from the new range, these are going to be the vibes that I judge others against, and so I have no hesitation at all in giving them a firm recommendation.
If you are looking for a body-safe vibrator with lots of functions, easy controls, good battery life and the added bonus of being flexible then definitely give the Bentlii some serious consideration.
Like its namesake, the Bentlii is a classic and definitely one for this reviewers bedside drawer.
I was sent the Bentlii from Nu Sensuelle to review by Latex, Leather & Lace and I would like to thank them for giving me the opportunity to review it for them.
Joanne's rating
Where Can I Get One From?
You can grab one of these amazing silicone vibes from Latex, Leather & Lace for £63.95, they have a large range of other Nu Sensuelle vibrators that are worth checking out too. Check out the other Nu Sensuelle reviews that I have done.
Check them out and don't forget to tell them that Joanne says "Hi".
Disclaimer - I was sent the Bentlii Vibe to review free of charge and this has in no way affected the outcome of this review. This post contains affiliate links and if you purchase something when you follow one of these links I may receive a small commission at no cost to you. For more information check out my disclosure page.