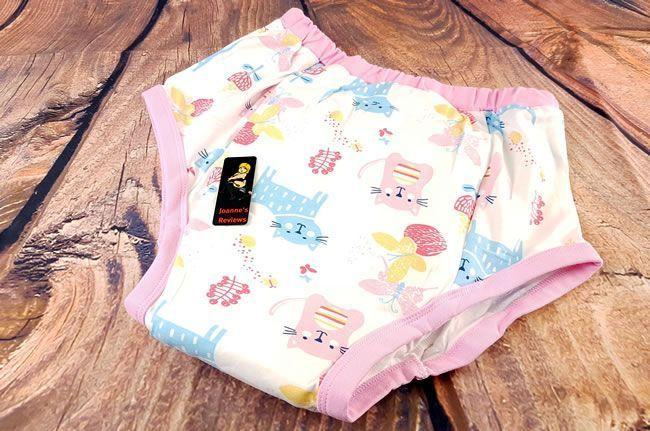 These training pants have a lovely design
About Nappies R Us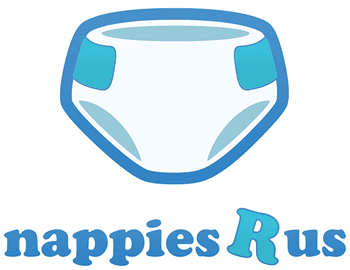 Firstly though I want to tell you a bit more about Nappies R Us (NRU). I have never seen such an extensive collection of ABDL products and especially diapers and pants. Their range is second to none, and with so many cute designs to choose from the choice is just staggering. I never knew that there were so many brands of adult diapers.
We are also reviewing two of their own range of diapers so watch out for those reviews soon.
You don't have to worry about your delivery from NRU as they are very discreet, shipping products in plain cardboard boxes of grey plastic clothing bags.
You obviously want your order to arrive discreetly, and they pride themselves on the discretion and speed of their service, and that is commendable.
Patterns and Designs
These training pants are available in five sizes (S - XXL) and five incredible designs. The one we have is the Purrty design, and it features lots of adorable pink and blue kitties, and it is finished with pink hems.

These training pants are available in five lovely designs
The five designs available are all bright and just so cute. It's hard to imagine any Little not liking any of them. Little Rae loves the Purrty design, and she also has a thing for the Dino Rawrs ones as well. There is something for everyone with the designs available at NRU.
The sizing chart is accurate, and the size we received which is the Large fits Little Rae perfectly. These pants are available in the following sizes.
S - Waist 28-30 Inches (71cm to 76cm) Leg 8.5"
M - Waist 32-34 Inches (81cm to 86cm) Leg 9"
L- Waist 36-38 Inches (91cm to 97cm) Leg 12"
XL - Waist 40-42 Inches (102cm to 107cm) Leg 10"
2XL - Waist 44-46 Inches (112cm to 117cm) Leg 11"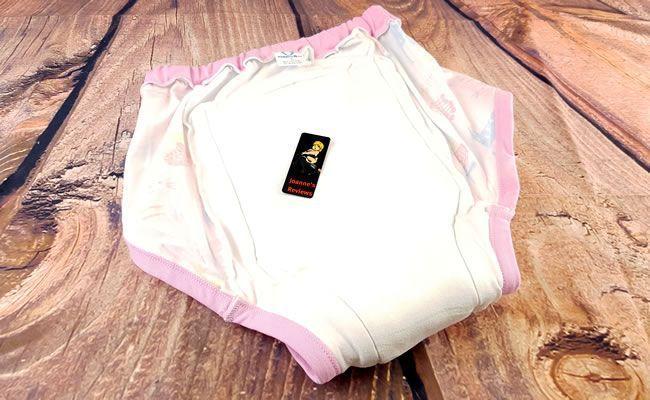 These training pants have a nice amount of absorbent padding
What are training pants?
Obviously for children, training pants are a stepping stone for weaning them off nappies and diapers. Being a sort of halfway house that gives a little the confidence of having some protection if they have an accident which helps them when moving to panties or pants.
For littles that are also very useful for the same reasons, and they are ideal for wearing under clothes in situations where a diaper or nappy would be just too bulky. They are also suitable for play sessions where a little is romping around or for tickle play where too much tickling may induce an accident.
They feature a sizeable padded section of absorbent material that is designed to cope with light wetting. They can be washed and re-used over and over again. The outer layer isn't waterproof, which is why they can only be used for light wetting, they are really intended to be worn for confidence reasons and to enable you to enjoy that padded feeling.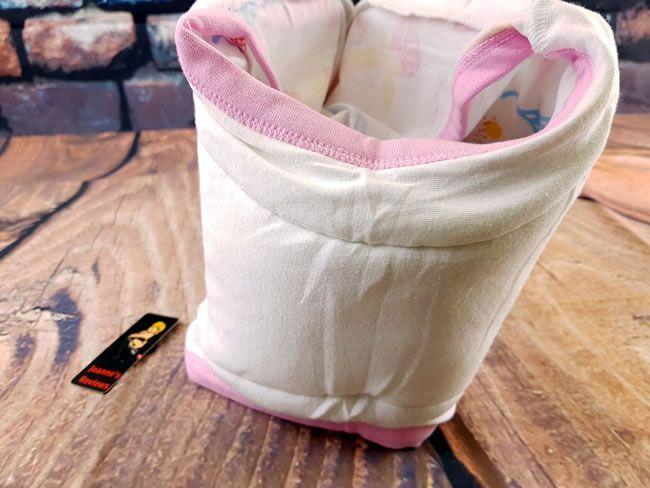 These training pants are comfortable and the absorbent padding is comfortably thick
These training pants are very well manufactured with neat, accurate stitching and the materials are fantastic. The main cloth areas are a very soft blend of 95% Cotton and 5% Elastane, this makes them very stretchy, and it makes them cling to you when you wear them.
They are gender-free with the padding suitable for all sexes. They are also perfect for older littles whose mental age doesn't really fit in with wearing a nappy or diaper. This enables older littles to still enjoy the feeling of wearing padded pants.
Confort and wearability
Little Rae loves these training pants, and she has repeatedly commented on just how comfortable they are to wear and how they give her confidence when playing.
The stretchy nature of the material makes them easy to pull up and down again, and the padded areas are comfortable. I even took Little Rae on a long walk where she ended up playing on and climbing over large fallen logs, these training pants performed admirably.

These training pants are comfortable and eaqsy to put on and remove agian
The cotton helps to wick away moisture so you stay cool wearing them and the elastane keeps then stretchy and clingy at the same time.
When tickled until she leaked, again the training pants did their job correctly preventing any noticeable accidents and soaking up anything when needed.
When wearing them they are much less noticeable under clothing than diapers making them idea for general daytime wear when out and about, and that is fantastic. Now littles can wear padded underwear at any time without worrying that someone will notice. This is good for confidence and also it allows you to enjoy your ABDL session in more ways than ever before.
The padding is just over a centimetre thick, and it extends up the front and back of these training pants.

Little Rae loves her training pants as they are so comfortable
Performance
These pants have performed flawlessly over the time that we have been reviewing them. They have now been washed several times now with no problem at all. They take a while to dry out but once dry they are as good as new.
But what if your little fancies being naughty or kinky in them?
Well, they are easy to pull to one side, but if your little likes wand style vibrators, they can be used through these pants to significant effect. You do get some deadening of the vibrations but with a wand like a Doxy Wand that is not a problem.
They can also be useful for a little that doesn't enjoy spanking, being spanked in these is very pleasant and not too stingy as they absorb a lot of energy. Your little will enjoy being spanked in them, probably giggling as your spanking has no effect at all.
They really have a lot of uses, and pricewise, while they are more expensive than single diapers or nappies, they are re-useable and so are much cheaper over time.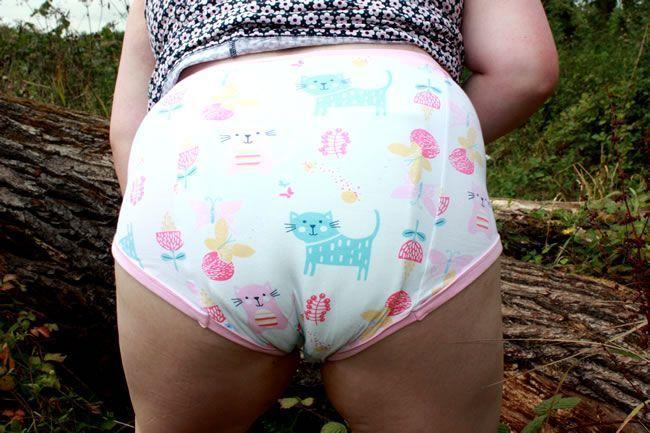 Little Rae enjoys wearing her training pants when out and about - I must get her to stop flashing her bum though
Little Rae's Thought
So what did my Little Rae think of these Training Pants?
"I really like my Purrty training pants. The little kitties on them are just so cute and the other designs look lovely too. They are really easy to put on and take off again especially if you are in a rush, and I can wear them while wearing tight trousers or dresses with no-one knowing what I am wearing. They are really comfy, and even if I have a little accident, they take care of it, leaving me free just to enjoy my playtime. I love them and wished I had a pair sooner."

Little Rae
Training Pants can be a great choice for a little who wants to wear padded underwear out and about. Check out the Purrty Pants from @NappiesRUs.
Click to Tweet
Key Features
Key features:
Very comfortable 95% Cotton 5% Elastane
Nice and thick padding that extends up the front and rear for confidence
Five fantastic designs to choose from
Five sizes available from S to 2XL and the sizing chart is accurate
Discreet when worn under clothing
Easy to fit and remove even if in a hurry
Final Thoughts
This high quality and stunning training pants do their job very well indeed. As they are washable, you will be able to use them for a long time to come.
They can be worn under clothing when out and about as they are much less noticeable than a nappy.
My little loves hers and the designs all put a huge smile on her face, these are a great investment if you are into ABDL play and want something comfortable and practical for those little accidents.
You can have naughty fun in them much more easily than if wearing a diaper and so they are perfect for littles who like to get naughty.
I have no problems giving them a strong recommendation.
I was sent these training pants by Nappys R Us and I would like to thank them for giving me the opportunity to review it for them.
Joanne's rating
Where Can I Get One From?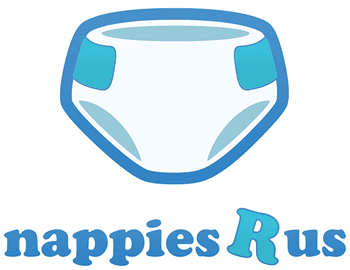 Grab one of these fantastic pairs of training pants for £16.99 from Nappys R Us. Over time they work out to be a very cheap way of wearing padded underwear as they are washable and re-useable.
Check them out and don't forget to tell them that Joanne says "Hi".
Disclosure
This review does not contain affiliate links, for more information about affiliate links check out my disclosure page.