About Bad Dragon
Bad Dragon have a great reputation for producing quality silicone fantasy sex toys, their range and service is second to none. They were founded in 2008 when there weren't many fantasy sex toys available and have carved their own niche in the market place. They offer extensive customisation of their products in terms of their choice of colours, material firmness and even custom colours.
They also offer the option of the CumTube on several dildo models. This allows the toy to shoot out CumLube (or any other liquid), Bad Dragon's own range of personal lubricant to simulate a creampie or ejaculation.
They are continually pushing the envelope in terms of materials and technology and are the market leaders, having earned their well deserved reputation for customer care and service. They have an army of loyal fans, of which yours truly is one of them.
All of their toys are made out of body safe silicone so no Phthalates to worry about, and this is another reason why I highly rate Bad Dragon.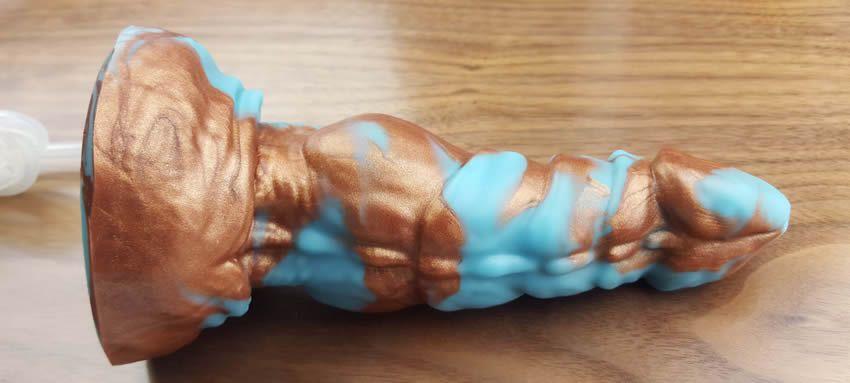 Delivery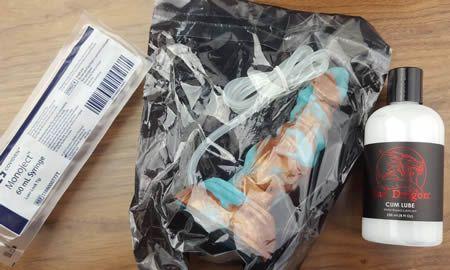 As always my package arrived without any fuss and in plain packaging however as soon as you open a box form Bad Dragon the adventure begins. They take a lot of pride in the way their sex toys are packaged. Each dildo is sealed inside its own tamper proof bag and it nestles in tissue paper which is always a nice way to present a gift let alone something you have bought.
As my Nova has a CumTube fitted it comes with 250ml (8 Fl Oz) of Cumlube and a syringe for using it. I also received a set of silicone samples so that I could get my head around the different densities of silicone that Bad Dragon use but more about these is a video that I will make later.
Features
The Nova The Breeder dildo is made form 100% body safe platinum cure silicone in two densities. The base is made of a medium density blend whilst the body of this dildo is soft silicone. I prefer harder bases as it makes mounting my dildos to my Fucking Machines much easier by using a universal mount. The shaft on the Nova is very soft and it feels great just squishing it in your hand. I couldn't wait to try it out for its intended purpose.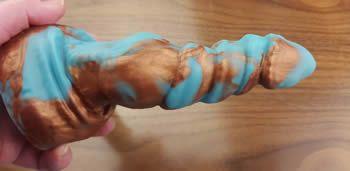 My Nova is a marble effect with gold and turquoise and it looks absolutely amazing. I love the way that the gold and the colour swirl together but they don't mix. How Bad Dragon do this is a mystery to me.
As with most Silicone sex toys the Nova can be a bit of a dust magnet so always store it in a bag once you have cleaned it. That way it will be ready to use straight away once you get in to the mood for some dragon fun. I use resealable sandwich bags for my toy collection and they work well.
My small Nova is 7" (17.8cm) long and the head is 1.5" (3.8cm) in diameter and the knot is 2.1" (5.3cm) in diameter. This makes my Nova slightly smaller than my Medium Vasu. The table shown below details the sizes available and their dimensions, there is one to suit everyone.
The Nova has lots of texture which is great for a self confessed texture queen like myself. It has a nicely pointed head and then three prominent ribbed sections followed by a knot which feels incredible.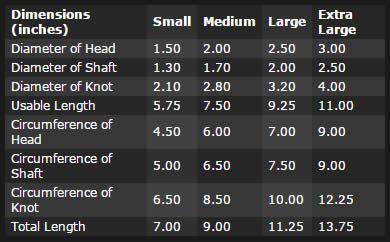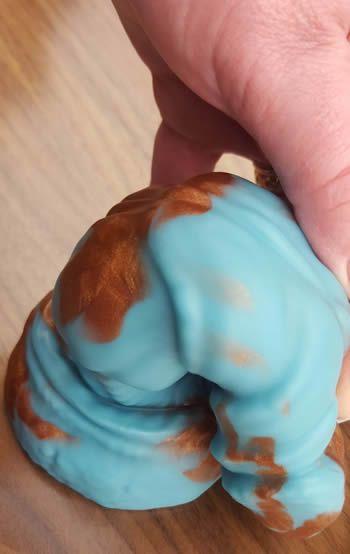 Having a dual density dildo is great as it means the shaft is very soft indeed whilst the base is much firmer so easier to hold on to. The soft shaft makes it very comfortable to use whilst still giving you the benefit of all the textures.
The small is the perfect size for me but other sizes are of course available. I can take the whole thing which feels incredible due to the knot near the base of this dildo.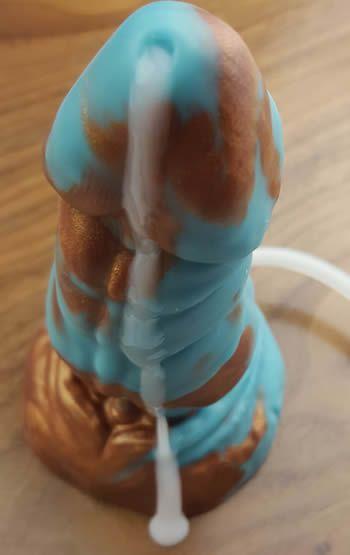 The cumtube is another great feature of this dildo. You get the option when you order of either having a flat base, a suction cup base or a cum tube. I like to opt for the cumtube for creampie fun and games. The tube is long enough to make it easy to use without it getting in the way at all. You slide the end of the cumtube into the end of the syringe and when you depress the plunger the pressure holds everything tightly in place. I have never had any leaks with Bad Dragon dildos (which is more than can be said for me afterwards).
The syringe is a nice size and can hold a lot of cumlube, just fill the syringe and connect the cumtube then slowly depress the plunger of the syringe until lube starts to trickle out of the end of the dildo. Once you see the lube you are ready to play. I love cum play and the CumTube brings that fantasy element to life for me and also is a great way of applying lube to exactly where it is needed when experiencing high speed fucking on one of my machines.
To clean just wash the dildo in warm soapy water and use your favourite sex toy cleaner on it. To clean the cumtube just fill the syringe with warm water and flush the tube through until clear.
Use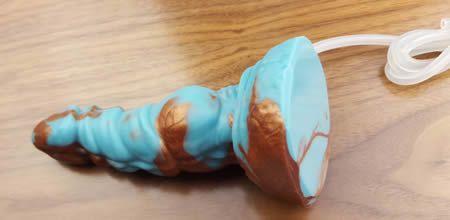 My first session with Nova was by hand and I had already filled and primed the syringe with cumlube. I let some of it run out over my clitoris and labia and I rubbed it in using the dildo.
I loved the way each ridge made me gasp as I ran it directly over my clit. I was ready in no time and let the tip of the dildo slowly part my lips.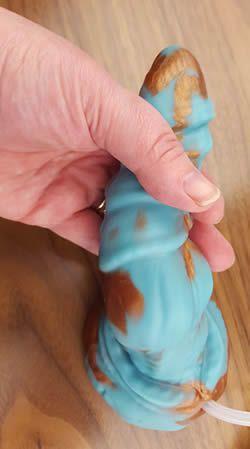 I really enjoyed the feeling of the head slowly stretching me open as I slid it into my waiting pussy, each ridge felt like another bell-end, each one was bigger than the last and it felt great. I had half of it inside me in no time at all and set up a slow and steady rhythm, pulling it almost out before sliding it back in again.
The ridges on the Nova really do feel good and I got a lot of stimulation out of fucking it. They feel great as each enters you and I can only describe it as a series of cocks going in one after the other.
I got wetter and wetter as every minute or so I pushed the plunger in a bit more on the syringe forcing cumlube deep inside of me and it started to trickle out as I continued thrusting with the toy.
It wasn't long before Nova gave me my first orgasm and I rammed the whole dildo into me just as I started to orgasm with the knot stretching me wide open and then forcing itself deeper into me as it sent me over the edge.
If you have never experienced a dildo with a knot you don't know what you are missing, it first stretches you wider than you have been used to and then your pussy actively tries to swallow the toy locking it inside you as you orgasm. I emptied the rest of the syringe into me as I came enjoying the feeling of receiving a creampie from Nova.
I just lay there with Nova deep inside me feeling very full of silicone toy and of cumlube. When I slowly pulled it out it sort of plopped out with a wet sound and was followed by a flood of cumlube, luckily I had a towel under myself to catch it all otherwise I would have had to change the bed linen.
Fucking Machine Friendliness
I then decided to try Nova out on one of my fucking machines and so I fitted a Universal Dildo Mount to my Shockspot Fucking Machine using some medical cohesive bandages to secure the dildo to the mount. I primed the cumlube syringe again and then got into the doggy position with the dildo angled correctly to be able to give me a good seeing to from behind.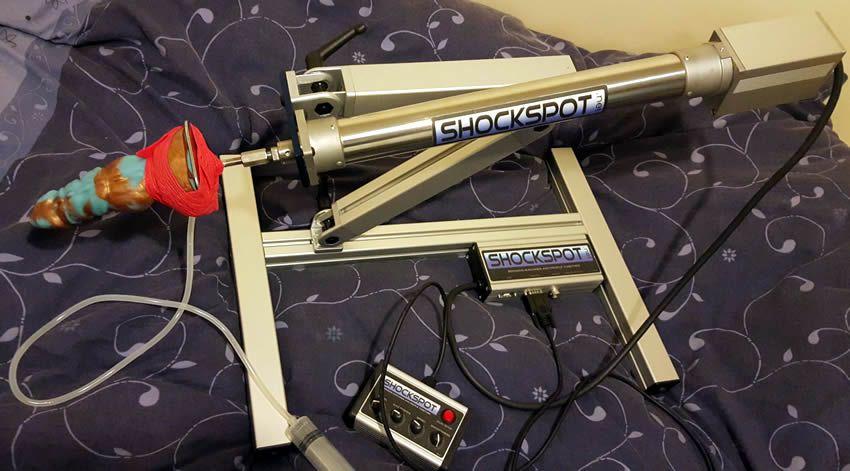 I had the Shockspot connected to my PC and had my favourite fucking session primed and ready to go, when I pressed the red go button on the handheld remote the Shockspot sprang into life. Slowly inching the toy into me and very slowly fucking me, teasing me with every stroke going deeper than the last.
I used the syringe to keep my pussy full and lubed up, relishing the noises coming from behind me as I was given a right royal fucking by this machine. I was really enjoying the texture of the Nova as it moved in and out and it wasn't long before my first orgasm washed over me but the machine didn't notice it just carried on fucking me through it.
I had my second orgasm just as the machine was really going fast and was steadily going deeper and I could feel the knot starting to stretch me open on the in stroke, this sent me over the edge and I stopped the machine and pushed myself back completely taking Nova right up me to the hilt. Again I emptied the rest of the syringe of cumlube into my pussy, simulating a huge creampie as I started to orgasm and this added to the experience sending me into a shuddering orgasm. You can't beat being fucked relentlessly by a machine and then receiving a sticky creampie at the end.
Here is a quick sketch of what I was fantasising about whilst getting fucked by Nova.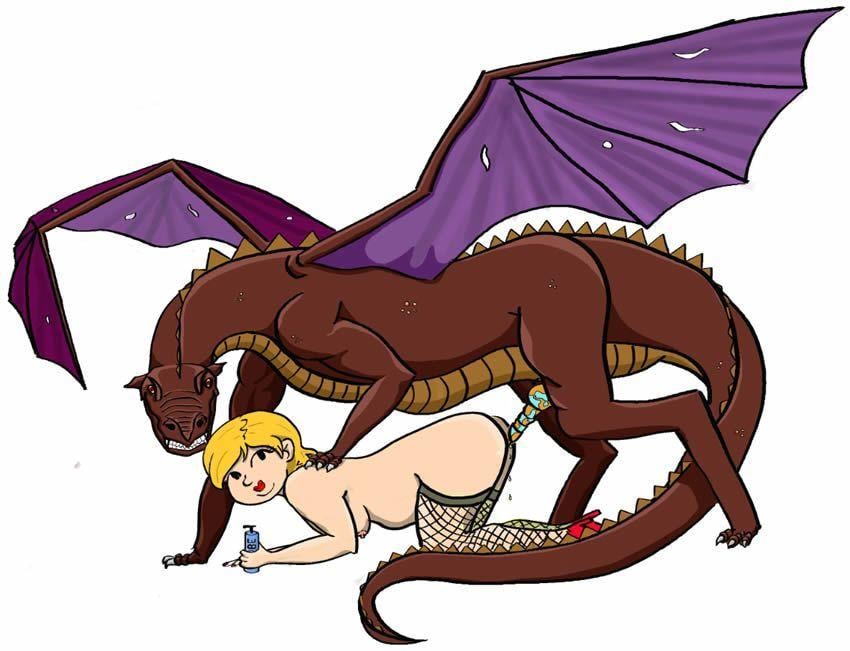 Performance
What can I say, this is the best dildo I have had from Bad Dragon (so far) and it really does tick all of the boxes for me. It has got me off many times since I started using it and each time I relish the feeling of those well defined ridges moving in and out of me. The texture and softness of the silicone is divine and I can play with Nova for literally hours without getting sore. It has left me with a problem now though as it will be hard to beat and so I don't know what to choose next to review from Bad Dragon. I am open to suggestion though so if you have a burning desire to hear about a particular Bad Dragon sex toy let me know in the comments form below.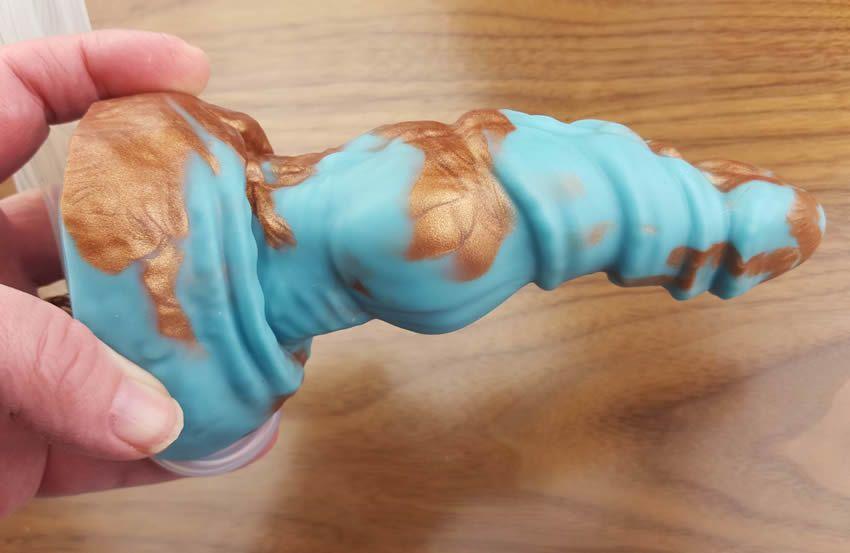 Key Features
Key features:
100% body safe platinum cure silicone
Choice of firmness ratings, I opted for a medium base and soft shaft
Great texture and different diameters
Multiple colours and base styles available
Flexible
Cumtube for creampie fun and games
Final Thoughts
All of my toys from Bad Dragon are amazing but this one is just that little bit better, with its cumtube and creampie games it is easy to see why it is called the Breeder. The body safe silicone is easy to look after, feels great and looks stunning. I would highly recommend the Nova for anyone looking for a fantasy dildo, infact I'd recommend it to anyone looking for a dildo, it really does hit the spot for me everytime.
Recommendations
I would recommend this sex toy to:
Anyone looking for a body safe silicone dildo that can ejaculate.
Anyone looking for a fantasy dildo.
Anyone looking for a dildo with a knot for fantasy tie play.
I wouldn't recommend it to anyone who:
Wants a slim dildo.
Doesn't like strong textures.
Joanne's rating
Where Can I Get One From?
You can get the Nova The Breeder from Bad-Dragon.com from $70, it's a very reasonably priced body safe sex toy. Check out the amazing range of fantasy dildos and masturbators available from Bad-Dragon.com.
I would love to hear what you thought of this review. What can I do better, what did you like? Let me know in the comments form below. Thank you for taking the time to read it. Joanne xx