Delivery and packaging
Available from Uberkinky, the fun wand came to me in a plain cardboard box which did not indicate what was inside, which is always a big plus for me as I live at home with three other people. So when my toy came in discreet packaging, it's always a big relief for me, and we don't want the postman knowing what naughty things are inside lol.
The fun wand comes in an adorable hinged box which looks fantastic. I must say that Njoy has pushed out all of the stops here. I love that the box has been designed as a permanent storage solution for you to keep your toy in which means you don't have to worry about looking for a toy bag to keep your wand safe.


The Njoy Fun Wand comes in a very ncie box
Inside the box, you get the Fun Wand itself and also a fantastic and very easy to read information booklet telling you all about it, covering things like how to wash and care for your toy as well as how to get the most out of it. So, all you have to do is get on and play with it.
Inside the information booklet, there is a part telling you all about the other products that Njoy have to offer. I must admit that I have been eyeing up their butt plugs (naughty girl) lol.
Another big plus for me is that I found the information booklet very easy to read and understand, unlike lots of the other sex toy companies instructions. I have eyesight issues, and often have to get someone else to read them for me. So I was over the moon when I opened the information booklet for the Fun Wand. I could easily read it as the font is bright and bold; it is nice to see a company that thinks about people with eyesight and other health problems.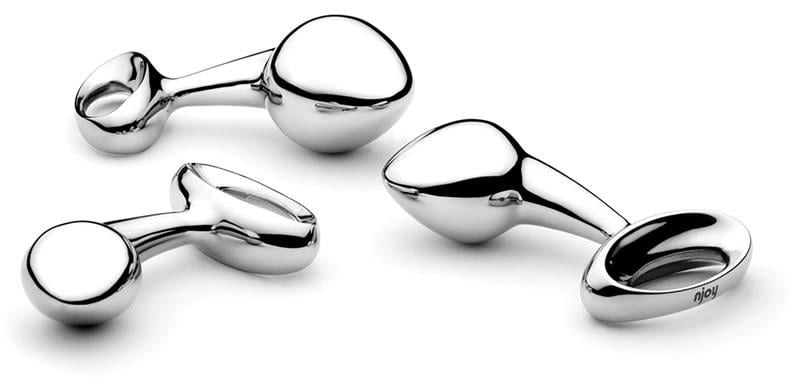 Njoy also make some fantastic looking butt plugs too
Materials and design
The fun wand is made from medical-grade stainless steel which means it is very smooth and won't go rusty over time. It will always remain nice and shiny, looking as good as it did on the first day you opened the box.
I love the shape of the Fun Wand; the dual ends provide entirely different sensations.
Product Information:
Length: 8 inches (200mm)
Tapered Tips: 1 inch (25mm) diameter, 0.75 inch (19mm) diameter
Weight: 12oz. (340g)
Crafted in high-quality stainless steelBecause the Fun Wand is made out of medical-grade stainless steel, I found made it easy to use. I didn't have to use as much lube as I usually have to when playing with dildos.
I found it hard to keep a good grip of the Fun Wand due to its smooth finish, as my hand would keep on slipping even if I hadn't used any lube. So I felt I didn't have full control over the wand at times when using it as it kept on slipping out of my hands. If you have problems gripping things, then the Fun Wand may not be for you.
I also found the Fun Wand felt quite heavy when I had been using it a while, and I had to get my partner to finish me off, but there were no complaints from him.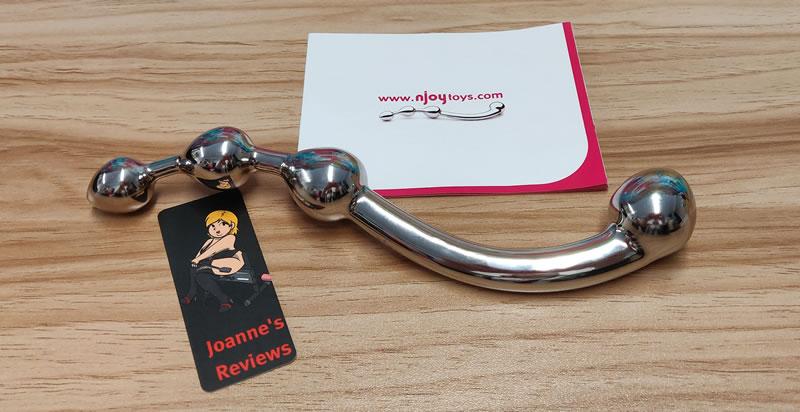 Njoy Fun Wand looks absolutely stunning and performs as good as it looks
The thing I love the most about my Fun Wand from Njoy toys is that it is made out of 100 per cent medical grade stainless steel. This means not only is it polished to a mirror shine, but it's also completely body-safe. Being both phthalate and latex free, as well as being totally non-porous.
One of the things I love the most about my Fun Wand from Njoy Toys is that it's double-ended. At one end you have got a fantastic ball that could make a nun squirt. I love it on my g-spot and can make me squirt from cold within about 10 minutes.
At the other end, you have got three small balls which I love to use anally, and they also get me off as well leaving me a hot mess and wanting more. Oh, yesssss bring on the squirts.
The Fun Wand from Njoy has been designed with the g-spot stimulation in mind. I love nothing more than placing it deep inside my vagina and letting the big ball rub against my g-spot, which will make me reach orgasm very quickly.
This is unlike me, as I usually cannot reach orgasm with just g-spot fun alone, but the Fun Wand is different. Because of this, I would very highly recommend the Fun Wand for anyone who like me can't reach orgasm through their g-spot alone.
I love to use my Fun Wand anally, and with the three balls on one end, I like to use them as anal beads. I love pushing them in and out of my anus, which feels fantastic. Giving me lots of stimulation when I need just that little bit more to send me over the edge.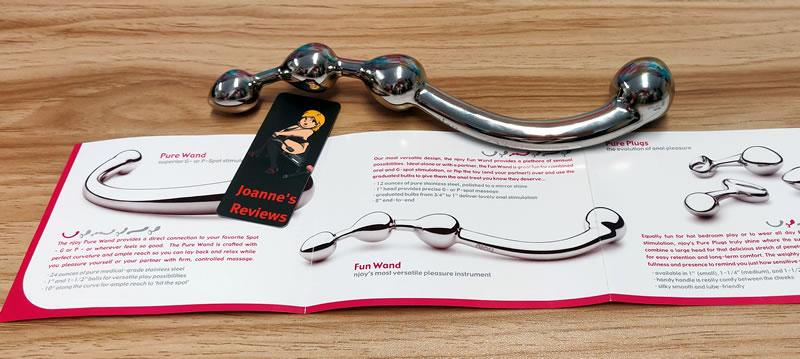 Njoy Fun Wand comes with easy to understand use and care instructions
I also love that both of the ends of the Fun Wand are curved, so it feels like it fits the internal shape of my vagina and anus better. I would very highly recommend the Fun Wand to anyone who as problems reaching orgasm through their g-spot but also anally as well.
If you are new to anal play, please take your time and use lots of water-based lube and I can't stress this enough, please take your time when you have anal play. If you don't, you can cause yourself harm.
I love to use my Fun Wand when I fancy some temperature play. As it is made out of medical-grade steel, it's perfect to just pop in the fridge if I want it cold or I can pop it in hot water for hot temperature play. I love that the Fun Wand can be used in so many different ways, and not just one like most other toys.
The fun wand is so easy to keep clean and care for. As always I recommend using hot soapy water and an anti-bacterial wipe or sex toy cleaner. You can also pop it in the dishwasher but just make sure you take it out before anyone sees your toy in there lol. Make sure that you always stay away from anything abrasive when cleaning this toy as it can take away the shine on your wand.
I love that the Fun Wand from Njoy has been designed for both male and female to use. You can even use it as a couples toy as well. I love it when toy companies design something for everyone to enjoy. So I would very highly recommend the Fun Wand to couples who want to try something new or for people who just want to kink things up in the bedroom.


The shape of the Njoy Fun Wand makes g-spot orgasms easy and so much fun
Performance
I don't know where to start with telling you just how amazing the Fun Wand from Njoy toys feels. I love to use the wand in lots of different ways. One of my favourite ways is letting the big ball rub against my g-spot; the fun wand will bring me off.
But saying that, when I use my wand on its own, it will always make me squirt up the walls very quickly, even when I start off playing from cold. So, I would very highly recommend the Fun Wand for anyone who has problems getting off thought their g-spot alone.
This is because the fun wand has been made and designed with the g-pot in mind. I will often use the wand in just the same way as I use my dildos and give myself an excellent thrusting to give myself a good seeing to.
Let's just say it was a good job I put a towel under myself as I'm a squirter at the best of times, but with the Fun Wand, I was ten times as bad lol.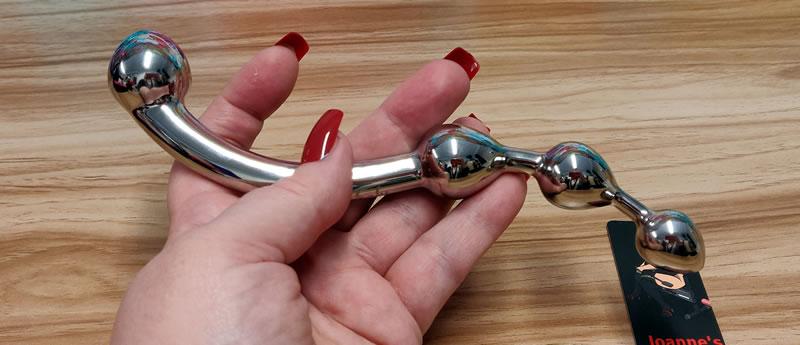 The pronounced bulbs on the Njoy Fun Wand provide excellent stimulation
One of the other favourite ways I like to use my fun wand is to use it anally, and I will often use the end with the three small balls and use them as anal beads which makes my anas feel nice and full.
Because the Fun Wand is made of quality stainless steel, it is waterproof, so I decided to test out the Fun Wand in the shower for some soapy fun.
I started off using the wand as a dildo in my vagina, which was rubbing on my Gspot, which felt so much more intense because I was in the water.
And as always I recommend using your fun wand with lots of high-quality water-based lube such as Sliquid H20 and also Secret Play Natural. It will make using your fun wand a lot easier but also a lot safer. It's terrible for your vagina to be played with when it is dry and can become painful, and no-one whats that lol.
As I may have already mentioned, I'm a bit of a squirter. If you are having problems being able to squirt, then I very highly recommend trying the fun wand. It is a fantastic shape for squirting play.
Another thing I love about my Fun Wand from Njoy is how comfortable it is when it's in my vagina.
The Njoy Fun Wand is a work of art that provided me with lots of squirting orgasms, come and check out the full review of it.
Click to Tweet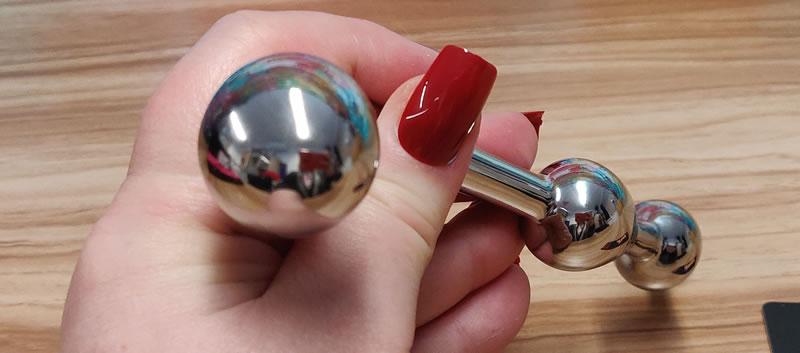 The is by far the best feature on the Njoy Fun Wand and it makes me squirt everytime I use it
Key Features
Key features:
Made from high-quality stainless steel
Very light to hold
Be used by both male and female on your own or as a couples toy
Easy to clean
Can be used for both anal and vaginal fun
Curved, so it fits your shape better
I would recommend it to:
Anyone who likes g-spot stimulation
Anyone who likes anal play
Anyone who wants to use their toys in the bath
Anyone who loves their ridged toys
I wouldn't recommend it to:
Anyone who does not like to cum to quick
Anyone who does not like ridged toys
Final Thoughts
I love everything about the Fun Wand from is shape, size and features to the squirting orgasms it delivers for me.
I love how fast it would get me off, and I have lost count how many orgasms it as given me that have left me squirting everywhere.
I love the Fun Wand, and I may have just found my perfect squirting toy. This is now one of my favourite toys and will be going in my bedside table with all the other favourites.
I can't say enough how much I love this toy, and I will be using it again and again, so try it if you dare.
Joanne's rating
Where Can I Get One From?

Grab one of these fantastic wands from Uberkinky for just £94.99 with FREE UK Delivery.
Check them out and don't forget to tell them that Joanne says "Hi".
---

If you enjoyed reading this review then check out my other reviews of Uberkinky products:
Website links:
---
Disclosure
Disclaimer - This post contains affiliate links and if you purchase something when you follow one of these links I may receive a small commission at no cost to you. For more information check out my disclosure page.