About KinkCraft
KinkCraft was born of the desire to be able to teach others how to create useful and kinky sex toys easily, with minimal fuss through the use of high quality instructional videos. They want to show you how to make their kink rather than having you read how to make it.
Their range of kinky products is constantly growing and what I love about them is the focus on handcrafts, kinky ones. Anyone can grab one of their kits and produce some extra-ordinary items. I know what I am talking about here as I have already made two of their kits and loved every minute of doing so. Their kits have instructional videos and I found them to be very professionally made and allow you to view and rewind them over and over again so that you never miss a trick or step and even the most complex of knots are easily explained. This is invaluable when you are making one of their kits.
They have an excellent range of paracord based kinky items that are a lot of fun to make and use.
Their mission is quite simply:
If there is one thing better than really good kinky toys, it is really good kinky toys you made yourself.

We want to teach you everything you need to know to make your own toys and have a lot of fun doing it.
Having made up two of their kits now I can attest to the fact that they are both fun and very therapeutic to make and they give you an immense sense of satisfaction when you view and use the finished product.
They also sell ready made items for anyone who hasn't got the time or energy to make up the kits, this is one of those ready made products.
Delivery
Receiving a kit or product from Kink Craft is always an absolute delight, they put a lot of effort into their packaging and lets face it first impressions count. Receiving a product from Kink Craft is like being a kid again and getting to open a lovingly wrapped present.
These Nipplke Sticks arrived in a lovely box and wrapped in tissue paper, making them a great gift for the girl who has everything and you don't even need to wrap them - bonus.
Packaging is something that really sets KinkCraft apart from the crowd, they put a lot of effort into making sure that everything is amazing from the moment that you open the nondescript box that it arrives in to find this amazing presentation box inside.
Features
Inside the package you will find a set of two Nipple Sticks. They are available in lots of stunning colours such as - Blue, Green, Orange, Pink, Yellow, Black and my favourite, Purple. I am quite predictable with my colours.
The clamps themselves consist of two clear plastic/acrylic rods that are approximately 20cm long and they are sealed together with a blob of silicone at each end. The beauty in them is their simplicity. Each Nipple Stick has two black rubber 'O' rings round them that you can slide up and down the sticks to increase or decrease the clamping pressure.
Use
Using them is a bit fiddly but they couldn't be simpler to use. Simply slide the rubber rings towards the end of the sticks and that will allow you to hold the sticks apart with your fingers as you place a hard nipple between them.
They feel great but more about that in a bit. To increase the pressure on your nipples simply slide the rubber rings towards your nipples from each end and they act like elastic bands forcing the two sticks together sandwiching your nipples between the two sticks. To reduce the pressure do the opposite, slide the rubber rings to the ends of the sticks.
When tightened these do not pull off or fall off. You definitely need to open them up to remove them, which is what I would definitely be looking look for in nipple clamps.
Performance
Now I have used a set of those metal scissor type clamps but they almost brought me to tears as they were so powerful and they really dig into the flesh so I was a little nervous about trying these out but I needn't have been. As soon as I placed the first one onto one of my nipples and let the sticks clamp down on my hard nipple I was already enjoying myself, they felt great.
I like the fact that I could knock and tap them and they stay firmly in place transmitting anything I do to them straight into my nipples, soon enough I was starting to experiment with the rubber bands to increase the pressure and this felt even better.
The only very slight downside about them is the length of them and this makes moving around with them fitted a little difficult. That said though, I have found that if you rotate them to the vertical position you may find it a little easier.
You can actually control the clamping pressure very easily using the rubber bands and when slid right in they are really tight and if you wanted to you could slide them right in and have something as strong as the metal clamps but that isn't my cup of tea. I like to use them in their mid range, this gives lots of pressure but not enough to cause discomfort for me - I prefer my pleasure to my pain.
Try using them with a vibrator, place the vibe against the ends of both Nipple Sticks and hang weights from them to see how much weight it will take to slide them off your nipples - ouch LOL.
I have used these a fair few times now and they get better each time I use them as I am gaining in confidence with them, try them with a blindfold and a fucking machine for an out of this world experience.
As a side note I got my stunt cock (hubby) to use all three of my Kink Craft products on me at the same time so he cuffed me, clamped me and used my flogger on my nipples and this felt incredible (clean up aisle three LOL).
Removing them at the end of a session is almost orgasmic as the blood rushes back into your nipples and they become ultra sensitive.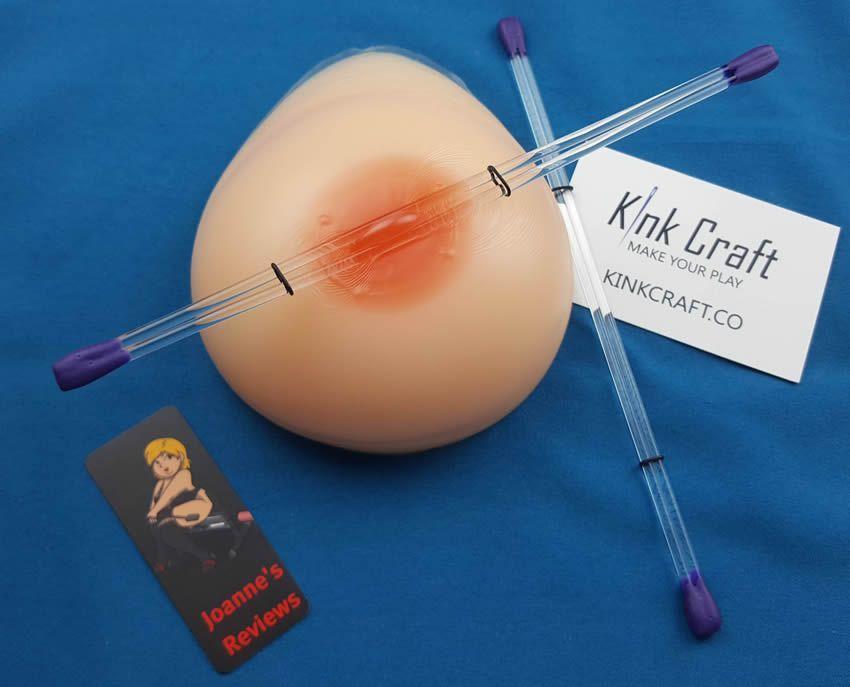 Key Features
Key features:
Choice of seven colours
Very effective set of nipple clamps giving soft to hard clamping
Arrives in a nice box
Very effective control of nipple pressure
Final Thoughts
Kink Craft just seem to keep coming up with great ideas and kinky products, these Nipple Sticks are a great addition to their range of kits and products and I look forward to seeing what they have up their sleeves next. If you are looking for a stylish set of nipple clamps then give these some serious consideration, they leave my nipples aching for more so that must be a good thing ;-)
Recommendations
I would recommend this sex toy to:
Anyone looking for a stylish set of alternative nipple clamps.
Anyone looking for a nipple clamps that are not too harsh in use (initially).
Anyone looking for a nice way to tease your or your partners nipples.
I wouldn't recommend it to anyone who:
Doesn't have erect nipples although you could still clamp your Ariola.
Joanne's rating
Where Can I Get One From?
You can get these Nipple Sticks from KinkCraft.co for just £6. This is amazing value for money and I can't recommend these highly enough. For just £6 you really can't go wrong.
I was sent this kit in order to review it and this review doesn't contain any affiliate links.
I would love to hear what you thought of this review. What can I do better, what did you like? Let me know in the comments form below. Thank you for taking the time to read it. Joanne xx