About Nexus
Nexus is based in the heart of London along the banks of the River Thames, in the shadow of the iconic Tower Bridge. They are an iconic British brand known for their adult products for both men and women.
They have been around since 2005, where they became one of the few companies at the time to produce toys aimed at the male sex toy market place. Their launch of the award-winning Excel, which was a prostate toy contoured to give maximum stimulation solidified their place in history and the marketplace.
Since then, they have branched into the female sex toy market place as well as producing unisex toys. The Nexus Max 20 is one of these, and it is a lot of fun.
Delivery and packaging
This toy was sent to me by Nexus in a plain and discrete postal box. My postie knows that I buy an awful amount of items online, but he still has no idea how kinky the contents of these packages really are. ;)


I like the dark packaging and love the fact you can see the toy inside
On opening the postal box, I was delighted to find a clear front box so that you can easily see what is waiting for you. It even has a small opening that allows you to feel the texture of the silicone toy inside before purchase, which is excellent if you are browsing for it in a brick and mortar store.
The back of the box has lots of information for you about its contents.
What is in the box you may ask? Well inside you will find the black silicone Nexus Max 20 sleeve, a silicone-coated rechargeable bullet, a remote control, USB charging cable and the multi-language instruction booklet.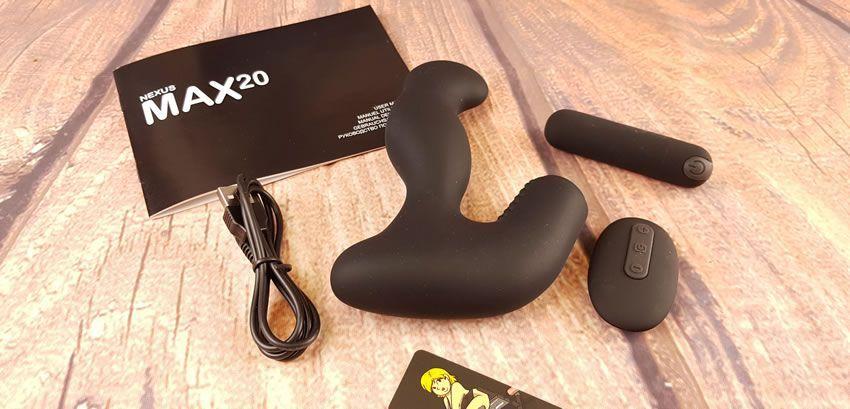 You get the Nexus Max 20 system plus a charging cable and instructions included in the box
Materials
As this is a silicone sex toy, you can rest assured that it is both latex and phthalate-free. The material is also non-porous meaning that it is easy to clean and the surface won't harbour any bacteria. Silicone is my go-to sex toy material for these reasons.
The remote comes complete with a non-recharable battery, which is very handy so you don't have to search for a battery before you can enjoy the toy.
I was really looking forward to taking this two-part toy for a spin, but I took my time and fully charged up the bullet. Just insert the plug from the charging cable into the hole in the base of the bullet to charge. As with all rechargeable sex toys always give them a full charge prior to first use as it will extend the battery life.

The charging cable plugs into the base of the silicone coated bullet vibe
Even though it does come with some charge, I didn't want to end the fun too soon with the battery running out of power before I was ready. It only takes about 60 minutes to charge fully.
Performance
You can use it with or without the bullet, but I found it much more fun for me to use with the bullet. It fits snugly into the sleeve, so you don't need to worry about it falling out while you are enjoying yourself. You do need to ensure that the power switch is the end sticking out though, or you won't be able to switch it on and off.
The bullet does add that fantastic touch to the whole toy. The nodules along the bullet sleeve feel incredible against your clit, especially with the bullet buzzing away.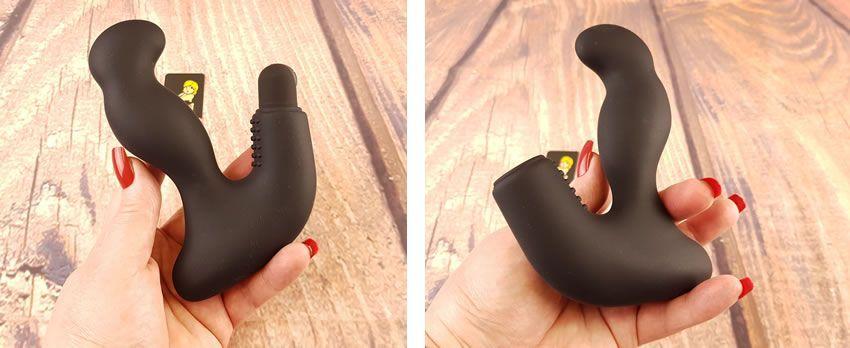 Using the Nexus Max 20 without the bullet vibe fitted means you can use it on other areas of your body
After insertion, I did find that I had to play around with the positioning to feel the full benefit of the clit stim though. With the toy fully seated I found the clit stim was not long enough to reach my clit. As we are all built differently, your mileage may vary.
Functions: 20 vibrating functions
Insertable Length: 100mm
Shaft Width: 40mmThe intense vibrations are deep and rumbly, powerful enough to feel the vibrations throughout the entire toy, but stronger around the bullet and the bottom section of the toy.
It is also very quiet, so others will hear your moans and squeals before they hear this toy through a bedroom door. However, that said, inside a quiet room, you will hear the bullet vibe. It's worth bearing that in mind if you want to tease your partner while out and about. Just keep hold of the remote yourself and you can tease your partner and they can do nothing about it.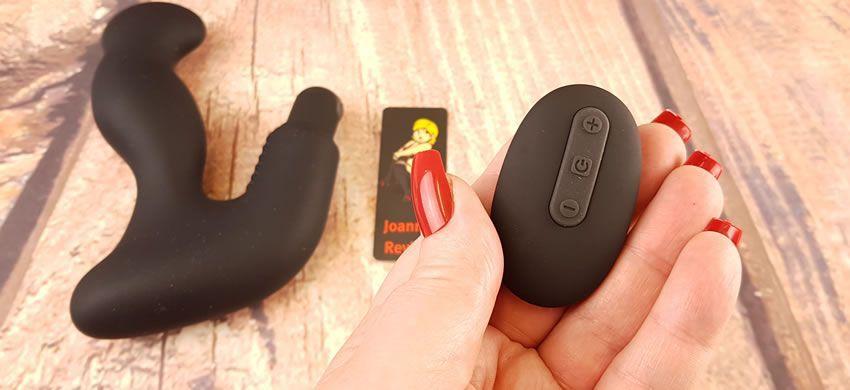 The remote control for the Nexus Max 20 gives you so many ways to enjoy it. Hand it to a partner to have them tease you while out and about
This is where I have a slightly evil grin as that is something I love, as I always enjoy being pleasured outside.
Both the sleeve and the bullet are coated in the same silky smooth silicone. The bullet is hard with no give, the sleeve, however, is very flexible at the juncture between the body and insert. The base of the insert itself does have a small amount of flexibility and give when squeezed but is firm enough to maintain its shape even when tightly squeezed.
Of course, if you prefer to use the sleeve anally, you can enjoy the bullet separately against your clit, or leave it in the sleeve to send the vibrations up the insert to enjoy this toy to its full potential. My Stunt Cock tried it anally and found it to be a cracking little prostate stimulator. He enjoyed the internal vibrations and also the nodules against his perineum.
The shape of the dildo hits all the right spots when fully inserted, but it is not really designed for fucking yourself with. That said though, I did enjoy the feel of slowly removing and reinserting it into a seated position.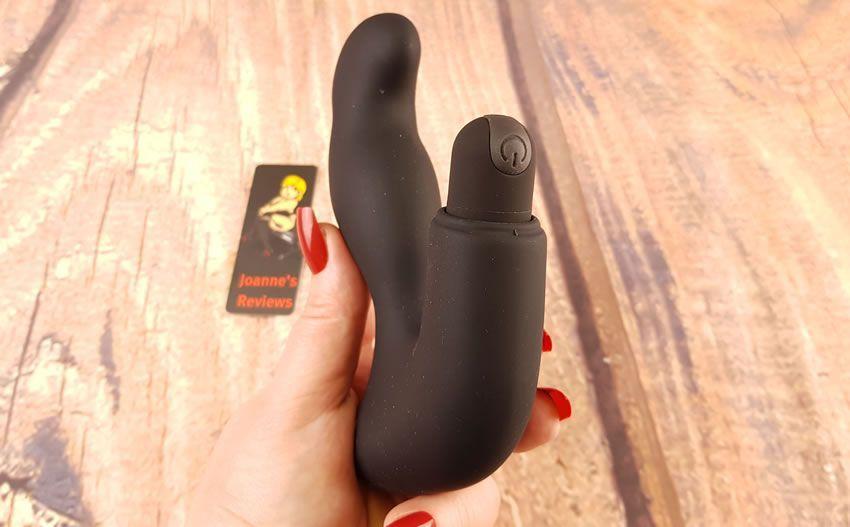 The control of the bullet vibe is very simple, just make sure you fit the bullet vibe with its controls uppermost
I also really enjoyed using it sitting up, simply insert it, then replace your clothing, with tight panties keeping it in place. It was great fun to sit on a padded chair and to then move my hips around to get the most out of the clit stimulation offered.
The bullet does need to be switched on before the remote can connect with it, but the remote can change the settings and switch the bullet off. With 20 settings to play with, there is a setting there for most to enjoy fully. You will need to take your time, like I did, testing each one to find the ones that you enjoy the most. The remote works up to about 10 meters in range.
As with most silicone toys, this one should be used with a good water based lube like Secret Play Natural, ths will allow you to get the most out of this toy.
With the bullet in its sleeve, it doesn't allow for bodily fluids to get to the bullet making cleaning easy. But as the whole toy is completely waterproof, including the bullet it is straightforward to clean anyway. You need to take care to ensure the nodules are completely clean, I just used a soft cloth to help when cleaning them.

The Nexus Max 20 is a nicely proportioned sex toy for any gender. Its simple design belies a lot of thought that has gone into it
The @Nexus_Range Nexus Max 20 is a fantastic g-spot or p-spot sex toy. Use its remote controlled removeable bullet vibe to play how you like. Great for penetrative play with delicious vibrating sensations.
Click to Tweet
Key Features
Key features:
Wireless bullet vibe included
Body-safe materials
Twenty vibrating functions
Unisex design for g-spot and p-spot stimulation
Waterproof
Rechargable
Bullet can be removed for play on its own
I would recommend it to:
Anyone looking for a body-safe g-spot or p-spot sex toy
Anyone who enjoys remote vibrator play
Anyone who loves bullet vibes
I wouldn't recommend it to:
Anyone not into penterative play
Final Thoughts
I really enjoyed putting the Nexus Max 20 to the test as did my Stunt Cock. This was our first introduction to the Nexus range, and both of us are impressed.
Its form allowed both of us to have a lot of fun with it and the body-safe materials used makes cleaning and even sterilising between partners an easy task.
The removable rechargeable bullet allows for lots of ways to play, and I enjoyed the feeling of being filled completely and being able to use the bullet vibe on my clit and nipples.
If you are looking for a G-spot toy or a P-spot toy then definitely give the Nexus Max 20 a lot of consideration as it gets a big thumbs up from us.
I was sent this Nexus Max 20 by Nexus and I would like to thank them for giving me the opportunity to review it for them.
Joanne's rating
Where Can I Get One From?
Grab one of these fun unisex toys from Nexus for just £60. It is great fun for anyone to use and as it is made from body-safe materials it gets a huge thumbs up from me.
Check them out and don't forget to tell them that Joanne says "Hi".
Disclosure
This review does not contain affiliate links, for more information about affiliate links check out my disclosure page.