Now before I continue, just let me clarify something. While I referred to the old E-Stim Remote as a Model T Ford, that was a compliment and not a slur, I love that control box and so does sub'r'. It is dependable, reliable, and so much fun, it's a classic design but one that is now starting to show its age.
We have had so much fun with the original E-Stim Remote though and to be honest, replacing it will be an uphill task as it's just so devilishly enjoyable. But, E-Stim Systems have done it, they have come up with a worthy successor in the form of the new E-Stim Remote, and I am going to tell you why its so good in this review.
What do you get?
The E-Stim Systems Remote will arrive very discreetly packaged in plain packaging to preserve your privacy. I can always rely on E-Stim Systems shipping things to me discreetly and that is very reassuring.


The storage cases are fantastic and you get everything you need to start playing inside the case
The new Remote comes sealed and with a cardboard jacket around the usual black plastic carry case you get with control boxes from E-Stim Systems.
I love the branded cases that these control boxes come in. They are perfect for securely protecting your investment, as inside they are fitted with custom foam inserts to keep everything safe and sound.
Upon opening the black storage case, you will find:
The E-Stim System Remote Control Box
A Remote Key Fob with four buttons instead of three on the old box (fitted with a CR2032 battery)
A 9V PP3 Duracell Battery
A cable with 3.5mm jack on one end and two 2mm plugs on the other end
A set of four self-adhesive monopole pad style electrodes
Two quick start guides
E-Stim Systems have broken with the usual convention of including a manual with this control box. In my opinion, that is a good thing.
Firstly the two quick start guides, one for the control box and one for the fob are enough to get you going. Secondly, E-Stim Systems offer a full online manual so you can always gain access to the latest edition, and that is definitely a good thing.

The quick start guides are clear and concise and are enough to get you playing
Often manuals contain out of date information. In this way, E-Stim Systems can ensure that their customers always have access to the latest edition of the manual (if they have internet access, of course).
The E-Stim Remote Control Box
The new control box is much smaller than its predecessor. It is powered with a single 9V PP3 battery which means that a battery change wherever you are playing is quick and easy. No need to worry about an internal battery running flat with this control box. The battery compartment is easy to access and changing the battery is simplicity itself.

The enclosed PP3 9V battery is easy to fit, the remote comes with a CR2032 battery already fitted
Like the ElectroPebble control box, this one has a lifeline display that acts as a battery meter when you turn on the box. This makes it easy to see how much power is left in the battery. This display is also used when it comes to selecting one of the many available routines and functions.
On the front of the box are also two LED's. These show when a signal is received from the remote and also the output pulses. The top of the box has a 3.5mm socket for the single-channel cable and the power switch.
The rear features a sturdy belt clip which makes it easy to attach the control box to your clothing (or restraints of course if you like it kinky).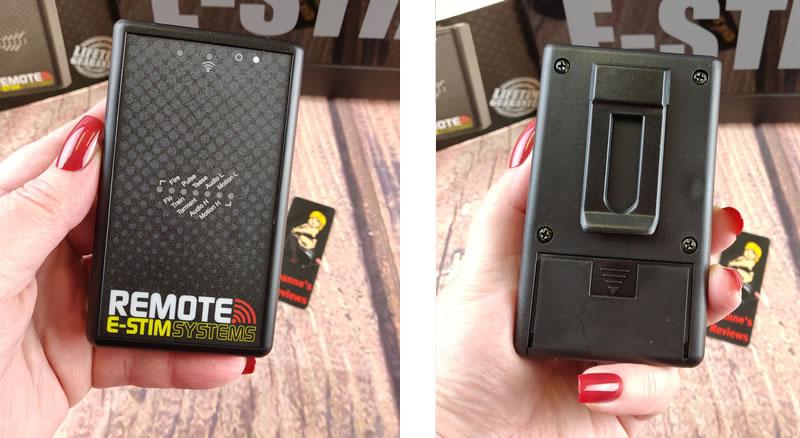 The new Remote looks fantastic and it is very functional with its display and belt clip
The included self-adhesive monopole electrodes are very sticky and good quality. I have used them over and over again with no problem. They don't last forever but these ones are good quality and they conduct very well indeed.
The Remote Key Fob
The new bespoke remote fob looks fantastic, its branding matches the control box. This one features four buttons rather than the three on the generic remote unit in the previous iteration of the Remote control box and that means more functionality.
Four buttons make it very easy to use. On the left side, you have a plus and minus button, which are used to control the output power and to cycle through modes. The bottom right button is used to select a mode or tweak the output feel, and the top right button is the "Fire" button which is so much fun.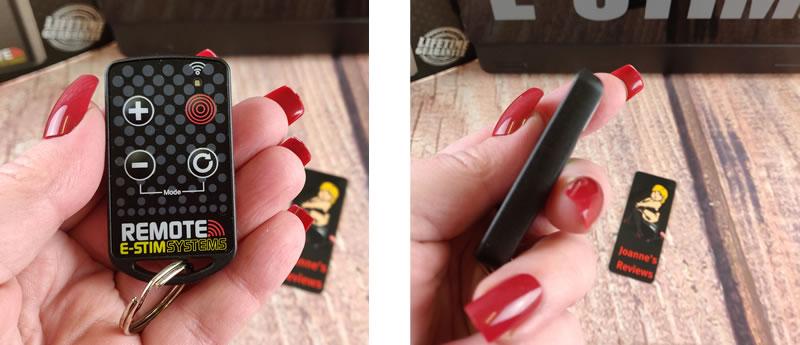 The new key fob with its four buttons look great and is very easy to use
Features
Dimensions
Power Unit : 112mm x 65mm x 41mm
Keyfob : 33mm x 59mm x 8mm
Weight (with battery)
Power Unit : 146g
Keyfob : 17gThe E-Stim Systems Remote feature a myriad of fantastic features. As it has a learning routine, you can set it up for one remote key fob to control multiple control boxes. Likewise, you can also quickly set up multiple key fobs to work with a single control box. This means group play can be so much fun and this gives you lots of options.
This new control box comes with 10 modes of operation, and each is so much fun. Alongside the popular old programmes come new features such as audio and motion-sensing technology. This brings the Remote to the forefront of the competition when it comes to remote play and sheer fun.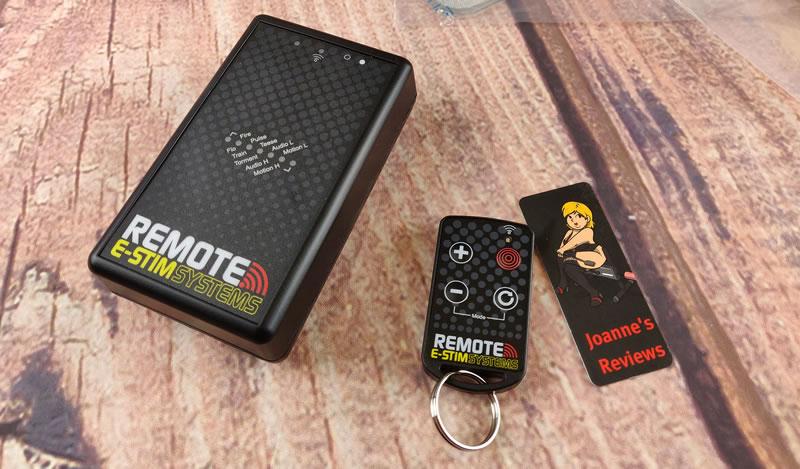 The branding of the new control box is very nice. It is also smaller and lighter than its predecessor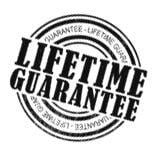 It also comes with the Lifetime Guarantee that E-Stim Systems supply with all their electrodes and control boxes. As they manufacture in house, they have complete control of the quality of their products. That is why they are one of the very few companies that still give lifetime guarantees. When you buy a control box or electrode from them, you are buying into an extended family of very happy users that enjoy excellent customer support after their purchase.
The remote key fob allows direct control of the output power as well as allowing that output to be tweaked to your liking. The controls are intuitive and straightforward.
I love how the lifeline display is used to show you which mode you are in. The two outer LED's show you whether you need to read the upper or lower list of modes as you cycle through them. This image on the right shows the LED combination for Torment Mode.
The LED's are bright, and in a dark room, I find tilting the control box helps me read it better. The box also has a stealth mode that is easy to activate for covert play with no lights. This is so much fun in a cinema as sub'r' can attest.

The new Remote System is small and very portable making play on the move a real option
Output power is fantastic, and this new control box is capable of driving even the largest internal bipolar electrode. E-Stim Systems state it can be used with their Decimator electrode and I will have to take their word on that as there is no way I am trying that one LOL.
I even received a note when I was sent this one stating - "Be aware it hurts!!!!", and that was good advice. This box is capable of providing a lot of power on higher settings. On low settings though it feels incredible, so it caters for all sorts of different stimming styles.
Operating Modes
As I have already mentioned, it has ten modes of operation, and I am going to mention them all only briefly. Otherwise, this review is going to be longer than a copy of War & Peace.
Fire Mode
This is the classic mode from the Series 1 boxes. When you press the Fire button, the output goes live. You can adjust the output power using the up and down arrows with 28 levels (0 to 27). The output is live for as long as you push the button. This is a great punishment mode where you can selectively switch on the output when needed. You can adjust the feel with seven different settings for that.
Flo Mode
This is a continuous output mode with 28 levels again. In this mode pressing the fire button will raise the output level by four levels, and this is a fun way to push things a little. The adjust button again cycles through the different feelings.
Pulse Mode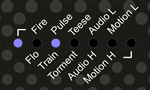 One of my favourites, this output just pulses on and off with 28 levels again. The adjust button adjusts the speed of the pulses with seven different speeds available. This time when you press the Fire button, the output goes from pulse to continuous for as long as you press the button.
Training Mode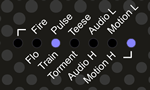 Another favourite for BDSM play, in this mode the buttons just operate the outputs in 25% increments with the Down button delivering 25%, the Adjust button 50%, the Up button 75% and the Fire button providing a bastardly 100%. This mode is for the pain lovers and 75% & 100% really keep you on your toes with the phenomenal output this box can generate.
Teese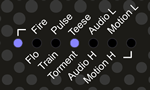 This mode is a continuous output that has a rising feel to the output. It is visually shown on the display, and the Up and Down buttons control the output power. The Adjust button cycles through seven speeds and the Fire button increases the output power by four levels.
Torment
This mode is a continuous output just like Teese, but it has a rising and lowering feel to the output. It is visually shown on the display, and the Up and Down buttons control the output power. The Adjust button cycles through seven speeds and the Fire button increases the output power by four levels.
Audio Low Mode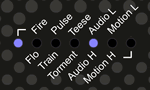 An inbuilt microphone triggers the output, and the Adjust button controls the response from low to high sensitivity. The Up and Down buttons control the output through its 28 levels. The Fire button overrides the output sending it to 100%. Audio low is not as sensitive as the High mode making it useful for noisy environments. The display visually depicts the sound inputs.

The Audio Low Mode displays a double sided graph centered in the middle of its input
Audio High Mode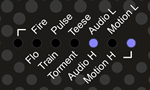 This mode is more sensitive, but the controls are the same. The display differs to show a bar graph providing a more sensitive display. This is great for quiet environments where its sensitivity can be exploited. We found doing impact play in this mode was amazing. The sounds from floggers, paddles and canes all deliver incredible sensations that complement the feelings from the impact play elements combining to create new unique sensations.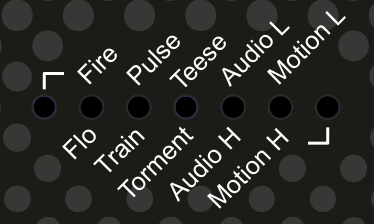 The Audio High Mode displays a bar graph which is more sensitive
Motion Low Mode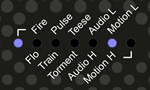 We really enjoy the motion modes for predicament bondage play. This control box has an incredibly sensitive motion sensor, and the internal processor counts the number of times it is activated and shows this information in a bar graph display. When all seven LED's are illuminated the output fires to deliver whatever output you can the box set on through its 28 levels.
The bar graph decays over time, so if you can control yourself, you can relax, but once it fires, it is tough to stay still long enough for the output to stop. It is so much fun, and through squeals and laughter, it can be so much fun playing with this mode.
Motion High Mode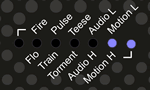 The high mode is just like the one above but much more sensitive. Both of these modes are so much fun, and like having two sensitivity modes as with Audio, it means you can tailor your play to your environment.

The included cable with 2mm plugs is good quality but I recommend getting a low profile 4mm one too to increase your electrode options
Performance
This is where it matters and what makes or breaks an e-stim control box.
The new E-Stim Remote builds on the features of the original, tweaking them to provide more power while also adding fun new features. This brings the design forward to compete and dominate other control boxes in its class.
The output power is excellent and couple that with Audio or Motion modes, and you have a remote e-stim box that gives you lots of new and exciting ways to enjoy your play sessions.
We have used it at home, shopping, in the cinema and even in a dungeon and each time it has provided some fantastically enjoyable sessions.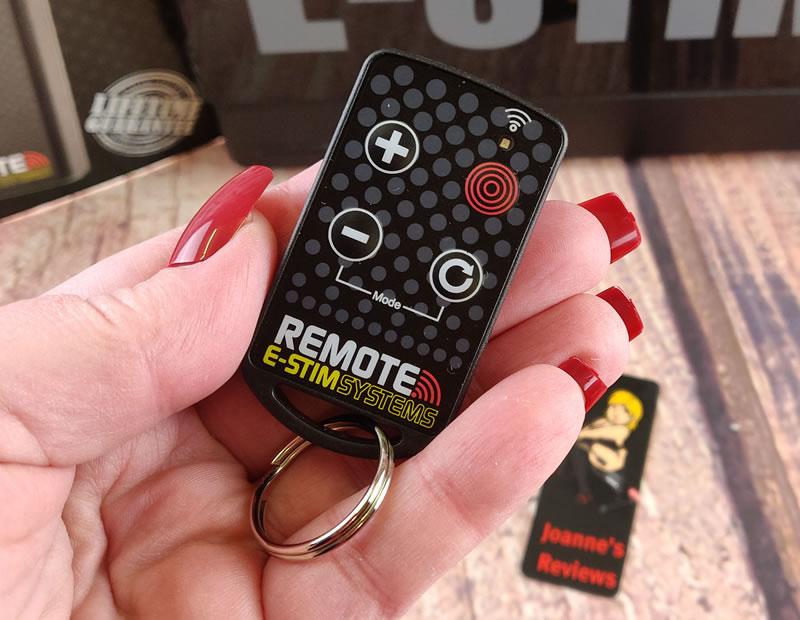 The new key fob is excellent and that "Fire" button is an absolute bugger in Training Mode
Whether you like your bits fried or you enjoy the more sensual e-stim sensations, this control box can deliver for you.
I can't take it over 50%, and just the threat of using the 75% button in Training Mode would have me doing absolutely anything to prevent my fanny lips from being fried - can anyone smell cooking bacon?
The design of the display and the remote means you can easily switch modes. One of the only criticisms I had with the old box was having to remember how many flashes represented each mode. The new box with its display makes it so easy to switch modes and with ten to use, I would have had no chance of remembering flashing codes.
The new Remote E-stim Control Box from @Estimsystems has some great new features and it really packs a punch. Click to Tweet
Key Features
Key features:
Radio controlled e-stim control box
10 modes of operation
Four button key fob remote
Batteries supplied
Audio feature using a built in microphone
Motion feature using a very sensitive sensor
One channel output - BiPhasic current limited pulsed AC with Dynamic waveforms
27 output levels (28 including O)
7 levels of adjustment in each mode
Lifetime guarantee
I would recommend it to:
Anyone who enjoys mobile e-stim sessions
Anyone who likes the idea of someone else driving them
Anyone who likes the idea of experimenting with the audio features
Anyone who likes the idea of the motion sensor
Anyone who enjoys strong sensations, especially things like the Training Mode
I wouldn't recommend it to:
Anyone who doesn't enjoy electrostimulation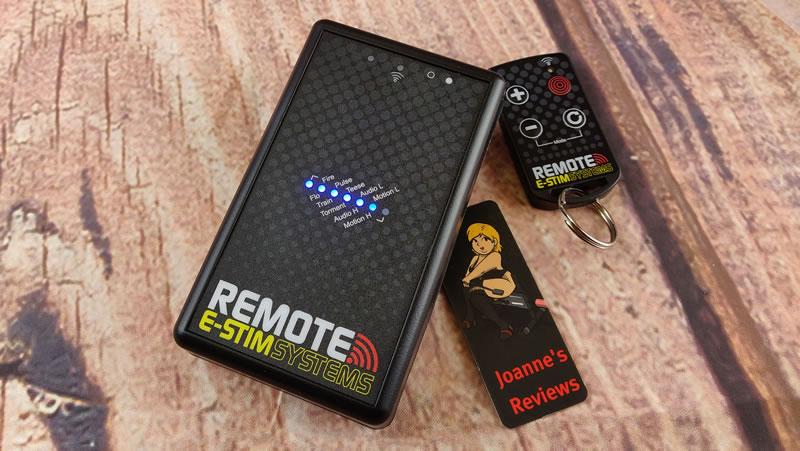 The new Remote System builds on the success of its predecessor and is so much fun to play with. I love it.
Final Thoughts
The new Remote is a hit with us. The new features as so much fun, and with a lifetime guarantee, you can rest assured that you are buying a quality product that will give you years of pleasure.
I love the new features and increased output power, the latest Audio and Motion features are brilliant and they add a new layer of pleasure to BDSM play.
We have used it with the included pad electrodes and some of the larger bipolar ones like the Bobble and Large Flo, and it performed flawlessly.
If you fancy the idea of playing out and about or giving control over to someone else, then this is the box for you. Remote play has never been so much fun, and this little box both pleases, torments and delights in equal measure.
I was sent the new Remote by E-Stim Systems and I would like to thank them for giving me the opportunity to review it for them.
Joanne's rating
Where Can I Get One From?
If you are looking to buy one of the New E-Stim Remote Systems and you are within the UK/EU then check it out in their online shop New E-Stim Remote System.
If you are in the USA/Canada then E-Stim Systems have got you covered and you will save 20% by not having to pay VAT. Buy the New E-Stim Remote System.
From their humble beginnings in a garage back in 2004 E-Stim Systems has grown and grown with an army of loyal customers. They manufacture their goods themselves in the UK, and that gives them total control of their range of equipment, they even offer a lifetime guarantee (how's that for confidence).
Check them out and don't forget to tell them that Joanne says "Hi".
---
If you enjoyed reading this review then check out my other reviews of E-Stim Systems products:
CONTROL BOXES
PUSSY & ASS ELECTRODES
PENIS/BALL PLAY
OTHER
Website links:
---
Disclosure
Disclaimer - I was sent the E-Stim Systems Remote to review free of charge and this has in no way affected the outcome of this review. This post contains affiliate links and if you purchase something when you follow one of these links I may receive a small commission at no cost to you. For more information check out my disclosure page.