Delivery and packaging
The Tickling Truman came to me in a plain cardboard box which carried no indication of what was inside the box. It always makes me very happy when sex toy companies take their customers privacy seriously.
I must say that Mystim has pulled out all the stops on the packaging for the Tickling Truman, it comes in a spectacular cardboard box. Inside there is a hard-shelled zipped case which is fantastic when you are travelling with your Tickling Truman, and it is embossed with the Mystim logo.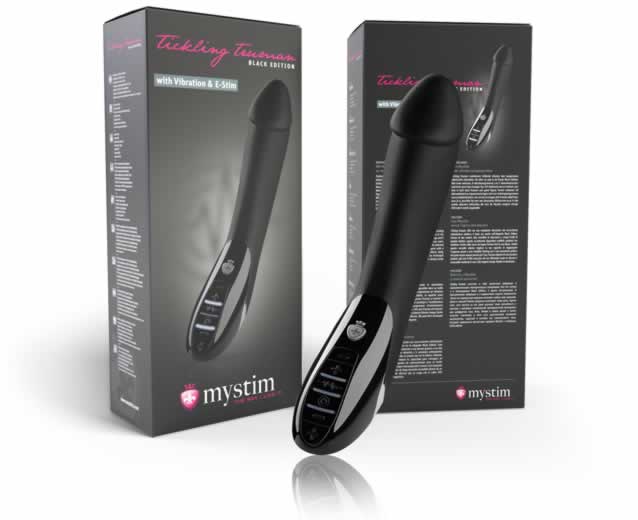 The packaging of the Tickling Truman is lovely and the storage case is fantastic
The case has a netted compartment which contains sachets of water-based lube, conductive gel and a very extensive instruction manual.
There is also a section that holds the USB charging cable as well as the Tickling Truman itself.
The Tickling Truman is charged via the Mystim magnetic charging point which can be found just above the control panel.
When charging, there is a red light telling you it's charging which will change to green when it's fully charged, so you know that it's playtime.
A 3-hour charge will give you one and a half hours of playtime depending on what power setting you have your vibe on.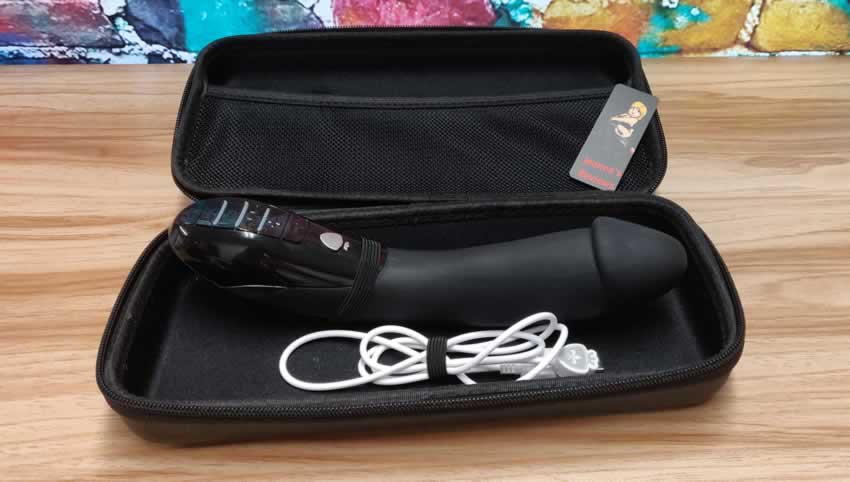 The case for the Tickling Truman is a brilliant way to store it out of sight
The Tickling Truman comes with a two year manufactures warranty which gives you peace of mind. You know that if anything goes wrong, it will be put right. It also gave me peace of mind knowing that Mystim must really believe in their e-stim vibes to provide them with a 2-year warranty in the first place.
Materials and Design
Product information
Length 27 cm
Diameter 3,5 – 4,3 cm
Made of 100 % medical-grade platinum silicone
12 months warranty
Intensity 0-90 mA
Frequency range 5-70 Hz
Pulse width 90-140 µs
Mystim magnet charger and USB-charger included
The Tickling Truman is made out of 100 per cent body-safe silicone, which is both latex and phthalate-free. So you know when you clean your vibe, it's clean with no bacteria lurking in its surface. I found the silicone to be a little draggy, which is just how I like my Silicone toys to be.
The beautiful case comes into its own for storing the Tickling Truman as silicone sex toys tend to be dust and lint magnets. The case keeps it securely stowed away from prying eyes too.
The Tickling Truman has two main motors which can be used together or on their own depending on your personal preference, or what mood you are in.
To go through the patterns, you just simply press the circle button on the control panel. I must say the two potent motors of the Tickling Truman had me wanting more and more when it comes to the vibration strength. I found the vibes a little on the buzzy side, but they did really got me off on the higher speeds.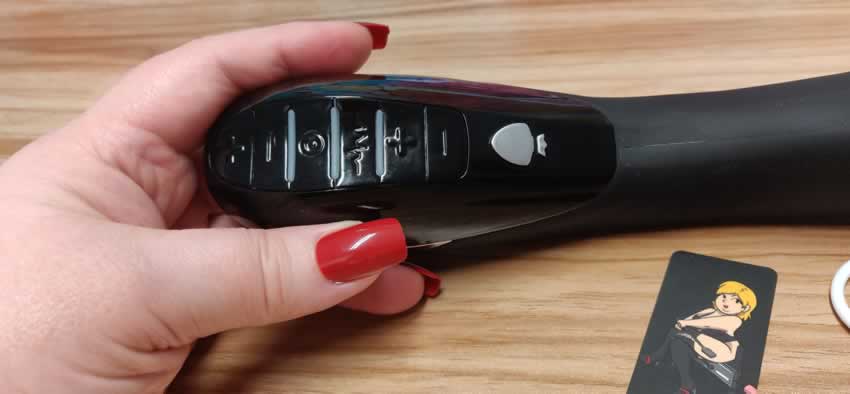 The controls for the Tickling Truman are big, logical and easy to use
The vibrations are controlled via the twin circle button on the control panel, to increase or decrease them simply press the +/- buttons.
E-Stim play
There are 5 different levels of e-stim intensity to work your way through. If you are new to e-stim, please start off very slowly and work yourself up through the power levels.
As you know, I love my e-stim play. So, when I found out that the Tickling Truman has an e-stim mode, I knew I had to try it out for myself. It got me off from cold very quickly too when used with both vibes and e-stim.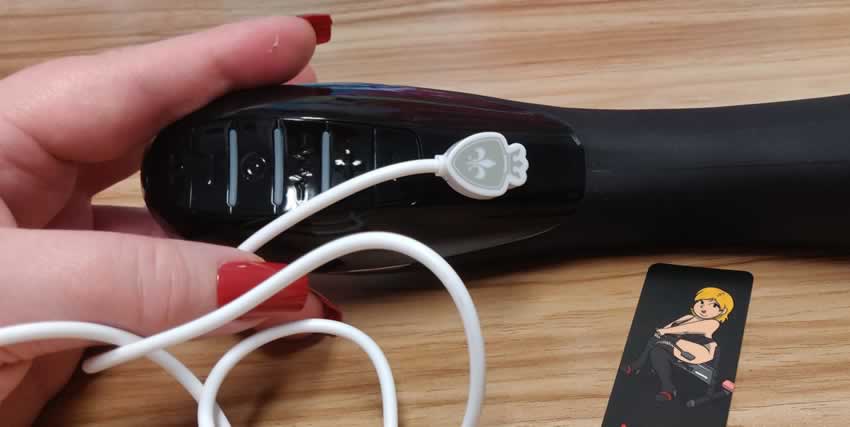 The magnetic charging cable is one of the nicest I've seen and incorporates the MyStim logo
To switch the e-stim mode on you simply press the button that I think looks like the squiggly line that you get on the heart monitor at the hospital lol on the control panel.
You will know the e-stim mode has been switched on when the white led light keeps flicking on and off, you will also feel the tingling effects of the electrical signals.
But I can't say this enough, please makes sure you read all the instructions and information before playing. Also, make sure you keep Tickling Truman below the waist he for your pussy and not your nips.
I love that the Tickling Truman has a pelvic floor training mode. I do my kegal exercises very regularly, so I was thrilled that my Tickling Truman can help me with this.
To switch on the pelvic floor mode, you simply press the cycle button in for 2 seconds and away you go. After a week or so, I could really start to feel my kegel muscles begin to get stronger and tighten up. There were no complaints from my partner too. So if you are looking to treat yourself and you want a toy that you can do more then one thing with, then I would very highly recommend the Tickling Truman to anyone.
The tickling Truman is 100 per cent waterproof, so I decided to pop into the shower to test out the waterproofing and let's just say I loved it. It made all the vibes and e-stim feel much more intense in the water then they do out of the water.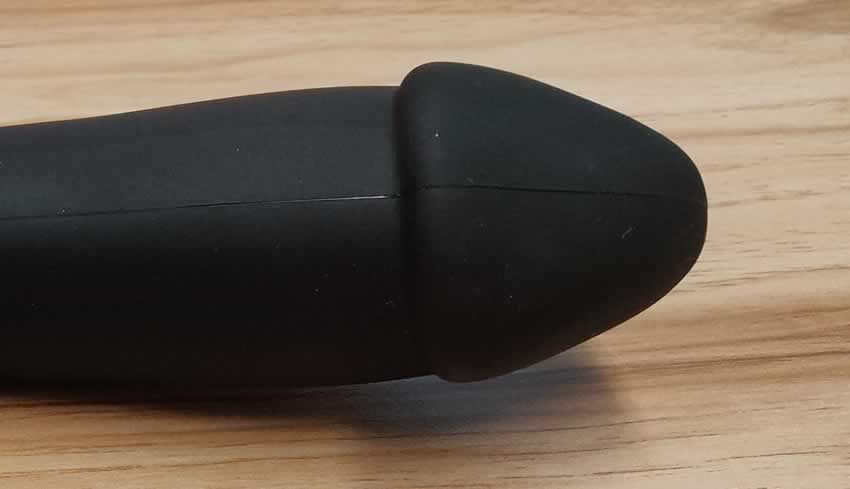 The very pronounced glans and coronal ridge provides intense g-spot stimulation when thrusting with this vibe
So it made me reach orgasm from cold very very quickly. It also made the orgasms feel much more intense as each rolled into the next. Let's just say I was one very happy submissive when I come out of the shower lol. It was nice to be able to play with e-stim in the shower as usually, it is a no-no due to the risk of damaging my equipment.
When you are playing with your Tickling Truman, please don't push or take out your vibe when it is still on. Even more so when it is in the e-stim mode as it will give you a very large shock/zap. You might want to read Joanne's article about the E-Stim Inverse Proportionality Rule.
So please keep this in mind or like myself you will learn the hard way lol.
To make your play more comfortable and fun, I always recommend using a very high quilty electro-gel. MyStim market one such lube and it is called the Gold Father from Mystim. As I have never used the Gold Father from Mystim, I can't comment in it in detail, but I have heard and received lots of good feedback from other reviewers.
Or just use my go-to electro lube from E-stim Systems. I love it that much I even use it as normal lube also, but don't tell Mystim I said that.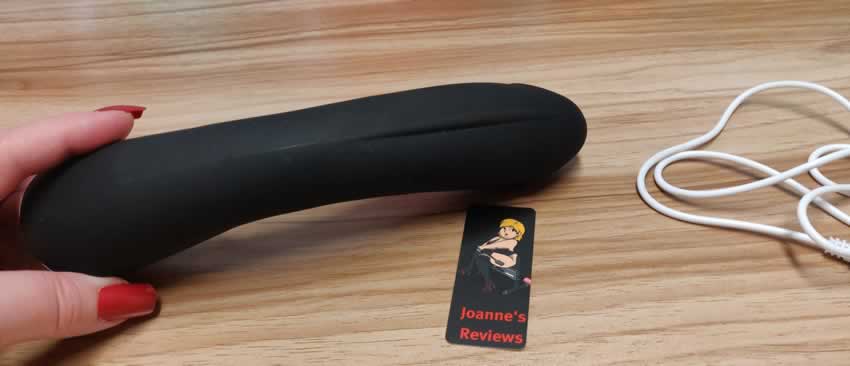 There is a nice ridge on the underside of the vibe that feels very nice indeed
Performance
One of the first things I love about my Tickling Truman is how full he makes me feel. I love nothing more than the feeling of the girth of a toy forcing me open. Once deep inside my vagina, I love that it rubs against my G spot at the same time as vibrating, which always gets me off.
I also like to use the tip of the head to tease both my nipples and my clitoris. I found the deep buzzy vibes very intense on my clit, and my clit hood piercing which helped me get in the mood for more play and fun.
This was very surprising to me because I usually only like my vibes to be very rumbly. I love to use my Tickling Truman by pressing the tip of the head on my clit for clitoral stimulation which is something I love. Because of this, I very highly recommend Tickling Truman to anyone who enjoys clitoral stimulation and is looking for something new and fun to try.
I also love how light the Tickling Truman is, which means I could hold it for a lot longer. This, of course, meant a lot longer playtime. The only downside was that I had problems keeping a good grip of the toy as the handle would become very slippery due to lubed up fingers. This was quite off-putting as well as I felt I could not get proper control of the vibe.
I love to use the e-stim mode on my Tickling Truman alongside my other Mystim/e-stim toys but the e-stim mode alone can send me over the edge quickly.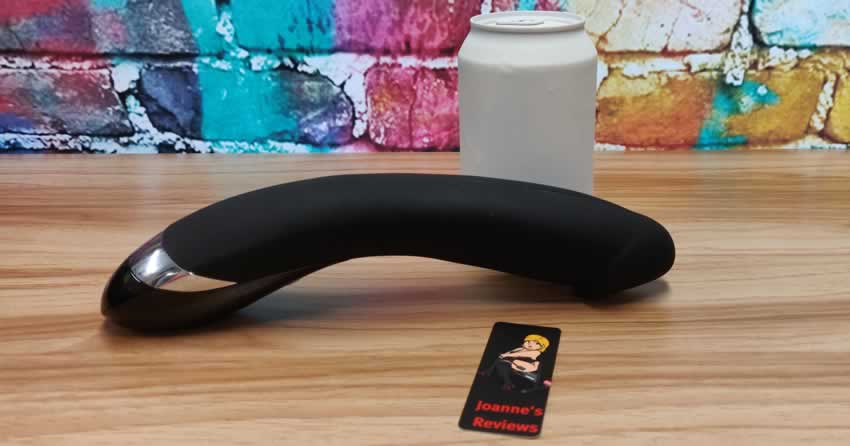 There is a nice curve to the Tickling Truman that helps it stimulate your g-spot, soft drinks can shown for scale
I always start off on the lower settings and very slowly work my way through the fantastic settings in the e-stim mode. I can very highly recommend using the Tickling Truman alongside your other Mystim/E-stim electrodes, pads and toys. If you love your e-stim play as much as I do, or if you are new to e-stim play then please take your time and just have fun but be safe as well.
Now for anyone new to e-stim, the sensations you get when using the Tickling Truman in e-stim mode start of as tingling sensations deep inside you. As you increase the power, these sensations get more pronounced, and they feel incredible. I never get tired of e-stim play, and with the Tickling Truman, you can combine the fun of e-stim with a damn fine vibrator to get the best of both worlds when playing.
I liked how the long thick shaft would rub agest my G spot, which felt amazing. It made it very hard not to cum very quickly as the texture would make every thrust more and more intense. Because of this, I also love to use it as a regular dildo and give myself an excellent seeing to lol. Whichever way I played with my Tickling Truman it would make me reach orgasm very quickly.
Check out this review of the Tickling Truman E-Stim Vibrator from @Mystim_GmbH an exciting blend of vibration and delicious e-stim sensations.
Click to Tweet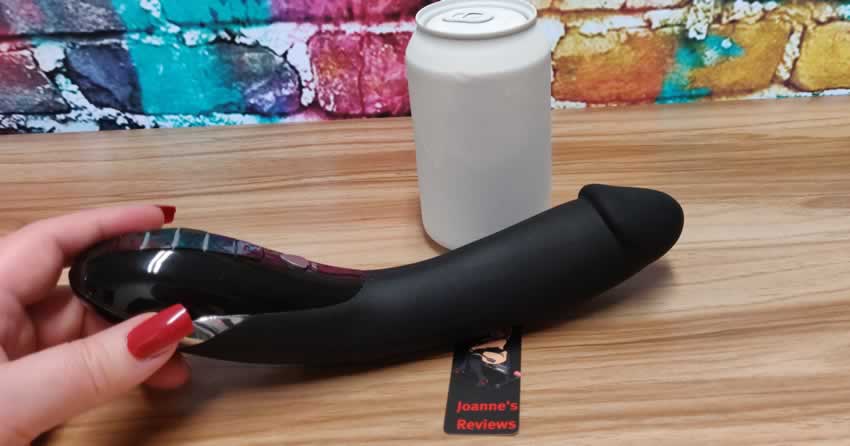 The Tickling Truman is very well proportioned and very filling in use
Key Features
Key features:
8 different vibration settings
5 different levels of intensity [power]
5 E-stim programs also which as 10 intense power settings
Female pelvic floor training programs
Made from 100 per cent medical grade silicone and ABS
Two whisper-quiet powerful motors
Waterproof
1-year warranty
USB charged lithium-ion battery
Can be used for both anal and vaginal fun
Travel case include
Phthalate and latex-free
I would recommend it to:
Anyone who likes e-stim
Anyone who likes to try new things
Anyone who likes their toys to have lots of girth
Anyone who likes G spot stimulation
Anyone who likes doing their kegel exercisers
Anyone who likes to take their toys with them when they travel
Anyone who likes their toys to be very quiet
I wouldn't recommend it to:
Anyone who does not like e-stim
Anyone who does not like powerful vibes


The Tickling Truman is an amazing vibrator and the e-stim element to it really makes it different and I can highly recommend it
Final Thoughts
I think that the Tickling Truman from Mystim is an excellent vibrator and also a tremendous e-stim toy. One the thing I love the most about the vibe is that it has lots of settings winch means there is more than one way to play with it.
It will be going inside my nightstand with all of my other favourite toys. Yes, I will be using Tickling Truman again and again. I love how just adding e-stim to a vibe can make both activities ten times better.
Overall, I will give the tickling Truman a 9 out of 10.
I really hope you have enjoyed this review.
Joanne bought the Tickling Truman in for me to review and I would like to thank her for giving me the opportunity to review it for you all.
Where Can I Get One From?

Grab one of these fantastic e-stim vibrators from Mystim for only 119,80 € ($196.97 USD) + P&P.
Check out all of the MyStim E-Stim Vibrators and don't forget to tell them that sub'r' and Joanne say "Hi".
Disclosure
This review does not contain affiliate links, for more information about affiliate links check out my disclosure page.