About MyStim
MyStim is a German company who have been making electro-stimulation products since 2005. Their range has expanded to cover control boxes, electrodes, clamps, probes, lubes, e-stim vibrators and now e-stim masturbators.
With a reputation for quality and of course German engineering, you will find some incredible offerings on their website mystim.com.
This review focusses on the vaginal version of their Opus E, which is designed for penis owners. Their website deserves taking some time over to check out all of their other products.
Delivery and packaging
The Opus E arrived quickly in a very plain cardboard box that carried no indication as to the nature of the kinky contents held within. This is perfect as you obviously want some discretion when buying sex toys online and I can confirm that MyStim ship very discreetly.
The retail packaging of the Opus E looks fantastic, with its dark colour scheme coupled with the high-resolution images and detailed descriptions. It means that if you are checking one out in a brick and mortar store, you will have all the information that you need to make an informed purchase choice. This box carries product seals, so you know that no-one has tampered with the masturbator inside.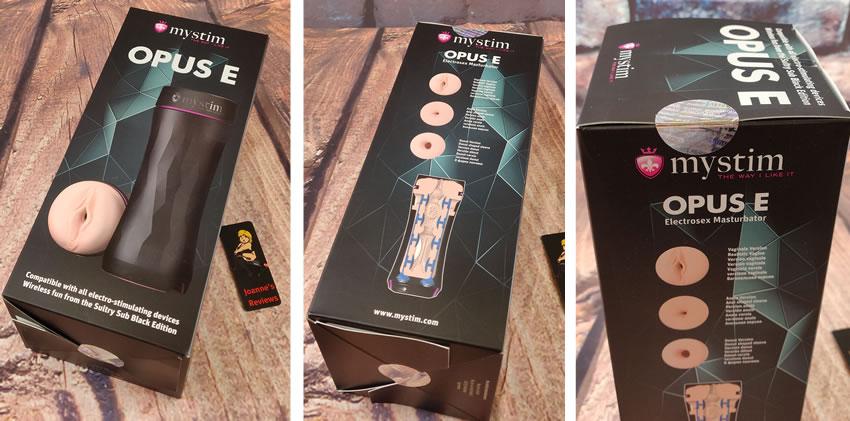 The packaging is very nice indeed and secured with a security seal
Upon opening the box, you will find the Opus E masturbator in its dark plastic case with its lid fitted. You will also find a set of easy to understand instructions and a bag containing the e-stim elements of the masturbator.
Design and materials
The main parts of the Opus E look like a standard penis masturbator, along the lines of a Fleshlight but it is when you fit the e-stim accessories to it that it really comes into its own.
The case and lid are made out of durable ABS, and this is great, easy to clean and non-porous. The design of the case is also very nice and easy to grip even with lube on your fingers. The lid fits securely to protect the insert between uses and the base has a small hole in it to prevent any vacuum building up inside it during use.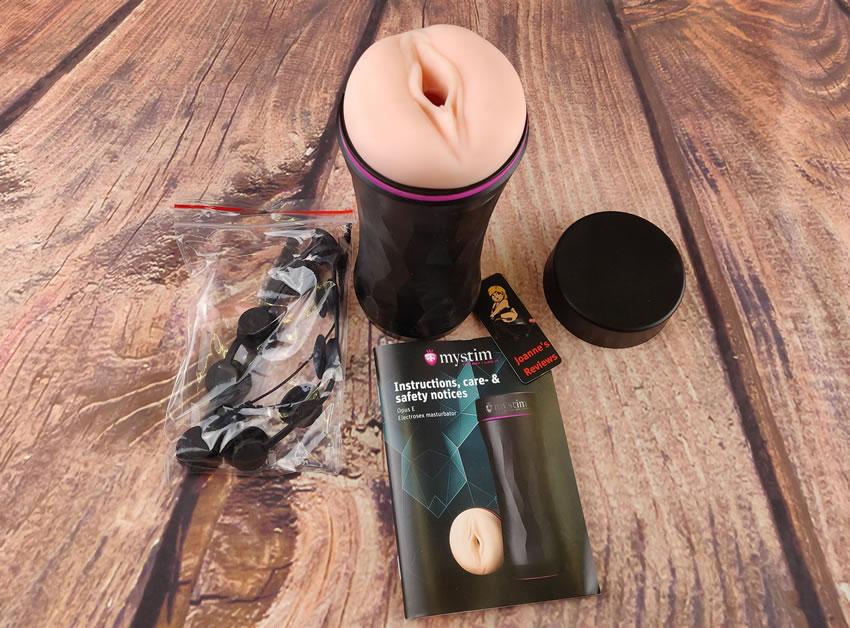 You get the Opus E masturbator case and sleeve together with e-stim attachments and instructions
The case is designed so that a MyStim Sultry Sub Receiver (used with the MyStim Cluster Buster), can clip into place inside the base. This makes it a wireless electrode which is an exciting concept. I haven't used a Cluster Buster or Sultry Sub myself though so I can't comment on its effectiveness.
The bottom of the base has two snap-lock fittings to which the enclosed adaptors fit. This means that you will need a cable with 2mm plugs to connect the Opus E to your e-stim control box.
The first thing I did was, of course, push my fingers inside the very lovely looking vaginal opening. The vulva on it has labia and even a clitoris for realism. The TPE material is nice and soft. I knew instantly that it was going to be a lot of fun inserting something else once we had taken these pictures.
The liner pulls out quickly for cleaning and to do that just rinse it out with warm soapy water before using an anti-bacterial sex toy cleaner. TPE is porous, and so you will need to clean it thoroughly. This isn't too much of a problem with this type of sex toy as long as you clean it before use.
After cleaning, give the TPE liner a dusting with corn starch before re-inserting it into the case. MyStim carries its own brand of dusting powder called Virgin Wonder, but any corn starch will do. This powder stops the material feeling sticky and prolongs its life. The good news is that if you wear out your liner (hat off to you if you do), then you can get replacements from MyStim.
The whole package comes with a 24-month warranty which stands as long as you follow the cleaning and storage instructions to the letter.
The liner has some lovely internal texture which feels amazing as you plunge your happy fella inside it. Unlike a regular masturbator sleeve, the Opus E has two rows of four holes running down its length. Each row is diametrically opposed. These holes are where the e-stim inserts go or as MyStim calls them, the baffles.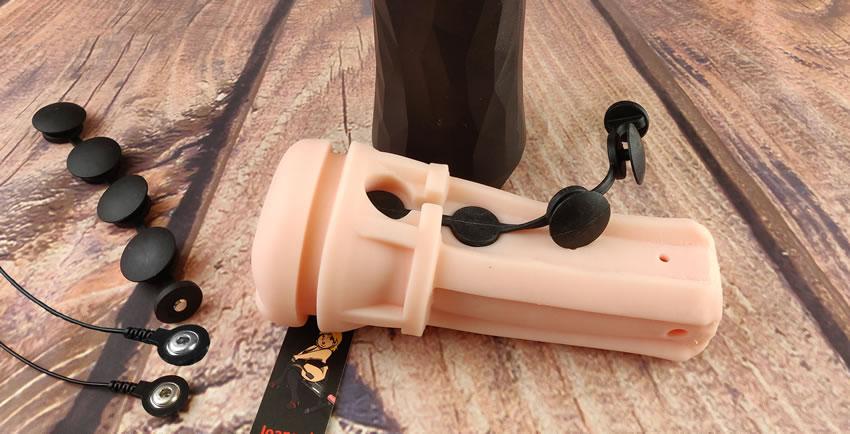 The baffles are easy to fit, just insert each button through the liner one at a time
Each baffle is made of a conductive material very similar to conductive rubber, but it is a proprietary blend created by MyStim. It has all of the advantages of conductive rubber but none of the negatives associated with it.
I got a sneak peek at this material in 2018 at Erofame where MyStim showed me the prototype Opus E with this new material, and I was impressed with it, but also sworn to secrecy.
One of the main advantages of this new material is that is doesn't leach carbon, so you won't end up with a penis coated in carbon suspended in lube. This is a remarkable improvement over regular conductive rubber. It also doesn't break down as quickly so it should last longer, which is definitely good news.
Each baffle carries four pads and a magnet at one end. They are fitted to the sleeve by pushing each button through each hole one at a time.
Ensure that the magnet ends are at the base of the sleeve. This is a great way to get the current to your skin rather than relying on the lube to do the job as with other e-stim masturbators. Good skin contact is essential for smooth e-stim sensations, and this system delivers just that.
The snap connectors in the ABS tube show through the base inside the tube. They are there for the magnets on the end of the baffles to snap onto magnetically when refitting the sleeve into the tube. Just line them up and push the sleeve into the tube making sure the locking collars sit at the end of the ABS tube correctly.

The baffles are easy to fit, the magnet on one end is used as a contact between the case and the insert
Putting the whole thing together or stripping it down takes less than a minute or two which makes cleaning it straightforward after use.
Length masturbator: 21,5 cm
Diameter masturbator: 8,4 cm
Length Sleeve: 17,5 cm
Diameter Sleeve: ca. 1,0 – 2,8 cm
Total insertable length (in erect form): 17,5 cmNow, like all e-stim electrodes use a god quality electrolube or a water-based lube at a push to ensure good skin contact with the inner electrodes. You also want to use lube for comfort as you slide the sleeve up and down your erect penis as with any other sleeve.
Now a word of warning here. Never use silicone-based lubes with conductive silicone as it can bond to the surface, acting as an insulator and this will ruin the electrode so stick with water-based lubes.
The Opus E is available with three types of orifice. This one is the vaginal one, they also do an anal one and a "donut" one too which is gender-neutral.

There are three versions of the masturbator sleeve, these being vaginal, anal and donut
So that is what it is, but how does it perform?
Performance
The Opus E is a very versatile masturbator. It can be used as a regular masturbator or as a bipolar e-stim electrode for some incredible cock tingling fun.
I first used it as a masturbator, applying lots of Sliquid H2O water-based lube inside the vaginal opening and also to my cock.
Pushing myself slowly into it felt very nice indeed, just like any other good quality masturbation sleeve. The inner textures were teasing the glans of my cock with each stroke. I found it easy to reach orgasm using it this way and as such its a great masturbator sleeve.
But, this is also a bipolar e-stim electrode, so I hooked it up to our trusty 2B control box. Connecting the press stud adaptors into the base of the Opus E is simple. Once I was connected, I slid my cock into it fully before switching the control box on.
Now, this may sound counter-intuitive, but you need to remember that e-stim sensations vary with the cross-section of the skin contact area. A small area of contact is very intense (painfull in fact) while a large surface area is smooth and very lovely. Joanne wrote a great article about this phenomenon that she called the E-Stim Inverse Proportionality Pain Rule, which is worth a read. In essence, never push your cock into or remove it from the Opus E while your control box is outputting a signal. If you do, you will get a surprisingly strong shock through your bellend.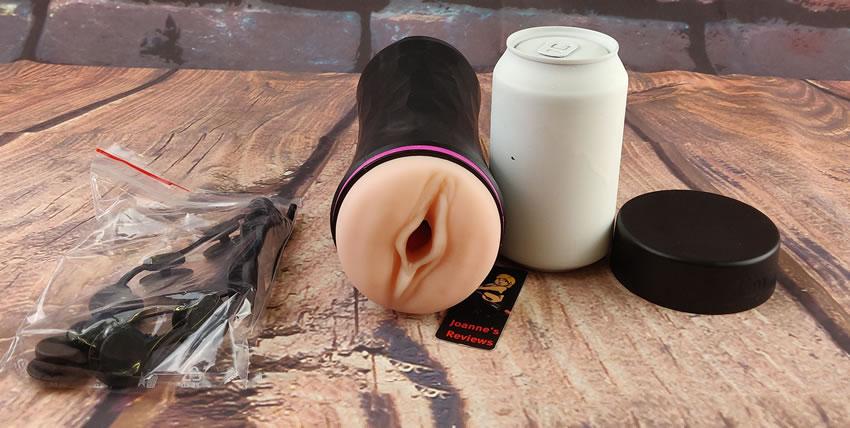 The Opus E is a very well proportioned masturbator and being an e-stim biploar electrode gives it the edge over vanilla masturbators
With your penis inside the Opus E, you will find the e-stim sensations vary as you stroke with it, and this feels incredible. It delivers feelings that range from light tingles to buzzy sensations and on to thumping muscle contractions as you crank up the power.
Once you find the level you are most comfortable with you will find that stroking with it will allow you to control the sensations just by moving it. Of course, you are still being stimulated by the internal textures.
Orgasms when using it as an e-stim electrode are hard and ball crushingly powerfull. The first time I came using it as an electrode, I thought I had done myself some damage as I came so hard that my balls were aching afterwards.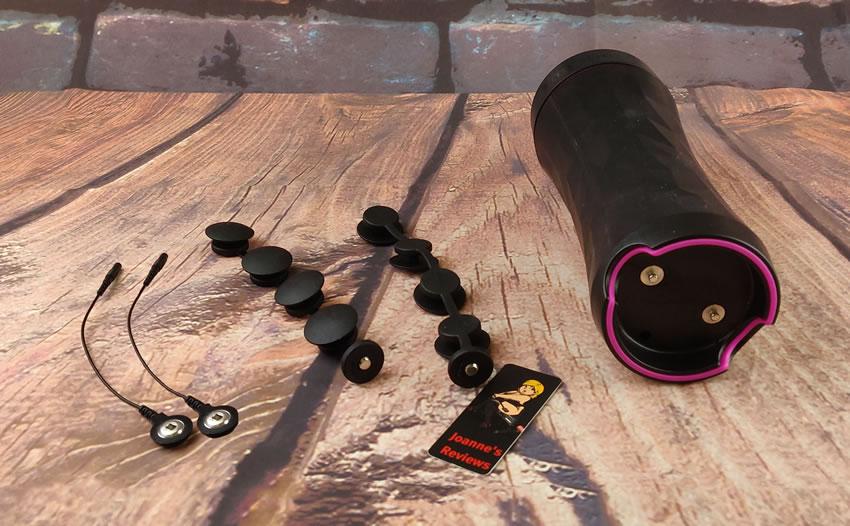 These five components are what sets the Opus E apart from its vanilla masturbator cousins, ensuring a shockingly good time
I relish the sensations that it delivers as you stroke with it. Using it on your own is so much fun but having someone else use it on you is even better.
Joanne tied me up and then teased me for ages using it. Taking me to the edge of orgasm before denying me the pleasure of exploding into the Opus E. Joanne then repeated this torture over and over again. When she did let me cum, it left me breathless and with aching balls as I don't think I have cum that hard in a long time. The Opus E and my cock get on very well together, and they are now best mates.
Anyone who enjoys masturbator sleeves and also e-stim is going to love the heady combination of physical stimulation and the buzzy and throbbing nature of e-stim stimulus.
The Opus E masturbator from @Mystim_GmbH fuses a masturbator sleeve with electrosex technology to produce a shockingly good time for your happy chap.
Click to Tweet
Key Features
Key features:
Compatible with all e-stim control boxes
Uses 2mm plugs or a MyStim Cluster Buster Sultry Sub
Available in Vagina, Anus or Donut forms
24 month warranty which is excellent
Can be used on its own as a masturbator or with an e-stim control box for e-stim play
Incredible interior textures
Easy to strip down and clean
I would recommend it to:
Anyone who enjoys masturbators in general
Anyone who enjoys e-stim penis play and wants to try something other than loops and rings
Anyone interested in e-stim
Basically anyone with a penis, it is the dogs danglers
I wouldn't recommend it to:
Anyone who isn't in to e-stim (try it though you might like it)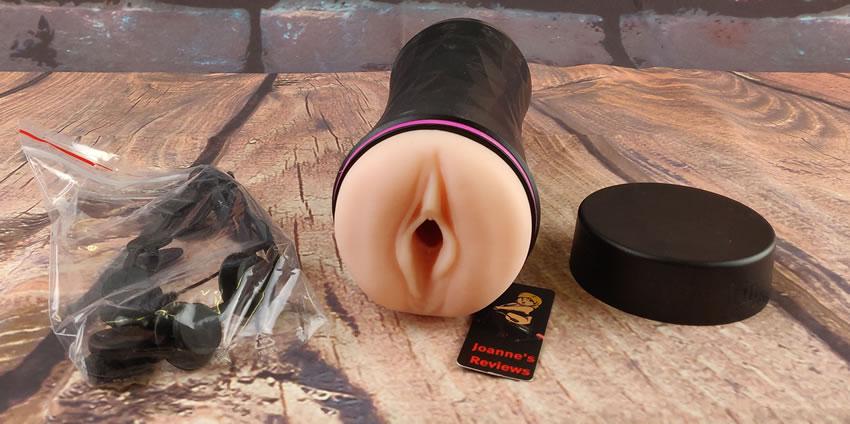 The Opus E apart is a fantastic masturbator as it is also an e-stim bipolar electrode
Final Thoughts
The Opus E takes e-stim pleasure and combines it with some delightful internal textures to create a delightful cross over of two masturbation styles. Each complements the other delivering some intense orgasms that were really enjoyable.
I love the design, the internal conductive components are pretty bulletproof. They will last a long time, cleaning is simple, and it also looks fantastic. A lot of effort has gone into creating a very stylish product without sacrificing performance.
Using it as just a masturbator sleeve is fun, but add the e-stim sensations, and it is a winner. One I can heartily recommend to hardened e-stimmers as well as anyone new to this style of play.
This is the first MyStim product that I have had the pleasure of reviewing and it has really opened my eyes. Check out the rest of their electrodes and control boxes and see why they are expanding so rapidly.
I was sent this Opus E masturbator by MyStim and I would like to thank them for giving me the opportunity to review it for them.
Joanne's rating
Where Can I Get One From?
Grab one of these fantastic e-stim masturbators direct from MyStim for just 89,80 € (approximately £76.84) or grab one of their Opus E Bundles for 134,80 € (approximately £115.34) and see for yourself how much fun combining e-stim and masturbators can be.
Check them out and don't forget to tell them that Joanne says "Hi".
Disclosure
This review does not contain affiliate links, for more information about affiliate links check out my disclosure page.