I had visions of Roman-themed orgies with naked bodies writhing around everywhere I looked, but I was pleasantly surprised to find out that isn't what a swingers club is really like.
We were met inside by the owners Ron and Debbie, and they were so lovely. They instantly put my nerves to rest, and we got a guided tour of the whole facility. Ron explained that all newcomers are shown around by a member of staff, and it was reassuring to have someone take the lead and show us around. We were instantly made to feel welcome.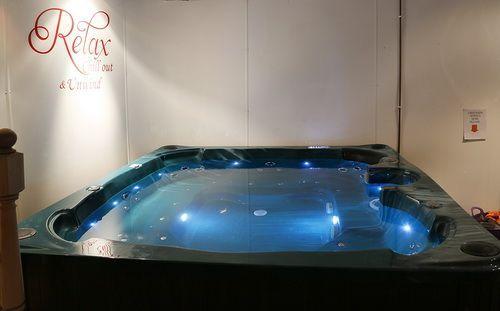 Downstairs there is a bar selling hot and cold drinks and snacks. You can take your own alcohol which is held for you behind the bar, but they are not licensed to serve alcohol.
We were shown into a dark sex cinema where the only rules imposed are no cameras or phones (a theme common to the whole of the club for obvious reasons) and that whatever happens must be consensual. If you want to get naked and live out any fantasies, then you can do, and I like that thought. The black leather sofas filling the room looked very inviting, and I can only imagine what has gone on in there over the years.
The sex cinema is open six days a week and on Wednesdays they do an evening session for anyone wanting some kinky sex cinema fun.
Then, we were led past a Sauna and into a wet room with a massive eight-person jacuzzi that already had some naked people chatting and socialising in it. All very friendly but the sight of naked people actively enjoying their conversations was both relaxing and enlightening.
Then it was upstairs to where the main club rooms were, and I was surprised as to just how massive this club is, it is enormous.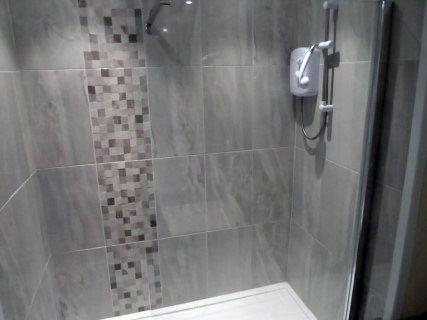 At the top of the stairs, we turned right and were led down a corridor past three playrooms one of which had a barn door style door so that you could have privacy or be watched. I loved the mirror room in which the walls and ceiling are covered in mirrors so that you can watch yourself having some fun.
At the end of the corridor is a naked orgy room which consists of a large raised area covered in PVC coated mattresses and this room is overlooked by a two-way mirror so you can be observed without actually seeing your audience.
This viewing area also has a glory hole area with lots of gloryholes where anyone can drop to their knees and service the cocks offered through the holes. No-one was using it when we saw it though - that was a pity.
Turning back down the corridor we passed a set of toilets which consisted of one male and one female cubicle but the design of them is a little bit oppressive as they share a single sink and it felt a bit claustrophobic to me. I was told that they are being replaced with work already progressing.
---
Update 12/12/18
The toilets at the top of the stairs have now been rennovated and the gents and ladies loos are now seperate and have their own sink facilities.
The staff have done a great job in rectifying this issue and it's so nice to see the club constantly evolving.
---
Onwards we went past two Bedouin tented rooms with an excellent idea for the curtains, if the curtains are left open, you can come in and join in the play. If the net curtains are drawn, then you are free to watch but if the black curtains are drawn it means the people inside want privacy.
All of these rooms fascinated me, and I could imagine all sorts of fantasies being lived out there.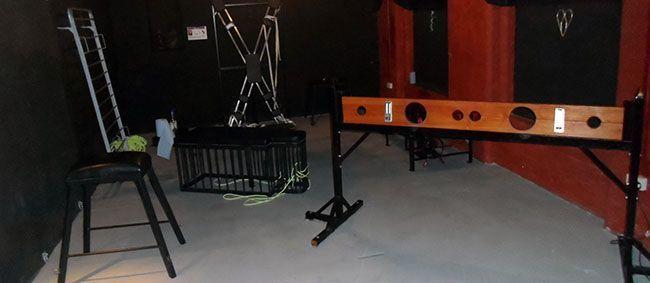 The main dungeon is great for open play whilst the smaller dungeon has a lockable door for private play
We were then shown to a fantastic shower area with two what looked like brand new showers with glass screens, these are ideal to clean up after an evening of debauchery. Towels are freely available from the downstairs bar.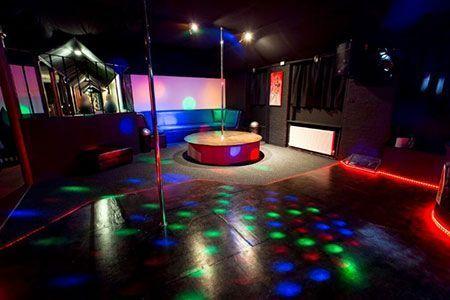 We then went past a tiny private playroom and on to the dark room which is somewhere I loved. It is pitch black inside, and the floor is coated in PVC coated foam so that it is comfortable on the knees or your back. Several padded shapes and stool are all around, and all of the walls have padded benches on them so you can get lots of people sat there watching the fun going on on the padded floor. This room has black lights in it, and so anything white glows, and it just looks fantastic.
We then visited a small dungeon with a nice little spanking bench and a cross on the wall. Ropes and leather straps are supplied, and there are impact play toys held behind the bar that you can borrow if you haven't brought your own.
We then went on to see the male and couples/female changing areas which are very comfortable with huge mirrors on one wall, and there are lots of lockers in there that you can use. You can get a padlock from the bar for a £5 deposit which you get back when you return the padlock as you leave. This means you can arrive in your day clothes and then change into your kinky kit while there.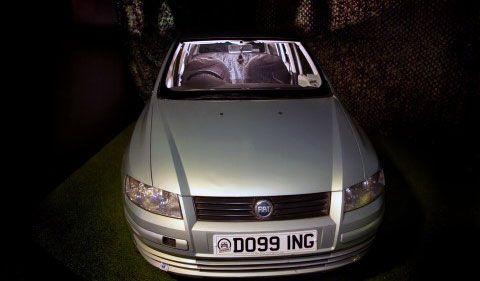 At this point, I was impressed by the facilities thinking that was it but boy was I wrong.
Then we went through a door, and WOW we were suddenly in a vast dance area with poles for the adventurous sort, angled mirrors at floor level to help look up skirts and lots of the usual disco lighting and a DJ booth for the resident DJ.
This place is enormous, and we weren't even halfway through the tour. We then saw another fantastic mirror room with a heart-shaped bed. Another orgy room with multi-level beds with another two-way mirror concealing a sizeable dark viewing area.
The biggest surprise was to find a car in there in an indoor dogging area complete with picnic benches and a tent. Outdoor fun indoors, which is a great idea, especially with the weather outside when we visited.
The themed rooms just kept coming, we saw a classroom complete with headmasters desk, a bedroom and a playroom with a ramp between two sides of a bed which we have it on good authority is excellent for anal play.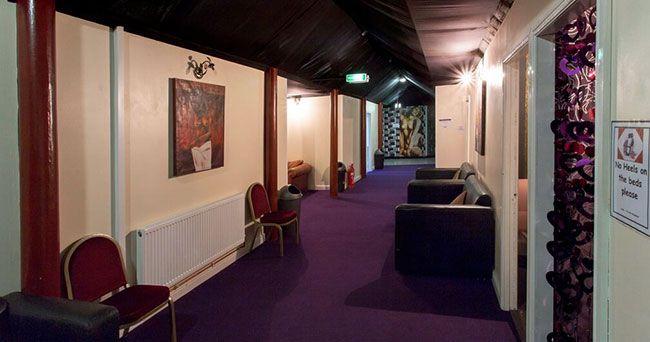 The main corridor has play rooms coming off it and the upstairs bar, it's also a nice quiet area for socialising
There is another bar upstairs selling hot and cold drinks, and again you can leave your own alcohol behind the bar. The corridors are lined with leather sofas, and these are great for socialising.
Ron, the owner, has his own room which is full of sofas and looks like a living room, except for the sex swing in the corner and he explained that on Saturday nights he gets his toys out. By toys, he means his Sybian, fucking machines and a Violet Wand. All of these are firm favourites of mine, and if you have never tried them, then I recommend visiting on a Saturday night and letting Ron show you the ropes.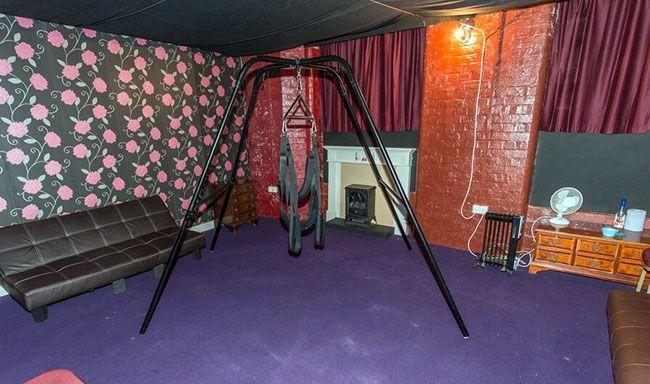 The owner Ron gets some pretty amazing toys out on a Saturday night, all are worth trying
The medical room had me wishing we had brought some e-stim equipment along to play with and then we went on past a small jail cell. I was smiling more and more with each passing play space.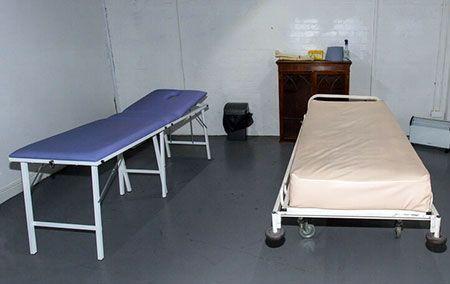 It was the dark maze that blew me away though. This is a very dark area with two choices when you enter, one option eventually leads you to a bed in the middle of the maze overlooked by several gloryholes that I can imagine getting used regularly. The other way round takes you to another glory hole fun area and a viewing platform overlooking the bed. Oh, and you can stick your todger through the glory holes there.
Our tour continued, and we saw grope boxes that looked like castle turrets and then we came to the three Amsterdam rooms which are a lot of fun. They have red lights over the doors that you can switch on and large windows where you can tease viewers or entice people to join you.
One of the rooms has a bed visible so that people outside can watch the fun through the windows, but the other two have private beds where you can't be viewed if you want a little privacy.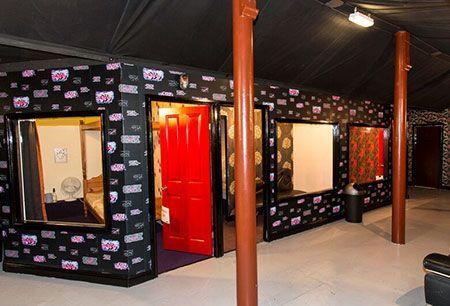 Then it was into the massive dungeon which has lots of dungeon furniture from spanking benches to crosses and even a cage and a rack. This is a room where kinksters can really have some fun.
Finally, we were shown the main toilets, and these are so much better than the smaller ones.
All in all, we were blown away by the kinky imagination that has gone into the design of the play spaces. There is something here for everyone.
Every play room and play space had cleaning materials supplied so that guests can clean up after themselves and this is great as the place is kept very clean and presentable.
A common theme was consent, this is actively policed by the staff and anyone touching without permission or being a pest is ejected from the premises. Another thing that surprised me is how many opportunities for private play there was there. I had imagined everything would be open plan and you could see everything but the way the rooms are designed with their lockable doors if you want privacy you can have it.
Now, I have deliberately not mentioned the swingers we passed while on our tour, and that is because rather than it being a huge orgy it was just like visiting a nightclub with lots of people chatting, laughing and just socialising.
Occasionally couples, singles or groups would go into the playrooms, and sometimes they attracted a crowd while at other times the doors were closed and locked for some private fun.
The thing with sex clubs like the Attic is that you are under no pressure to play with anyone and that is quite right. We were put at ease immediately by the fantastic staff, and it wasn't long before we too were mingling and chatting.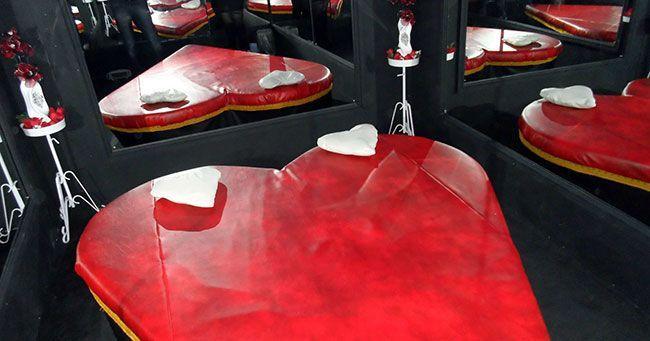 One of my favourite rooms has a heart shaped bed and mirrors on all the walls and the ceiling - kinky
My line of work would always spark an interesting conversation with people eager to know more about what I do with common comments like - "What, you get sex toys and fucking machines for free". We met so many friendly people there from all age groups, sizes and walks of life.
I am not going to say if we had fun with anyone else but needless to say, I had a lot of fun with Stunt Cock, and I may or may not have had a lot of fun in the dark room both on my knees and on my back with an audience (not bad for a swingers club virgin). Stunt cock is now a regular there with the lovely sub'r'.
I was nervous when I entered, but when it came time to shower and then leave I felt like this was a club I would love to become a regular in. It was such a friendly place, and you can literally live out all of your fantasies in there. It was the perfect place to pop my swingers club virginity and I did so with a bang.
My partner is a regular there with our submissive, he loves taking her there to play, especially in the dungeons and cinema so if you see Stunt Cock and sub'r' in there do say "Hi" to them. They can often also be seen in there giving Violet Wand and E-Stim demonstrations.
Check out Joanne's thoughts after visiting a Swingers Club in Derby called The Attic Experience.
Click to Tweet
You can check out the Attic's website here - http://www.atticexperience.uk
Entry costs are:
Males - £25
Couples and TV/TS/CD's - £15
Females - £10
Locker keys are a £5 deposit and towels are free
Address
Unit 2, Osmaston Rd
Business Park
281 Osmaston Road
Derby
At the rear of Postcode DE23 8LD
Telephone: 01332 205018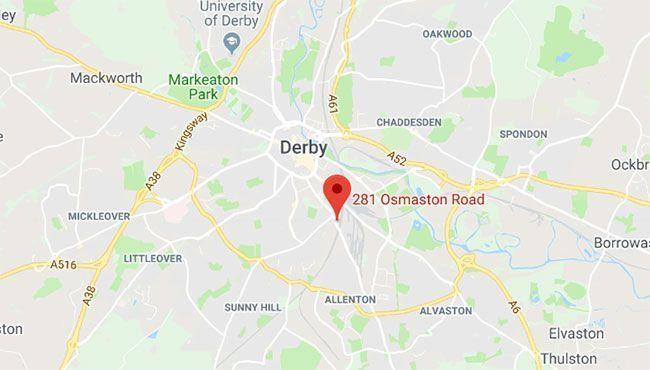 Very easy to find and with ample parking it is a great place to pop your swingers club cherry