Delivery and packaging
Woohoo, I get to bang myself silly with a new toy; I mean, conduct a thorough review of a deliciously textured JTT dildo.
John Thomas Toys always package their orders very well, in discreet cardboard boxes. The dildos are held securely inside the box with packaging paper, and this, coupled with the dildos minimalistic packaging, is great for the environment.
John Thomas Toys pack their dildos in shrink wrapping that has a holographic logo sticker on it, so you know it's the real thing. It also has a sticker showing the hardness rating and a reminder to wash the dildo before its first use.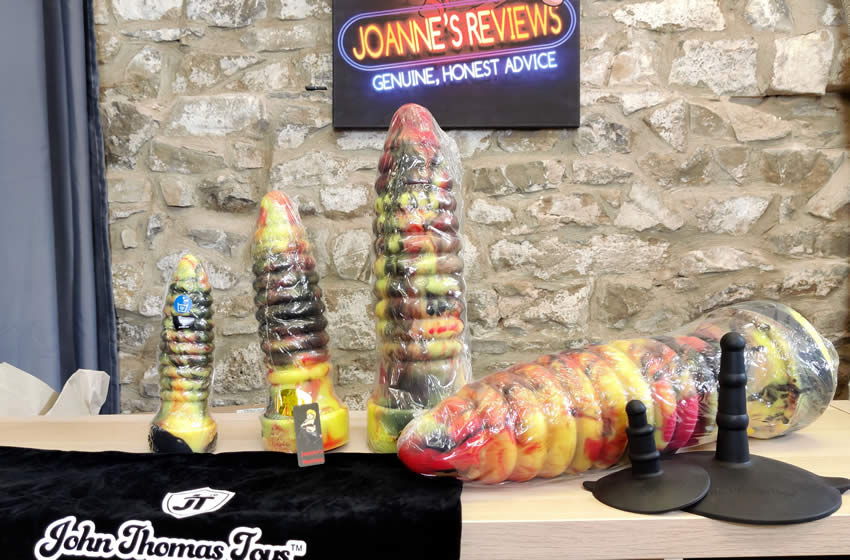 I love the way that JTT use minimalistic packaging.
You get one of their fantastic suction cup vac-u-lock compatible adaptors with each purchase, as well as a very well made branded storage bag.
---
Check Out My Unboxing Video On Youtube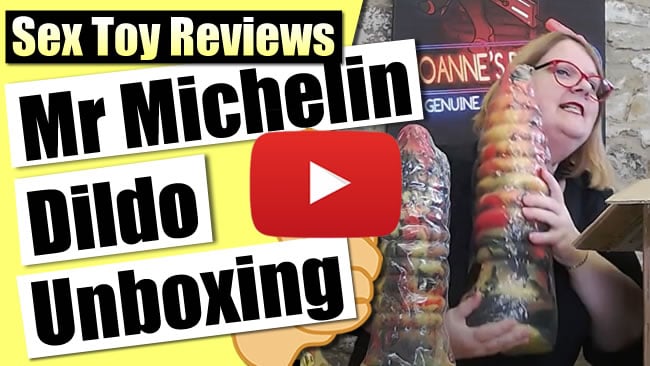 ---
Materials and design
As always, with JTT dildos, Mr Michelin is made from a beautiful blend of body-safe silicone that feels great, with a slight drag when your draw your finger along it.
The JTT blend of silicone is one I love; it has just the right level of drag to hold lube well while still giving you lots of sensations as you thrust with it.
Silicone is our go-to material for insertable toys because it is non-porous and so easy to clean. Other cheaper materials can be porous, which means bacteria can grow inside the surface of a toy. No need to worry about that though, with JTT toys.

The packaging reminds you to wash the dildo before use.
These dildos are very well made, and as such, JTT gives a lifetime guarantee with them. Look after them, and they will last a lifetime.
Mr Michelin has a look that you will no doubt recognise. I do not doubt that Mrs Michelin is one happy lady as he's very well proportioned with his recognisable rings that provide lots of intense stimulation.
Starting at the tip, you get a nicely rounded end that aids insertion, and as you take more and more, you get to experience the ridges from his bulging rings. Each gets wider and wider as you take more, and this feels very intense.
The base carries the JTT branding that looks great and a very functional vac-u-lock compatible hole that gives you lots of play options.
These dildos are made in copper moulds which is an expensive manufacturing process but produces excellent results, time after time.
JTT uses a colour pouring technique called Fusion, and it looks incredible; each dildo will be unique while still having the same colour scheme.
There are four colours, two firmness ratings and four sizes to choose from, so you can get something that is perfect for your waiting holes.
I have had so much fun with Mr Michelin, so let me tell you what it is like to use.
| * | SMALL | MEDIUM | LARGE | X LARGE |
| --- | --- | --- | --- | --- |
| Length: | 9"/23cm | 12"/30cm | 16"/40.5cm | 19.5"/49.53cm |
| Circumference (middle of shaft): | 7.08"/18cm | 9.8"/25cm | 13"/33cm | 16.1"/41cm |
| Circumference (bottom of shaft): | 6.69"/17cm | 8.7"/22cm | 12.2"/31cm | 14.1"/36cm |
| Circumference (base): | 9.44"/24cm | 12.6"/32cm | 16.3"/41.5cm | 20.8"/53cm |
| Max Insertable Length: | 8.1"/20.57cm | 10.4"/26.41cm | 14"/35.56cm | 17"/43.18cm |
| Weight: | 0.54kg (*variable) | 1.32kg (*variable) | 3.17kg(*variable) | 5.74kg (*variable) |
| Price: | £99.99 | £149.99 | £229.99 | £329.99 |
Performance
This part of the review where I bare my soul to everyone to tell you what I've been getting up to with Mr Michelin. Here's a spoiler alert; I absolutely freaking love it.
I knew I had to try it out from the first moment I laid eyes upon this new dildo from JTT. Just the thought of all that texture got me very wet in no time at all.
I opted to use the Medium one, with Joanne enjoying the small. That is a turn up for the books as it is usually the other way round, but I got first dibs.
He is a very big boy, and after lubing up Mr Michelin, I decided to use one of the suction cup adaptors for my first sessions with this silicone delight.

I love the JTT design of suction cup adpator, it holds dildos down really well.
I love the JTT suction cup adaptors, and I was made to kneel over Mr Michelin before slowly lowering myself onto it. I relished the feeling of the blunt rounded tip pushing against me and then opening me up as I slid down, taking more and more of it.
I managed to get roughly half of it in before starting to ride it, relishing the feeling of all of those ridges massaging the inside on my pussy. It wasn't long before my first orgasm washed over me. I relish squeezing down on dildos as I cum hard, and this one has just the right amount of squish that had me in heaven.
I carried on to a couple more orgasms before taking a break. I found it so exciting to ride it in front of Joanne and Stunt Cock.
I like the ridged textures on Mr Michelin, and they feel incredible as each teases you as you ride it. I love the girth of the medium and enjoy the way it stretches me open as I use it. That is a sensation that I will never get tired of.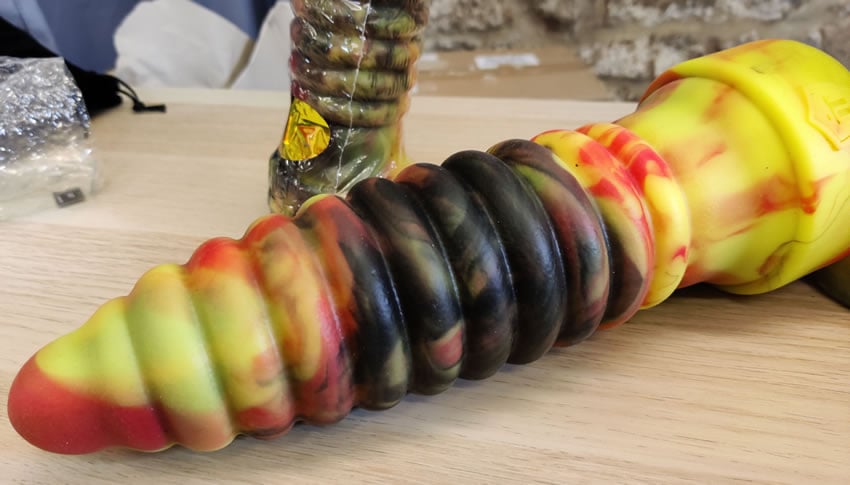 The ridges on the shaft of this dildo feels fantastic.
I have used Mr Michelin anally, and he didn't disappoint there either. If anything, the textures work even better in my ass, each teasing me and opening me more and more. I couldn't get as much inside as I can vaginally, but seeing just how much I can take is so much fun.
Mr Michelin is one of those sex toys that keeps you wanting more and more when you play with it. Its size means it stretches you open, and that feels amazing. Make sure you check out the sizing on the JTT website, as these toys are larger than the usual ones out there. Don't be that person whose eyes are bigger than their holes, LOL.
I used Mr Michelin on a fucking machine, and that was mind-blowing; the ridges felt incredible both on the way in and one the way out again. With some dildos, you get some pleasant sensations from their textures, but with Mr Michelin on a fucking machine, the feeling you get can only be described by the word - intense.
Cleaning at the end of a play session and with me, that means lots of cleaning LOL, is a simple task. I wash silicone dildos with mild soapy water and leave them to air dry before storing them away in the JTT branded storage bags that are excellent quality.
---
Check Out My Video Review On Youtube
---
Check out the Mr Michelin silicone dildo review. He performs very well in "the wet". Grab one from @johnthomastoys.
Click to Tweet
Key Features
Key features:
Made with high-quality medical-grade silicone.
Copper moulds are used to ensure that you will get the same features like the ones before.
Choice of different colours.
Four sizes to choose from.
Selection of two firmness ratings.
Provided with a suction cup adaptor and storage bag.
Lifetime guarantee.
I would recommend it to:
Anyone looking for a stretching challenge.
Anyone who enjoys large toys.
I wouldn't recommend it to:
Anyone not looking for a dildo.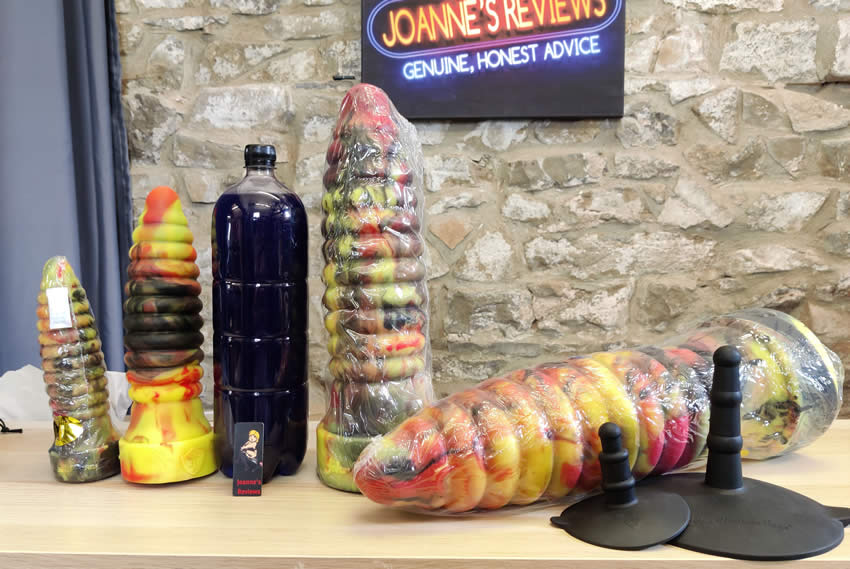 When you see all four sizes of Mr Michelin next to a 2 litre soft drinks bottle you can see the scale of them.
Final Thoughts
I love the ridges on Mr Michelin, together with the intense sensations that they deliver. I also really like the colour scheme on the ones we were sent, there are other colour options but this one, I think, is the best.
It's a simple but unique design ideal for anyone looking for a dildo that isn't phallic-shaped.
I have enjoyed lots of JTT dildos now (thank you, John Thomas Toys), but I think I have a new favourite. Mr Michelin is one that I would not hesitate to grab if I needed to get fucked into oblivion, especially for fucking machine play. I am giving it a 10 out of 10 and have no hesitation in recommending it to anyone.
Check it out together with the other colour options and just imagine how those ridges feel - I love them.
We were sent the Mr Michelin Dildos by John Thomas Toys and I would like to thank them for giving me the opportunity to review it for them.
sub'r's rating
Where Can I Get One From?
Grab one of these amazing body-safe silicone dildos from John Thomas Toys and take Mr Michelin for a drive yourself to see how his bulges and ridges feel. Grab one from just £99.99, which is not bad considering just how much silicone is used in these toys.
Check them out and don't forget to tell them that Joanne says "Hi".
---

If you enjoyed reading this review then check out my other reviews of John Thomas Toys products:
Silicone Dildos
---
Disclosure
This review does not contain affiliate links, for more information about affiliate links check out my disclosure page.