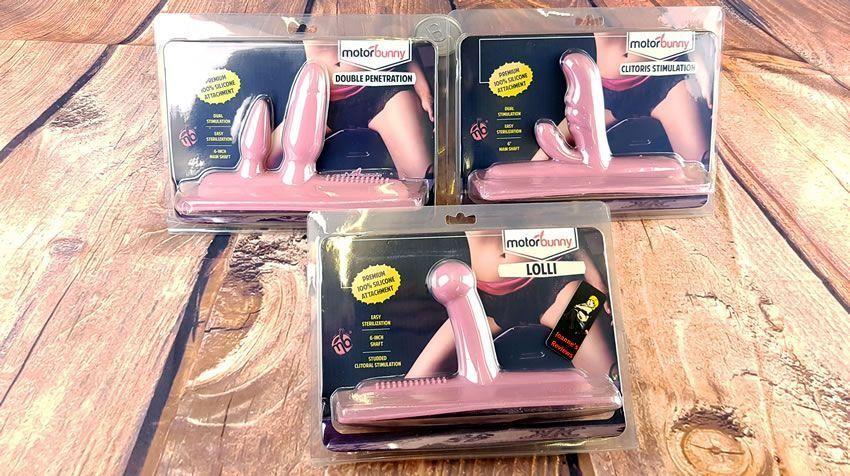 I was delighted when I received these three attachments to review for Motorbunny.com
Motorbunny took the Sybian® concept and turbocharged it adding bells and whistles along the way to bring this fantastic way to get off into the 21st century.
During my review of it, the main complaint that I had was aimed at the attachments supplied which were TPE Sybian® attachment clones.
Well, Motorbunny has been busy, and they now offer this affordable range of platinum cure silicone attachments with some incredible designs to choose from. We were sent the Lolli, Double Penetration and Clitoris Stimulation models to review.
Delivery
These attachments arrived quickly and in a discreet package which was handy as the postie left it with my neighbours as I was out when they were delivered. I always comment on packaging as for some people it is a real worry when ordering products online.
Packaging
All three attachments come in attractive clamshell packages which display the products in their entirety which is something I like.
I enjoy being able to see a product in its packaging before purchase and this style of packaging ticks that box for me.

I like packaging where the product can actually be seen
Material
These attachments are made out of a lovely blend of pink platinum cure silicone. This is absolutely fantastic news as silicone is my favourite sex toy material for many reasons but primarily because it is non-porous, latex and phthalate free and it is hypo-allergenic.
You can even sterilise silicone with relative ease, and so sharing attachments is actually a possibility if they are made out of silicone. Regular cleaning is so simple. Just wash the attachment after use in warm soapy water to get rid of any vag-goo on it. Then give it a spritz with an anti-bacterial sex toy cleaner.
You can even wash silicone sex toys in a dishwasher on a sterilise cycle just don't get your mother-in-law to load the dishwasher before you have removed your sex toys. Trust me it is a long embarrassing story so learn from my mistakes.
These attachments are all Sybian® compatible. They have improved the Sybian® design for attaching them by having two flaps that are used to connect it to the mounting plate, one at either end. This makes them much more secure on the machines.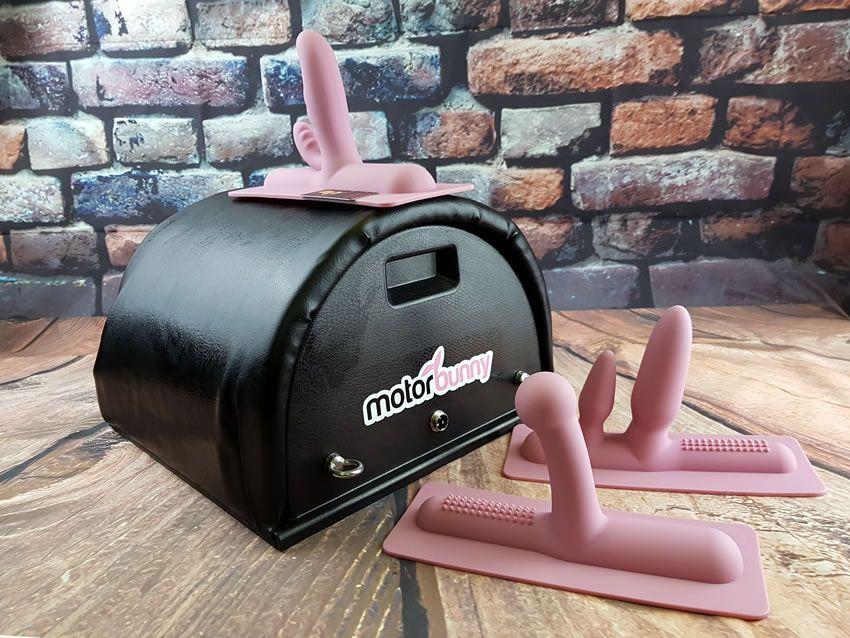 These silicone attachments fit well and are compatible with other machines as well
The Premium Silicone Lolli Attachment
The Lolli is a thing of beauty, I could spend a lot of time just admiring its form. It is most definitely an attachment designed to maximise G-spot pleasure, but I guess you could use it to stimulate the p-spot too if you have one.
It features the raised clitoral modules found on most Motorbunny attachments, and these are amazing for grinding your clitoris down onto.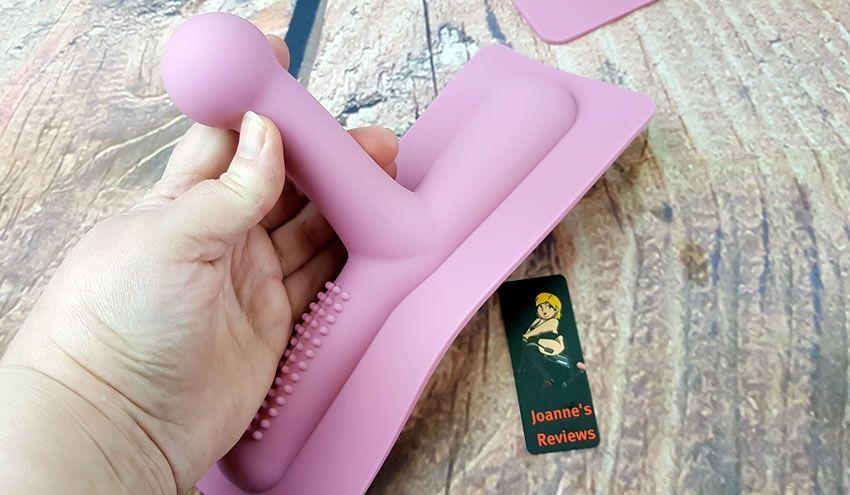 The Lolli features and intense rounded ball on the end of a shaft and clitoral nodules
You can use the riser sets to raise this part of the attachment to fit in with your body shape, and I love grinding against these nodules.
The gently curving shaft really hits the spot. Measuring in at 4.5"/11.4cm long it ends with a 3.5"/8.9cm circumference g-spot pleasure sphere.
This heavenly sphere with its 1.1"/2.8m diameter is easy to insert, and it is easy to adjust your body position to get it just where you want it. It is the sphere that makes this attachment so much fun.
It is hard to describe just how incredible it feels on the higher power settings of the Motorbunny without swearing. It feels incredible and being able to direct those incredible vibrations that the Motorbunny can generate right onto your G-spot is fantastic.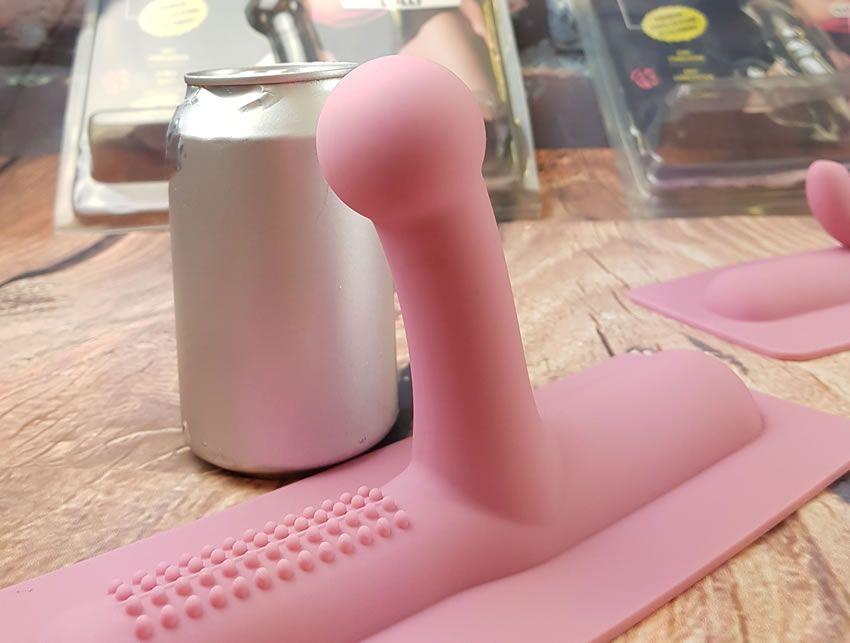 The Lolli is a fantastic attachment that provides intense g-spot pleasure
The Lolli is a fantastic attachment that takes the Motorbunny to a new level of enjoyment. I can readily squirt when enjoying these levels of stimulation and sub'r' always needs a mop and bucket when she has been riding the Motorbunny (her all-time favourite sex machine). It makes her squirt every time she rides it, and no other machine has that effect on her.
The Premium Silicone Clitoris Stimulator
Another attachment that is pleasing on the eye (and the pussy too of course) is the Motorbunny Premium Clitoris Stimulator. Instead of the usual clitoral stimulating nodules on the front of the attachment, you get an upturned feature designed to nestle between your labia directly stimulating your clitoris.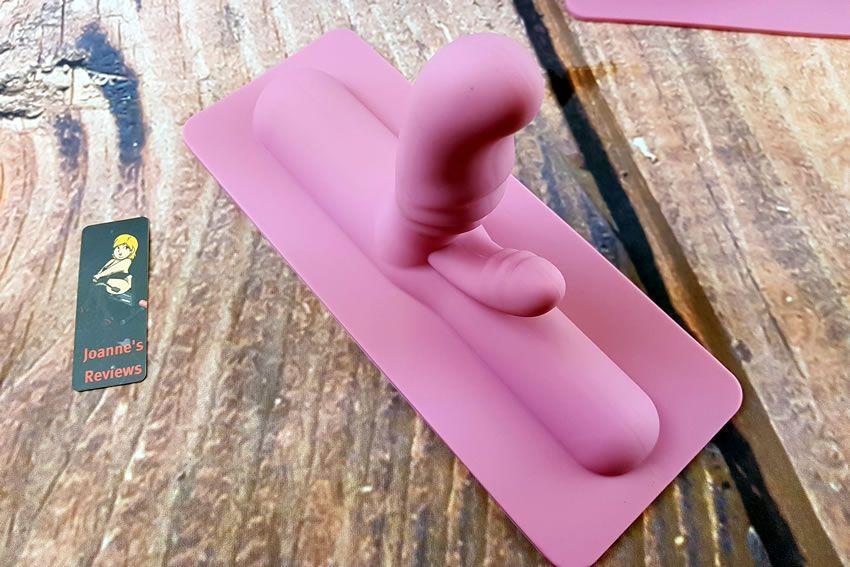 The Premium Silicone Clitoris Stimulator gives some great focussed stimulation and the textures are nice too
In use, this feels incredible as the amazing power of the Motorbunny is transferred directly to your clitoris. These intense sensations had me weak at the knees, but there is more good news about this attachment.
It features some really nice texture in the form of waves down the clitoral stimulator and also down the shaft. These add some fantastic sensations if you fuck this attachment, sliding up and down its length. The end of the shaft has a gentle curved designed to add pressure and to transfer those vibrations to your G-spot too.
This is an attachment that ticks both the clitoral orgasm and the g-spot orgasm boxes, and again this one caused me to squirt.
The shaft measures in at 5"/12.7cm with a circumference of 4.5"/11.4cm. The clitoral stimulating nub is 2"/5cm long.

The Premium Silicone Clitoris Stimulator is so much fun to ride
Once again Motorbunny has designed a unique attachment that is compatible with all of its rivals at a fantastic price too.
The Premium Silicone Double Penetration Attachment
This is where things get incredibly kinky with the Motorbunny Double Penetration Attachment. Yes, you read that right, this attachment features two penetrating shafts that enter both your pussy and anus to deliver incredible sensations even before the Motorbunny is switched on.
To put the icing on the cake, you still get the standard raised clitoral nodules for added clitoral stimulation.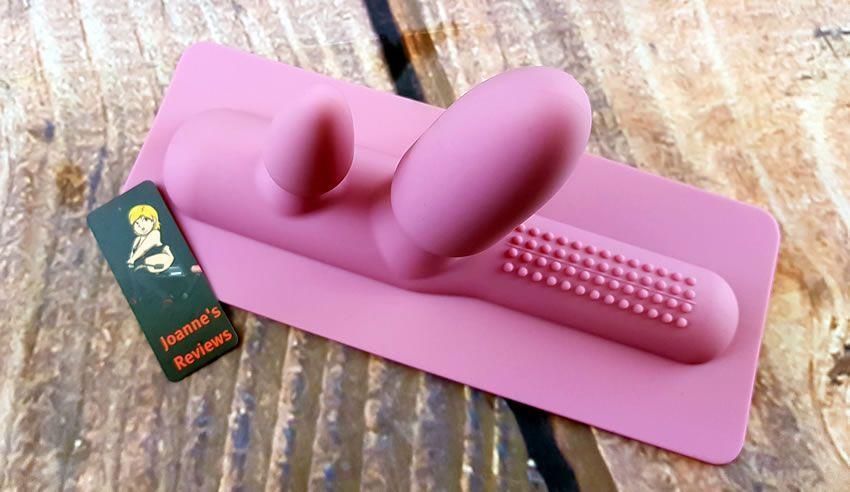 The Premium Silicone Double Penetration Attachment is definitley a wild ride
This is where the softness and flexibility of the Motorbunny blend of silicone really come into play. The anal insert is very soft and forgiving, and so it caters for lots of different body shapes making alignment a relatively simple process.
Lots of lube is essential with this attachment, and I recommend a good water-based lube such as Sliquid H2O or Sassy or even Secret Play Naturals. A hybrid lube is even better but test some on a small area first to check for any reactions, we had none at all.
This attachment is definitely right up sub r's street or should I say fun holes. She loved slowly lowering herself onto this attachment after a good lubing up. Taking the vaginal insert first and then lining up and inserting the anal insert too. The look on her face when she finally came to rest with her clitoris nestled on the raised nodules was a picture.
I definitely recommend keeping the vibration levels lower than with the other attachments as you don't need bags of power to cum hard while riding this attachment. The feeling of being so full and stretched open together with the intense sensations generated by the Motorbunny are amazing, and I challenge anyone not to cum hard when riding this attachment.
If you enjoy a little anal play then this one is definitely one to consider as it takes kink to the next level as it is just so naughty, we love it.
The vaginal insert measures in at 5"/12.7cm in length with a girth of 5"/12.7cm. The anal insert measure 3"/7.6cm long with a 3.5"/8.9cm circumference. Both inserts are gently tapered to aid insertion, and their narrower neck at the base helps with their flexibility allowing them to conform to your body shape easily.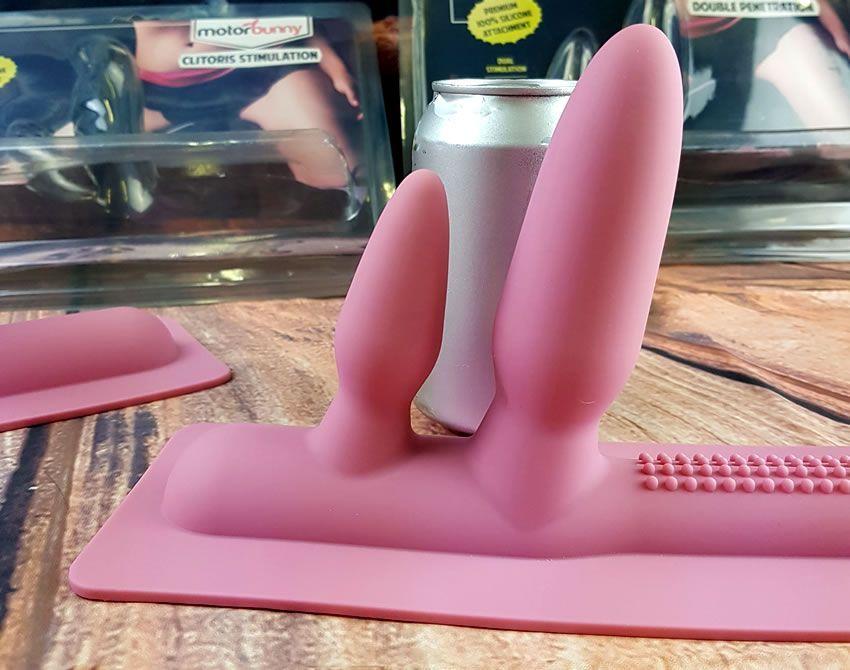 The Premium Silicone Double Penetration Attachment is a fantasy satisfyer for some
This is another attachment that while similar to others on the market it stays on brand and performs very well indeed costing much less than other related accessories on the market.
Motorbunny has pulled out all the stops with these fantastic body-safe 100% silicone @Motorbunny attachments.
Click to Tweet
Key Features
Key features:
Seven silicone Motorbunny attachments to choose from
Body-safe and hypoallergenic material is very easy to clean
Something for everyone including a p-spot stimulator
Sybian compatible
Final Thoughts
Motorbunny has taken their amazing machine which is a giant leap forward in terms of technology and performance and give it the attachments that it deserves.
Always opt for body-safe materials, and it is nice to see a company actively taking this message on board and producing silicone attachments that not only perform exceptionally well but also don't cost the earth.
We have enjoyed reviewing these attachments, and you can rest assured that they will be getting a lot of use and I think I may need to get a mop and bucket especially for sub'r' who would spend all day on a Motorbunny squirting herself into oblivion if she could.
If you are looking for body-safe attachments for your Motorbunny or any other ride on vibrator system then definitely check out what is on offer from Motorbunny. They have another four silicone attachments that also look incredible. The Mount Gushmore Attachment has really caught my eye as it looks similar to the Rocks Off Ruby Glow.
I was sent these Motorbunny Silicone Attachments by Motorbunny.com and I would like to thank them for giving us the opportunity to review them.
Joanne's rating
Where Can I Get One From?
Grab some of these fantastic attachments from $29.99 USD, their usual price is $49.99 USD but there is a sale on at the moment. They ship internationally and at current exchange rates it means you could own one for £23.10+P&P which is amazing value for money. Check out the other offerings on the Motorbunny site for amazing things like covers and nipple chains - kinky.
Check them out and don't forget to tell them that Joanne says "Hi".
Disclosure
This review does contain affiliate links, for more information about affiliate links check out my disclosure page.