I doubt there is anyone in the UK who hasn't heard of Ann Summers, they are the retail chain that normalised selling sex toys on the high street, and I love their lingerie ranges as well as some of their sex toys.
Their new Moregasm+ range consists of the following ten silicone sex toy options:
Couples Ring
Bullet
Ears Stim
Rabbit
Gift Set
Anal Plug
Remote Panty
Remote Egg
Wand
There is pretty much something for everyone and all genders which is fantastic. The whole range features dual density body safe silicone, so that makes everything phthalate and latex free and again that is fantastic. It also means that the toy surfaces are also non-porous, so they are easy to clean and store without worrying about harmful bacteria growing on or in them. I wish that more manufacturers would follow their lead in using body-safe materials.
They all also feature the new Ann Summer's patented Climax Technology™ which promises "prolonged, low-frequency vibrations that penetrate the surface of your skin and travel through the body, targeting your deepest trigger points for your most overwhelming, blended climax yet."
That all sounds lovely and I was keen to put this sex toy to the test but first here is some information about the remote control panty vibe, then I will get onto the juicy bits, I promise.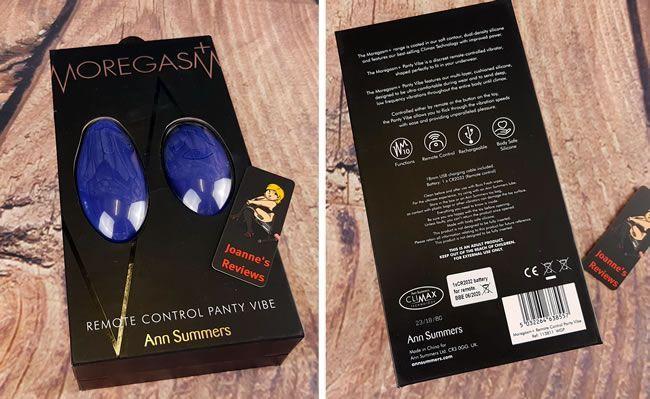 I love the packaging, the dark looks and branding really hits the mark with this vibe connoisseur
The retail packaging of the remote control panty vibe is stunning, with its dark accented looks and the familiar Ann Summers brand name. The reverse of the box carries lots of product information. I can imagine that in a physical shop like Ann Summers this retail display box will catch the eye and it would undoubtedly command a second look from me. This box carries two security seals on each side to give you peace of mind that no-one has tampered with your new best friend.
The box is also the perfect storage solution for this sex toy unless you have a spare silky drawstring bag or pouch so keep the box once you have opened it. Inside, you get the panty vibe itself and its remote control unit together with a USB charging cable for the panty vibe and a CR2032 battery for the remote control unit. You also get clear instructions showing operating instructions along with the usual charging information.
I would have preferred to have both the vibe and the remote as rechargeable, but I guess that Ann Summers have opted for the disk battery for the remote as it will last for a long time anyway and it is an excellent way to keep the costs down for the consumer.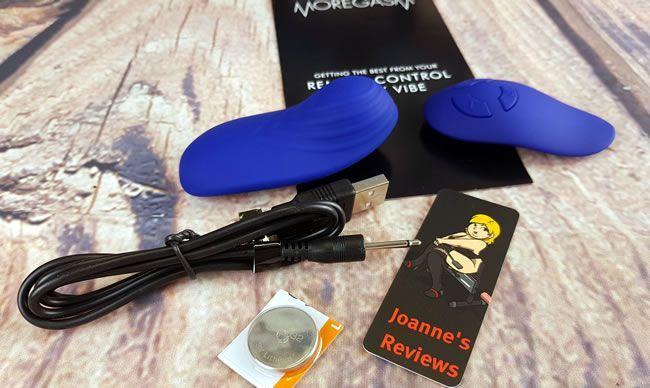 You get the panty vibe and its remote control, a USB charging cable, a CR2032 battery and a set of instructions
The silky texture of the toy and remote gives a lovely quality feel, which not only feels nice to hold and use but also looks great too. The remote sits well in the hand, and the vibrator sits well inside your panties, tucked up against you.
As with all rechargeable sex toys, it will arrive with a holding charge in the battery but you should give it a full charge before use, I charged mine overnight to ensure it was ready to go. It took quite a bit of willpower on my part to resist the urge to play with it as I couldn't wait to see how the vibrations would feel in use.
The USB charging cable is inserted into a small hole that looks like a dimple at one end of the panty vibe, insert the cables plug and let it charge fully before use. A light flashes on the panty vibe when it is charging and then lights up steady once a full charge has been achieved. The CR2032 battery is inserted into the remote by unclipping the battery housing cover and then inserting the battery between the two metal contacts, replacing the cover once the battery is correctly fitted.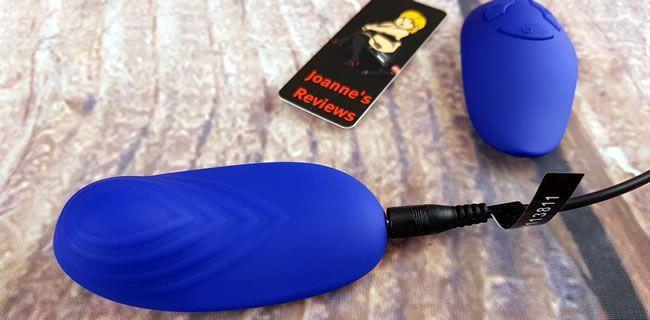 Charging the remote control panty vibe is very easy, insert the cable and then attach to a power source
The panty vibe is coated in a very nice blend of silicone that is lightly draggy, the inner surface area features raised chevrons that help the vibrations do their job, and these feel great in use providing a little physical stimulation as you walk with it in your panties.
The panty vibrator is solid to the touch, everywhere apart from at the nub, the tip of the nub which presses against your clit is nicely balanced with some give on the most bulbous part, making it great to push harder into your clit if you want extra stimulation without any discomfort.
Controls
The controls are straightforward to use and understand. The power button on the panty vibe is used to turn it on and off again, and by pressing it quickly, you can cycle through all five vibration levels and the five patterns without needing the remote. If using the button on the vibrator, you have to go through all the settings before going back to the start, whereas with the remote you can go up and down the settings easily. Of course, your partner can always keep hold of the remote to torture or pleasure you however you prefer.
The remote has three controls, a power switch and two buttons that are used to go up or down through the ten power settings and patterns, it has a range of about ten metres. The buttons are responsive, and you can quickly find the pattern you want either using the remote or the vibes single button. The buttons are very tactile, returning a definite click when pressed.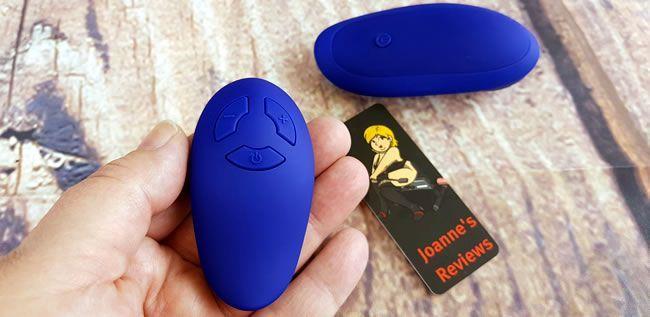 The controls are easy to operate and logical in the way that they work
The biggest concern I have for vibrators like this one is the level of noise generated in use. If you are going to be using it while out and about, then it needs to be quiet as well as powerful. Unfortunately, this is not a whisper quiet toy, so it isn't one I would feel confident to walk around outside whilst using it in busy areas, but you can certainly have fun with it around the house.
Performance
The first time I used the panty vibe it was actually without panties, I just pressed the vibe against my vulva aligning the raised portion with my clitoris, and I switched it on. It hummed into life, and I immediately started smiling as I knew that my Foof and this vibe were going to get on admirably.
This is a vibe that if you put it on the bed, it will walk across it under its own steam as the vibrations are very strong. It's quite funny to see it moving towards you on the bed and my first thoughts were "My, you're keen". The deep rumbles run through the entire length of the vibrator, which really does send my lady bits tingling fantastically, with the shape targeting the majority of the sensations straight to my clit.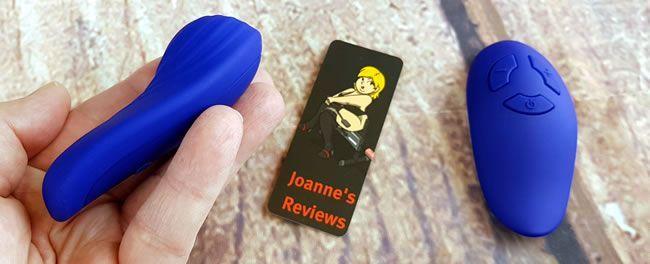 The remote control panty vibe is quite thin and contoured, the domed area feels amazing in use
On its lowest power level, I could feel a warm glow spreading through my nether regions as my Foof woke up and started to take notice, the vibrations were very pleasant not focussed on the surface but seems to penetrate much deeper giving the impression of a much larger vibe covering more area.
I cycled through the power levels, and it wasn't long before I was squirming on the bed enjoying the way the vibrations teased my clitoris and they could be felt very deeply especially on the higher levels. I settled for one of the pulsing patterns, and I could feel my excitement build to a fantastic orgasm that had me clawing at the sheets with my free hand.
I lay there smiling thinking, it seems to live up to its promises, providing deep rumbly vibrations that emanate but are not focused on the raised mound.
Yes, this is a vibrator that you can use in bed to give yourself lovely slow wanks or quick knee-tremblers, but that isn't really what it is designed to do. Its primary role is of a vibrator that you can slip down the front of your panties and wear out and about while you tease yourself or better still have someone else at the controls.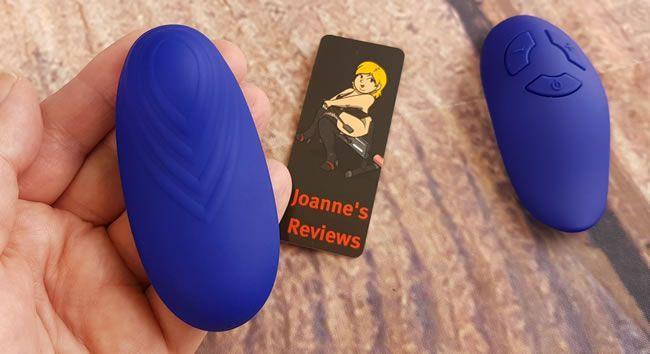 The raised chevron textures help the vibrations spread out giving deep sensations
The second time I enjoyed an orgasm from the remote control panty vibe, was while out and about with Stunt Cock at the controls. I had slipped it down the front of a tight pair of panties, and I had the raised and patterned portion nestled between my labia and directly on top of my clitoris. You get stronger stimulation if you nestle it between your labia.
WOW, is all I can say, I was teased, pleased, and denied an orgasm over and over again by Stunt Cock who relished using the controls to build me up to the point of orgasm before making me groan as he switched it off again before repeating this tortuous pattern.
When he did make me orgasm, it was as I was just getting out of the car and I literally collapsed back into my seat panting and clamping my legs together as a fantastic orgasm washed over me. I had to switch it off at that point as I just got so sensitive.
Needless to say, it was a lot of fun to have someone else at the controls too. One of the beautiful things about remote control vibes like this is the ability for someone else to tease and pleasure you. Throw in some restraints, and you really have an incredibly kinky scene just waiting to unfold. The sense of anticipation when someone else is at the controls is phenomenal.
The new Moregasm+ Remote Control Panty Vibe from @AnnSummers will definitely get a party going in your panties. See what Joanne thought of it.
Click to Tweet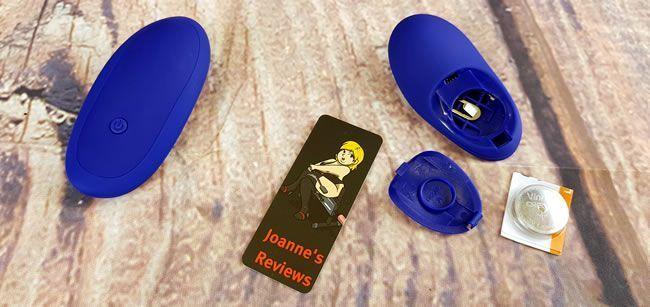 The supplied CR2032 battery is easy to fit and the remote control panty vibe is rechargeable
Key Features
Key features:
Body safe silicone - phthalate and latex free
Ten power and pattern settings
Remote control option
USB rechargeable
Final Thoughts
I like the Moregasm+ Remote Control Panty Vibe From Ann Summers, it's fun to use on your own but even more fun if you hand the controls over to a partner.
It's very comfortable to wear inside your panties and provides excellent stimulation to not just your clitoris but deep inside you to stimulate lots of nerve endings. It is also quiet in use and discreet enough to be worn outside on lower power levels.
I have really enjoyed getting to know it and have used it on my own and with a partner for some very kinky forced orgasm sessions. It's one of those sex toys where once you start thinking about it all sorts of kinky play scenarios suddenly jump into your head, and these scenarios all feature hard orgasms at the end.
I have no problem giving this remote panty vibe a strong recommendation, the Ann Summers design team have really done their research and developed a well-rounded sex toy that will keep you coming for a long time to come. Happy orgasms.
I was sent the Moregasm+ Remote Control Panty Vibe by Ann Summers and I would like to thank them for giving me the opportunity to review it for them.
Joanne's rating
Where Can I Get One From?
Grab one of these Moregasm+ Remote Control Panty Vibe From Ann Summers for just £80. Check out the rest of the new range at Ann Summers, there really is something for everyone and I would love to give the rest of the range a good going over, purely in the name of science of course.
Check them out and don't forget to tell them that Joanne says "Hi".
Disclaimer - I was sent the Moregasm+ Remote Control Panty Vibe From Ann Summers to review free of charge and this has in no way affected the outcome of this review. This post contains affiliate links and if you purchase something when you follow one of these links I may receive a small commission at no cost to you. For more information check out my disclosure page.