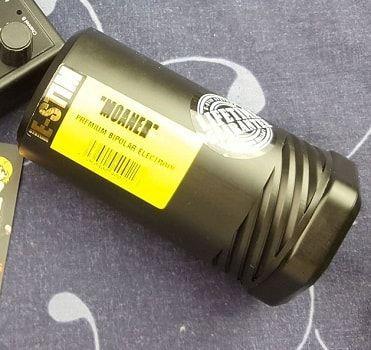 Packages from E-Stim Systems always arrive promptly and under plain wrapper so you needn't worry about your postie discovering that you enjoy it a little kinky.
I love receiving new electrodes from E-Stim Systems and think that their product packaging is second to none. The screw top machine tool cases that they use for their electrodes is perfect for the job and the yellow label on it gives a clear indication as to which electride is which when your collection is stored together.
I am lucky enough to have gotten quite a collection of electrodes now and that makes 'playtime' very interesting as I have a good choice of options for some kinky electrosex fun and games. I definitely have a preference for internal electrodes when I get off using my e-stim equipment and the Moaner is a great design works very well indeed.
The finish on the Moaner is a luxurious Satin finish but you can also upgrade it to a polished finish that looks very nice indeed for an extra £8.
The Moaner is a Bi-Polar insert and for those of you who don't know what that means, it just means that both wires in an e-stim circuit go into its base. Each metallic area that you can see on the electrode is a pole and the electrical current flows from one to the other - simples.
It shares a lot of features with the Flange electrode which is its smaller cousin and it was designed for people who liked the features of the Flange but who wanted to be that little bit more full when using it and I must say it fulfills that criteria admirably. The MJ is its bigger brother and is for anyone who really wants to be filled.
This range of electrodes all share a ridged base that makes holding it with lube coated fingers a bit easier and two sockets in the base that accept 4mm plugs. There is a recessed allen headed bolt in the base that can be unscrewed it you want to strip this electrode for a deep clean.
Top Tip: I find that wrapping an elastic band around the base makes it easy to hold no matter how slippery your fingers get. I can also recommend using low profile 4mm plugs so you can sit with it inserted if you want to.
The wide base gives lots of contact area which is exactly what you need in an electrode and and the longer shaft means that the current flows through more tissue which means for incredible sensations in use.
E-Stim System electrodes all have their contacts top and bottom as opposed to side by side (with the exception of their lightweight range). Having tried both types of electrode I do prefer the top/bottom alignment as when my muscles squeeze I get a much nicer feeling than with the side by side style. The current just seems to flow better and that makes it feels much more intense.
The Moaner was given its name after it was first used on a willing female tester as all she could do was moan when it was used on her and I can certainly relate to that. This electrode just feels so good, it is wide enough so that you definitely know its in there and the sensations that it delivers are mind blowing.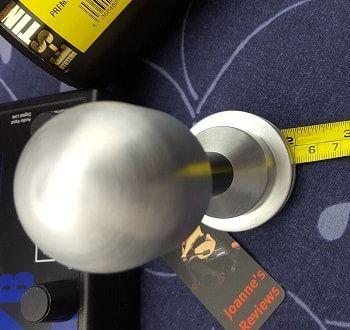 It arrives vacuum sealed and that gives you confidence that it is clean and straight from the manufacturer. Always wash new electrodes prior to their first use as it will have oils and the like on it from the manufacturing process. Cleaning is very simple just wash in warm soapy water and use a sex toy cleaner on it. Make sure that it is completely dry before storing it away for the next time you use it. If you don't strip it for cleaning then ensure that it's completely dry as any water that has worked its way into it will short circuit everything and you won't get any e-stim effect from it.
In use always use a good quality water based lube and I like to use E-Stim Systems own Electrolube and you can read my review of their Electrogel here. As well as being a great ElectroGel it is also a cracking general purpose water based lube.
The curved head on the Moaner makes insertion a breeze although I find that anal insertion is obviously a little harder than when I play with it vaginally. As a personal preference I prefer it vaginally as I find that it actually feels like I am being fucked when stimming myself and its just easier for me. Guys will love it as the large head will provide good prostate stimulation. Try attaching one cable to the center socket (head pole) and then use a pad or cockring placed just below the head of your penis to see what I mean.
I don't find any hot spots with this electrdoe and I love the way that it fills me more than my Flange Electrode.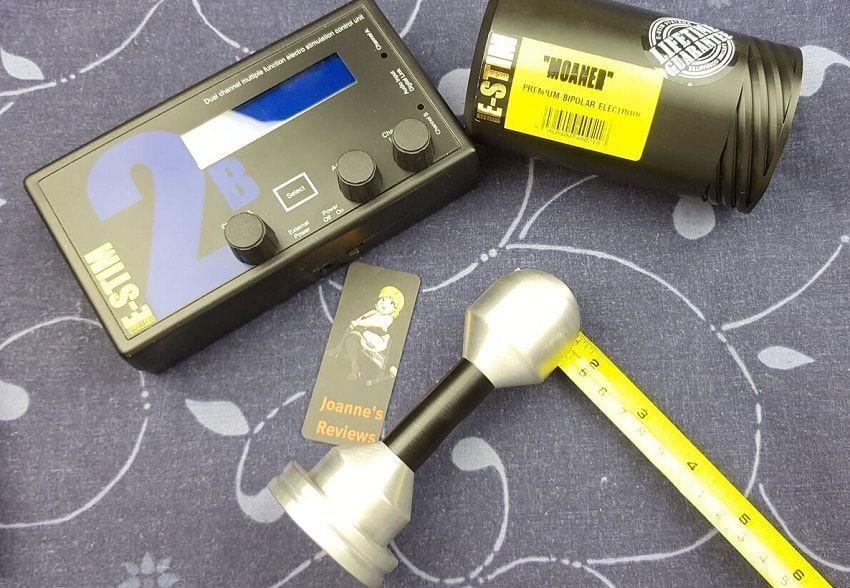 I'll finish with a short mention of the warranty that E-Stim Systems provide on all of their products. As they make everything in house they are very confident of their quality control as they have dorect control of it.
They therefore give a lifetime guarantee on all of their control boxes and electrodes and this is great. Their customer service is second to none and they are very approachable and a lot of other companies could do with taking a leaf out of their book.
Specifications
Name - Moaner
Type - BiPolar Insertable
Length - 115mm (4.5")
Head Diameter - 38mm (1.5")
Base Diameter - 50mm (2")
Weight - 277g
Connections - Dual 4mm sockets in base
Guarantee - Lifetime
The Moaner bipolar e-stim electrode from @estimsystems has the perfect name as that is the effect it has on Joanne.
Click to Tweet
Final Thoughts
The Moaner is a very capable electrode and would be a great addition to anyones collection. I find that it delivers strong reliable sensations and it feels so good vaginally and also anally too. Just like with the Flange I like the groove around the base as it does aid in insertion and retrieval when you have lubed up fingers and lets face it you should have lubed up fingers if you have enough electrolube on your insert. The wide base makes it very safe to use anally and it provides a good wide contact area preventing any hot spots. I love this range of electrodes and will have to try the MJ next.
I was sent my Moaner by E-Stim Systems in exchange for a fair and honest review and I hope that you have enjoyed reading this review and that it has hopefully left you curious to try one out for yourself.
UPDATE: I decided to model a new neck for this electrode and it feels fantastic, you can get one here - E-Stim Systems Moaner Electrode Modified Neck.
Joanne's rating
Where Can I Get One From?
Grab a Moaner Electrode for yourself from E-Stim Systems for only £74.00.
Website links:
Check out the red collection as they look amazing. I have reviewed the Bobble and love it.
---
If you enjoyed reading this review then check out my other reviews of E-Stim Systems products:
CONTROL BOXES
PUSSY & ASS ELECTRODES
PENIS/BALL PLAY
OTHER
Website links:
---
Disclaimer - I was sent the Moaner Electrode to review free of charge. This post contains affiliate links and if you purchase something when you follow one of these links I may receive a small commission at no cost to you. This has in no way affected the outcome of this review. For more information check out my disclosure page.