Delivery & Packaging
As usual, this product arrived from Latex, Leather & Lace (LLL) in very discreet packaging bearing no indication of what was inside.
So, yet again, my postie delivered another package to me, not realising it was a kinky cock sucking hood.
After opening up the transit packaging from LLL, you get to the packaging of the hood which is simply a sealed black plastic pouch containing the hood neatly folded within.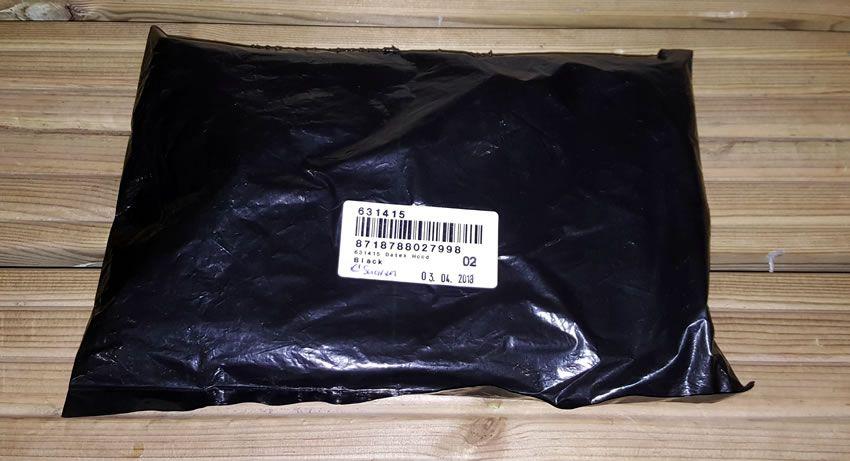 The Mister-B Datex Cocksuckers Hood comes in a plain sealed pouch
Materials and Design
The Mister-B Datex Cocksucker Hood is made from super stretchy Datex, which is a two-part material. It features a latex outer that can be polished to a high shine with a latex polishing medium.
The inner is a softer, more comfortable material that doesn't stick to your skin. This makes it easy to put on and remove again without having to use powders or lubes - result.
The Datex Cocksucker Hood has a classic look with its three holes. There are two for your eyes, and the third leaves your mouth and nose wholly exposed for oral pleasure.
The stretchy nature of the Datex means that it will fit anyone. Simply grasp the neck hole and stretch it down over your head.
Once fitted, you may need to adjust it slightly to align it squarely on your face to make sure the holes are in the right position.

The Mister-B Datex Cocksuckers Hood is folded when it arrives
Unlike a latex mask, this one is much more comfortable to wear for long periods due to the lining. Wearing it means that you can be incognito, making it ideal for group or BDSM play.
Mr B has done an excellent job producing this mask, the quality of the stitching is fantastic, and the little branded tag inside is a nice touch. I have long been a fan of Mr B products, and this one lives up to their exceptional reputation.
So why wear a hood?
Masks and hoods are worn for numerous reasons, maybe you want to play without revealing your face for many reasons. A mask is also a great way of removing your personality, allowing you to adopt a different persona.

The Mister-B Datex Cocksuckers Hood is much easier to put on than a latex hood
They are often used in BDSM scenes to enforce an extra layer of submission with a hood being worn by a submissive stripping away their identity. No matter your reason for wearing a hood, one thing is for sure, they are kinky as hell and oh so much fun to wear and play in.
This mask has been designed for oral sex. Wearing it highlights your eyes and mouth allowing anyone to look down on you as you are on your knees pleasuring them.
The black Datex doesn't limit your range of movement, it does make everyone focus on your eyes, nose and mouth through.
Performing oral sex while wearing it is a lot of fun. When you wear it, you can be as slutty as you want.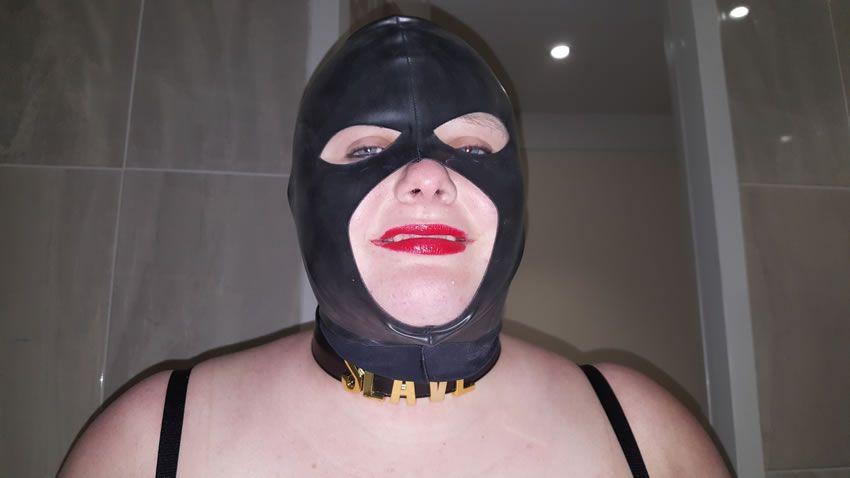 A Hood is great for enforcing submission or anonymity
The black Datex also highlights any cum that gets splashed on it giving you and even kinkier look if you receive a facial while wearing it.
I can see it being a fantastic option if you want to experience a gangbang or group sex session while remaining anonymous.
Performance
Put this hood on, and you can be anyone you want to be while being very, very naughty.
I really enjoyed wearing it for oral sex, and I have been told by a very reliable source (Stunt Cock) that bright red lipstick really goes well with this black mask. I really enjoyed the feeling of having the hood enclose my head while leaving my mouth free for use.
If you want to get even kinkier, then use a blindfold along with this hood to deny the wearer any visual senses. Using a blindfold will enhance your other senses, and it is a simple way to kink anything up a notch.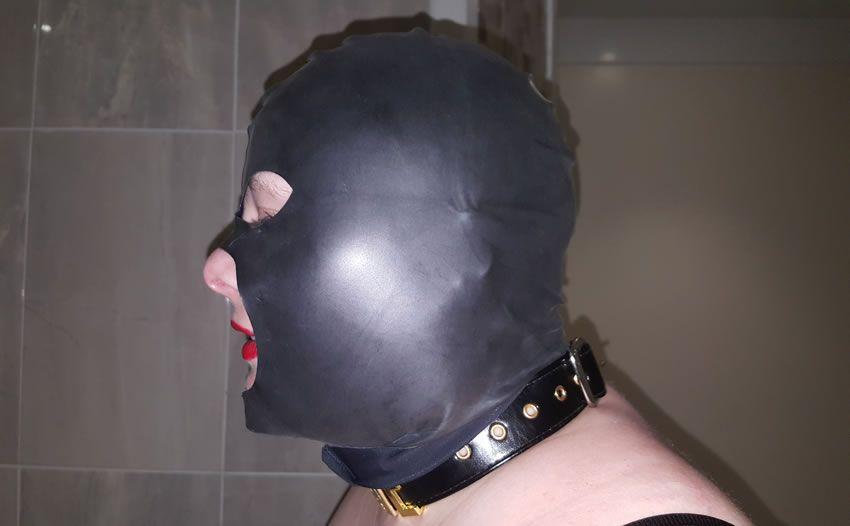 This is the perfect hood for performing oral sex on a partner and it fits well
But, don't think that this hood is just for a bit of kinky cock sucking. Oh, no, it is also perfect for eating pussy too. I put it on sub'r', and it was delightful to see the top of her head and her eyes as she diligently performed her duties with her tongue between my legs.
I was also mesmerised by the sight of her performing oral sex on Stunt Cock too. The sight of his hard cock disappearing between her lips as she deep throated him in the mask was incredible.
A hood is gender-neutral after all, so this is something that both sides of any couple can use and enjoy. It brings a real sense of powerplay as well. Putting a hood on does enforce a sense of submission.
Although, you could argue that this particular hood has a look akin to a medieval executioners mask and so a Dominant could get away with wearing it too.

We had so much fun reviewing this hood, even from the back it looks kinky
We were surprised at how comfortable the Datex is in this hood. We have already reviewed one latex mask, and while that was enormous fun, this Datex one beats it hands down. The ease of fitting as well over a Latex hood is also a huge bonus. No more struggling to stretch and pull a tight latex hood over your head risking tearing it or putting a nail through it.
Datex is the perfect material for function and form where it comes to hoods, and this one looks fantastic and is also incredibly kinky and fun to wear too.
The Mister-B Datex Cocksuckers Hood from @LatexLeather is a fantastic hood for oral playtime and kinky fun.
Click to Tweet
Key Features
Key features:
Datex material has a natural latex outer and a soft and stretchy inner
Three holes, for eyes, nose and mouth
Super stretchy material
Can be buffed to a shine with latex polish
Gender-neutral, one size fits all
I would recommend it to:
Anyone looking to kink up their oral sex sessions
Anyone who enjoys hood play
Anyone looking for a hood that is perfect or oral play
Anyone looking for a long lasting and easy to fit hood
I wouldn't recommend it to:
Anyone who doesn't like hoods or masks
Anyone who doesn't like natural latex
Final Thoughts
We love the Mister-B Datex Cocksucker Hood from Latex, Leather & Lace.
Easy to put on, tight-fitting and with so many kinky play options, it both looks good and feels fantastic to wear.
Oral sex wearing it is so kinky, and on the receiving end, it is a visual treat seeing your hooded partner pleasuring you with their mouth. It highlights cum exceptionally well and really makes facials even more fun (if that is possible).
All of us love it, and I especially enjoyed having oral sex performed on my by sub'r' while she was wearing it. So, it isn't just for cock sucking, pussy eating in it is fun too.
I was sent the Mister-B Datex Cocksuckers Hood by Latex, Leather & Lace and I would like to thank them for giving me the opportunity to review it for them.
Joanne's rating
Where Can I Get One From?
Grab one of these fantastic Mister-B Datex Cocksuckers Hood for just £34.99 from Latex, Leather & Lace and experience some hooded oral play for yourself.
Check them out and don't forget to tell them that Joanne says "Hi".
Disclosure
Disclaimer - I was sent the Mister-B Datex Cocksuckers Hood to review free of charge and this has in no way affected the outcome of this review. This post contains affiliate links and if you purchase something when you follow one of these links I may receive a small commission at no cost to you. For more information check out my disclosure page.