About KinkCraft
KinkCraft was born of the desire to be able to teach others how to create useful and kinky sex toys easily, with minimal fuss through the use of high quality instructional videos. They want to show you how to make their kink rather than having you read how to make it.
Their videos are very professionally made and allow you to view and rewind them over and over again so that you never miss a trick or step and even the most complex of knots are easily explained.
They have a great range of paracord based kinky items that are a lot of fun to make and use.
Their mission is quite simply:
If there is one thing better than really good kinky toys, it is really good kinky toys you made yourself.

We want to teach you everything you need to know to make your own toys and have a lot of fun doing it.
Having made up one of their kits now I can attest to the fact that they are both fun and very therapeutic to make and they give you an immense sense of satisfaction when you view and use the finished product.
Delivery
The mini-flogger kit arrived in very plain packaging, and upon opening it I was pleasantly surprised by the lovely touch of the box that the kit was actually packaged in. It's really nice which also means that this kit would make a very nice gift for someone special. First impressions are very good indeed. I am amazed at just how many companies overlook the simple things like packaging and the customers first introduction to their products which is as soon as they open the package. Kinkcraft have definitely got this covered.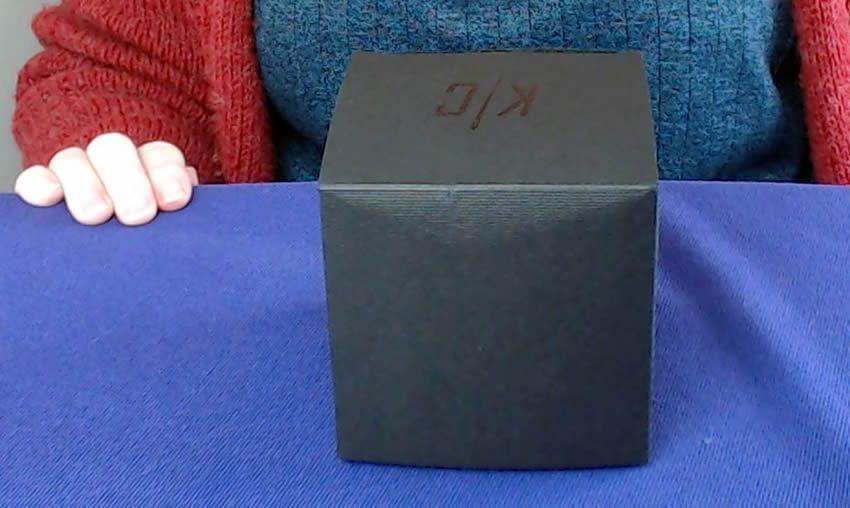 Features
Inside the box you receive two separate long stands of para-cord, a silver metal ring and black tape, together with a small card with a code on it. You need to register with on the Kinkcraft website to obtain access to the video instructions using the code on the card.
The mini-flogger is available in black and purple, blue, red or princess pink. I opted for the black and purple as I love that colour combination.
The enclosed card is very clearly typed, so it's easy to read and follow. It tells you to add the course relevant to the kit you purchased into your cart, then you simply use the coupon code on the card to obtain access to the videos for free.
This is all the info you are given:
From the top menu select courses
Then beginner courses
Then the relevant course
Add the course to your cart by selecting "Buy this Course"
Go to the checkout and enter the code from the card into the relevant box, then click apply
Don't forget to click the "Accept Terms & Conditions" checkbox then place the order
Personally I registered an account before buying the course, as I thought it would probably make it easier, to go back to the course later.
You get an Order Received notice on the website and an email which is basically asking for feedback, and a receipt for your purchase. However it contains no instructions or links as to how to actually view the course. I went back to the website and found that the course videos were now released so that I could see all the steps - Yay!
To be honest I did expect the email to have a link that would take me directly to the course page, which would have been easier but it isn't a big problem just something that Kinkcraft might look into adding to the customers receipt e-mail to aid customers finding the videos easily (wish list sort of thing from me).
UPDATE 28/11/15: KinkCraft have added a link now to their customer purchase e-mail taking you straight to your account page where you can see the link that you will need to get to the course videos - great news, well done KinkCraft, I am sure that your customers will appreciate it.
Making The Mini-Flogger
The first thing you should do is start by watching the first part of the video. The video is extremely clear and very easy to understand, the best bit about it is that you can pause, rewind and play it whenever you need to refer to it. This makes it very easy to follow and a very useful tool to aid you in making the mini-flogger.
You will need a few additional items to hand when you make the mini-flogger. The video tells you at the getting started stage that you need a pair of scissors and a tape measure. You are given enough paracord to complete the mini-flogger in the kit, but it isn't cut into the correct sized strips that are needed. This is why you will need a tape measure and pair of scissors.
It was a little fiddly pulling the white internal strands of the paracord out a little, as some of the ends were glued to stop this happening after they were cut. The video doesn't mention this until further into the production, which would have been a helpful comment at the start, but I suppose it should have been obvious to me that if it is too well glued, then simply cut the end off.
This is another reason why I suggest viewing the video before you start making it up. It was a bit of a Homer Simpson "Doh!" moment for me, as I didn't want to cut it and ended up spending a few minutes trying to prise it open.
I had to back the video up a many times of course or pause it so that I could catch up and it always looks so easy on the video.
Saying that though it isn't difficult to make at all and it's a lot of fun, just a bit fiddly to start with. Mainly when you are starting to make the handle. I couldn't get the paracord to stay as flat as the video before I started to wrap the tape around it. I found that I needed to hold the ring in my teeth at the start, as I used both hands to wrap the tape and hold the paracord still.

It took me longer than 30 mins to make, mainly because of my hands not being strong enough due to my arthritis. I had to stop for a break several times as my thumbs hurt too much after a while. As the course is all online I could easily go back to it the following day to finish my mini-flogger. I actually made it in several sessions which goes to prove anyone can make this kit even someone with Arthritis in your hands.
The course content list is great as it has tick boxes so you can see the which steps you have already completed easily if you break up the build as I did.
As the sessions are all clearly titled you can easily go directly to the section you need if you have to leave the website and come back to it later.
Any able bodied person should be able to easily complete the mini-flogger in around 30 minutes, if you have good dexterity in your hands. It will take longer if you have issues with your hands as I have, but that said, I didn't find it impossible to complete, I just needed to take my time as I have previously commented.
Use
Now a few weeks ago if anyone would have suggested that I test out a paracord flogger I would have thought them to be one 'sandwich short of a pic-nic' if you know what I mean. Actually though the paracord mini-flogger is a really effective little tool and you can use it to easily induce light sensations or heavy ones depending on your mood.
Performance
What can I say, as well as being a lot of fun to make (I must have looked daft with my tongue sticking out at the tricky bits though - not a pretty picture), it is also a hell of a lot of fun to use. I love the feel of the paracord on my skin and have used it a number of times in my sex play now and it's as good as if not better than the other flogger I own. I also have a great sense of satisfaction in thinking - I made that when using it.
It sounds daft but you do get a tremendous sense of satisfaction out of making and then using the mini-flogger.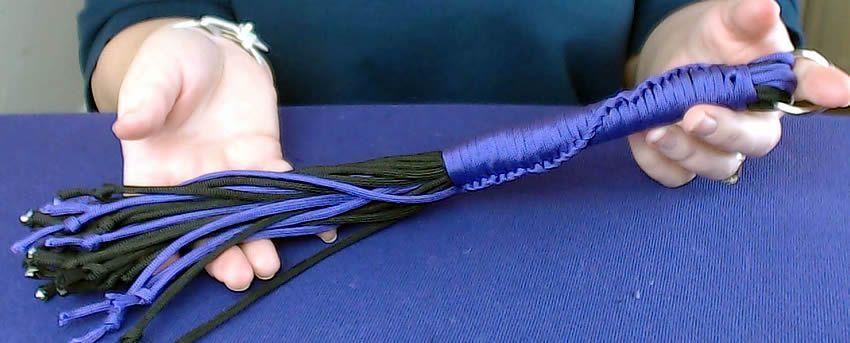 Key Features
Key features:
Choice of colours
Very effective mini-flogger
Hand made - by you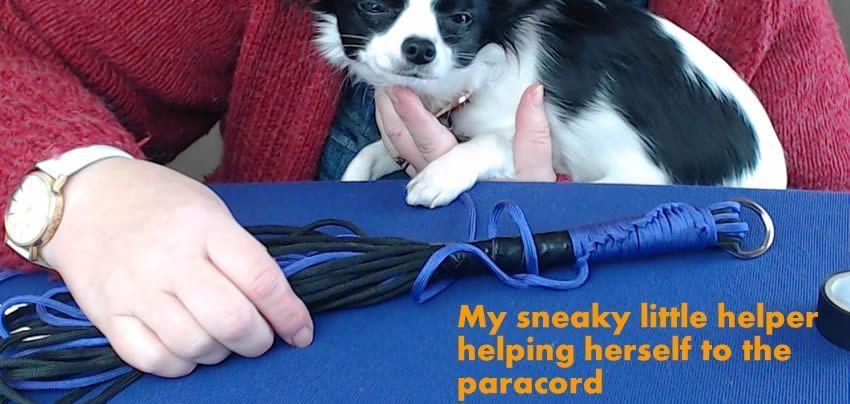 Final Thoughts
I really, really enjoyed making this mini-flogger, it was a tough slog for me with my hands but I proved to myself that I could do it and I hope that anyone else with my condition gains the confidence to give it a go after reading this. I found it very relaxing and therapeutic to be able to produce something that is truly my own, yes I didn't get the twist right on the handle but who cares it's mine and has a character all of its own.
Check out the other kits available from KinkCraft.co and give it a go yourself.
Recommendations
I would recommend this sex toy to:
Anyone looking for a unique sex toy that you can make yourself.
Anyone looking for a flogger made out of an unusual material.
Anyone looking for a pleasant distraction as making it is very therapeutic.
I wouldn't recommend it to anyone who:
Doesn't like making things themselves - you could buy a ready made one instead.
Joanne's rating
Where Can I Get One From?
You can get this great little kit from KinkCRaft.co for just £6 for the course itself or £6 for the kit that comes with the course included for free. This is amazing value for money and I can't recommend the kit highly enough.
I was sent this kit in order to review it and this review doesn't contain any affiliate links.
I would love to hear what you thought of this review. What can I do better, what did you like? Let me know in the comments form below. Thank you for taking the time to read it. Joanne xx