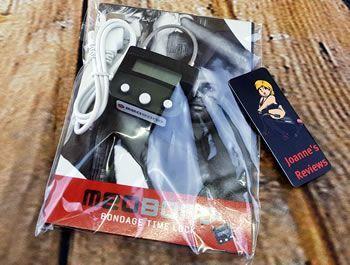 In essence, this is an electronic padlock where you can set a timer and then lock it in place. It will then stay locked until it the timer has counted down.
So if you are using it for self-bondage or with a partner you can accurately set just how long you want to be bound for and that opens up lots of opportunities.
I like the no-frills packaging approach by Meo.de; it means that they can keep their prices down and it is also good for the environment too.
The electronic padlock arrives in a clear sealed packet. Inside the packet is the lock itself complete with operating instructions and key guide and a USB charging cable.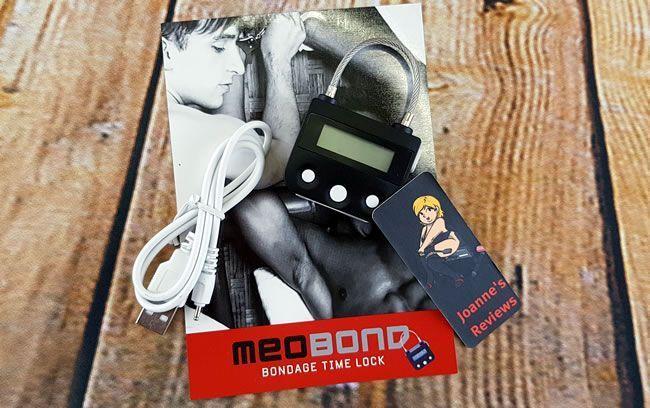 The lock features a display together with three buttons on the front, one button on the side and it has a flexible cable clasp that forms the padlock loop.
It measures in at only 1.75"/4.5cm by 1.6"/4cm by 0.8"/2cm, and that makes it slightly larger than a regular padlock, but that isn't a problem as it isn't too big for restraints and the like.
Its body is made out of black ABS, and it looks great with its white buttons and a Meo label on the base. The left-hand side of the lock has the USB charging socket.
The lithium battery will last for 30 days on a single charge if you use it four hours a day. Like most rechargeable devices regular charging will eventually cause the charging capacity to reduce over time. While charging, the display screen flashes blue to show you that it is charging.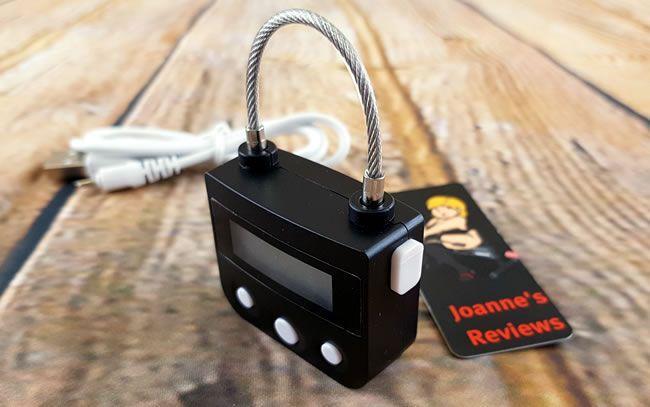 The lock arrives charged, but I put mine on charge overnight just to be sure it had a full charge. I have not had to recharge it since then, and I have used it several times, so the internal battery is good. If the display flickers at any point, then it indicates a low battery voltage, and it is time to charge it before use again.
The lock has two modes of operation sound and quiet. It defaults to sound mode when switched on, but by pressing the start button when the lock is open, you can set it into a quiet mode which is useful if you want to play discreetly. The lock will beep once when changing modes like this.
Setting the lock period is easy, you use the outer two buttons on the front face to set the timer from anything from one minute to a maximum of 99 hours. Once you set the timer, you get a five-second countdown in which period you can cancel the locking and adjust the timer again. Once this countdown is over the padlock is locked.
You can then only watch the timer countdown. Once it reaches zero, you can unlock the padlock using the large white button on its side. This button releases the nylon coated locking wire giving you your freedom back.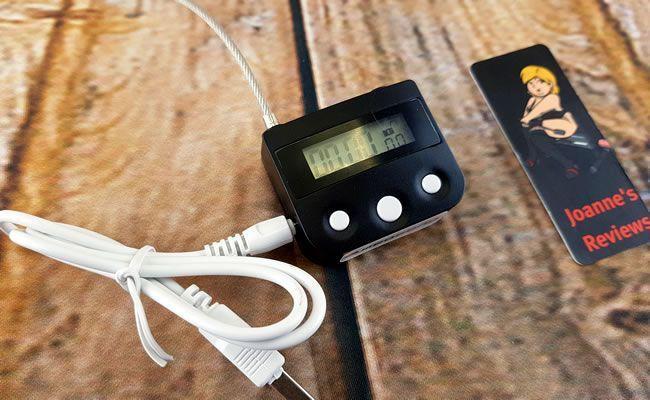 Now here is a funny little anecdote for you. I had up until reviewing this lock never tried out any self-bondage at all. I couldn't believe how unlucky I was the first time I tried it out.
Picture the scene, a naked Joanne in the living room after a bath. I had a set of wrist cuffs on, and they were secured together using this padlock on a ten-minute timer. What could go wrong?
Well, about five minutes in and I am having some fun on the sofa, the doorbell rings, and it is the postman with a delivery of sex toys that I had been waiting for. Panic ensued, I couldn't even get my dressing gown on, so I was reduced to just peeking at the postie and watching him fill out a missed delivery card which he slid through my letterbox.
Imagine my frustration when just a minute after he left the padlock counter reached zero, and I could remove it.
One thing that this experience did teach me was how much fun being helplessly restrained can be, yes I missed a delivery, but the rush I experienced when trying to work out what to do was pretty intense. I had looped the wire of the padlock through both sets of leather tongues after the buckels on my restraints so that I couldn't even undo the wrist restraints.
If you have lockable restraints, then this padlock should work as the cable and its catch is no thicker than a standard padlock loop.
I must admit that the feeling of being locked with the padlock was intoxicating and unlike just clipping some restraints together. I knew that I was stuck and that is a turn on. It is a lot of fun to see that you are locked to or into something for a length of time stipulated by yourself or your partner.
The lock is very well made and sturdy, you are under no illusion that once locked into something with it you are at the mercy of the timer.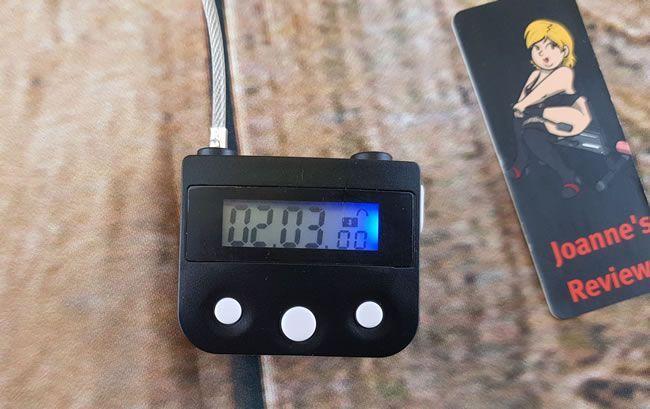 It is an ideal piece of equipment for taking for bondage play to the next level, and it's straightforward to operate. I love the countdown display and the feeling of complete control that comes with being locked into bondage.
This lock may not suitable for cock cages or other small chastity devices as the padlock wire and latch will probably be too wide for them. This was highlighted by Bondage God's excellent review of this lock. I do not own any chastity devices so I can't elaborate further on his findings. Large things like chastity belts may work - I will have to let you know if I am ever lucky enough to be able to review a chastity belt in the future.
My final point is on safety if you are considering some self-bondage. Think long and hard about how you are going to deal with an emergency before placing yourself into bondage. Always have an escape plan should heaven forbid the house catch fire for instance. I would suggest that you use a regular padlock on some of your restraints and put the key in a pot of paint. That way if you have to get out in an emergency then you can get to the key, but you aren't going to be tempted to try to get it with the resulting mess if it is not an emergency.
Finally, I think that this is an excellent addition to anyone's range of BDSM equipment and it does take things to the next level. Stay safe and have fun.
Take your BDSM to the next level with an electronic padlock from @MEO_TEAM.
Click to Tweet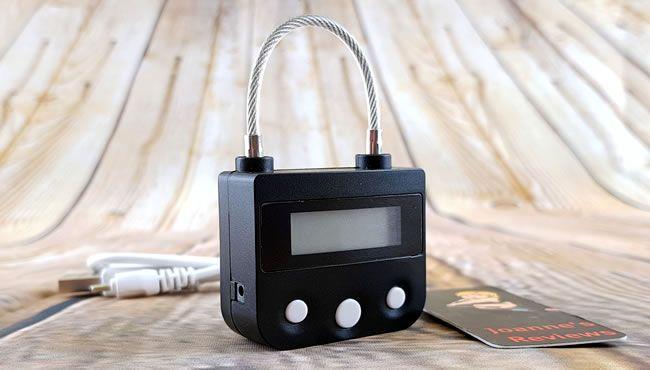 Key Features
Key features:
Timer can be set form 1 minute to 99 hours
Easy to set up and use
Rechargeable
Two modes of operation
Well built
Final Thoughts
I have really enjoyed using and getting to know the Meobond Electronic Padlock. It has really opened my eyes to self-bondage play and the fun that can be.
It is easy to use and setup and with its long lasting rechargeable battery you will get lots of use out of it. If you are into self bondage or looking for a way to take your bondage to the next level then you will enjoy the efficiency of this design.
I have no hesitation in giving it a strong recommendation.
I bought this product in order to review it as I loved its concept and so this is definitely an unbiased review.
Joanne's rating
Where Can I Get One From?
Grab one of these fantastic electronic padlocks from the kinky guys over at MEO.de for just £23.09 which is a bargain and 10% less than their normal price.
Check them out and don't forget to tell them that Joanne says "Hi".
---
---
Disclaimer - I was bought the MEOBOND Electronic Time Lock For Bondage and Chastity Belts in to review and this has in no way affected the outcome of this review. This post contains affiliate links and if you purchase something when you follow one of these links I may receive a small commission at no cost to you. For more information check out my disclosure page.