Delivery
As always, this item arrived quickly with German efficiency in a very plain box. Meo can be trusted to keep your order discreet which is more important these days than it ever has been.
The box was well packaged, and this bottle of Meo Veryclean arrived in first-class condition hygienically sealed inside plastic shrink wrap which was very easy to remove.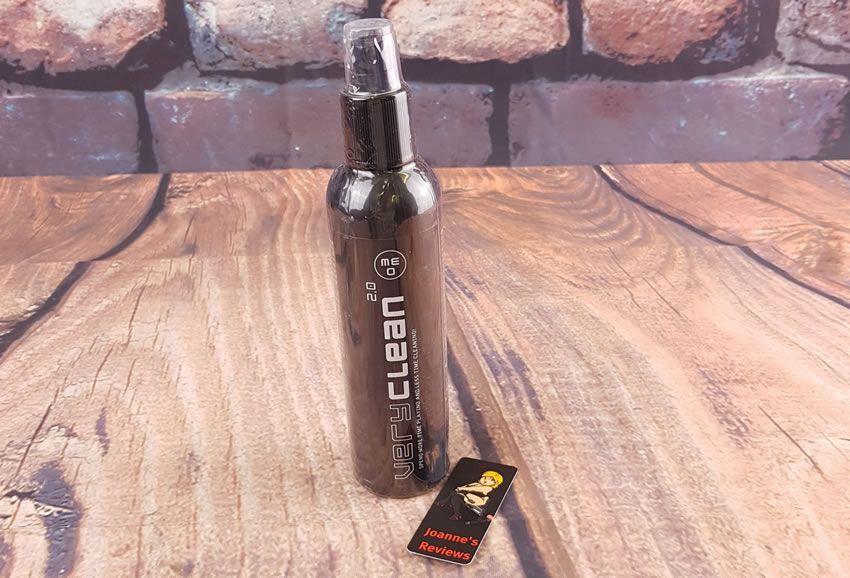 The bottles of Meo VERYCLEAN arrive hygienically sealed for peace of mind
Packaging
I love the dark branding of the bottle and the catchy phrase under the title - "Spend more time playing and less time cleaning!" That is a sentiment that I can definitely get behind.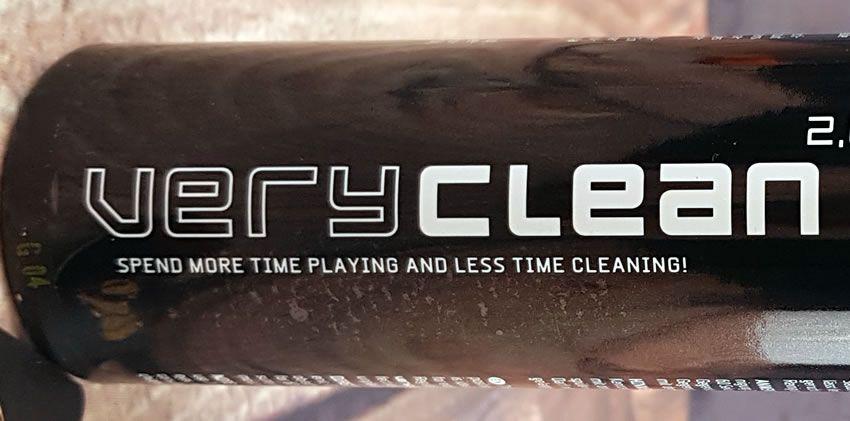 I love the branding and especially the slogan below the product name
Each bottle contains 200ml/6.7 fl. oz of the cleaning liquid, and it is recommended that 3ml is used for each cleaning session.
I don't know how you measure 3ml from a pump dispenser, so I just ensure that my toys are thoroughly covered in the liquid.
The bottle comes with a clear plastic cap and a pump dispenser that makes it easy to apply the solution. When pumped, the liquid comes out as a fine mist, and it is easy to coat whatever sex toy it is that you are cleaning in it.
Once coated, you clean the toy by simply rubbing your fingers all over it making sure that you get the liquid into all of the areas of the sex toy. You keep rubbing for a minute making sure that your hands and the sex toy stay moist, applying more if necessary.
The solution leaves a mild and clean fragrance on the sex toy, and there is no taste on the toy afterwards. The sex toy is left clean and dry as the solution evaporates, but your hands may end up a little tacky until washed. It is such a simple process and one that I have become accustomed to now.

The pump dispenser makes it easy to apply just the amount of fluid that you need
With this method of cleaning, I prefer to wash my toys in warm soapy water to get rid of any vag-goo before using Veryclean on them. This way I know that no body fluids or gunk is left of the surface of the sex toy before giving it an anti-bacterial cleaning using Meo Veryclean.
For very textured sex toys I recommend getting a toothbrush that you use exclusively for sex toy cleaning, it is straightforward to dislodge material from even the deepest of surface textures with one.
Meo Veryclean contains no alcohol and here is a list of its ingredients:
Aqua, Propylene Glycol, Hexamidine Diisethionate Phenoxyethanol, Neohesperidin Dihydrochalcone, PEG-40 Hydrogenated Castor Oil, Parfum (Fragrance), Panthenol
This product is incredibly easy to use, and it leaves your sex toys squeaky clean, and you know that they are spotless.
Efficient sex toy cleaning is essential to reducing the risks of yeast infections or worse. It is even more critical if using sex toys anally where bacteria are more prevalent.
I love how this solution doesn't smell of alcohol, and I like the after smell left on the toy, it also goes a long way to help cover any odours on butt plugs.
Of course, anti-bacterial sex toy cleaners are much more effective when dealing with non-porous materials such as silicone, glass, metal, ABS and ceramics but even porous materials can benefit from a quick clean with this product before use to remove surface bacteria.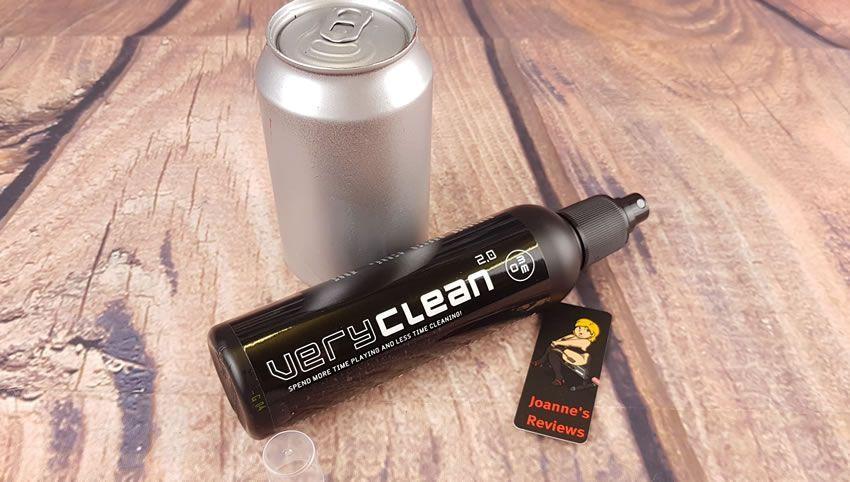 Meo VERYCLEAN is a great sex toy cleaner that is really easy to use and I love it
I now swear by this cleaner and use it all of the time, and it is excellent value for money costing just 9,99 € (£8.84).
There are other anti-bacterial sex toy cleaners around but the Meo Veryclean I know works and works well. It is easy to use and hasn't got any nasty chemical smells. You can even use it to just clean your hands with after playing.
Cleaning your sex toys has never been easier than with Meo VERYCLEAN anti-bacterial sex toy cleaner from @MEO_TEAM.
Click to Tweet
Key Features
Key features:
Alcohol free ingredients
Easy to use and effective
Leaves sex toys squeaky clean and with a light fragrance
Pump action bottle makes application easy
Suitable for all sex toys
Final Thoughts
Anti-bacterial sex tor cleaners should be as common as bottles of lube as they do just as important a job with your sex toys.
Failure to effectively clean your sex toys increases the risks of infections and no-one wants that. I found that Meo Veryclean was very effective and breaking down gunk and cleaning my toys but I prefer to rinse them clean first before using it as the last step in my cleaning regime.
No matter what sex toy you are cleaning, an anti-bacterial sex toy cleaner goes a long way to cleaning it simply and effectively.
Meo Veryclean is cheap, and it is a product that I will continue using long after writing this review, if you are not using a good sex toy cleaner then this is one that is definitely worth considering using.
I was sent this bottle of Meo Veryclean by Wolf at Meo.de and I would like to thank him for giving me the opportunity to review it for them.
Joanne's rating
Where Can I Get One From?

Grab a bottle of this cracking sex toy cleaner Meo VERYCLEAN 2.0 for just 9,99 € (approximately £8.84), it makes cleaning your sex toys properly so easy.
Check them out and don't forget to tell them that Joanne says "Hi".
---
---
Disclaimer - I was sent this bottle of Meo VERYCLEAN 2.0 to review free of charge and this has in no way affected the outcome of this review. This post contains affiliate links and if you purchase something when you follow one of these links I may receive a small commission at no cost to you. For more information check out my disclosure page.