The Titus Silicone Dildo arrived discreetly in quick time all the way from Germany from the kinky guys at Meo. It came with an information leaflet about the company, and they are one of my favourite purveyors of kink, their range of BDSM and sex-related products is second to none, and I highly encourage you to check out their site Meo.de.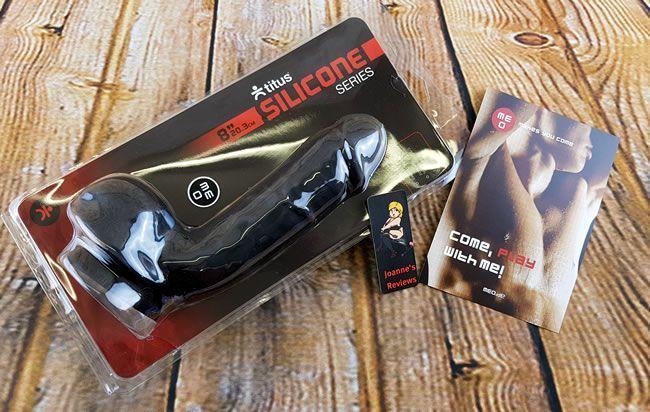 This dildo arrives in clamshell packaging
The dildo itself is presented in a clamshell blister pack that shows the toy in its entirety. I struggle opening these types of packaging, and they aren't my favourite, but they do allow you to see exactly what you are buying if you are visiting a brick and mortar store.
When you get it out of the packaging, you can genuinely admire what is in front of you. It is solid and feels great in your hand, you can squeeze it, and it gives a little, it feels fantastic.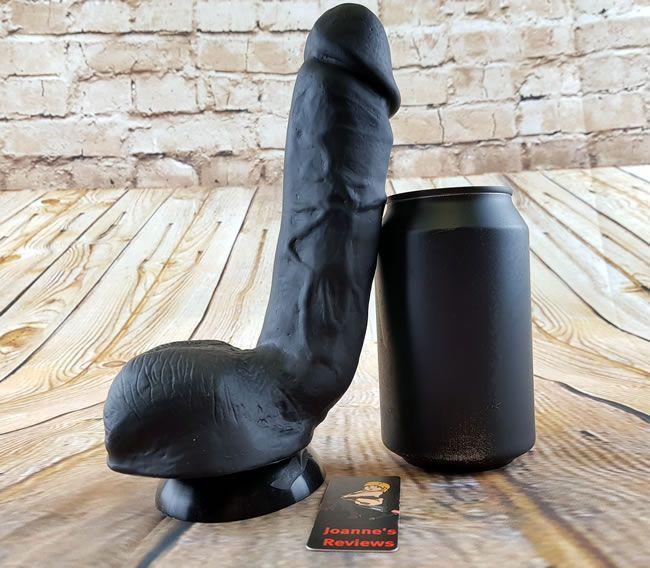 This dildo is pretty substantial and so beautiful
Materials
It's made out of 100% Platinum Cure Silicone and this, as you know, is the perfect sex toy material. It is both latex and phthalate free making it body safe and hypoallergenic. As it is non-porous, it can be sterilised by boiling or using a 10% bleach solution, and you can even clean it in a dishwasher.
So now that the material bit is out of the way here comes the next mundane bit of the review (but it is an important bit). This dildo is 8"/20.3cm long with a diameter of 2"/5cm around the shaft, and you can insert up to 6.75"/17cm. Or, in other words, this is a very well proportioned dildo that is probably not to be recommended for a beginner to quimsticking. Meo do stock smaller versions of this dildo if you prefer something that isn't such a challenge.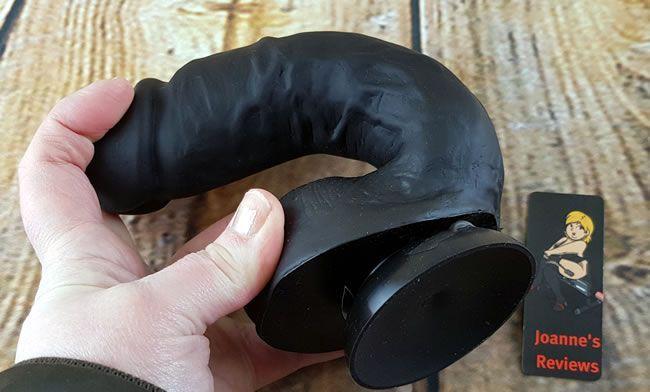 It has a surprising amount of flexibility
Aesthetically it's a thing of beauty and features a beautifully sculpted glans that has a pronounced coronal ridge which feels fantastic in use, primarily when drawn back and forth over your g-spot. If using it anally then it will give lots of p-spot pressure when drawn back and forth over it.
The shaft has some fantastic detailing in the form of veins, and this gives it a pleasing sleek look, further down the shaft you will find it adorned with a nice pair of balls. I prefer dildos with balls as I just love the feeling of them slapping against me as I thrust with it. I'm happy to say that this dildo has an excellent pair of plums to enjoy.
The base features a large suction cup that is very strong. The first time I tried it, I used it to lift up stuntcock's motorbike crash helmet, and I just had to laugh when I had finished as it looked mighty fine stuck to the top of it. It lifted it though, and it does hold well.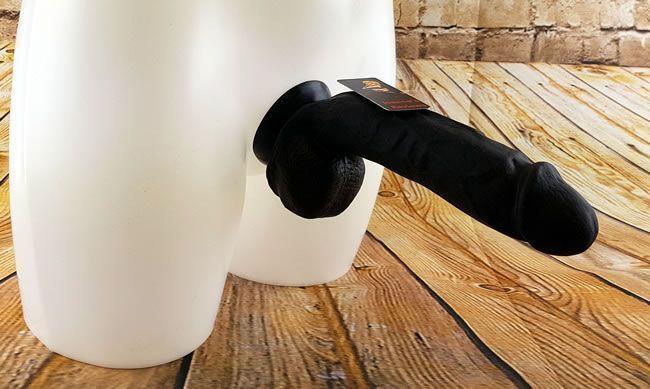 The suction cup is very strong which makes it fun to use
Having a suction cup means that you can have some very kinky fun in the shower or any room with a hard, smooth surface in it. I enjoyed a very memorable shower session with it, and if you are going to use it in the shower, then I recommend using a hybrid lube as waterbased lube just gets washed away. You could even use some silicone lube but test a small amount on the base first to make sure that there is no reaction with the surface.
So, what is it like to use?
Well, the gently rounded tip makes insertion very easy, just get yourself lubed up and then gently apply pressure to have your pussy lips or anus dilate to accept its girth. Then it is a case of relaxing and seeing how much you can enjoy before starting to thrust with it.
The glans felt terrific against my g-spot, and the girth felt very nice too. I managed to get all of it in, and that meant I could enjoy the feeling of the balls slapping against me. I love dildos that do that is it feels much more natural for me that way.
The suction cup also makes it a lot of fun to squat over or to take with it fixed to a smooth or tiled floor. The suction cup will hold it down, and you can enjoy sliding yourself up and down its length.
As it is very flexible you can get creative with where you fix it as alignment isn't a big problem, it will just bend to make sure everything lines up, this is something that you don't get with stiffer dildos.
It is just too broad for me to enjoy anally, but the firm suction cup means that this is an ideal dildo for some hard anal fucking. Just attach it to something and then give yourself a good seeing to.
Dildo's are a great gender-free sex toy and bay that I mean that all sexes can enjoy one. This one with its dark looks coupled with its impressive size and suction cup makes it one of the most enjoyable dildos that I have played with in some time. There is something so sexy about seeing a big black dildo stretching my labia open that I find so addictive.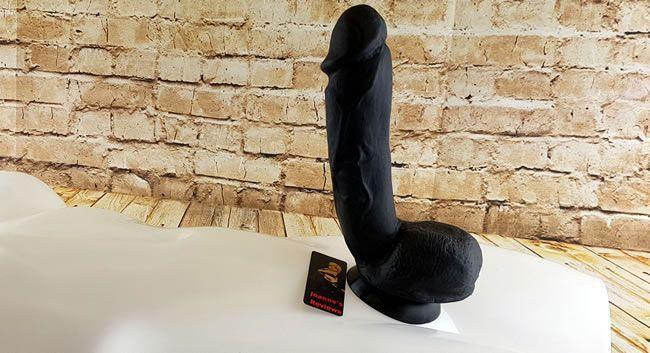 The suction cup gives lots of play possibilities
I enjoyed it the most when I attached it to my Shockspot fucking machine. That was one hell of a good session, and I was fucked remorselessly for what seemed like forever as my partner edged me with it. When he finally allowed me to come it was one of those explosive orgasms that leaves you clamouring to get your breath back. My back arched off the bed, and I just enjoyed wave after wave of pleasure.
My favourite feature has to be the well-defined glans, it just feels so good and I sometimes just use the first two inches on myself, just enjoying the feeling of it popping inside over and over again. The balls are pretty good too I hasten to add.
It's flexibility means that it is easy and fun to use in any position which definitely helps when you are squirming on the end of a fucking machine.
Joanne loves scratching that itch with a big black dildo. Come and see why she enjoys the Meo Black Label Titus 8 Inch Dildo from @MEO_TEAM so much.
Click to Tweet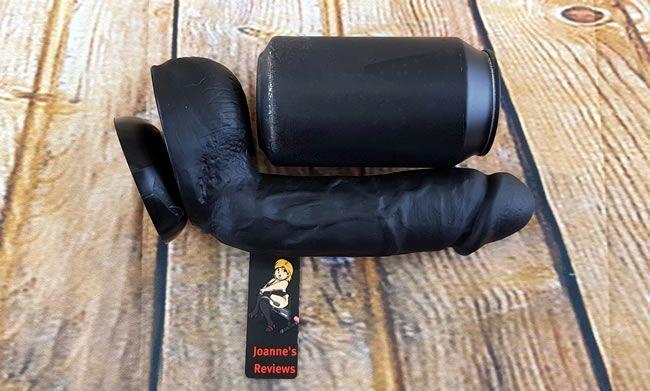 This is a very filling dildo in the nicest sense of the term
Key Features
Key features:
100% Platinum cured silicone making it body safe
Very strong suction cup, great for shower fun
Flexible body
Textured veins on the shaft and a fantastic glans
Big balls give it some realism
Final Thoughts
While this dildo may be a little big for some, I love it. Meo stock others in smaller sizes if you want to try out one of these beautiful creations. The detailing on the dildo is second to none, and the blend of silicone used is flexible yet firm, and that makes thrusting it in and out an absolute pleasure.
I have no problem bringing myself to some fantastic orgasms with this dildo, throw in a fucking machine, and I am in heaven. Whether you are looking for a dildo from some vaginal fun or you want to be plugged and ridden hard anally this dildo will give you lots of hours of pleasure.
I was sent the MEO Black Label Titus Silicone 8 Inch Dildo by Wolf at Meo.de and I would like to thank them for giving me the opportunity to review it for them.
If it is big black dildos that you like then check out my review of the Cock Skull Dildo from Meo as well.
Joanne's rating
Where Can I Get One From?
Grab one of these fantastic silicone suction base dildos from Meo.de for just 34,90 € (or £30.92 at the time of publication of this review).
Check them out and don't forget to tell them that Joanne says "Hi".
---
---
Disclaimer - I was sent the MEO Black Label Titus Silicone 8 Inch Dildo to review free of charge and this has in no way affected the outcome of this review. This post contains affiliate links and if you purchase something when you follow one of these links I may receive a small commission at no cost to you. For more information check out my disclosure page.