First the basics, it arrived under plain packaging quickly from Germany in the usual efficient fashion that sets Meo.de apart from some of its competitors.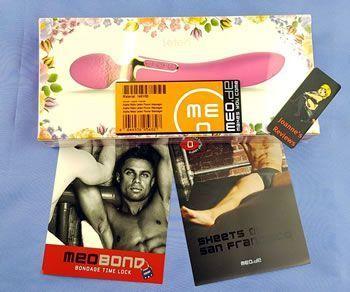 Upon opening the packaging, I found the wand securely packaged and the box that it comes in had no damage whatsoever which is unusual as I swear my postman is in some sort of post office rugby team as some packages I arrive look like they have been through a war zone.
Anyway enough about my postie, it's back to the review. The Alpha Male Leten Wand comes in a pink retail box covered in Chinese writing and a Meo.de sticker. The wand itself rests within a plastic former inside this box, and it comes with some very basic instructions and a USB charging lead.
Mine arrived with a charged battery, but I suggest giving it a full charge overnight before using it for the first time. The charging cable included is an anti-kink one, and it is a good length which makes it easy to find a place to rest (or hide) it whilst it charges.
To charge, you insert the plug into the small hole surrounded by a double circle icon found on the back of the wand just behind the power controls. A light flashes when it is charging to let you know that you have inserted the plug correctly.
In use, I can get around an hour and a half out of a full charge, but that depends on how high I have the power settings and whether one or two motors are running. Your style of masturbation will dictate the length of the battery so I suggest alwasy keeping it topped up. That way, if you decide to take things slowly you needn't worry about running out of power just when you need it the most.
Now a quick word about the instructions, they are entirely in Chinese except for the words "Operating Manual" which isn't all that useful however this is a very easy sex toy to use, and it is almost intuitive in its controls.
It has three buttons; the outer two are used to increase and decrease the power level and to navigate through the patterns. The centre button is used to turn it on and off and also to select which end of the wand vibrates, you can even have both ends going, but this drains the battery twice as fast. A light illuminates on the button closest to the end of the vibrator that is working so you can see which motors are being used. This is an excellent way of making sure you are only using the one you want.
The Alpha Male Leten Wand has an ABS body which is coated with a soft pink silicone coating making it body safe, phthalate free and hypoallergenic. This layer is a bit of a dust magnet though which is common amongst silicone sex toys.
As you don't get a storage bag, I suggest storing it back in either its box or inside a ziplock sandwich bag (make sure it is dry before doing so though).
This silicone coating also makes it waterproof which means it can be a heck of a lot of fun in the bath or shower. It is only available in the one colour but it is one I like so that isn't a problem for me.
The wand features a curved G-spot vibe style body which has the controls and a nice silver ring around one end that wraps around the controls. It also has an egg-shaped head to it which is small enough for insertion, and that is where you can have some fun with this bad boy. It is surprisingly compact and light and this makes it easy to hold and use with no trailing power lead or heavy body to worry about.
Both ends are insertable, and each has a different type of motor in it. Each end feels different; the advertising says one end has a high speed and the other a high-frequency motor but if I am not mistaken high speed, is high frequency. There is a great animated image on the Meo.de website showing the power of the vibrating head in a glass of water.
I believe the ends feel different due to one motor being mounted in the ABS inner body and the one inside the egg floats on the bendy neck. This allows the egg vibe to produce more oompf (not a proper technical term I know but you get the point).
One handy thing about the egg end of the wand is that if you are using the handle end to fuck yourself, it makes a great handhold.
I like both ends for different reasons if I want a long slow wank I can insert the body of the wand and fuck myself while enjoying the intense vibrations on my G-spot.
If I need a quickie though I flip it around and fire up the wand end of the vibrator for some more intense fun. Pressing it against my clit feels fantastic, the sensations are a little buzzy but they do go deep, and it feels nice. However, when I am close, I enjoy sliding the egg end inside so that all of that power is directed right onto my G-spot and that always delivers some incredibly hard orgasms for me. You know, the type where you are left with legs that don't work and that feeling where you hope you just haven't ruined your clean bedsheets.
I haven't tried it, but due to the design, you could quite easily insert the egg portion of the wand anally for some powerful anal stimulation. If you do that, then make sure that your cleaning regime is top notch though.
On the subject of cleaning, just wash the Alpha Leten Wand with warm soapy water to get rid of any vag-goo or anything else then clean it with an anti-bacterial sex toy cleaner. Ensuring that it is dry before storing it away until its next session.
Fancy teasing your G-spot with a wand? Check out the Aplha Male Leten Wand from Meo.de @meo_team
Click to Tweet
Key Features
Length: 9"/22.6cm. Diameter is 1.38"/3.5cm at the narrow end and 1.4"/3.8cm at the head of the wand.Key features:
Two powerfull motors, one at each end
Small head means that it can be inserted
Waterproof for shower and bathtime fun
Rechargeable and it comes with a charging lead
Final Thoughts
I rather like this wand vibrator, its small size coupled with its power and the fact that you can use either end gives you almost limitless possibilities. It gets me off quickly when I need it, but I can also use it for long drawn out sessions and orgasms with it inside me are genuinely mind-blowing.
If you enjoy g-spot stimulation then having a wand that you can give your g-spot some pinpoint loving will have you enjoying waves of pleasure.
I was sent the Alpha Leten Wand by Wolf at Meo.de and I would like to thank them for giving me the opportunity to review it for them.
Joanne's rating
Where Can I Get One From?
Grab one of these nice little wands from Meo.de for 129,00 € (£113.99) and give your G-spot a treat.
Check them out and don't forget to tell them that Joanne says "Hi".
---
---
Disclaimer - I was sent the Meo Alpha Male Leten Wand Massager to review free of charge and this has in no way affected the outcome of this review. This post contains affiliate links and if you purchase something when you follow one of these links I may receive a small commission at no cost to you. For more information check out my disclosure page.