Sometimes when I open up a box that has been delivered, I look at the contents and think Meh! This time though, I'm delighted to inform you that this wasn't the case at all. When I opened the discreet packaging a smile immediately came to my face as I love the fancy packaging and Bijoux Indiscrets didn't disappoint.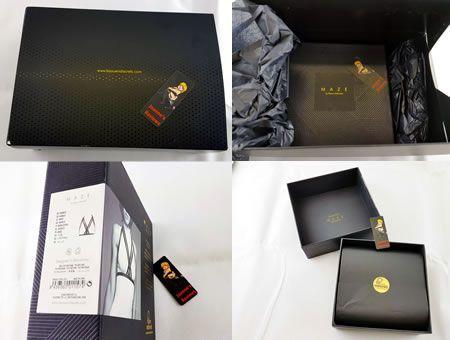 I was greeted by a lovely black box covered in shiny black dots and carrying the Bijoux Indiscrets website address, and it looked very classy indeed.
But, I was in for another treat when I opened this box as inside nestled inside black tissue paper was another rather attractive box and it's this one that contains the bra harness. This box is even nicer than the first, and it carries a picture of the harness together with product information on a label wrapped around its side.
When you open this box, you are then greeted by some folded paper with a gold sticker holding it shut, and when you finally open this up, you can get to see the harness folded within.
I must say that the packaging opening was a lot of fun and almost reminded me of playing musical chairs when I was young. I enjoyed removing each layer of the packaging to eventually come across the harness inside.
The harness itself looks like a bit of a birds nest inside the box, but it opened and flattened it out quickly with no tangles for me. I suggest layin it out on a flat surface after it arrives though to help remove the folds but once you put it on it flattens out nicely anyway.
Bijoux Indisrcrets are to be commended for their packaging, it is first class and right up there with Crowned Jewels.
Now the harness itself is made out of 100% Polyurethane and not leather so that will appeal to any vegans out there. I was surprised when I found that out as it does look and feel like leather. It's available in tan and black, I opted for the black, but the tan also looks very nice indeed so check that one out as well
The first thing of note about this harness is the novel way of attaching both ends of the harness. Rather than just using a dull buckle, Bijoux Indiscrets have taken a different approach.
They use what I can only describe as a stud on one end and lots of holes on the other end of the harness. This system is straightforward to use, and the studs are held tightly in place when you fit them through the holes in the harness.
This system allows this harness to fit lots of different body shapes. It is marketed as fitting a chest size of 26.8"/68cm to 37"/94cm. To prevent it being too baggy on smaller frames, it comes with two extenders that are 7.9"/20cm long making this a very useful harness indeed.
It has two straps, one goes around your chest and connects behind your back, and the other goes around your neck. As each can be adjusted independently, you can quickly work out the best fitting for your frame allowing the front of the harness to do its job of highlighting your best assets.
When wearing it, you have three straps that surround each of your breasts, two that go inside your cleavage and one around the outside. These are attached to the harness straps with gold coloured rivets. These rivets allow the straps to turn and twist which is something you wouldn't get if they were stitched and it's these rivets that allow for such a broad range of sizes to be accommodated.
The centre straps weave around each other providing an excellent focal point for the harness, that is if your admirer can wrench his or her gaze away from your exposed breasts. It's a harness that leaves absolutely nothing to the imagination. Why cover them up, set them free ladies.
I love the way the straps frame my breasts, and it makes me feel very submissive when wearing it. It's a harness that is ideal for Dom/sub scenarios in a BDSM scene.
There's something about feeling it tight against your skin but knowing that your breasts are literally on display for all to admire that is so very kinky and sexy. It appeals to my exhibitionist side, and I love that.
This is a harness that I adore wearing, and I must admit that it has gotten some very nice comments from people who have seen me in it. That's something that gives your ego a boost, and it is nice to have the confidence to wear something like this.
Remember though that a harness like this can be just as much fun with just your partners gaze on it and it could be a real treat for them especially if it were a surprise for them.
Wearing it instantly puts you into a very sexy mindset, and it allows instant access to your breasts whilst also framing them beautifully.
I am totally enamoured with it and would love to enjoy some of the other range of products in the Maze range as they are just so nice.
The whole Maze range of products at Bijoux Indiscrets is to die for. There are a plethora of different harnesses, collars, cuffs suspenders and lots of other BDSM themed items of clothing and accessories that will appeal to lots of people, and I urge you to check them all out. Don't just stop there though as their other collections are also works of art.
The Maze Bra Harness from Bijoux Indiscrets is a fabulous way to display your assets and it looks so sexy too.
Click to Tweet
Key Features
Key features:
100% Polyurethane replacement for leather is Vegan friendly
Amazing packaging
Easy to fit and adjust
Gold colourd accents
A great way to show off your assets
Final Thoughts
I absolutely adore this bra harness, and its quality is second to none. I love the way that it is easy to fit and adjust and also the way that it wraps around my breasts, displaying them in a very sexy manner. Ideal for BDSM play and even just bedroom fun in general, I have absolutely no hesitation in giving it a solid recommendation. Check out the rest of the Maze range on the Bijoux indiscrets website for some kinky fun.
I was sent the Maze Bra Harness by Bijoux Indiscrets and I would like to thank them for giving me the opportunity to review it for them.
Joanne's rating
Where Can I Get One From?
Grab one of these truly stunning Bra Harnesses from the Bijoux Indiscrets website www.bijouxindiscrets.com for just £55, check out the tan coloured one as well as the rest of the range for some very kinky options.
Check them out and don't forget to tell them that Joanne says "Hi".
Disclosure
This review does not contain affiliate links, for more information about affiliate links check out my disclosure page.