Considering that Meo products come all the way from Germany, I am always pleasantly surprised by their speed of delivery and packaging. I have never had a product damaged in transit from Meo, and I never have to wait long for their discreet packages to arrive.
Meo Man Cunt is an anal lube that comes in a black 125ml bottle with a transparent cap that clips on securely covering the lockable pump dispenser.

Meo Man Cunt comes in a nice bottle with a pump dispenser
You turn the pump head ninety degrees to unlock and use it before turning it back the other way to lock it again. The pump is easy to work and allows you to dispense just the right amount of lube which reduces any waste.
Man Cunt is a hybrid lube, and it's a nice blend of Silicone and Water-based lubes. It has a creamy consistency and is white in colour. This gives it a cum like look and feel. Dispensing some on my fingers and rubbing it between fingertips confirms that it feels very nice and does look very spunk like.
When you dispense this lube, it is thick and creamy but as it warms up and you spread it about it becomes much more fluid and covers very well indeed.

The pump dispenser allows you to dispense just the right amount of lube to prevent any wastage
It contains no parabens or oils, and it hasn't been tested on animals. You can use it for great anal sex, but while it is just as good for sex toys or penis in vagina sex, I wouldn't recommend it for vaginal use due to the Glycerin in it. As this is a sugar and can increase the risk of yeast infections. Here is a list of the ingredients.
Man Cunt Ingredients: Aqua, Glycerin, Propylene Glycol, Cyclomethicone, Sodium Acrylate/Acryloyldimethyl Taurate, Dimethiconol, Isohexadecane, Polysorbate 80, Hydroxyethylcellulose, Phenoxyethanol, Ethylhexylglycerin, CI77897, CI19140
It really does lubricate well and feels incredible in your orifice.
As it's a hybrid lube, it has lots of benefits over water-based lubes and that makes it especially suitable for anal play. It lasts a long time due to its silicone content, and it lets you glide when benefiting from its use. A good lube is essential for anal play to reduce friction and it makes you less likely to experience pain.
Joanne did an excellent article on having pain free anal sex and it is definitely worth a read.

The white colour and its consistency makes it look and feel like cum in use
One of the significant problems with using water-based lubes for anal is that they quickly dry out and as the anus is not self-lubricating, this causes an issue where you have to stop and re-apply lube to ensure comfort. This can ruin the 'moment', and so you will benefit from not having to do so or for extended sessions you won't have to do it as often if you are using Man Cunt.
This lube lasts a very long time due to the silicone lube element, and one application is all that you need for some amazing anal play. This makes this a very cost-effective lube compared to water-based lubes as you will use a fraction of what you would have had to use with a water-based lube.
It's condom safe, and we have also used it with silicone butt plugs with no problem at all. The tip to trying a hybrid lube with your silicone toys is to apply a small amount to the base where it isn't a problem if it reacts. Leave it there for about fifteen minutes before wiping off. If there is a reaction, then you will see a difference in surface texture in the area where you applied the lube.
As it's water based, clean up afterwards is really easy as it washes away with just water.
I have enjoyed using it with both Joanne and sub'r', and both of them love it. As an anal lube, it is about as good as I have tried and can highly recommend it.


It is nice and thick until you start to spread it out so you can put it exactly where you want it
One benefit of using it is the fantasy element of it looking and feeling like cum, if you have fantasies of multiple creampies or just love the look of cum on your body then this is the lube for you.
It spreads really quickly, and its lubricating properties are fantastic, especially when enjoying anal play. I like to use it with butt plugs, as due to its long lasting nature it is as comfortable to remove a butt plug as it was to fit it even after wearing it for long periods of time.
When I play in a BDSM setting with sub'r' she is often plugged for the whole session and in the past removal has not been comfortable when using water-based lubes but with Man Cunt it is simple and pain-free.
This is a great lube, and I look forward to trying some of the other lubes produced by Meo.
Man Cunt is a really good anal hybrid lube from @MEO_TEAM see how it performs when put to the test.
Click to Tweet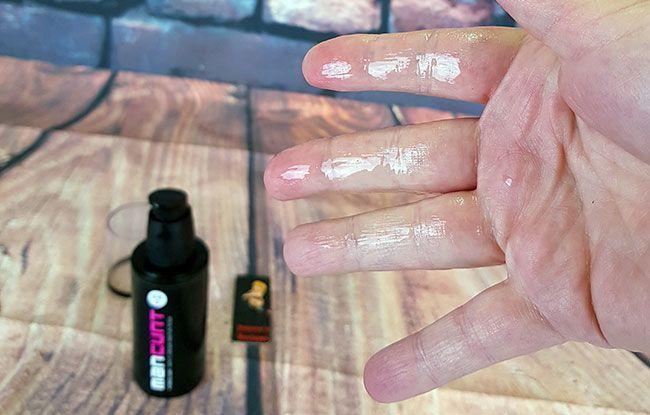 A little of this great anal lube goes a long way
Key Features
Key features:
Hybrid blend of silicone & water-based lubes
Looks and feels like cum
Easy to use pump dispenser prevents waste
Long lasting lubrication for anal fun
It contains no parabens or oils and has not been tested on animals
Final Thoughts
Man Cunt is a fantastic anal lube and one that I will continue to use even after reviewing it. I love its look and texture, and the fact that it is so easy to apply and use is a massive bonus over other anal lubes I have used.
Its long-lasting properties make it ideal for anal play, especially with butt plugs. If you want to use it on your silicone sex toys, then try it on a small area first, but I had no problems with it.
Check out the rest of the Meo lube range for some other great lubes.
I bought this bottle of Man Cunt in order to review it for them.
Joanne's rating
Where Can I Get One From?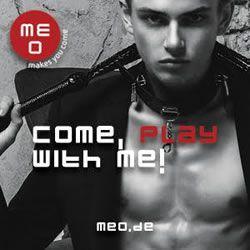 Grab one of these great anal lubes from Meo.de, you can get a bottle for 16,90 € (£14.79) which is great value given how long this lube lasts with its excellent pump dispenser bottle.
Check them out and don't forget to tell them that Joanne and Stunt Cock say "Hi".
---
---
Disclaimer - I bought this bottle of Man Cunt to review it and this has in no way affected the outcome of this review. This post contains affiliate links and if you purchase something when you follow one of these links I may receive a small commission at no cost to you. For more information check out my disclosure page.