About E-Stim.co.uk
From their humble beginnings in a garage back in 2004 E-Stim Systems has grown and grown with an army of loyal customers. Their range of e-stim equipment is second to none and they manufacture their own goods in house. This gives them total control of their products and they offer a lifetime guarantee on their wares so you can tell that they have total faith in their quality control.
Their customer service is second to none and they are really nice and approachable, always willing to give good advice where needed. Check out their site for lots of information about electrosex and their products. You can find lots of information about this kinky activity on their site and on their forum which is a wealth of information.
I can highly recommend the ElectroPebble and the Helix packs if you are looking for a quality control box to use with an electrode such as this one.
Features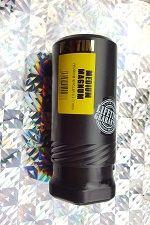 The Magnum™ is available in three separate sizes and two finishes. The first thing that I want to talk about is the new finished which is called 'Satin' and it looks and feels incredible. I love the look of the polished electrodes but the new Satin finish not only looks great but it has a bit of texture which makes it a bit easier to hold with lubed up fingers. I believe it is produced by shot blasting the finished electrode with glass beads and it is a very classy finish.
It comes in its very own storage container which is an industrial tool storage case with hexagonal ends, you simply unscrew it to gain access to the electrode held within. I love these storage cases and their labelling makes it very easy to know what is inside before a play session.
The electrode arrives shrink wrapped from the factory so that you know that it hasn't been tampered with and this is a nice touch.
The best feature on the electrode is definitely the curved tip which resembles that of a rifle bullet and it makes it very, very easy to insert even anally. I have struggled with some of the blunter electrodes when wanting some backdoor fun but this one makes it so easy. The ballistic curves allow easy insertion and just feel great in use. The wide base makes it very safe as well for anal use.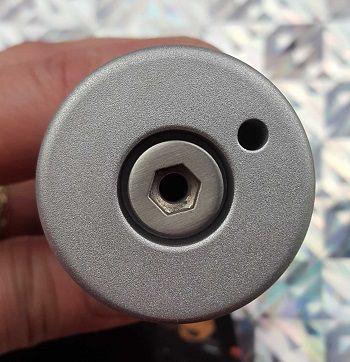 Magnum™ takes two 4mm plugs in its base when in use and I recommend using the low profile 90 degrees bend ones as they are much easier to use if you adopt a sitting position. Just like the rest of the premium range of electrodes with the exception of the ElectroEggs you can easily strip this electrode down for a deep clean, just make sure that it is totally dry before you put it back together again. To strip it down just insert an allen key into the hexagonal bolt in the base of the electrode.
It comes with a lifetime guarantee from e-stim systems as they are that confident of their quality control and products. You simply can't get better than that.
The Magnum is available in three sizes and I have reviewed the Medium:
Size:
Small Magnum
Medium Magnum
Large Magnum
Length:
87mm
135mm
167mm
Diameter:
25mm
37mm
50mm
Circumference/Girth:
78mm
116mm
1567mm
Weight:
111g
331g
644g
Price:
£52
£72
£92
Comments:
Ideal for beginners
Three time the
weight of the small
Nearly 6 times the
weight of the small
Use
I have to admit that I found this electrode to be amazing when used both vaginally and also anally. In the past I have struggled to insert electrodes in my rear but the Magnum™ was not only very easy to insert but it was also a hell of a lot of fun to play with too. It holds itself firmly in place and removal is a simple process. To say that I am delighted in the Magnum™ would be an understatement, it is a great little electrode.
I also found that it was a lot of fun to thrust with and the gently curving tip feels great as it dilates you as you thrust. The three grooves on the base make it easy to hold onto even with lubed with fingers and the satin finish also makes it easy to hold
Performance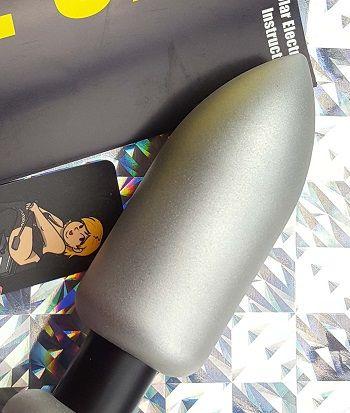 The Magnum™ has lots of surface area for your body to be in contact with and that makes it very reliable in use. I haven't experienced any hot spots on it when in use and the sensations that it generates are spread all around it.
I particularly like using it on the Milk setting on my ElectroPebble or ElectroHelix as I find this setting to be one that really teases me and gently brings me up to some earth shattering orgasms. When I am close to coming I usually switch the control box to pulse mode and then crank up the power to bring myself over the edge. The Magnum™ has a nice feel to it and the curve is a definitely bonus allowing for easy anal play and this is an area where I do not have much experience but I am getting there 'wink'.
I would have to put this at the top of the list of electrodes that I have used from E-stim Systems simply because of the curve and its ease of insertion. I loved the Flange™ Electrode, I was in awe of the Deviant™ Electrode but I am totally smitten with the Magnum™ Electrode, it really is an amazing and very functional insertable electrode. I also love the new finish, it is really, really nice.
Key Features
Key features:
Heavy duty materials
Satin finish
Bi-polar electrode
4mm connections
Gently curved tip
Lifetime guarantee
Final Thoughts
I really like this electrode and would heartily recommend it to anyone looking for a great first electrode or for someone looking to experiment with one anally. Its curved tip and quality construction mean that it is both fun to use and that it will give your years of pleasure. The lifetime guarantee gives you total peace of mind and the materials used are first class. I would definitely opt for the new Satin finish over the polished finish on my next electrode as it has lots of benefits and looks really nice as well.
Recommendations
I would recommend this sex toy to:
Anyone looking for a Bi-polar electrode that looks as good as it performs.
Anyone looking for gentle curve on their electrode for anal play.
I wouldn't recommend it to anyone who:
Where Can I Get One From?
You can get the Magnum™ from e-stim.co.uk from just £52.00 for the small, I am delighted to be able to recommend it to anyone looking for a stylish and very functional bipolar electrosex electrode.
Website link:
---
If you enjoyed reading this review then check out my other reviews of E-Stim Systems products:
CONTROL BOXES
PUSSY & ASS ELECTRODES
PENIS/BALL PLAY
OTHER
Website links:
---
This toy was sent to me in order to review it and this review contains affiliate links. If you clear your cookies, then click through one of my affiliate links before making a purchase, I'll make a small commission at no extra cost to you. This money will be used to run this blog and of course buy me new sex toys to review. Many Thanks!
I would love to hear what you thought of this review. What can I do better, what did you like? Let me know in the comments form below. Thank you for taking the time to read it. Joanne xx