About Lust & Joy
Lust and Joy and based in Geneva, Switzerland, a city that is famous for its watches and attention to detail. They have taken Swiss quality control and attention to detail and focussed it on their creation, the Loopy Bounce.
Delivery
The Lust & Joy Loopy Bounce TrioPack arrived discreetly packaged and once I opened up the plain cardboard box that it arrived in I was greeted by three product boxes inside.
The design of the packaging of the Loopy Bounce is beautiful, the subdued colours and nicely designed boxes instil an air of confidence that this is indeed a well-made toy.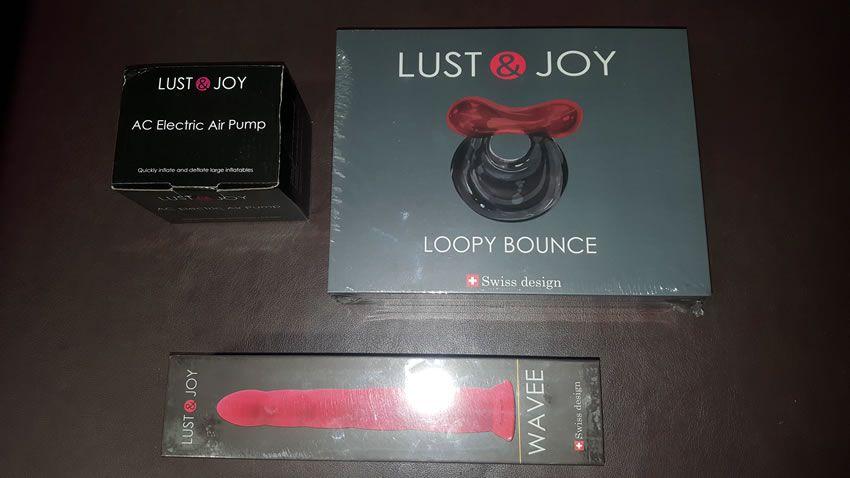 You get the Loopy Bounce, Wavee Ruby Dildo and an electric pump in the TrioPack
Pump
In the trio pack, you get an electric pump (with a European plug so you may need an adaptor if you are in the UK). This pump comes in its own box and is ideal for inflating and also deflating the Loopy Bounce. You also get a hand pump in case you want to use the Loopy Bounce where you have no mains power supply.
The electric pump comes with three adaptors so you can use it on other inflatables as well. You will need to use the long and thin one for the Loopy Bounce.
This adaptor can be fitted to either the inlet or outlet of the pump. On the outlet, it can be used to inflate the Loopy Bounce quickly and easily. To deflate after play just change the position of the adaptor and you can then suck all of the air out of the Loopy Bounce.
It is essential that all of the air is removed otherwise you will never be able to fold it back up again so that it fits back in its box.
This pump is a godsend, and I can only imagine how long it would take to inflate the Loopy Bounce without it. Also without its ability to suck all of the air out of the Loopy Bounce, you would never get it back into its box. So I highly recommend going for the Trio pack as this includes the pump.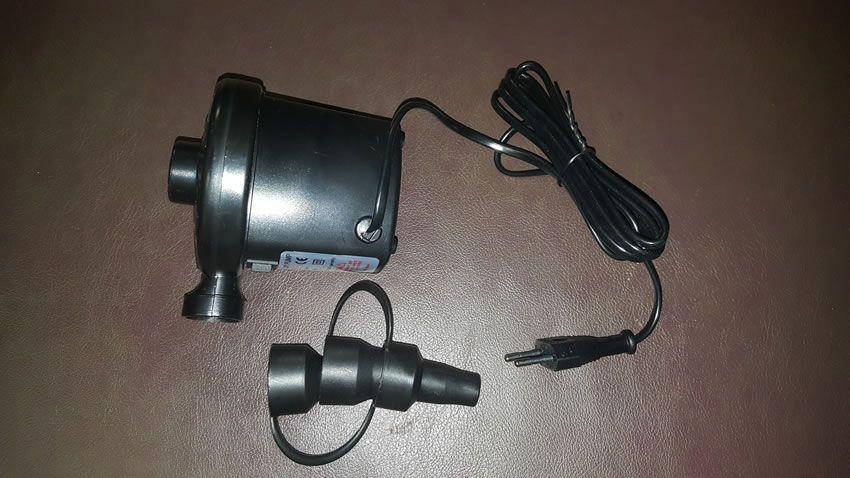 The electric pump makes quick work of blowing up and removing air from the Loopy Bounce
Loopy Bounce
Think Space Hopper on steroids with a kinky see through streak, and you will be halfway to imagining what the Loopy Bounce looks like inflated.
But this is no space hopper. It is a well thought out and engineered solution to the problem encountered if you do slap a dildo on to a space hopper.
You see, if you did just that, yes the dildo would slide into as you lowered yourself onto the space hopper, but as you bounced it would actually stay still inside you.


The Loopy Bounce comes in its own well designed box that carries useful information on it
Dimensions (depends on pressure) :
Total height: 70 to 80 cm
Seat height: 60 to 70 cm
Width: 42 to 46 cm
Seat width: 24 to 26 cmThe intelligent design of the Loopy Bounce means that as you bounce on it, the dildo is drawn out of you through the action of the upper air chamber exerting itself against you and pulling the dildo out on your upwards bounce. As you come down again, the dildo penetrates you again. Yes, I have put a lot of thought into the mechanics of space hopper sex since receiving the Loopy Bounce.
It is genius, the action of the two air chambers allows a dildo to indeed fuck you, sliding in and out in response to your bounces. Bounce gently, and it only moves a small amount. Let yourself go, and the Loopy Bounce will give your waiting orifice a good seeing to. I say orifice as this is a toy that can be enjoyed by all genders so you can use it vaginally and also anally.
We love the action of the dildo moving in and out as we bounce. The first person to try it was sub'r', and she really enjoyed her ride to an extense giggling orgasm. I followed, and it really is a lot of fun. Bringing back childhood memories and then adding a layer of kink on top.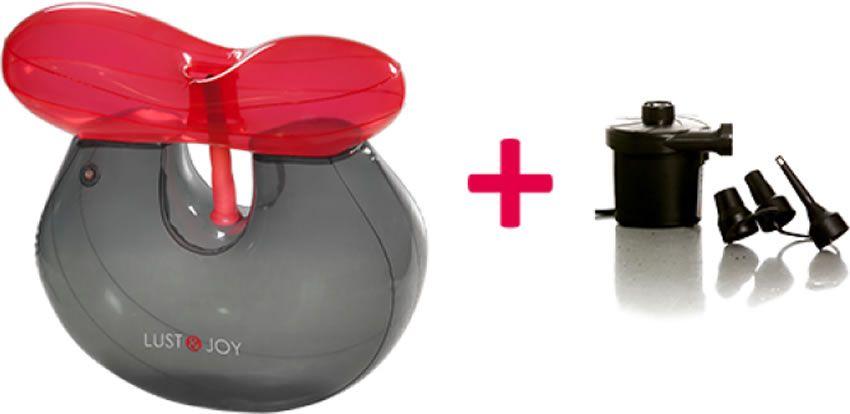 The Loopy Bounce is available on its own but we recommend getting the TrioPack as that comes with an electric pump
The Loopy Bounce is made of high-quality transparent PVC that does not include phthalates. The lower section is a smokey grey, and the upper part is a vibrant red.
The Loopy Bounce is inflated through two valves, the type you find on other inflatables and these valves have a cover, and once you fit the cover, you can invert the valve by pushing it into the body of the toy to give a flush fit.
It's very versatile and riding it while giving head is a totally different and very enjoyable experience for both parties.
Wavee Ruby Dildo
Saving the best for last, next up is the Wavee Ruby Dildo, and this comes in its own stunning box. Slide off the cover and flip open the lid to reveal this beautiful body-safe silicone dildo.

The Wavee Ruby Dildo looks like a unicorns horn and is made out of body-safe silicone
It is both phthalate and latex free and features a suction cup base. I am not a big fan of the suction cup base as it has walls that are too vertical which make attaching it to things a bit tricky. The trick is to pull the suction cup base up, place the dildo down and then relase the suction cup. If you try pushing it down like a regular suction cup it has a tendency for one side to fold under intself. I would have liked to have seen a more flared suction cup. That said though it does hold well when fitted to the Loopy Bounce.
Once fitted in place the tip of the dildo is just below the top of the Loopy Bouncer's upper inflatable section. As you mount it and lower yourself down this upper section deforms allowing the dildo to enter you.
Fully seated you can get around 7"/8cm of penetration. As you bounce the dildo is pulled out of you by the red upper section of the Loopy Bounce, and this feels great. The pressure in the Loopy Bounce will regulate the depth the dildo goes. If it is softer then it will go further in to you.
The dildo has an adorable design, sub'r' has called it a unicorn dildo and I have to agree with her. The design of the shaft does give it that look.
The design of the shaft has some subdued texture, and while I thought this wouldn't be enough for me as I usually prefer more, I found myself really enjoying it. I have even used it by hand and experienced some very satisfying orgasms with it.
The dual density design of the Wavee Ruby Dildo gives it plenty of squish while retaining enough rigidity to allow for some excellent penetration when riding it on a Loopy Bounce.
I love silicone sex toys, and the design of the Wavee Ruby provides great stimulation when thrusting with it or riding it on the Loopy Bounce. Both of us thoroughly enjoyed it.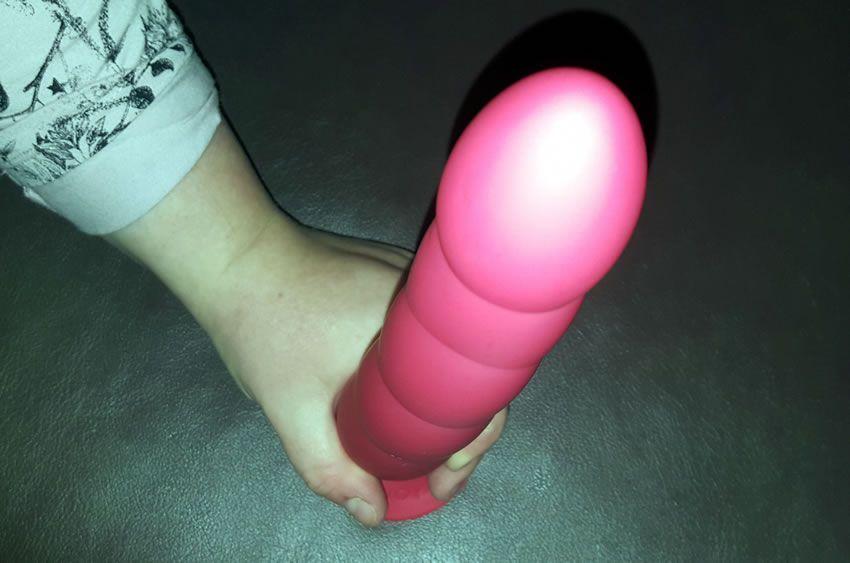 The Wavee Ruby Dildo has just the right dimensions and texture to feel amazing in use
Performance
So putting all three items together, inflation of the Loopy Bounce is quick and easy with the supplied inflator. Fitting the dildo was a bit tricky, but we got there in the end, so it was on to the testing.
The Loopy Bounce is actually rated to support wights of up to 100kg, but it has been tested in a laboratory where it held up to 300kg.
I highly recommend having the Loopy Bounce in front of a chair or table so that you have something to hold onto while bouncing.
I say this as it isn't really stable when you get into the swing of things and having something to hold onto gives you confidence so you can relax and enjoy it all the more.
Straddling it and guiding the dildo into myself was easy as I had applied some lube to myself and the dildo. Once it was correctly aligned, I lowered myself onto it. Savouring the sensation of the Loopy Bounce deforming to accommodate my weight while the Wavee Ruby Dildo penetrated me.
Once comfortable I started to lift myself and lower myself again, enjoying the feeling of the dildo doing the opposite that I was doing. As I went up, it went down sliding out of me stimulating me as it went and as I went down again it slid in again providing some fantastic sensations.
I was soon getting very wet while bouncing up and down on it really enjoying the unique sensations that the Loopy Bounce can deliver.

The pics we took of sub'r' and I enjoying the Loopy Bounce are far to XXX to share so here is one of the manufacturers pics, you will have to use your imagination to think about how we looked enjoying it
Once or twice I nearly fell over, and that brought on a fit of the giggles before I carried on. That is the thing about the Loopy Bounce, it is a sex toy, but it is so much fun to use. I am not talking sexual pleasure per se, it is actually fun bouncing up and down on it. The good fucking it provides is an added bonus.
It wasn't long before I had my first Loopy Bounce orgasm and I loved it. Between sub'r' and myself I lost count of how many times we came that afternoon.
The next day though my thighs were aching, the Loopy Bounce also gives you quite a good workout, as I wasn't used to using my thigh muscles like that.
Packing it away is easy, just use the pump to suck all the air out of it before folding it back up again and placing it back into its box.
I can honestly say that I have never laughed so hard while masturbating in my life. The Loopy Bounce is just so much fun, you will find yourself smiling a lot while riding it to an orgasm.
Manufacturers promotional video
---
Never has an orgasm been so much fun. Check out the Loopy Bounce from @Lust_and_Joy.
Click to Tweet
Key Features
Key features:
Loopy Bounce: 100% PVC high resistance without phthalates
Wavee: 100% medical silicone
Electric and Hand pump included
Penetration depth max. 18 to 20 cm
Recommended maximum load: 100 kg, laboratory tested over 300 kg
Easily washable and waterproof
Final Thoughts
It is unusual to find a sex toy that will make you laugh as you get off with it and that is one of the things I like about the Loopy Bounce.
It is fantastic and so much fun to ride and use. For something that looks so simple, it is amazing how much thought has gone into it. This is a sex toy that would be ideal for parties and clubs as well as something to keep your bedroom activities fun.
Maybe sit on it while doing your hair or makeup. No, on second thought don't ride it when doing your make up as you will get it everywhere. Just ride and enjoy it, playing with a partner while using it is so much fun.
I am so glad that Lust and Joy have given us the opportunity to enjoy and review the Loopy Bounce TrioPack. We have no problem in giving it a strong recommendation.
I was sent the Loopy Bounce TrioPack by Lust and Joy and I would like to thank them for giving me the opportunity to review it for them.
Joanne's rating
Where Can I Get One From?
Grab one of these fantastic little sex toys and give yourself a good workout and you bounce your way to an orgasm from Lust and Joy for just 89.00 € (£79.96).
Check them out and don't forget to tell them that Joanne says "Hi".
Disclosure
This review does not contain affiliate links, for more information about affiliate links check out my disclosure page.