Delivery
My Lovely 2.0 arrived discreetly packaged so yet again my postie has no idea how much I enjoy sexually pleasuring myself. If he does know, then he has a perfect poker face.
Ourlovely.com respect their customers privacy and ship their products in very discreet boxes I am pleased to say.
Packaging
The product packaging that the Lovely 2.0 arrives in is simply stunning. I love the design and the fact that you can see right through it from one side to the other highlights the fact that this is a cock ring.

I love the packaging of the Lovely 2.0, it is informative and a fantastic design
I love packaging that is quirky and also informative and this box ticks both of those boxes. I looked forward to opening it up and seeing what was within.
So what is it?
At its most basic level, it is a vibrating cockring that can be controlled on its own or via an app. I honestly don't understand the current trend of making sex toys app controllable when most only act as a remote control. I mean an expensive mobile phone is one heck of a pre-requisite for a simple remote for a sex toy.
The Lovely 2.0 is different though, yes it is controlled by an app, but that app is more than just a remote control. It is so full of functionality it definitely warrants my phone getting sticky with vag-goo and lube.

You get the Lovely 2.0 an instruction manual and a charging station and USB lead
Before I tell you more about the app and why it is a data-crunching machine worthy of googles attention, let me tell you about the sex toy itself.
The Lovely 2.0 is a silicone coated sex toy, and that makes it body-safe, hypoallergenic as well as being latex and phthalate free. Silicone is my go to sex toy material of choice for those reasons. The blend of silicone used on the Lovely 2.0 is fantastic, it is so soft and stretchy as well as not being much of a dust and lint magnet.
The stretch in the cock ring is excellent, so this really is a one size fits all solution and even on girthier cocks, you don't need to worry about it being too tight and restricting blood flow. I was surprised at how wide I could stretch it. Sizing for a cock ring is very important which is why I wrote a Cock Ring Measuring Guide. This cock ring is nice and stretchy, so it avoids all the problems mentioned in that article. If your penis has a circumference of over 7"/17.8cm though it may be too tight.

The silicone cockring portion of the Lovely 2.0 is very stretchy for a comfortable fit
One added benefit of wearing it for the wearer is that it can make their erections harder which let's face it is also good for both parties. Cock rings allow blood to be pumped into the penis but restricts its flow out, so you get bigger and harder erections when wearing one.
The lovely 2.0 has a really nice shape, and I love the textured ridges on the front of it. These provide some excellent clitoral stimulation when thrusting and they line up perfectly with me. The ridges feel lovely gliding over my clitoris, enhancing the already delightful sensations of the vibrations on my clit while I am full of hard cock.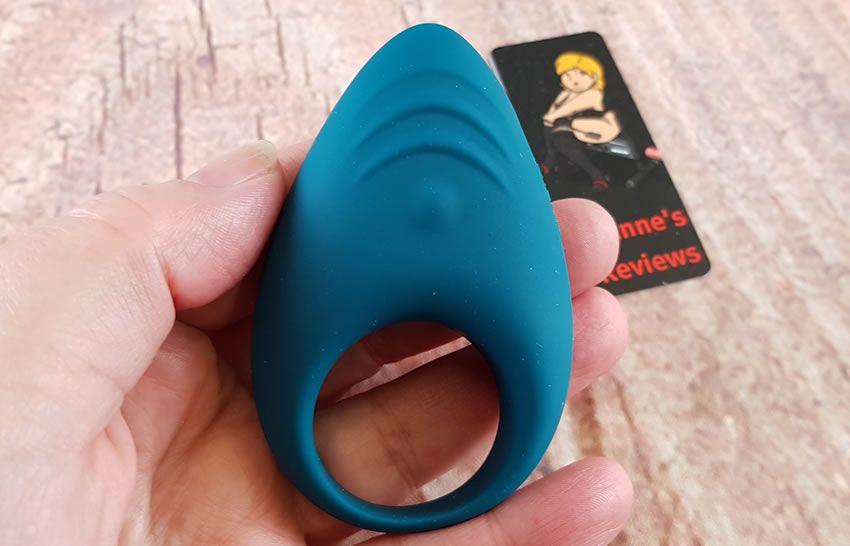 The ridges on the Lovely 2.0 feel great against my clitoris
The vibrations generated by the Lovely 2.0 are pleasant but not earth moving. I would say that they are about middle of the road when compared with other vibrating cock rings. You get eight vibration patterns to choose from but with the app the patterns are limitless as you have total control over them.
When I asked my Stunt Cock what he thought of them his answer was pleasant and not too strong thankfully. When I asked for clarification on that statement, he said any stronger, and they would have made him cum too soon which is a valid point.
Lots of guys are not used to vibrating sensations especially when they are fucking a wet pussy so it can be a little overwhelming. I have to admit that he does manage to hold off until I have come first though - a true gentleman.
Charging is simple using the rather sleek charging station that comes with the Lovely 2.0. A three-hour charge will give you three hours of playtime on its highest setting. The charging station is Qi compatable and you can charge the Lovely 2.0 with any Qi charging station.

Charging is simple with the sleek Qi charging cradle
The Lovely 2.0 is also waterproof so you can enjoy some shower time fun with your partner or even just use it on yourself.
The app
The app is what makes this sex toy so unique and also enjoyable. It is available on the Apple App Store and the Google Play Store for free. Downloading and installing it is free but as it installs it asks for permission to do some things that at first glance seem a little scary.
Like asking for access to your camera, location, storage and telephone. Initially, I was a little concerned with just how much access the app needed, but after doing some research on the Lovely site, it is all innocuous.

Installing the app is easy once you agree to the access questions
Here is what they say they need access for:
Camera - We use this to scan the QR code within the app which in turn connects and syncs you and your partner's app.
Location - Lovely syncs with your app via the Bluetooth. And in Android, all Bluetooth devices need to have the location access as it is part of the same permission package.
Storage - We use this to store all the images, data on your phone that are generated on the Your Lovely App.
Telephone - We use this to check if you have access to the internet (to generate personalized tips, feedback, etc.) and Bluetooth (for the Lovely 2.0 to pair with your app and download all the data from the device).
Nothing too scary there, it also asks for some very personal information such as age, weight and height. This is used so that the app can keep track of how many calories you are burning during sex. Great for all the geeks out there who love to number crunch. I think sex is the very best way to work out and I love seeing how many calories my fun and orgasms have burnt.
I love the app, it is well laid out, and I love the fact that it analysis my play style and makes suggestions for new things I may enjoy. Things like positions and also activities together with instructions. I took some time to really use this feature and it is one of the things that I really love about the app.
You can control the vibrator features without the app but it is so much more comfortable with the app, and I loved handing over control to my partner so that he could play with the settings. Giving away control is one of the things that really flicks my switch. This sex toy aims to bring couples together, enhancing your intimate moments and suggesting ways to improve on them.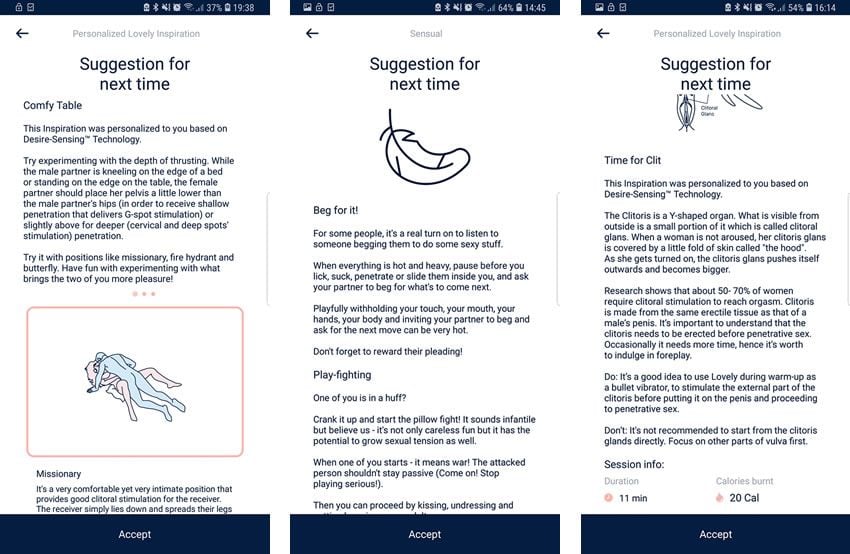 I find the suggestions based on my play style to be fantastic
All of this is available for free through the app, but you can subscribe to a feature that allows you to directly chat with world class sex educators for $29.95 a month. It isn't a feature I would use but others may do so, and that's fine.
The Lovely 2.0 is all about connecting people, sharing ideas, learning, experimenting and education and for those reasons I think it is a breath of fresh air on the sex toy scene.
Yes, it isn't the most powerful vibrator, but sometimes that can be a good thing. With the Lovely 2.0, you are encouraged to enjoy yourself and to enhance your play with its helpful suggestions and feedback. It's a data ninja, and I love it. I wish that all app controlled sex toys did it as well as the Lovely 2.0.
The Lovely 2.0 from @OurLovelyToys is a data ninja and a fantastic little sex toy that is a delight to use. It can defintely help to improve your sex life through its thoughtful suggestions.
Click to Tweet
Key Features
Key features:
Desire-Sensing Technology analysis your play style and makes suggestions
Three hours of play from a single charge
Silicone coating making it hypo-allergenic
Waterproof
Daily play suggestions
Final Thoughts
Lovely 2.0 has been getting some great reviews, and I agree entirely with them, what it lacks in power it more than compensates with features and performance.
It brings back my eagerness to learn new things and experiment more, and that is a great way to improve your sex life.
The Lovely 2.0 is a nerds dream, the way that it processes data is fantastic, and it delivers genuinely useful advice and pointers.
I am still enjoying using it even after evaluating it for this review, so that says something. I have no reservations in giving the Lovely 2.0 a solid recommendation.
I was sent the LOVELY 2.0 by OurLovely.com and I would like to thank them for giving me the opportunity to review it for them.
Joanne's rating
Where Can I Get One From?
Grab one of these fantastic cock rings from OurLovely.com for $139.00 (approximately £108.83), this isn't a cheap sex toy but it has the performance to match its price tag.
Check them out and don't forget to tell them that Joanne says "Hi".
Disclosure
Disclaimer - I was sent the Lovely 2.0 to review free of charge and this has in no way affected the outcome of this review. This post contains affiliate links and if you purchase something when you follow one of these links I may receive a small commission at no cost to you. For more information check out my disclosure page.