Delivery & Packaging
As with everything that I have ever received from sexmachines.co.uk this machine arrived quickly and was very discreetly packaged.
The outer box was plain cardboard, and it carried no indication as to what lay within. The inner box is the retail display box, and this is very nicely done. It features pretty graphic images of the machine in use and carries a lot of product information including the fact that you get two attachment with this machine.
The machine and packaging weighs 14.2kg with the machine weighing in at 13kg, so it isn't too heavy while still being sturdy.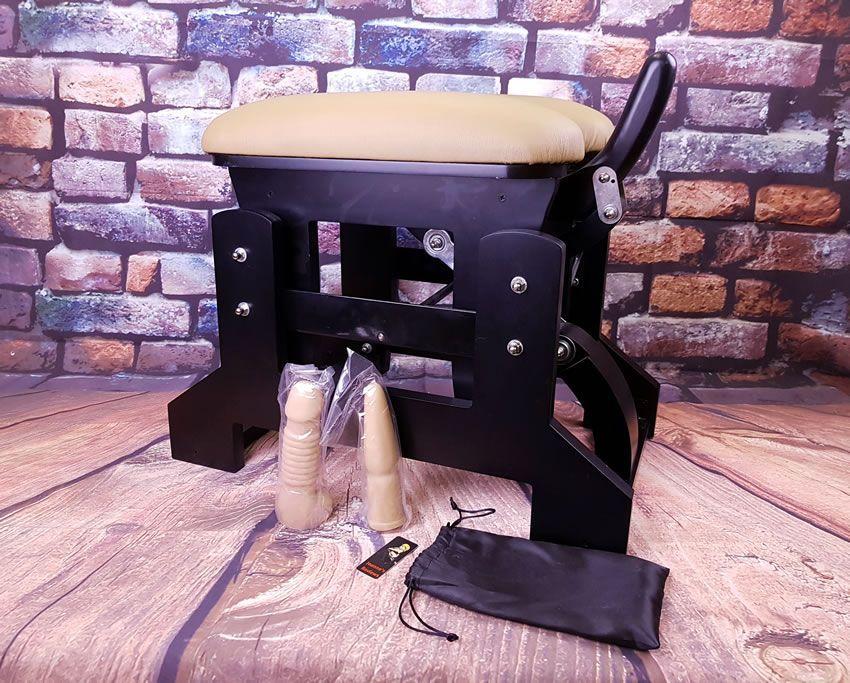 The Love Rider comes fully assembled together with two attachments with a storage bag
Unboxing
The machine is ready assembled and pretty easy to remove from the box. The biggest bonus though is that no assembly is required. It arrives fully assembled so all you need to do is attach one of the two included dildos and you are ready to go. You also get a storage bag for the attachments which is good but wrap them in kitchen roll before placing them in the bag to stop them from touching each other.
That was a pleasant surprise as generally with a fucking machine some assembly is usually required. The machine is well packaged and once out of its box you can get to admire it and its smart design.
The Love Rider measures in at 22.5"/57cm inches long, 13.25"/33.7cm inches wide and 19.5"/49.5cm inches tall.
How It Works
It really is a clever concept, it is basically a seat suspended within a frame which sits on the floor. When you sit on the seat and move it forwards and backwards it causes a linkage to raise and lower an arm to which a dildo is attached.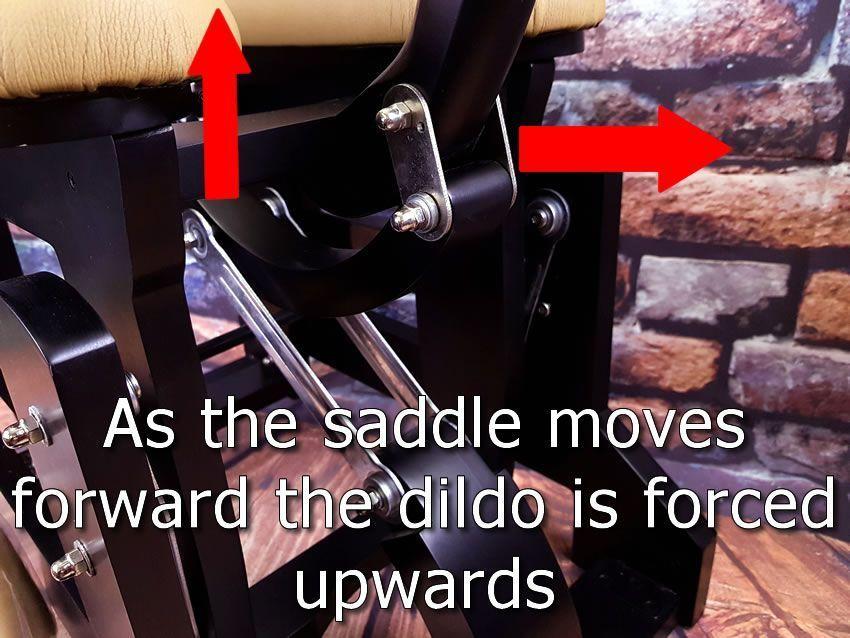 The Love Rider uses a series of link arms to transfer forward and backwards motion into the vertical motion of the dildo
This arm has a Vac-u-lock style adaptor fitted to it that allows you to install lots of different dildos to the Love Rider Sex Machine.
Sexmachines.co.uk carry a massive range of vac-u-lock compatible dildos including the amazing Mr Hankeys toys.
So, basically, you sit on the Love Rider and use your leg muscles to slide yourself forward and backwards. The Love Rider then converts that movement into the fucking action of the dildo. "Simples" as Alexander the meerkat says.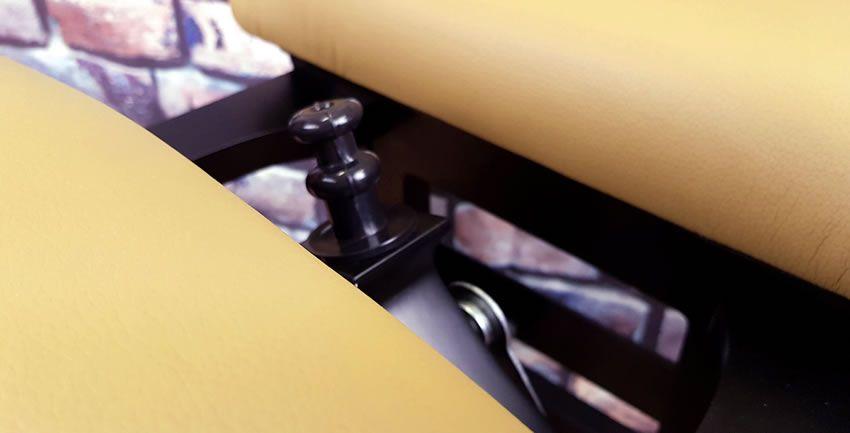 The Love Rider comes with a Vac-u-lock compatible adaptor for attaching dildos to it
Construction
The Love Rider is pretty well made, I love the fact that it works straight out of the box. The body and seat frame is painted back, and the cushioned seat pads are coated in faux cream leather.
The seat is comfortable, but this isn't a lounge chair, this is definitely a kinky piece of bedroom equipment designed to provide pleasure and a good workout too.
You get two sex toys enclosed with the Love Rider, one is an anal probe and the second is a ridged dildo designed for lots of stimulation. Both have a hole in the base for the Vac-u-lock style adaptor to use.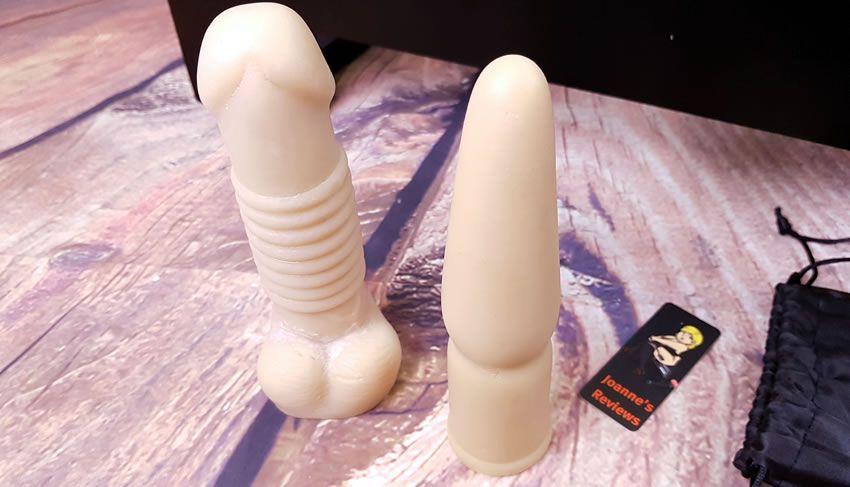 The Love Rider comes with a ribbed dildo and an anal probe
These two attachments are I believe made out of TPR which means that they are porous. You can, of course, fit your favourite silicone Vac-u-lock compatible dildo to the machine instead of the ones enclosed.
The six-inch ribbed dildo that arrived with this machine had a casting problem just over the balls which left a blemish that in use acts as a bit of a vag-goo trap. It means I have to clean that area of the dildo very carefully. It is probably just a one-off, but I had to mention it.
Both the anal probe and dildo have nicely rounded heads to aid insertion, and I recommend using a good quality water-based lube with them such as Sliquid H2O or Secret Play Natural Lube.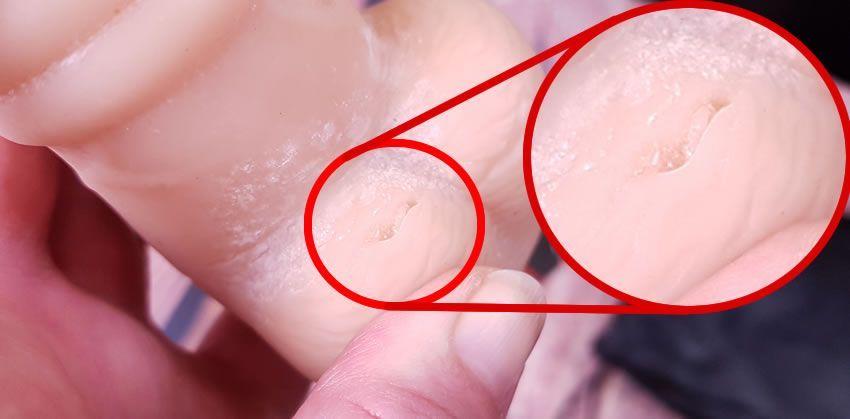 The ribbed dildo has a casting artifact problem that has left a pit in its side
Performance
To say I couldn't wait to put the Love Rider to the test would be an understatement. With the ribbed dildo fitted and lubed up, it was time to see how a human powered sex machine would fare.
The first tricky thing that you need to master is getting the dildo into your waiting orifice. I used the Love Rider vaginally, but of course, it is also very suitable for anal fun as well.
When you settle yourself onto the seat, you need to push yourself forward to get the dildo to rise, aligning it to your waiting orifice as you do so.
Once inside you, you can start to experiment with how the slightest movement changes the position of the dildo. Push forward, and it rises sliding into to. Settle back, and it lowers sliding downwards.
Push back to far, and it slips out, and you then need to faff about inserting it again. I strongly recommend getting a longer dildo as it will make using the Love Rider easier.
You can use the standard ones, but longer ones are much better. This is a sex machine that takes some getting used to.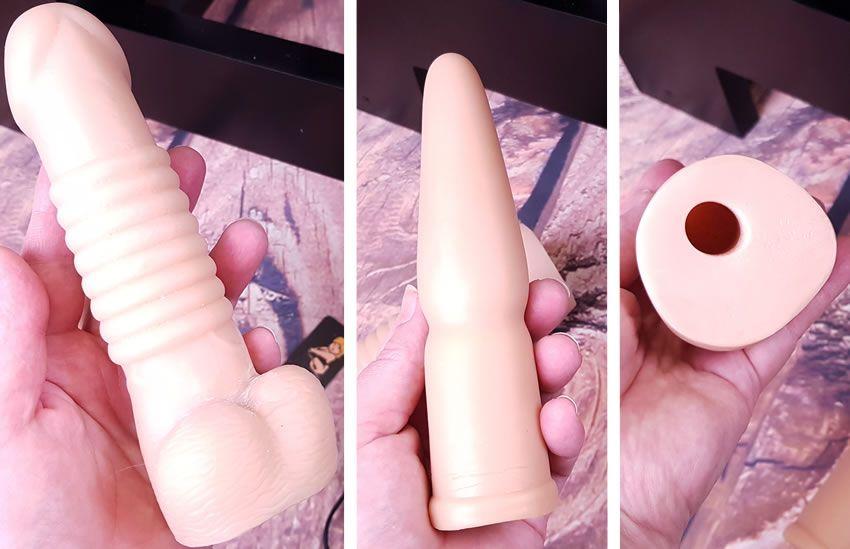 The included dildos offer some nice fun but the Mr Hankeys ones are so much better in every way
Controlling it sounds easy, but in practice, it takes a while to get used to it before you can really start enjoying it.
It took a couple of goes to get used to it but now that I know what I am doing it feels great to be able to fuck myself slowly or quickly just by shifting my weight and pulling myself forward or sliding back.
The way that the dildo arcs as it rises sometimes means that if it comes out, it can catch on the underside of the seat giving you a slap on the ass or pussy as it releases itself. This always makes me giggle when that happens.
Having got used to controlling the Love Rider, I have had some very lovely orgasms riding it. It is one of those sex machines that is also very good for putting on a show. As you ride it anyone in the room with you gets an excellent display of the dildo sliding in and out of you. I can imagine that this sort of machine is a lot of fun in swingers clubs and for webcam models.
The Love Rider is also reasonably discreet, I put a throw over it in the bedroom and sometimes even use it when sat at my make up table. Being able to rock back and forth on it is actually quite relaxing. Of course, fit a dildo to it, and it's much more fun. However, I would imagine my make up would be everywhere it shouldn't be if I used it like that in the morning LOL.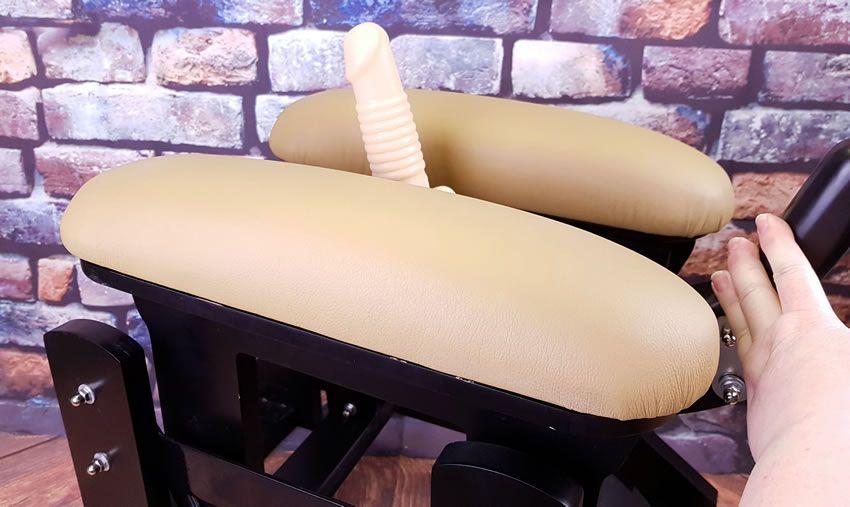 The Love Rider can be a lot of fun for anyone wanting some quiet fucking machine fun and games
Giving yourself a good seeing to with the Love Rider also has some other benefits apart from the orgasmic bliss element. It gives your thighs a damn good workout.
The morning after my first couple of uses of it I could really feel my muscles ache. You quickly get through this though with use, and it actually tones your muscles and lets you burn off some calories while you enjoy the fucking it delivers. It's a win, win in that respect. Lots of kinky fuckery and you are losing weight and toning up your leg muscles at the same time. I can't promise that it will turn you into a sexual athlete, but it will undoubtedly tone as it fucks you.
Here is a quick video showing you how if you go too far back the dildo can end up giving you a nice spanking.
---
Rock and glide your way to orgasm with the human powered fucking machine called the Love Rider from @buysexmachines.
Click to Tweet
Key Features
Key features:
No electricity required, this is a human powered fucking machine
No assembly required
Vac-u-lock attachment systems gives you a myriad of dildo choices
Two dildos included, an anal probe and a rided dildo
Quiet and discreet in use
1 Year UK & Worldwide warranty, upgradable to a 3 year warranty
Final Thoughts
After a tricky start, I have had so much fun with the Love Rider. It is one of those machines that you have to learn to get the most out of it. Once you master it, you can relax and exercise yourself to an orgasm. It is totally silent in use, the only thing you will hear is wet noises as you fuck yourself to an orgasm with it.
Useful for both anal and vaginal penetration it is genuinely a sex machine for all sexes, and I love the fact you get a workout as you masturbate.
It is a very visual and exciting way to masturbate, and if you have a partner, they will be fascinated by the sight of the attachment sliding in and out of you as you get more and more aroused.
All in all the Love Rider is a fun addition to anyone sex machine collection. Throw it in the car and opt for some impromptu outdoor fun as it is human powered so you can use it anywhere.
I was sent the Love Rider by sexmachines.co.uk and I would like to thank them for giving me the opportunity to review it for them.
Joanne's rating
Where Can I Get One From?
Check out the range of amazing fucking machines over at sexmachines.co.uk.
Sexmachines.co.uk have an amazing selection of fucking and sex machines for sale together with a huge range of attachments, with a fast and discreet service.
If you are curious to try one for yourself then you can grab one of these Love Rider Sex Machines for £466.80 from sexmachines.co.uk and it is definitely worth checking out the other machines available as you can save lots of money in their current sale.
Check them out and don't forget to tell them that Joanne says "Hi".
Disclosure
This review does not contain affiliate links, for more information about affiliate links check out my disclosure page.