Delivery and packaging
The Love Jelly arrived very discreetly packaged, and upon opening the box it came in, I could lay my eyes on the actual product packaging.
It looks fantastic and carries lots of information about Bath Jelly as you would imagine.
Inside the box, you get sachets of powder, with 450g of jelly powder and also 450g of dissolver powder
.

The packaging of Love Jelly is very nice and it is available in Pink or Purple
Words of caution
Now the instructions state that while this product is safe, you shouldn't let the crystals come in contact with your skin and don't pour them into an empty bath otherwise, it may stain your tub.
Other than that the only thing to remember is don't eat it (it isn't that sort of jelly) and don't get it in your eyes. If you do then just run water over them for ten minutes, also if you are thinking of adding this to a jacuzzi don't switch on your pumps as they may clog - obvious really.
Just follow the instructions and you cant go wrong.
How does it work?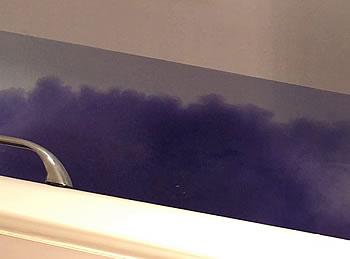 It is incredibly simple. Just run your bath as you usually would, getting the temperature how you like it then pour in the jelly crystals, mixing them with the water.
In under five minutes, your bath turns from water to a fantastic jelly texture that is slippery and is so much fun.
We were blown away by just how much fun having a bath in this stuff is. The feeling of the jelly against your skin is delightful, and it is slippery stuff.
Take care when you get in and out of the bath to make sure you don't slip and have a fall.
Playtime
Scooping up handfuls of jelly and letting it run down over your breasts feels incredible and rather sexual. Slipping a hand between your legs also feels fantastic too. The slippery nature of the jelly makes masturbation an almost must if you are in it and that feel fantastic.

Love Jelly feels fantastic, the warm jelly is very slippery and is a great lube
The jelly forms in small balls and the liquid between them is almost like a lube. Everything feels so sensual and sexy.
Bath Jelly is available in two colours, these being pink and purple. We opted for purple as we love that colour and the colours of the jelly are bold and bright.
I made sub'r' masturbate in the jelly to completion, and she loved having me pour jelly over her breasts and nipples as she did so.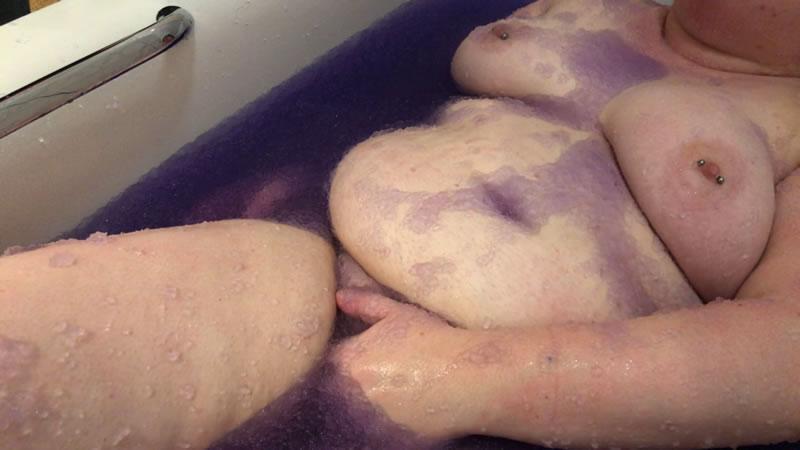 Love Jelly is incredibly slippery and feels great against your skin especially when masturbating
She commented that the jelly feels just like warm lube when she was rubbing her clitoris, and it was a delight to see her orgasm while submerged in jelly. Very kinky and also so sexy too.
Running hands over her jelly coated body felt really lovely too, and it left her skin feeling soft and moisturised.
This is the sort of product that is ideal if you plan on having some fun with a partner in the bath as pouring it and rubbing it into each others body would be so erotic.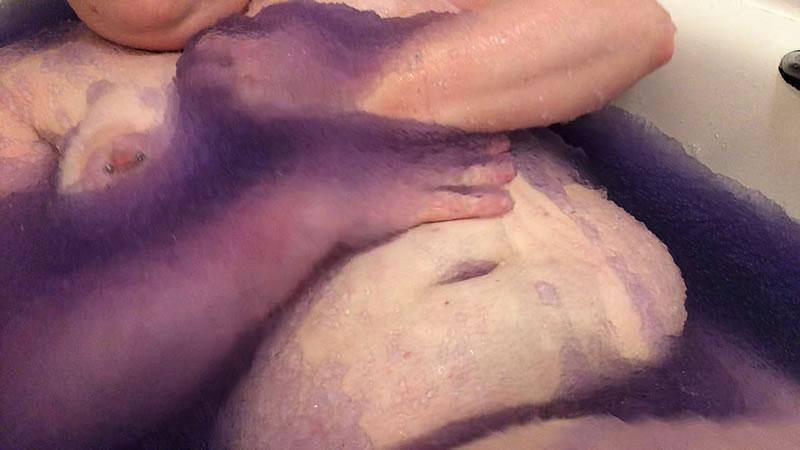 Love Jelly is translucent and the colour of it is brigth and vivid, it is a fantastic looking product
Disposal
After her bath, we washed sub'r' down with the showerhead to get the jelly off her body. Then as she stepped out of the bath onto a towel, we washed her legs and feet.
Pretty easy if you have someone with you, but you could also manage it on your own.
Now came the bit we were worried about, would it have stained the bath (it didn't stain sub'r') and would it dissolve properly? Obviously, if it blocked the drain, we would have a rather embarrassing kinky story for the plumber.
To drain the bath, you get 450g of dissolving powder. This is simply sprinkled over the jelly and mixed in. Just like when we made up the jelly, in five minutes, the jelly had returned to a watery state.
Pulling the plug out we were delighted to see it all drain away, not a single drop of jelly was left after the bath emptied and it wasn't stained. We then washed it down anyway to make sure, and it looked like after any other bath session.
The mix used for the jelly is completely bio-degradable, and it has been tested to OECD 301B, which is a world recognised biodegradation test.
Spice up your bath time fun with some Bath Jelly from @lovejellyuk, turn a boring bath into something kinky and lots of fun too.
Click to Tweet
Key Features
Key features:
Quick and safe way of turning bathwater into fun jelly
Two colours available - Pink and Purple
Easy to dissolve so it goes down the drain
Non staining
I would recommend it to:
Anyone looking for a way to spice up their bath time sessions
Anyone looking to surprise a partner
Anyone who likes the idea of lounging in warm sensual jelly
Anyone who loves splosh play
I wouldn't recommend it to:
Anyone who just doesn't like the idea of bathing in jelly
Final Thoughts
We had so much fun using bath Jelly; it is a product that is incredibly easy to use and turns a bath full of water into a kinky adventure.
Feeling the jelly squish through your fingertips is weird but nice at the same time. Putting those fingers between your legs for some fun feels even better.
Bath Jelly is ideal for use on your own, but I imagine that having a partner in the bath with you at the same time would be even more fun. Bath Jelly is the slippery, kinky bath time product that is guaranteed to put a massive smile on your face. We love it.
I was sent this pack opf Bath Jelly by Bath Jelly and I would like to thank them for giving me the opportunity to review it for them.
Joanne's rating
Where Can I Get One From?
Check out LoveJelly.co.uk for more information about this sensual bathing product and see some pretty hot pictures of people using it too.
Grab one of these fantastic fun bath time kits direct from the Love Jelly Amazon Store for just £9.99.
Check them out and don't forget to tell them that Joanne says "Hi".
Disclosure
This review does not contain affiliate links, for more information about affiliate links check out my disclosure page.