Joanne was given the Love Hamma by hand at #BBB (Birmingham Bizarre Bazaar), so I cannot comment on the Love Hamma delivery process. But on their website, they promise very discreet outer packaging (either a plain brown cardboard box or a grey parcel bag).
The Love Hamma comes in a nicely branded white cardboard box with information on the back. On one of the sides, the text is written in very bold text with is always a big plus for me with my eyesight problems.

The packaging of the Love Hamma is bright and very informative.
Inside the box, you get:
The Love Hamma itself.
A USB pin charging cable.
A black suede-lined toy bag to keep your Hamma clean and safe.
Last but not least, you get a user manual telling you everything you need to know and how to get the most out of your new toy.
The thing I liked the most about the packaging of the Love Hamma is that you can see the toy inside the box. So you can see the girth and the length of the toy to see if they will work for you or not.

The storage bag is fantastic and the instructions are clear and easy to understand.
Materials and Design
The Love Hamma is available in two different designs: a straight shaft and one with a curved tip. I will be talking about the straight shaft in this review, so keep this in mind when reading my review.
The Love Hamma is coated in a really lovely blend of medical-grade silicone that is non-porous and is phthalate and latex(rubber) free. This makes the Love Hamma hypoallergenic, which is why silicone is always my go-to material for all my sex toys. But most importantly, for my insertable ones.

The Love Hamma is a great fit in its storage bag.
The Love Hamma is designed with both G-spot and clitoral stimulation in mind. With two motors, one in the Hamma's head (which is meant for clitoral stimulation ) and the hammer handle (to help with G-spot stimulation). As well as both motors, there are also two hammer ears for clitoral stimulation as you get on a rabbit vibe.
The Love Hamma also has a thrusting feature which I was surprised to find didn't work that well on me. The thrusting feature sort of acts like a fucking machine which it did, but it was not strong enough for my needs or to bring me off. This was a shame, but as I said, it does thrust, and it may work better for others. I think I may just have become accustomed to stronger thrusting sensations.
You get ten thrusting speeds and patterns, and I do not doubt that it will induce some fantastic orgasms.
Because the Love Hamma is made out of 100 per cent medical-grade silicone, this makes it waterproof. That means you can take your Love Hamma into the bath or shower with you for some shower time fun.

The USB charging plug just slots into the easy to find hole in the silicone skin of the toy.
I love to take my silicone toys into the shower with me as it makes my orgasms a lot more intense, but when I jumped into the shower with my Love Hamma, I found the vibrations to be just the same as when I used it outside of the shower. I reached orgasm but a lot slower than I usually would.
The controls (three buttons) are well placed and easy to use, being quite tactile. Each of the three buttons starts, stops or cycles through the available modes on the two vibrating motors and the thruster. The included USB cable has a pin plug, and this is inserted in a well marked hole on the opposite side of the toy from the buttons.
The Love Hamma handle is designed to be a long straight insertable shaft that felt great on my G-spot as my orgasm would take so long, but if you like edge play or prolonged orgasms, then I would give the Love Hamma a go.
The thing I love the most about the Love Hamma is how different it is, as I love my quirky toys and who wants the same thing over and over again. The Love Hamma would be great for some fantasy role play scenarios, maybe get the workman to use his tools in the bedroom.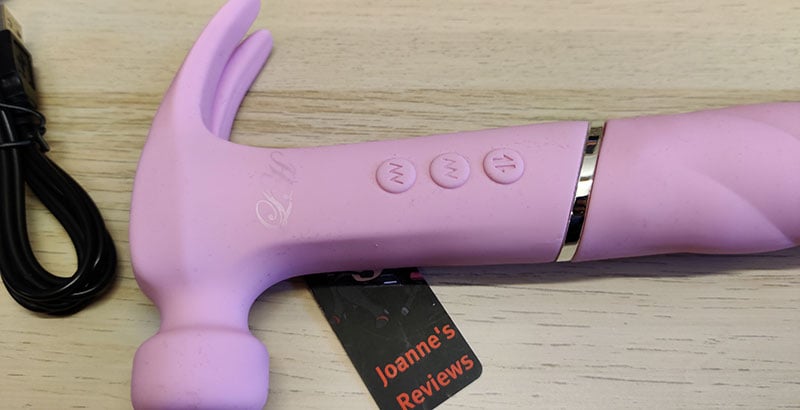 The three control buttons are well placed and very easy to use.
Performance
When I got my Love Hamma home, all I wanted to do was get on and play. But, as with all rechargeable sex toys, I needed to give my Hamma an initial charge (3-hours). This charge provides approximately 1 hour of playtime, depending on how high you have it set.
So I plugged my Hamma in and waited the 3 hours so that I knew I could edge myself as I had an hours worth of charge, or so I thought.
The first time I used it, after about 30 minutes and halfway to an orgasm, my Hamma went flat as a pancake, so I had to get myself off by other means. Let's say I was not one unhappy submissive. I must admit that I was using all of the vibrators maxed out and the thrust mode simultaneously, call me a power-loving vibe queen. Other sessions with the power levels set lower; I did get a much longer play session, though.
I enjoyed thrusting the Love Hamma in and out of myself. The hammers head shape makes a superb handle for this sort of play, and the twisting shape of the shaft worked well on my pussy.

The rounded tip makes insertion nice and easy, especially with some good quality lube.
It's these ridges and twists that I liked the best, it felt terrific on my g spot when I used it as a dildo this way. This may have led to some orgasms and squirting followed by bedsheet changes LOL.
The Love Hamma also has long ears for clitoral stimulation with seven vibration speeds, so there is something for everyone. Nestle, your clitoris between them or even, insert them for some kinky fun.
There are also three vibration speeds in the handle, which provide medium vibrations (even on the highest settings ), but they felt very nice. It was not enough to get me to orgasm alone but with thrusting thrown in for good measure it certainly hit the spot. The vibrations are a bit buzzy for me and they feel sort of medium powered compared to something like a Doxy. But the Love Hamma isn't trying to be a Doxy and so they should be fine for most people.
The Love Hamma also has ten thrusting settings and patterns. These work well and it is a very nice feeling to have it bouncing back and forth while deep inside you. I found these to be good but tamer than some other thrusting toys I have used. They did feel great though and the softer and more gentle sensations may suit someone new to thrusting toys or nervous about trying one. It's really hard to design a thruster that works well inisde a tight orifice, but this one doesn't stall and it does feel rather nice.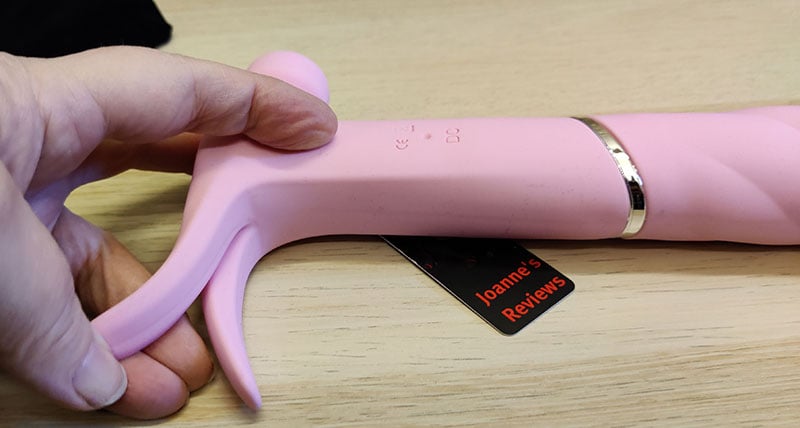 The flexible ears on the Love Hamma can be a lot of fun to tease around your clit or even insert.
It was not enough to get me to orgasm alone; the Love Hamma also has ten thrusting settings. Yet again, I found these to be very soft and gentle. Because of this, I would recommend it for anyone looking for their first thrusting sex toy.
The Love Hamma is not the quietest of sex toys, especially when you fire up the thrust mode. I found it a little off-putting as I found it hard to relax because I had to keep on checking no one could hear me. The vibration modes are pretty quiet, though and comparable to my other vibrators. So I would not recommend it to anyone who lives with their parents or a lot of other people if you have small kids.
I also loved to use the hammer head to make little circles around my clit, which I must say felt very nice. The handle makes it very easy to hold and use it this way.
I wish more sex toys were made to look like tools. Tool designs naturally have changed over the years to allow them to be held and used with ease.
The best feature is definitely the thrusting settings and some of the patterns are a lot of fun. If you hold it in place it really feels great. I think the curved tip on the g-spot model would feel divine thrusting away but this one feels great so no complaints there.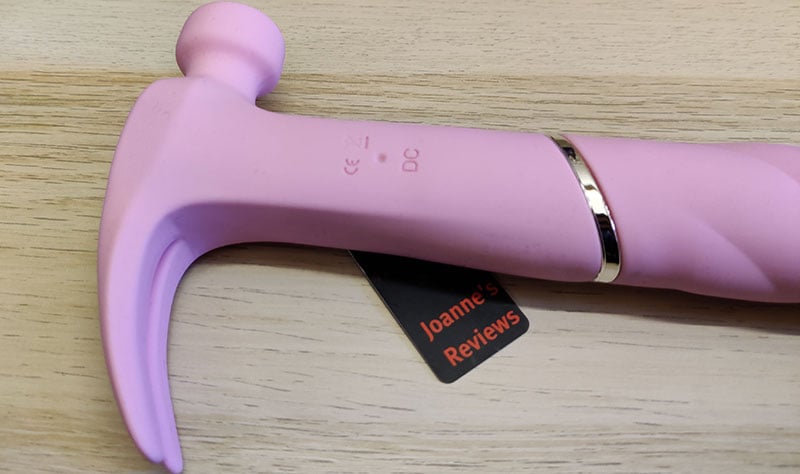 The charging hole is very easy to find.
At £99 the Love Hamma is not a budget toy but you do get the thrusting mode and vibrations too, all wrapped up in a quirky design that is hard not to like. I mean come on, how many other sex toys are available with a pink tool belt to hang them on?
The Love Hamma is a vibrator for anyone who likes to keep things kinky and different, why settle for vanilla when you can make your pussy a veritable work zone. Grab the Love Hamma and get busy.
Take bedroom DIY to the next level with the Love Hamma from @LovehammaUK. No parachute pants required for some "hamma time".
Click to Tweet
Key Features
Key features:
3 speeds & 21 functions.
3 speeds on the shaft vibrator.
10 thrusting patterns.
7 vibration modes on the heads rabbit ears.
Made from body-safe silicone.
USB rechargeable.
Three colour options and two handle designs.
I would recommend it to:
Anyone who likes quirky toys.
Anyone who likes thrusting toys.
Anyone who likes soft and gentle vibrations.
Anyone who likes edging play.
Anyone who likes G- spot play.
I wouldn't recommend it to:
Anyone who like deep and rumbly vibrations.
Anyone who is on a budget.
Anyone who likes to cum fast.

Yes, you can even get a tool belt for your Love Hamma in pink of black, go on you know you want one.
Final Thoughts
The Love Hamma by Hamma was a mixed bag for me. On the one hand, the vibrations, while nice, were not as rumbly as I prefer. But, the thrusting action and the shape of the shaft really worked well for me.
I really like thrusting with it, either using the thrust feature or if the battery is flat, just grabbing its head and going to town on my pussy. The soft silicone feels nice, and I love the handle design.
The thrusting, I thought, was loud, and that was a negative for me given my situation. Performance-wise, though, it gives a nice thrusting feeling that I really enjoyed coupled with the texture.
If it had deep rumbly vibes, it would be a dream vibrator for me as I love sex toys with character, but the motors don't produce the deep rumbly vibes my pussy desires.
That said, for anyone who hasn't got a spoilt puss, you will love the Love Hamma and its different modes of operation. If you have never tried a thrusting vibe then you will be in for a real treat.
I would like to thank Love Hamma for giving me the opportunity to review one for them.
sub'r's rating
Where Can I Get One From?
Grab one of these fun and fucntional vibes and give youself a good hammering. Get one from lovehamma.co.uk for £99 and enjoy some "Do It Yourself" fun.
Check them out and don't forget to tell them that Joanne says "Hi".
Disclosure
This review does not contain affiliate links, for more information about affiliate links check out my disclosure page.