This bumper review will feature two sets of diapers/nappies from NappiesRUs.co.uk, and they are from their own brand. We received two packs of nappies to review, and they are the:
Delivery
Before I go on to describe each diaper and give you my thoughts on them, I first want to tell you about the ordering and delivery process at Nappies R Us (NRU). Communication was fantastic with me being updated at every step of the order process.
They were dispatched to me by courier (DPD) and arrived quickly in very plain packaging for discretion. NRU takes great pride in their ordering and delivery system, going to great lengths to preserve your privacy and no mention of the contents was on the outside of the package.
They have two UK depots, and you can opt to collect your order from them if you are local, they are in Bolton and Aylesbury. That is a nice option to have if you don't want to get them delivered.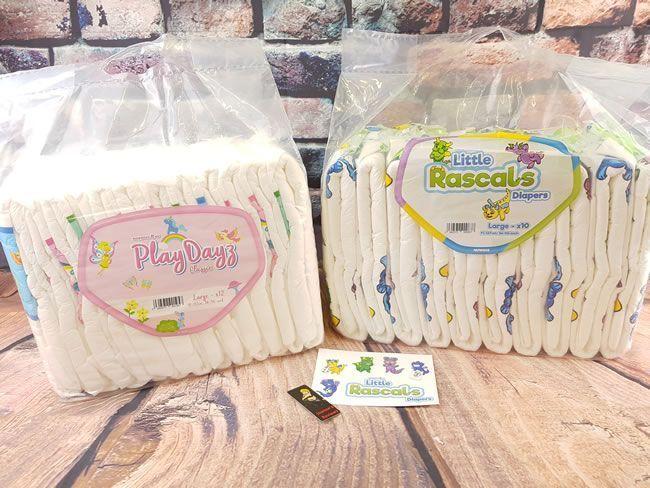 Two packs of diapers take up quite a bit of room
About Nappies R Us
NRU has the biggest selection of adult diapers I have ever seen, and I was blown away by the range, some of them are just so cute and these ones, in particular, look great. We recently reviewed their training pants, and they are fantastic so check out that review if you want something low profile to wear.
As well as adult nappies and diapers they carry a vast range of ABDL and DDLG products that are well worth checking out. They have everything from diapers to onesies, diddies, bibs and even disposal equipment, they really do have a fantastic range of products.
This review focusses on two of them though, so let's get on with it.
Both of these diapers are PU backed which means the outer layer is waterproof so anything contained within the diaper can't get through the outside layer which is good news.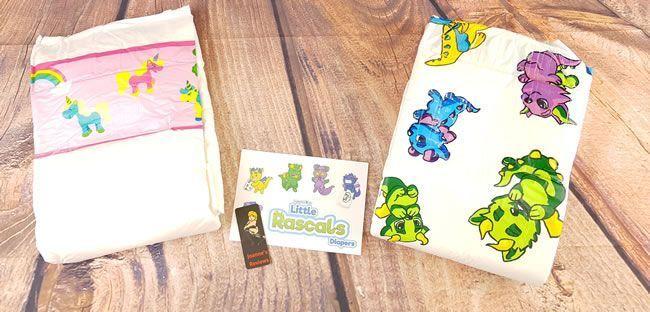 ThePlaydayz Classic Pink on the left and the Little Rascals on the right
Both are available in sample packs of two as well as bulk packs, and this is ideal if you want to try them out before investing in a full pack. The Playdayz sample pack costs just £4.79(inc VAT), and the Little Rascals sample pack costs only £5.39(inc VAT) which makes them good value for money too.
Here is a breakdown of costs and some of the features of the two different diapers:
| * | Playdayz Classic Pink | Little Rascals |
| --- | --- | --- |
| Price: | £1.60 | £1.80 |
| Absorption: | 3500 ml | 5000 ml |
| Backing: | PE/PVC | PE/PVC |
| Sizes: | Medium/Large | Medium Large |
| Gener: | Female/Male | Female/Male |
As you can see from the table above, both of these diapers differ in terms of price and absorption, but otherwise, they are aimed at the same market.
Playdayz Pink Diapers
Taking the Playdays Pink Diapers first, they are a good quality cheap diaper that performed very well indeed. They feature a band of pink-themed design around the midriff that is cute. This design features on the landing zone and adds a splash of colour in pastel themes.
You get four designs in the pack, and these are flutterbyes, unicorns, moo cows, fairies, flowers and fluffy rainbows. I have to say I loved the designs as does Little 'Rae'.

The Playdayz Classic Pink Diaper has a wide and full absorbent area
These nappies have a smooth outer layer and a nicely padded absorbent zone inside. The outer layer is thick plastic to prevent leaks. There are elasticated waistbands at the front and read that keep the diaper sitting right when moving around and flexing.
You get four strong tapes that affix to the smooth landing zone, and this offers a lot of size adjustment to give a good fit.
Inside the diaper, there are tall leak guards around the legs that do their job very well indeed. I tested how quickly fluid could be absorbed by this soft lining and in the video below you can see just how quickly liquids are wicked and locked away leaving the surface with only a very faint damp feel to it.
---
This nappy will absorb and lock in up to 3500ml of liquid which is, to be honest, amazing. The next generation Japanese SAP is very good at absorbing fluids exceptionally quickly to prevent leaks.

The Playdayz Classic Pink Diaper is easy to fit and comfortable to wear
As this is the cheaper of the two diapers we tested, we were pleasantly surprised, to say the least. It's a fantastic design that we only had one small leak when Little 'Rae' was wearing them overnight, and that was my mistake for not tightening the tapes enough. Even then it was only about half a thimble of leakage from a full bladder. These diapers are more than capable with taking care of a full bladder and this was tested in various positions.

The Playdayz Classic Pink Diaper is a wide comfortable diaper
Here are Little'Rae's thoughts on the PlayDayz Classic Pink Diapers:
"I love the designs, especially the unicorns and rainbows. Apart from the one boo-boo when I first tried one of these ones I have had no problem at all. They are very comfortable and absorbent, and they don't stop me enjoying my playtime either. I can sleep in them safe in the knowledge that I don't need to get out of bed for a wee, and they don't leak when fitted properly. I really like them, and the designs are so cute on my bum."

Little Rae
Regarding sizing the Paydayz Classic Pink are slightly smaller than the other diaper we tested, and the sizes available are:
Medium - 28"/71cm to 36"/91cm.
Large - 36"/91cm to 48"/117cm.

The Playdayz Classic Pink Diaper fits easily inside a Onsie for comfortable playtime
All in all, the Play Dayz Classic Pink is a fantastic diaper for anyone on a budget, they fit securely, are comfortable and most importantly absorb everything that we threw at it. We both give them a big thumbs up.
Little Rascals Diapers
Next, it was on to the more expensive Litle Rascals Diapers. Now, these diapers are in a league of their own and performed excellently. They feature a fantastic design with lots of bright and colourful baby dragons all over the diaper and they are just so cute. This design goes right around the diaper, and the characters are very bright and clear, the edges of the diaper feature a green hexagonal design that also looks good and compliments the cartoon characters well.

The Little Rascals Diaper is a very nice diaper with a thick comfortable lining
These nappies are incredibly thick and are designed for long-term or night wear. They have a very smooth outer coating and a very thick absorbent zone. They are elasticated, so they fit snuggly and allow for movement without becoming loose, and this is very important.
These nappies feature four very strong tapes, and the adhesive is fantastic, really doing an excellent job of holding tight. These tapes together with the elasticated portion of the diaper allow for a good range in sizes to be catered for. The tapes can be removed and refitted repeatedly without them losing their stickyness.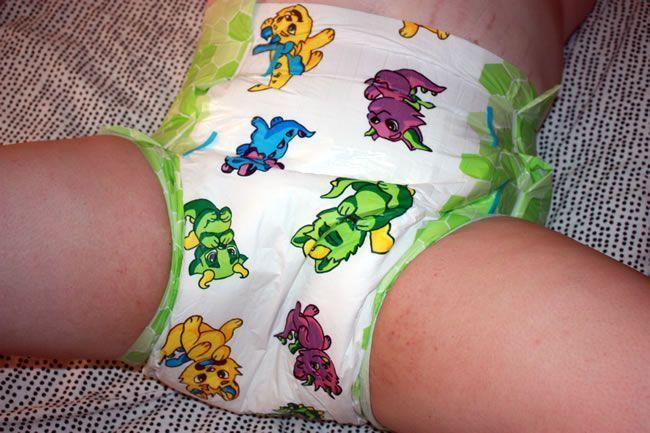 The Little Rascals Diaper is very easy to fit securely and comfortable to wear
Inside the diaper again you get tall leak guards that fit around the legs and these work very well. Fluids are absorbed by the lining very quickly and then locked away keeping the wearer dry and in the video below you can see just how quickly fluids are wicked away.
---
This nappy will absorb a fantastic 5000ml of liquid which is, to be honest, astonishing. These next-generation Japanese SAP linings are very good at absorbing fluids exceptionally quickly to prevent leaks and locking the fluid within their weave. Again these diapers have no problem taking care of a full bladder even when emptied quickly and they have been tested in lots of positions, performning flawlessly.
This is the most expensive of the two diapers that we tested, and we can tell, the finish is much better, and it is more comfortable to wear. We had no leaks at all with the Little Rascals Diaper, and Little Rae has really put them to the test.

The Little Rascals Diaper is very easy to fit securely and comfortable to wear
Here are Little'Rae's thoughts on the Little Rascals Diapers:
"The little dragons are so cute, and I love the design. These thicker diapers are really comfortable to wear, but under clothing, they are pretty obvious due to their bulk. They have coped with a full bladder admirably with no leaks, and they are so comfortable to play and romp in. Also, they are very comfortable to sleep in, and I can highly recommend them as night diapers. I prefer these out of the two designs and love them."

Little Rae
Where sizing is concerned the Little Rascals are more accommodating than the Playdayz Classic Pink as they are much wider, and the sizes available are:
Medium - 32"/81cm to 40"/102cm.
Large - 36"/91cm to 50"/127cm.
All in all, the Little Rascals is just a superb diaper that we can't find fault in at all. They are comfortable, absorbent and the design is extremely functional. The amount of fluid that they can absorb is impressive and to top it off the design of the little dragon characters is probably the cutest that we have ever seen. We both give them a big thumbs up.
Check out the amazing range of adult diapers and ABDL products available at Nappies R Us - @NappiesRUs.
Click to Tweet
Key Features
Key features:
Excellent quality
Highly absorbent
Confortable to wear
Sample packs available
Elasticated waistbands
Waterproof outer layer
Four securing tapes
Final Thoughts
Both diapers offer fantastic value for money, and each is a great product. The Little Rascals was our favourite partly due to the great design and partly because it was just so comfortable, and with a large absorbency capability, it is an excellent choice for nighttime wear.
Both diapers are great and if you want to be blown away by the range of diapers available, then I strongly recommend giving Nappiess R Us a visit as their range is second to none.
I was sent these diapers by Nappies R Us and I would like to thank them for giving us the opportunity to review them.
Joanne's rating
Where Can I Get One From?
Grab some of these fantastic diapers from Nappies R Us. Check out the amazing range on offer, we can vouch for these ones being comfortable and very good, plus the designs are stunning.
You can also buy these diapers at ABDLMasrketplace.co.uk.
Check them out and don't forget to tell them that Joanne says "Hi".
Disclosure
This review does not contain affiliate links, for more information about affiliate links check out my disclosure page.