As usual, I was pleasantly surprised at just how quickly Meo can ship things to me from Germany, you never have to wait long for your order. It arrived in plain packaging as you would expect and neither my postie or my very nosey neighbour knew what delights were inside the plain looking box.
I eagerly opened the box to find the Little Johnny Prostate Stimulator in a satin storage pouch inside a plastic pouch sealed with a Meo label.


I love the minimalistic packaging and the fact that you get a storage bag included
I always appreciate the minimalistic packaging used by Meo, it means much less waste, and it helps to keep the costs down which is good for customers pockets.
As soon as I picked it up I knew that I was going to be in for a treat, it weighs 700g and you are left in no doubt that this is a dildo that is going to be fun.
I almost gasped when I withdrew it from its branded satin drawstring storage bag, it is just so shiny. The highly polished finish reflects everything and looks fantastic. I found myself looking at my own reflection in the larger ball end, and I marvelled at the effect.
It was the weight that had my mind racing though, I knew that this is a dildo that will be fun to use as gravity will do most of the work for you, and all you will need to do is pull it out again. I couldn't wait to put it to the test, but I bided my time, taking these pictures and video first. Once that was out of the way I made myself comfortable, grabbed a bottle of Secret Play Natural Lube and shall we just say, I got to know it very well indeed.

The weight is surprising and this is a dildo that slides itself home
The Little Johnny Steel Prostate Stimulator features two offset balls at either end with one being more substantial than the other. These give you two different masturbation options, the smaller ball also has three notches in the shaft close to it, and these create some delicious texture that feels amazing when you fuck either your pussy or ass with it.
This texture on the shaft gives a nice feeling on an otherwise smooth dildo. The balls create some lovely pressure on my g-spot when fucking with it and it would also feel amazing against a prostate. Indeed, after a couple of uses, I learnt how to squirt with this dildo.
There is something amazing about solid metal dildos. I love the way you can enjoy the chill of cold steel as you insert it but that soon changes as it warms up to body temperature. I am always amazed at just how warm a steel dildo can get in use, when I remove it after a good pussy fucking I love how warm it feels in my hand.

The notches in the shaft feel incredible drawn across my clitoris
I can highly recommend trying some temperature play. Have a bowl of warm or cold water handy so you can enjoy the chill or warmth of this dildo to give it a whole new feeling. This sort of temperature play is a lot of fun, and I love inserting cold objects and savouring the feel of them warming up inside me.
I have enjoyed some lovely slow wanks in the bath with this dildo but be very careful that you don't drop it as it is so heavy it could easily damage the bath or tiles if dropped onto them.
In use, because it is relatively short (Meo do a longer steel dildo, called the Big Johnny Prostate Stimulator and that also looks amazing) it can get a little slippery with lube and vag-goo. I like to wrap a small elastic band around the ball end that I am holding, this makes it much easier to hold and makes high speed thrusting easy.
I absolutely adore thrusting the balls back and forth over my g-spot applying some delightful sensations, and I love edging myself like this before speeding up and crashing into a hard orgasm, often squirting as I pull it out quickly mid-orgasm.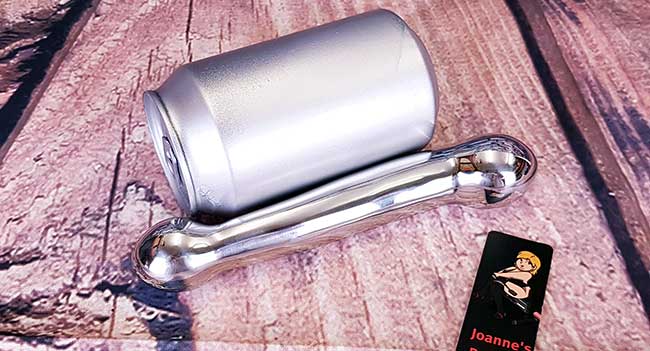 This is a dildo that isn't too large and is an ideal first dildo for anyone looking to try steel dildos for the first time
I also enjoy drawing the shaft over my clitoris and having the ridges on the shaft ride up and over my clit, this feels amazing especially when the dildo is still cold and just thinking about it is sending shivers down my spine.
I have used the smaller end anally, and it felt very, very nice. I loved the feeling of the ridges causing me to dilate and contract as I moved it back and forth. As this is a steel dildo you can use any type of lube that you want and that is great. I particularly like using a good silicone or hybrid lube when enjoying some anal pleasure as it lasts so long.
Cleaning after use is so simple, just wash it in warm soapy water to break down any juices or solids. Then rinse before giving it a quick clean with an anti-bacterial sex toy cleaner. Ensure that it is dry before placing it back into its storage pouch ready for the next time you decide to pleasure yourself with cold hard steel.
Looking for a great G-spot and Prostate stimulator? Check out the Little Johnny Prostate Stimulator from @MEO_TEAM.
Click to Tweet
Little Johnny Prostate Stimulator Dildo Video Clip
Behold through the wonders of Youtube, here is a video of the Little Johnny Prostate Stimulator Dildo in all its glory.

Key Features
Key features:
Stainless steel prostate stimulator that is also great for g-spot stimulation
Two delicious balls, one on each end
Textured ribs on the shaft that feel great
Great for temperature play
Great for anal or vaginal use
Drawstring satin storage bag included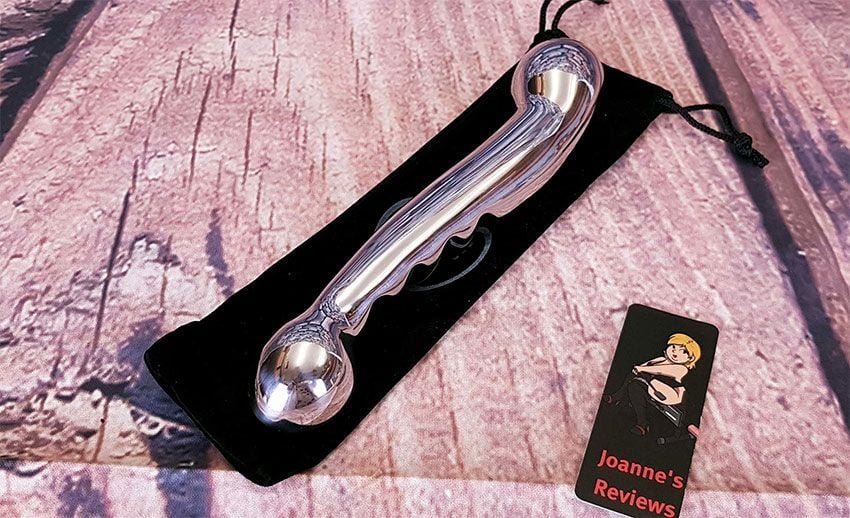 I love the Little Johnny Prostate Stimulator and can confirm it is great for G-Spot pleasure too
Final Thoughts
If you have never masturbated with a steel dildo then I can highly recommend doing so, the temperature play aspect of inserting cold hard steel and then feeling it warm up is fantastic.
I love the unforgiving nature of steel, there is no squish, no bending and you confirm to the dildo and not the other way round. Hard dildos can be so much fun.
I love the look of this dildo, the polished surface is mesmerising, and the design with the two balls and the ridges along the shaft feels exquisite in use, it's an excellent dildo for g-spot and also prostate stimulation, and I do give it a solid (see what I did there?) recommendation.
I was sent the Little Johnny Steel Prostate Stimulator Dildo by Wolf at Meo.de and I would like to thank them for giving me the opportunity to review it for them.
Joanne's rating
Where Can I Get One From?
Grab one of these fantastic prostate and g-spot stimulators from Meo.de, you can get one for just 69,00 € (£60.80). This is a great dildo for experimenting with some prostate or g-spot play and it is an ideal dildo to introduce you to the pleasures of steel dildo fun.
Check them out and don't forget to tell them that Joanne says "Hi".
---
---
Disclaimer - I was sent the Little Johnny Steel Prostate Stimulator Dildo to review free of charge and this has in no way affected the outcome of this review. This post contains affiliate links and if you purchase something when you follow one of these links I may receive a small commission at no cost to you. For more information check out my disclosure page.