I didn't have to wait long for it to arrive from Bondara, they are always very quick on their deliveries, and this one was no exception. The very plain looking package came with the postie being none the wiser as to its contents and then Joanne took it off me to do the pics.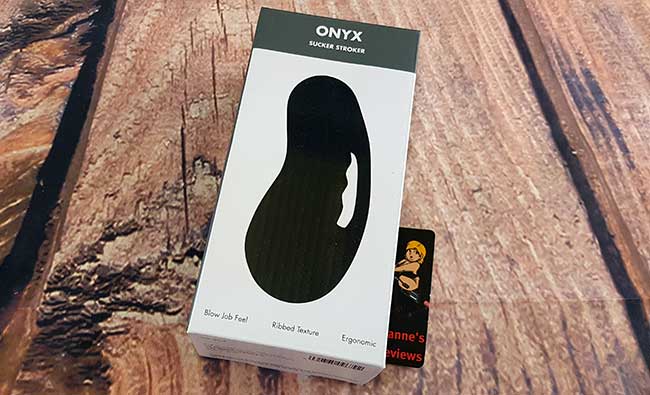 The Linx Onyx Sucker comes in a pretty plain retail box that carries information on the back
Once the pictures were done it was upstairs to put it to the test but more about that a little later in the review. Firstly I want to describe it to you and give you a little more information about male strokers.
Stroker sleeves are more widely known simply as male masturbators but that name now covers so many different types of male sex toys I like to call this type of sex toy what it is - a stroker sleeve.
Like all stroker sleeves, it is a cylindrical tube-like object with an internal texture to give added stimulation when it is drawn up and down the shaft of the penis. This texture caresses and strokes the nerve-filled glans of the penis, and it is this that makes them so much fun to use.
They are often made out of TPR or TPE, and some high-end strokers are made out of body-safe silicone. This one from Bondara is made out of TPE, but it is latex and phthalate free. I am not sure about the surface porosity of it so you might want to use a condom when using it. This has the added benefit of catching your little tadpoles and making cleaning a much more straightforward affair.

The Linx Onyx Sucker looks very plain on the outside but the inside is textured
To clean it you can actually push it inside out and that way you can really give it a good rinse and scrub. Wash it in warm soapy water before using an anti-bacterial sex toy cleaner on it. Leave it inside out to dry after patting it dry with a towel. Once dry flip it the right way out and ensure the outside is dry before putting it away until you next get the urge to spank the monkey.
The blend of TPE used is very, very soft almost like jelly and that has a drawback in use, and that is that its softness actually makes the inner texture a little bland for my liking. Don't get me wrong you can feel it but it is very subtle whereas I prefer a bit more pronounced inner texture as you find in a fleshlight.
I had no problem masturbating with the Linx Onyx Sucker, but I would have preferred it to be a bit stiffer. The soft nature of it also means that you don't get much sucking when withdrawing your penis from it as it collapses in on itself rather than creating a nice suction. This is often the case with stroker sleeves that don't come in a hard shell.
This stroker is 5.25"/13.3cm long with an inner length of 5"/12.7cm and a width of 2"/5cm.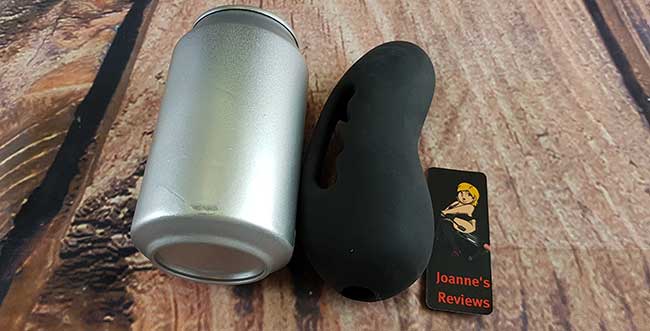 The Linx Onyx Sucker is roughly the size of a coke can
So downsides aside, how did it perform? Well the first time I used it I came pretty quickly, but that is often the case with something new. On future research (honest, this is real science) sessions I took my time to gauge the levels of stimulation and performance.
I could feel the inner texture, but as I said earlier, it was a bit bland and vague for my liking. The soft texture makes holding it comfortable, and you can increase the pressure on your todger by simply squeezing harder. The looped handle that you put your fingers through doesn't really do much, but it does prevent your fingers slipping off the end of it if they get covered in lube.
On the subject of lube, use a good quality waterbased lube such as Secret Play Natural or Sliquid H2O with this stroker, don't use oil or silicone based lubes as generally, TPR doesn't get on well with them.

The Linx Onyx Sucker is super stretchy so you can turn it inside out
The stroker sleeve has a very small opening at one end, and this stretches to accommodate you when you slide your cock into it. As you slide inside air is displaced from the sleeve, and sometimes this can make little fanny fart sounds. As you stroke with the sleeve, a small vacuum is formed inside as you withdraw and the stroker collapses in on itself. The good thing about this is you get a lot of surface contact with your glans as you stroke with it so you can enjoy the inner texture.
If you are like me and un-circumcised, you will get a lot more sensation and pleasure from it if you hold your foreskin back exposing the whole of your glans for that inner texture to stimulate and this feels really nice.
I have reached orgasm every time I have used the Linx Onyx Sucker, and that means it does work, and at only £14.99 I could buy three or four of them for one of my fleshlights, so they are a great option if you are on a budget. At that price, you may even be tempted to treat it as a disposable sex toy. As they say, "Fuck it, shoot your muck in it and then chuck it". However if you diligently clean it and keep it away from intense sunlight, you should be able to enjoy it for a long time to come.

The Linx Onyx Sucker is incredibly flexible so will cater for all sizes
I enjoyed using it, but for me personally, I prefer a fleshlight as the inner texture on the ones I have is much more pronounced, and I prefer masturbators with a solid case. That said, it's a very capable stroker sleeve that is also a fraction of the size of a fleshlight which makes it an excellent option to take away on short vacations or time away from home. It's small size also makes it easy to hide in your bedroom or bag.
Check out the Linx Onyx Suction masturbator from @Bondara.
Click to Tweet
Key Features
Key features:
Very Soft TPR material
Closed end keeps any mess contained
Can be turned inside out for cleaning
Inner texture provides extra sensation
Final Thoughts
The Linx Onyx Sucker is a capable masturbation sleeve that has some inner texture, and it got me off every time I used it. Personally, I would have preferred a firmer material and more inner texture, but for just £14.99 I can't really complain.
It isn't a fleshlight, but then again it isn't trying to be one, it is a cheap masturbation sleeve designed to give you a lot of fun while stroking with it, and it achieves that aim. I could buy three or four of these for the cost of a fleshlight.
If you are looking for a cost-effective masturbation sleeve, then this one is definitely worth considering either as your main toy or as something to take away on holiday or short break away due to its small size.
I was sent the Linx Onyx Sucker Black Male Masturbator by Annabel at Bondara and I would like to thank them for giving me the opportunity to review it for them.
Joanne's rating
Where Can I Get One From?
Grab one of these male masturbation sleeves from Bondara for just £14.99, this is great value for money. So why not treat your todger to the gift of a sleev that it can really enjoy.
Check them out and don't forget to tell them that Joanne and Stunt Cock say "Hi".
Disclaimer - I was sent the Linx Onyx Sucker Black Male Masturbator to review free of charge and this has in no way affected the outcome of this review. This post contains affiliate links and if you purchase something when you follow one of these links I may receive a small commission at no cost to you. For more information check out my disclosure page.