Delivery and packaging
Considering that these cuffs came from Japan to me here in the UK, I was pleasantly surprised at just how quickly they got here.
Packaged extremely discreetly, I had no worries about my nosey neighbours working out that even more bondage related kit was arriving on my doorstep.
All three boxes (both sets of cuffs and the collar and leash set) were securely packaged and arrived in perfect condition.
I love the boxes that Liebe Seele use for their products, the cardboard sleeve that fits around the box looks fantastic. I can't read Japanese but seeing it all over the box gives me a warm feeling, and I love the look.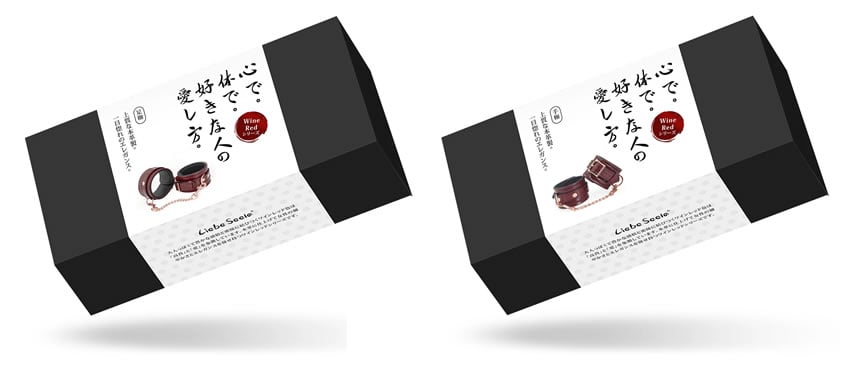 I love the packaging of the products from Liebe Seele.
However, I had no idea which was the ankle cuffs and the wrist cuffs, so Liebe Seele may want to consider adding a footnote on the packaging in English if they are planning on having international brisk and mortar type stores stock their kit. That is not a complaint, just an observation.
The restraints were nestled inside a lovely folded sheet of packaging paper closed with a seal inside the boxes.
Just as when I unboxed the Wine Red Collar & Leash Set from Liebe Seele, the aroma of leather was delightful as I opened the box. I love that smell, and again when I laid eyes upon these restraints, I was immediately taken aback by their quality. They looked amazing, and I spent a good couple of minutes just running my fingers over the leather and playing with the metal fittings.

The cuffs are packaged beautifully and the brilliant packaging whets your taste for what is to come.
I knew that if I liked the look of them this much, then my submissive, the lovely sub'r' would love them too.
Materials and design
As these are both from the Wine Red Collection from Liebe Seele, the leather and colouration are identical. One thing that was confirmed to me when reviewing the collar and leash set is that Liebe Seele sources only the finest leather for their restraints and BDSM products.
This leather is wonderful; it is soft yet firm enough, so it wraps around wrists or ankles beautifully. The exterior wine red leather has an inner layer of black leather that gives a slightly padded feel to the section closest to your skin.

The leather is soft, supple and the stitching is perfect.
The outer wine red coloured layer is silky smooth to the touch, while the inner black layer features lots of excellent texture.
The stitchwork is again immaculate, and the artisans that make these fine cuffs are top of their game and their experience shows.
The rose gold coloured metal 'D'-ring and buckle are secured with a wine red leather strap riveted to the cuffs with rose gold rivets. This creates a stylish and classy look, and the wine red leather and rose gold fittings are a fantastic colour combination.

The rose gold fittings stand out nicely against the wine read leather.
The only real difference between the wrist and ankle cuffs, as you would imagine, is their length. The wrist cuffs are longer to account for the extra size needed for ankles.
Talking of sizes, the wrist cuffs have a circumference of 27cm/10.63". While the ankle cuffs have a circumference of 30.5cm/12". Both have eight holes in the locking strap, giving 10cm/4" of adjustment.
I tried the ankle, and wrist cuffs on myself, sub'r' and even stunt cock (who has manly wrists and ankles), and they fitted all of us very well.
You also get a rose gold coloured chain with two quick-release clips on either end in each set, which can secure the wrist or ankle cuffs together. The length of this chain is 24.5cm/9.6"", which is perfect for lots of play options.
Performance
Cuffs are a staple piece of equipment to most people in the BDSM scene or even people who enjoy the occasional tie/tease scenario.
We have lots of cuffs, but these stand out from the crowd, both in terms of finish and comfort.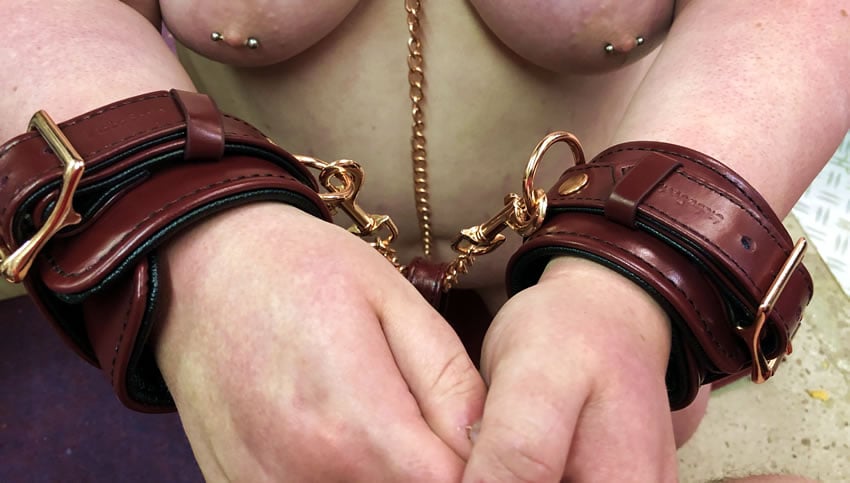 These are cuffs that look and feel very comfortable in use, sub'r' was blown away by them and they are her new favourites.
These cuffs are easy to fit in place quickly. The leather straps are supple enough to allow you to buckle someone into them promptly. The wine red strap retaining loop keeps the free end of the strap nicely tucked away. This creates a clean look and looks fantastic.
When fitted, they fit snugly around either the wrists or ankles and even after prolonged periods of wear, they were still comfortable.
I have fitted them to sub'r' on lots of occasions now, and she loves them. When securing her to a cross with her hands high, she often has problems with cuffs, causing circulation problems in her fingers.
This was not the case with these cuffs, they were comfortable to wear, and the wide skin contact area (6cm/2.4" wide) mitigated that problem, much to our delight.
It was fun putting the two quick-release chains to good use, and I enjoyed exploring ways of restraining sub'r' with them. One favourite was to thread one gold chain through the centre' D'-ring on her collar and secure the wrist cuffs to it. That causes her forearms to push her breasts together, highlighting her lovely cleavage.

The rose gold quick release chain is a nice addition and so much fun to use.
So now, some words from sub'r' about her experiences with these cuffs.
The Wine Red Collection from Liebe Seele is fabulous. I love the luxurious finish to these cuffs, and they fit securely and snuggly around my wrists and ankles.

The width is excellent, and the inner black leather lining gives it a little cushioning without being too soft. I love the rose gold fittings, but I wish the buckles were lockable as being locked into a set of restraints turns me on.

I have worn these now on numerous occasions, and I love them. When secured to a bondage frame or cross, I am a wriggler, and these cuffs have held up well.

I have lots of cuffs to choose from (I'm spoilt, LOL), but these are the ones that I want to be seen in. They look fantastic, they feel comfortable, and I get into a very submissive mindset when they are fixed around my wrists and ankles. If you are looking for a set of cuffs that stand out from the competition, I would strongly recommend buying these.

I love them.

Again, the only thing I can think of that would make these even better would be if it had a locking buckle where a padlock could be used for enforced wearing.

sub'r'
These cuffs have held up well with multiple sessions that have seen sub'r' strapped down on spanking benches, a cross and a bondage frame.
I love the look of these cuffs on sub'r'. I also love their effect on her when I fit them to her wrists and ankles. She becomes putty in my hands, and it is a lot of fun to restrain her in different positions before using wands, dildos or strap-ons for some light entertainment.
The Liebe Seele Wine Red Collection looks amazing, and with other options available such as a blindfold, thigh restraints and a hog-tie kit, you can build up a collection that not only looks great but performs well too.

The neat stitching, quality leather and metal fittings make these cuffs excellent value for money and something to treasure.
Check out Joanne's review of the Wine Red Wrist & Ankle Cuff Sets from @liebeseeleworld @liebeseele_eu @liebe_seele.
Click to Tweet
Key Features
Key features:
Made from high quality cow leather in a stunning wine red colour.
Rose gold coloured metal fittings.
Quality 'D'-ring attachment points.
Chain with quick attachment clips included.
Eight adjustment settings for a comfortable fit.
I would recommend it to:
Anyone looking for a high quality new leather wrist or ankle cuffs.
Anyone who appreciates quality craftsmanship.
Anyone looking for a comfortable set of cuffs.
I wouldn't recommend it to:
Anyone looking for cuffs that are rough to wear.
Final Thoughts
Once again, I have been blown away by the materials, and attention to detail shown in these two sets of cuffs.
The wine red colour looks amazing, and the inner black leather provides a nice contrast with the rose gold coloured fittings adding some bling.
They are stylish, functional and above all, comfortable to wear. I love the included chain with quick-release clasps, and it allows you to get creative with your play.
Liebe Seele is a company to keep an eye on; their other ranges also look fantastic, so if you are in the market for some high-quality BDSM equipment, then check them out. Once you get your hands on a pair of these cuffs, you will know what I mean when I say quality.
I was sent these Wrist & Ankle Cuff Sets by Liebe Seele in Japan and I would like to thank them for giving me the opportunity to review it for them.
Joanne's rating
Where Can I Get One From?
Check them out and don't forget to tell them that Joanne says "Hi". Oh, and if you are reading this review in Japanese through my sites online translator then again I apologise for it's less than perfect interpretation and I hope you can forgive me for that.
Grab one of these fantastic set of Wrist Cuffs direct from Liebe Seele for just $64.00 (Excluding taxes), or grab the Ankle Cuffs for just $65.00 (Excluding taxes), and don't forget to check out the other fantastic BDSM products available on their site.
Disclosure
This review does not contain affiliate links, for more information about affiliate links check out my disclosure page.