Delivery and Packaging
I can't stress just how happy I am with the way that Liebe Seele dispatch their wares. These items were shipped to me from Japan by courier in a discreet box carrying no indication of the naughty contents.
Upon opening the outer box, I was delighted to find everything neatly packed and with protective bubble wrap around the product packaging.
I have to say that Liebe Seele put a tremendous amount of effort to make their product packaging stand out, and they certainly do.
The product branding looks fabulous, but as most of the information is in Japanese, it was a little confusing. But I can't complain, these are Japanese products after all.

The packaging and presentation of this set is fantastic.
The box has a lovely cardboard sleeve around it, and once you remove that, you can lift the lid off the box. Inside, the collar is packed within a folded sheet of grey paper sealed with a branded sticker. This looks fantastic, and you can feel your excitement levels rising as you proceed further.
This set consists of a lockable collar, leash and padlock. I love the little touches such the little cardboard tags stating the website address and highlighting that these are handmade products from Japan. These labels were affixed to the collar with hemp string. You also get a delightful rose gold coloured heart-shaped padlock with two keys.

The wine red leather and rose gold accents compliment each other.
I particularly liked the box because it becomes a totally discreet method of storing your kit if you don't want to re-use the cardboard sleeve. No one will know what is inside the high-quality box.
Materials and design
I cannot stress enough just how well made this collar is. The leather is of exceptionally good quality, and it is flexible and comfortable.
Upon opening the box, the smell of leather is fantastic, and it really gets my mind racing.
The collar is made from wine red leather on the outside. It features some fantastic texture; this outer leather layer is stitched to a black leather inner layer with padding separating them. This makes the collar very comfortable to wear.

The black leather lining is comfortable and the stitching is very neat.
The stitching is black and extremely neat; the artisans that have created this set are obviously passionate about what they do.
The straps are double riveted to the collar with rose-gold rivets, and they are a dual layer of wine red leather.
One thing I love about this collar is having the ability to lock it in place. This is something that I recommended that Liebe Seele should look at with the last collar we reviewed. I love that this collar comes with a padlock and is a beautiful one too.
The rose gold padlock is the same colour as the furniture on the collar and the chain on the leash. The fact that it is heart-shaped is fantastic. In use, it makes a statement from the person snapping it closed. It really turns me on to hear the padlock snap shut, and the padlock is the icing on the cake with this set.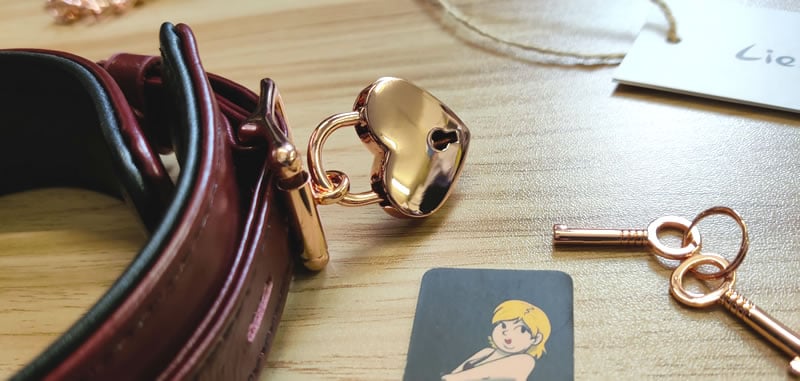 The locking clasp and padlock are my favourite features.
Weight: 272 g
Circumference: 44.5cm
Max Width: 6cm
Adjustability: 33.5-40cm
Adjustment Holes: 5
Leash: 106cm The collar has five size settings, and the first one fits me perfectly. The clasp is high quality with a roller to aid the insertion of the strap.
The collar is curved and widens in the middle. This really makes it stand out against your neck. The centre fitted 'o'-ring is fantastic, and it reminds me of a Prince Albert piercing. I love its chunky looks and feel.
The leash features a standard clasp and a rose-gold chain. The leather end is riveted in place with a rose gold rivet. It has a really nice length (106cm/42"), and the handle is easy to just slip over your wrist if your dominant doesn't have you under their direct control.


The leash looks great and is a decent length.
Performance
Collars are a staple piece of equipment within the BDSM community. They mean so much to both the wearer and whoever is placing it around your neck. Their use can be profoundly moving, and they are a symbol of submission and control, perfect for wear while serving or just when you want to enjoy yourself.
This collar feels very comfortable, and it is probably the most comfortable one I own and have reviewed. I love the fact that the centre is wider than the edges. This almost gives it the look of a posture collar without imparting the restrictions that one of them does.
The sound and feel of the leash being fitted to the 'o'-ring on the front of the collar gets me so wet and excited, and I just melt when it gets locked in place.

The 'O'-ring on this collar is really thick and looks amazing.
However, what flicks my switch the most is having the padlock fitted to the back of the collar. Knowing that it is locked in place has a huge psychological impact on me, and it gets me into a very submissive mindset, ready to serve.
The longest period I have worn this collar is about eight hours, and it felt great. I must admit to having enjoyed feeling cold air caress my skin after removing though, but that is the same with all collars.
The only thing I don't like about this collar is that its ends tend to ride up or down after a period of time. It is easy to rectify, but it is a niggle. I use the collar on its widest setting, and anyone using it on a tighter setting probably won't experience this, but I feel the need to mention it.
This is still my favourite collar, though. I love its looks and feel very submissive while wearing it. I am so happy that this one comes with such a delightful lock.

The collar is comfortable to wear and having it lockable makes it perfect for my style of play.
Check out the new curved lockable collar and leash set from the Wine red Collection at @liebe_seele @liebeseeleworld.
Click to Tweet
Key Features
Key features:
Made from high quality cow leather in a stunning wine red colour.
Rose gold coloured metal fittings.
Lerge center fitted 'O'-ring.
Long leash included.
Five adjustment settings.
Lockable with the included heart shaped padlock.
I would recommend it to:
Anyone looking for a lockable collar.
Anyone looking for a high quality new leather collar and leash
Anyone who appreciates quality craftsmanship.
Anyone wanting a collar and leash with a nice length to the leash.
Anyone looking for a comfortable collar.
I wouldn't recommend it to:
Anyone looking for a collar that is rough to wear.

All of the fittings on this collar and leash set are top quality.
Final Thoughts
It has been a fantastic experience reviewing another product from Liebe Seele. Once again, their attention to detail and workmanship has left me in awe.
Their collections continue to expand, and I can honestly say they are unique in the variety and quality of the products that they make and stock. I have another four reviews coming from other items from their new ranges and "spoiler alert", they are just as good as this one.
The collar is very comfortable, and its shape highlights the throat area, and I love wearing it. The cosy and horny feelings that I get when I hear the padlock being snapped into place are almost indescribable.
This will be my go-to collar for a long time to come. If you are looking for comfort, looks and function, then this is definitely worth serious consideration.
I have no hesitation in giving this set a solid recommendation.
I was sent this collar and leash set by Liebe Seele and I would like to thank them for giving me the opportunity to review it for them.
Joanne's rating
Where Can I Get One From?

Check them out and don't forget to tell them that Joanne and sub'r' say "Hi". Oh, and if you are reading this review in Japanese through our sites online translator then I apologise for it's less than perfect interpretation.
Grab one of these fantastic collar and leash sets direct from Liebe Seele for just $74.95 (Excluding taxesand shipping), or check out the entire Wine Red Collection, and don't forget to check out the other fantastic BDSM products available on their site.
Disclosure
This review does not contain affiliate links, for more information about affiliate links check out my disclosure page.