About Liebe Seele
I was initially confused by the company name "Liebe Seele", as from my time living in Germany, I knew that Liebe means "to love" and Seele means "soul", two very German words. An unusual combination of words for a Japanese company I thought.
But, I now understand the reason why they form the company name "the love of soul". It was created after Ms Keiko Imoto's fifth trip to attend an adult show in Berlin. Not happy with the creativity and quality of the products on display, she decided to rock the boat a bit by designing her own range of high-quality BDSM products.
They are lovingly created by a talented team with over ten years of leatherwork under their belt; their first product, the Flower, was born. Ever onwards and upwards, they have capitalised on its success bringing out other designs and product ranges.
That brings me on to this product which is from their Wine Red collection.
Delivery and packaging
I didn't have to wait long to receive my package from Liebe Seele. I was surprised at just how quickly it was delivered from Japan. The box was discreet and carried no indication as to its kinky contents.
Upon opening the box, I found three individually wrapped packages. I was sent this collar and leash set together with the ankle and wrist cuffs from the Red Wine Collection.


I received three very well packaged products from Liebe Seele to review.
I will be reviewing the cuffs separately as there is just so much to talk about with this collar and leash set.
These BDSM products come in a lovely box that is wrapped in a sleeve that looks amazing. I can't read Japanese, but the whole esthetics of it works for me.
Inside the box, the collar and leash are secured inside an inner wrap which is sealed. I relished the aroma of leather as I opened the box. I love that smell, and this collar smells as good as it looks.


I love the branding on the box, the quality of the packaging is fantastic and it sets the scene for what lays within.
Product design and material
The first thing that struck me when I took the collar out of its box is the vibrant colouring. The leather used in this range of products is fabulous. Some leathers feel stiff and rough, but the leathers used here are fine and supple. It indeed confirms the claim that Liebe Seele source the finest leathers for their products.
The stitch work is immaculate, and the whole product oozes an air of class and quality. I relished the feel of the leather in my hands and knew instantly that this is a collar that will feel very nice indeed once fitted in place around your neck.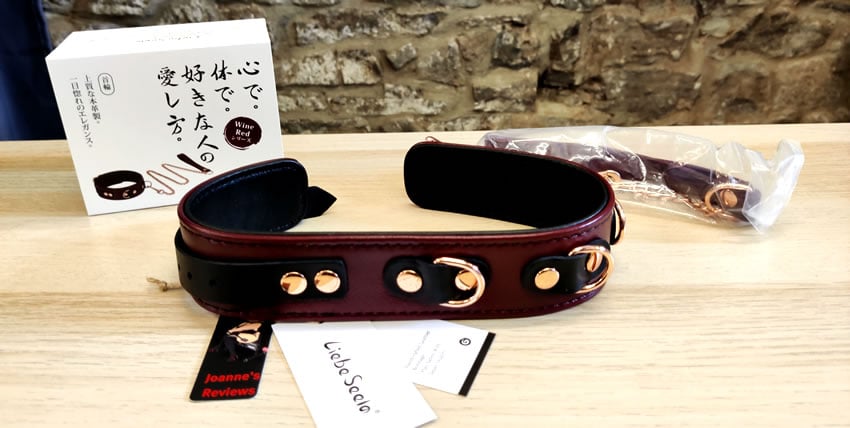 The colour of the leather and the rose gold fittings really work well together.
The contrast between the wine red coloured leather and the black accent pieces looks fantastic, and the rose gold-coloured metalwork finishes off the look perfectly.
I can quite honestly say I was delighted when I laid eyes upon this collar. Liebe Seele are top of their game, and with wrist and ankle cuffs to review as well, I knew that this is a set that my submissive is going to love.
The included leash is also of fantastic quality, with a long (106cm / 41.7") rose gold coloured chain ending in a quick and easy to operate latch.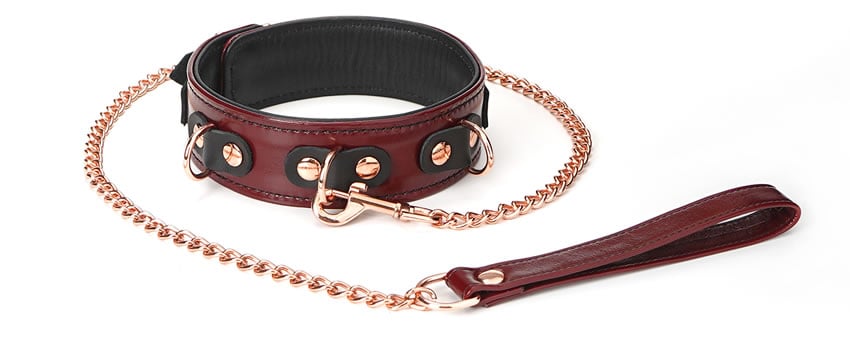 This set is a thing of beauty and it feels as good as it looks.
The collar has three 'D' rings on its front, and this gives you lots of ways to secure your submissive. With the leash fixed to the centre loop, you could connect a submissive's wrists to the other two loops or maybe attach some nipple clamps on chains for some kinky fun.
The black accent leather pieces are secured in place with big rose gold coloured rivets, which adds to this collar's look. The rose gold fittings provide a nice contrast to the luxurious leather that works well.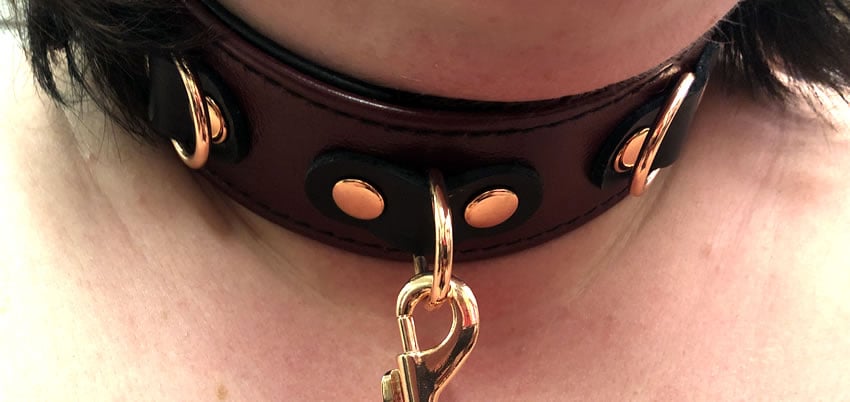 Having three attachment points allows you to get creative.
The securing strap has nine holes, giving you lots of flexibility and catering for differing neck sizes. The end of this strap has an embossed brand mark that again looks fabulous.
The collar can be adjusted to fit neck sizes 36-48cm / 14.2-18.9'' and this is great.
Performance
I like the look and feel of this collar and leash set. The luxurious finish and attention to detail really do make it stand out from the crowd.
I found it very easy to fit around my submissives neck, and after trying it on myself, I can confirm that it's comfortable to wear, and the strap that has holes 1.25cm apart makes it easy to adjust to fit anyone.
The rose gold furniture on it looks great and has held up to lots of use. We have used this collar during multiple play sessions, attaching the leash and other clips to the 'D' rings, and they show no sign of wear.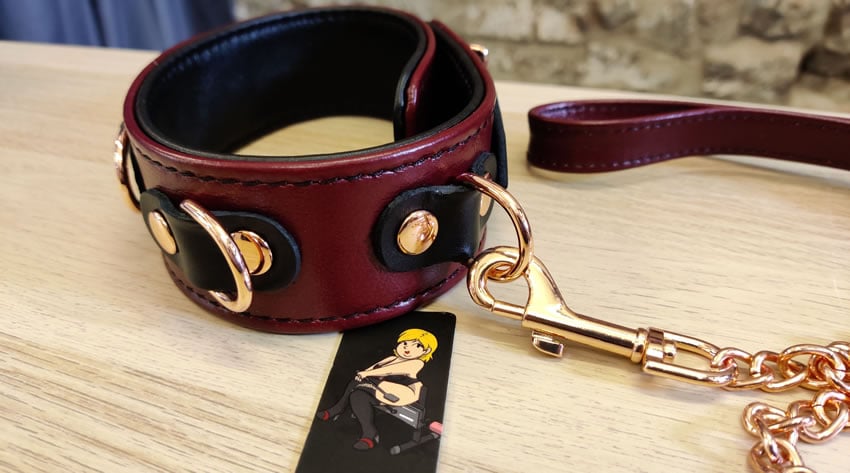 If I had to sum up this set in one word, it would be luxury.
I loved the reaction from my submissive when she first laid eyes upon this collar and leash set. Like me, she loved the quality and look of it and couldn't wait to be allowed to wear it.
So I thought it would be good to get her input about this set, so coming from a submissive's perspective, here are the comments from sub'r':
OMG, where do I start? This, without a doubt, is the most comfortable and stylish collar that I have had the privilege of wearing, even for extended periods.

I have lots of different collars, but none of them holds up to the quality and craftsmanship shown in this one. I love the colour combinations of the wine red main sections and the black leather highlights. The smell of the leather is strong, and that gives me all sorts of warm comfy feelings.

The width of it feels great; it is wider than most of my other collars. I prefer wider collars; as for me, it re-enforces my submission by just feeling it constantly around my neck. I have to admit that having it fitted around my neck was a massive turn on and looking at it in the mirror brought an enormous smile to my face.

Some collars are uncomfortable to wear, and while they do have their place in specific play scenarios, this one feels luxurious. I love the three 'D' rings; feeling a leash being clipped into place makes me melt. When Joanne locked my wrists to the collar, I relished the fact that a collar can be used this way.

The leash is the perfect length, short enough not to get in the way while being just the perfect length for our style of play.

The only thing I can think of that would be the icing on the cake with this collar would be if it had a locking buckle where a padlock could be used for enforced wearing.

sub'r'
Praise indeed from sub'r', and I can wholeheartedly agree with her on this one. The Wine Red Collar & Leash Set from Liebe Seele looks and feels fantastic.
It would make an ideal gift to someone you love, and it is a set that would be treasured and very much appreciated. As you can see in this pic, the cuffs that are available seperately work very well together.
Before my review of these cuffs is published, check out the fantastic review of them over at LizXLikes.com, it seems Liz and I may share the same taste in BDSM kit.
Collars have a profound meaning within the BDSM community, and this one makes a bold statement that the wearer appreciates the finer things in life. If you are buying one for your submissive, they are certainly going to enjoy it.
I am so excited about this set, as you may be able to tell. Having spent time reviewing the ankle and wrist cuffs from the Wine Red range, I am looking forward to telling you all about them too.
One last thing before I wrap this review up, Liebe Seele also offer a customisation service on all of their products. So, if you need a different size or colour for instance then they can tailor their products to your exacting requirements. Please be aware though, that the customisation service will increase the cost and delay dispatch of the product for obvious reasons. I think it's fantastic that they offer this service.
Looking for high quality BDSM products? Check out Joanne's review of the Wine Red Collar & Leash Set from @liebe_seele @liebeseeleworld.
Click to Tweet
Key Features
Key features:
Made from high quality cow leather in a stunning wine red colour.
Rose gold coloured metal fittings.
Three 'D'-ring attachment points.
Long leash included.
Nine adjustment settings for a comfortable fit.
I would recommend it to:
Anyone looking for a high quality new leather collar and leash.
Anyone who appreciates quality craftsmanship.
Anyone wanting a collar and leash with a nice length to the leash.
Anyone looking for a comfortable collar.
I wouldn't recommend it to:
Anyone looking for a collar that is rough to wear.

I really like this range of BDSM products, definitely check out the Liebe Seele website to see the rest of this stunning range of BDSM products.
Final Thoughts
I am delighted that I have had the opportunity to share my thoughts on this great collar and leash set. Liebe Seele has produced a range of BDSM products that are comfortable and made from the finest materials.
The collar looks fantastic, and the leather is genuinely good quality with a smell that will delight and excite. The long leash and rose gold fittings are the perfect contrast to the wine red and black leather.
I know that the other collars I have are going to stay hung up as in future; this is the collar that sub'r' will be wearing around the office and when we go out to fetish events where others can also admire its quality.
Check out the rest of the range of products available at Liebe Seele, and I can assure you that what you will find will impress you.
I was sent this Wine Red Collar & Leash Set by Liebe Seele and I would like to thank them for giving me the opportunity to review it for them.
Joanne's rating
Where Can I Get One From?
Check them out and don't forget to tell them that Joanne says "Hi". Oh, and if you are reading this review in Japanese through my sites online translator then I apologise for it's less than perfect interpretation and I hope you can forgive me for that.
Grab one of these fantastic collar and leash sets direct from Liebe Seele for just $58.00 (Excluding taxes), or check out the other fantastic BDSM products available on their site.
Disclosure
This review does not contain affiliate links, for more information about affiliate links check out my disclosure page.