Disclaimer - I bought the LateX Ladies Mask to review from Uberkinky, this obviously has in no way affected the outcome of this review. This post contains affiliate links and if you purchase something when you follow one of these links I may receive a small commission at no cost to you. For more information check out my disclosure page.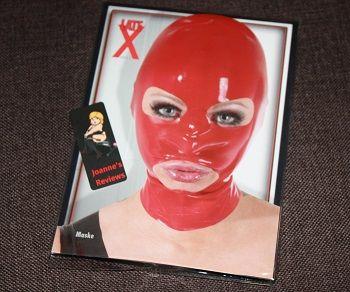 This mask was bought from uberkinky.co.uk for just £19.99 and they only stock this design in red but they do have other designs available in black, white and even a clear latex mask as well.
It arrives folded in a flat plastic pack that was easy to open and I slid the contents of the packaging out to find the mask sealed in a black plastic bag. Upon removing it from the bag you will find that it is neatly folded around a set of care instructions in multiple languages to keep it flat. I opened it up and laid it on the bed to get a closer look at it.
This type of mask is made by dipping a flat former into a vat of latex repeatedly until the correct thickness of latex is achieved and this means that it is seam free.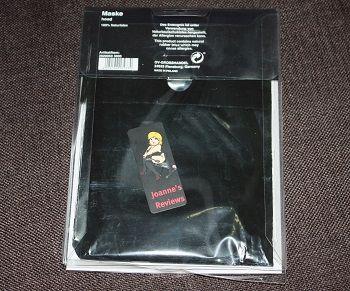 I was surprised by just how shiny it looks and when you open it up you will see that the inside is dusted with a light coating of talcum powder or corn starch to prevent it sticking to itself in transit and this powder does a good job of preventing that.
This powder also helps you to put it on and I recommend that you give it a dusting before putting it on.
Before I go into what it is like to wear a latex mask here are a few tips as to how to actually put one on. Latex masks are really quite a tight fit and so I struggled the first time that I put mine on but after lots of giggles and trial and error I found out the best way to put it on.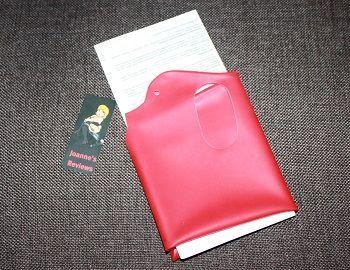 Simply make sure that the inside is dusted well and then grab the edges and put your forehead into the hole then pull the mask over the back of your head. Once your forehead is in then it's quite easy to pull the mask down and to align it with your eyes, nose and mouth. You can even use some silicone based lubricant to help it slide over your skin and that can be fun.
If you have sharp finger nails then wear a pair of gloves when fitting and removing the hood to minimise the risk of tearing it and remove any rings with sharp edges. If you have a large forehead you can warm the mask up with a hairdryer as this will make it stretchier and easier to fit.
Once fitted you will need to gently adjust its fit to get everything lined up and then you can relax and enjoy the feeling of being encased in latex rubber. The mask fits very snugly and it restricts your hearing a little which is nice for sensory play.
The mask fits very snugly and it restricts your hearing a little which is nice for sensory play.
Click to Tweet
The best bit though is definitely running you hands over your silky smooth head and gasping when you look at yourself in the mirror. I love the smell of latex and it was a big turn on for me to be encased in latex, I must get myself some outfits to go with this mask to cover more of my body.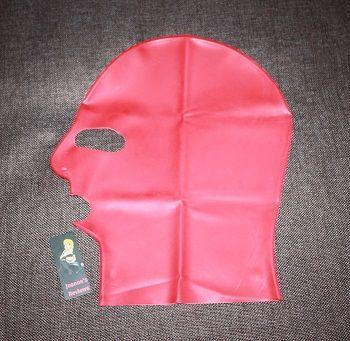 You will need to hydrate before wearing your mask as it does get warm in there and the perspiration actually adds to the enjoyment of wearing it. I first wore it in a dungeon session and it felt so naughty wearing it whilst submitting to my Master. He really enjoyed seeing me in it and lets just say it was one hell of a good session. A latex mask can change your whole character and makes you feel so sexy.
Taking it off will be a little easier than putting it on, simply grab the edges and ease it up. I bring it up over my face and then off the back of my head, the perspiration will make the room feel lovely and cool and that is a nice feeling.
To clean, simply wash with soap and water and make sure that you allow it to dry before dusting the inside with talcum powder and placing into storage. You can get special polishes to keep the lustre of the outside of the mask and I must get myself some. But buffing it with a very soft cloth brings back the shine.
A latex mask can change your whole character and makes you feel so sexy.
Click to Tweet
Key Features
Key features:
Cut outs for the eyes, nostrils and mouth
One size fits all
Fkat formed so no seam
Instant anonymity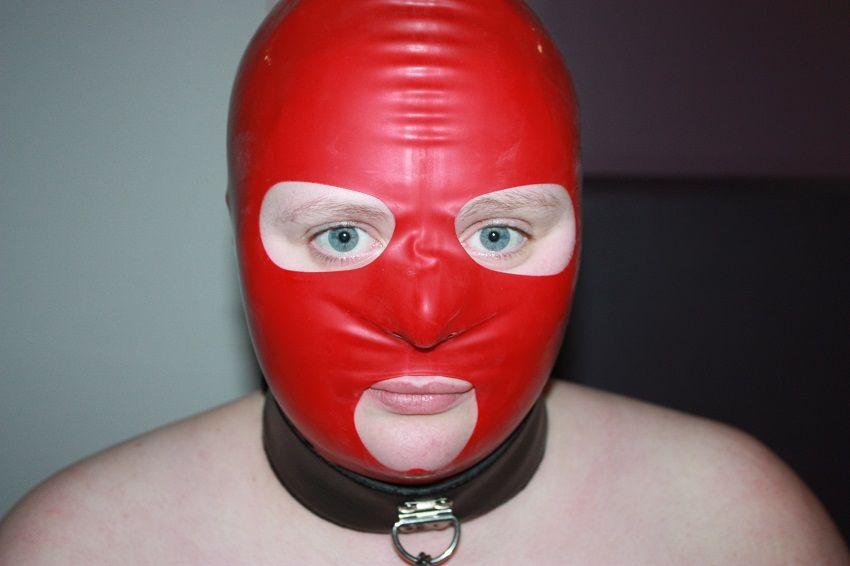 Final Thoughts
This latex mask gives you an instant kinky, sexy and sleek look. You can wear it on its own or together with other latex items (I wish I had more) to create a unique and kinky look. You can even use latex glue to add your own accouterments to your mask to personalise it.
I love how it changes my look and personality when you put it on and it is silky soft to touch, it fits my face shape perfectly well and as it stretches it should be suitable for most people. I think it is an excellent mask and it is also a lot of fun.
Joanne's rating
Where Can I Get One From?
Grab one of these kinky red latex hoods from Uberkinky.co.uk for just £19.99 with delivery starting from just £3.95, if your order comes to £55 then P&P is free.
Check them out and don't forget to tell them that Joanne says "Hi".
---
If you enjoyed reading this review then check out my other reviews of Uberkinky products:
Website links:
---
Disclosure