As is always the case, I was amazed that Meo can get products to me so quickly from over in Germany. Their deliveries are always swift and very discreet which is a good thing as my nosey neighbour would have a heart attack if she knew I was receiving kinky black latex fisting gloves in the post. Meo ship worldwide and so their products are available globally.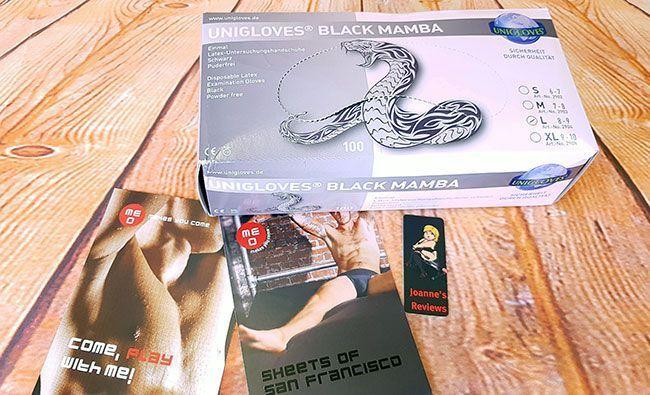 These Black Mamba latex gloves come in boxes of 100 gloves
Meo sell these Black Mamba Unigloves in boxes of 100, and they are available in four sizes, these are the large ones as Stunt Cock has very Domly hands.
They are powder free which helps to keep the mess down so you won't have white talcum powder everywhere when using them, but they aren't sterile.
CAUTION: They are latex based and so are not suitable for anyone with a latex allergy.
I was pleasantly surprised at how strong they are and putting them on is easy for me as my hands rattle around inside them. Stunt Cock, on the other hand, has to work them onto his hand and as you would expect they are an excellent tight and snug fit.
They are marketed for fisting, and they are perfect for that, the black colour gives them a nice BDSM look too, and I always recommend using gloves for fisting as it keeps things like fingernails covered. It also helps to prevent bacteria and germ transfer deep inside whichever orifice you are fisting. They are perfect for anal play as well as vaginal play as well.
Check out my article on pain free anal sex for some good advice on backdoor play.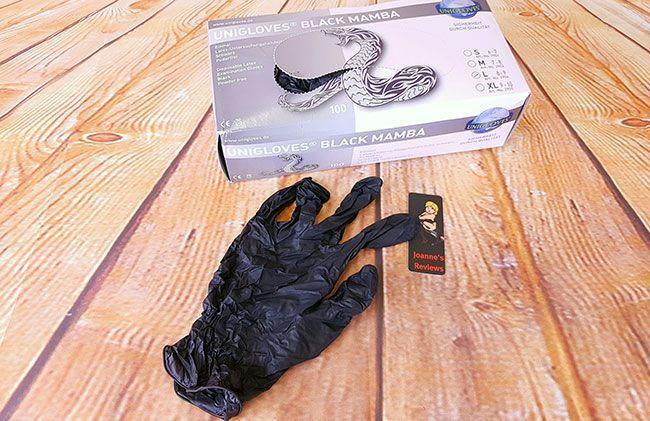 I love the fact that these gloves are non powdered which makes them cleaner to use
Being latex, they are suitable for any lubes except for oil based lubes. The way that they smooth out your skin makes them glide when fingering or fisting with them. It also prevents some of the lube being absorbed by your own hands so your lube will last longer when using them.
I must admit that the sight of lubed up black rubber gloves has me wet in no time at all and we have been using them for some fisting training with sub'r'. I can take and enjoy being fisted, but it is a new thing for sub'r', and she is really enjoying training for it. We like to spice it up with some restraints and BDSM play, and that always gets her off quickly and with extremely powerful orgasms as she is stretched wider and wider.
They aren't just for fingering and fisting though. They are also great to wear as a piece of safety equipment when enjoying some e-stim play. The driver (the person with the controls) usually wears latex gloves so that they can't accidentally put themselves into the circuit when adjusting electrodes or playing with a submissive who is being driven.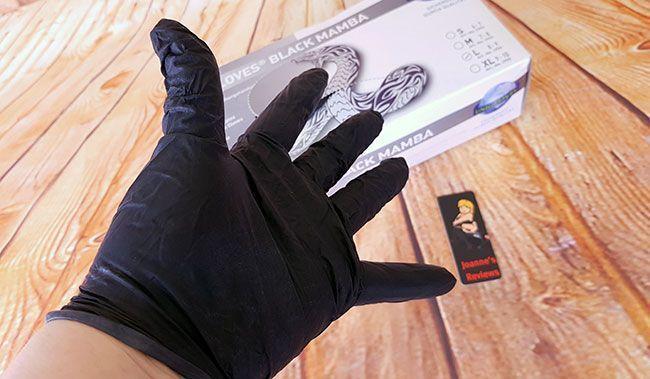 These are the large size and they are too big for me but they fit Stunt Cock well
It is so easy to accidentally touch an electrode while grounding your other hand on a submissive and this can result in a jolt that travels across the chest, and this is very dangerous for obvious reasons. Latex gloves prevent this sort of accidental electrical short from happening, and we always use rubber gloves if playing with others. Plus they are great for hygiene reasons too when fitting or removing insertable electrodes.
So far we haven't torn any of the gloves, but no doubt that will eventually happen but they are good quality, and so fingers crossed we won't.
Now more on the psychological aspect of gloves, they are great for role play too. Let's face it, tie someone up and blindfold them before snapping some gloves on close to their ears and you will have them putty in your hands. Their minds will be facing, wondering what you will be doing to them and thoughts of internal examinations will be high on the list of possibilities.
They are great for medical play too, throw in a speculum, and you have a kinky medical exam scenario on your hands and the term - "The Doctor will see you now" takes on a whole new meaning.
It isn't all kinky sex, fisting and fuckery though as having some latex gloves around the house or dungeon is ideal for any sticky or messy jobs that inevitably turn up once in a while.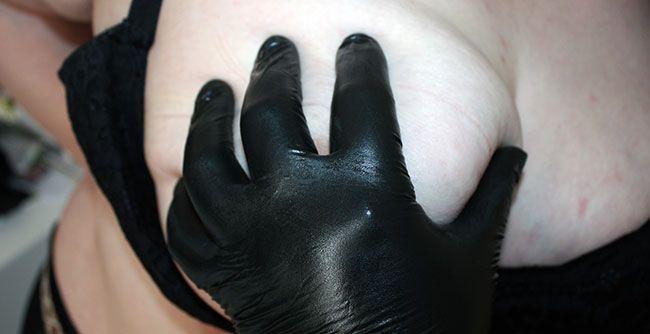 These gloves are so much fun and they are great for kinky play sessions
I think that these gloves are great, we have in the past used natural coloured gloves for kinky play and e-stim fun but these black ones feel much kinkier. They just look so naughty, and when they get wet with lube, they really shine. I love the black look, and it works so well with BDSM play that all three of us love so much.
I have no problem in recommending them to anyone.
These black latex fingering/fisting gloves from @MEO_TEAM are so much fun to use and very useful too.
Click to Tweet
Key Features
Key features:
Good quality black latex gloves
Sold in boxes of 100
Four sizes available
Powder free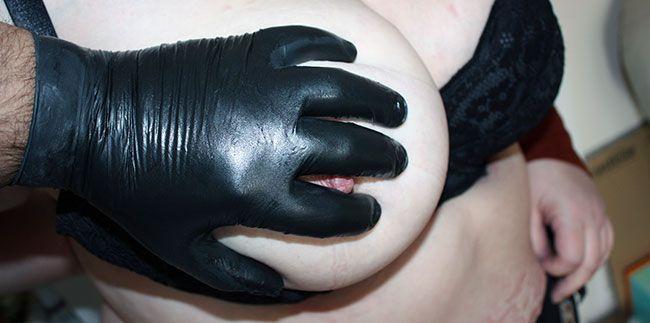 Ideal for fingering and fisting fun, they just look so naughty as well and I love them
Final Thoughts
Latex gloves have so many uses that it is difficult to list them all. These Black Mamba Unigloves are excellent quality, and a box of 100 goes a long way. I love them and the fact that they are powder free makes them mess free.
I love using them for fisting and fingering, but they are a very serious piece of safety equipment when enjoying e-stim fun and games as well.
Next time you are looking for some latex gloves, consider going for some black ones as they just look so kinky. I have no problem in giving these a very high recommendation.
I was sent the Latex Ass Play / Fisting Gloves by Wolf at Meo.de and I would like to thank them for giving me the opportunity to review it for them.
Joanne's rating
Where Can I Get One From?
Grab a box of these Latex Ass Play / Fisting Gloves from Meo.de for just 14,90 € (£13.04). Check out the other amazing products on the Meo website, it is one of the kinkiest sites that I know of and they have something for everyone.
Check them out and don't forget to tell them that Joanne and Stunt Cock say "Hi".
---
---
Disclaimer - I was sent the Latex Ass Play / Fisting Gloves to review free of charge and this has in no way affected the outcome of this review. This post contains affiliate links and if you purchase something when you follow one of these links I may receive a small commission at no cost to you. For more information check out my disclosure page.