Just as with everything else that has ever arrived from E-Stim Systems this electrode arrived quickly and under plain cover being wrapped securely for its journey to me.
I just love the packaging of the electrodes from E-Stim Systems, the black screw top tool cases are absolutely perfect for the job of storing their electrodes and the large easy to read labels makes it ever so easy to identify which one is which when you have a collection of them.
As with all of the premium range of electrodes at E-Stim Systems this one is covered by their lifetime guarantee as they make everything in house and so they have total control over the quality of their products.
Just unscrewing the cap of the storage case had me excited, even the weight of this electrode is very pleasing indeed and it feels very impressive in your hands. I couldn't wait to get it where it was going and that was of course for some vaginal stimming as there is no way that I could ever take this electrode anally.
Hats off to you if you can though.
I have to admit that I let out a little gasp when I first cast my eyes on it when it emerged from its storage case, it comes sealed in shrink wrap from the factory so that you know that no-one has tampered with it and it's huge.
It looks very impressive and the Satin finish on it is very nice indeed. I love the way that this finish gives it a bit of texture on its surface but as soon as you add some electrolube it's silky smooth to touch.
Oh, yes that is a can of coke that it's sat next to, it just gives you an idea of the size of this electrode. It really is eye wateringly big and for those of you who like the numbers it has a circumference of 15.7cm (6.18") and is 5cm (2") in diameter. From tip to base it's 13.5cm (5.3") and that makes for a lot of metal to squeeze into any orifice so lots of electrolube is essential with this one.
The Large Torpedo features a nicely rounded tip that helps with insertion and it has a good gap between both electrodes meaning the current will pass through more tissue giving you better sensations from it when in use. The base has the two sockets for 4mm plugs in it with the center one going to the head of the electrode. The wide base makes it safe for anal use but there is no way I would be able to enjoy that as it is just too big for me there I'm afraid.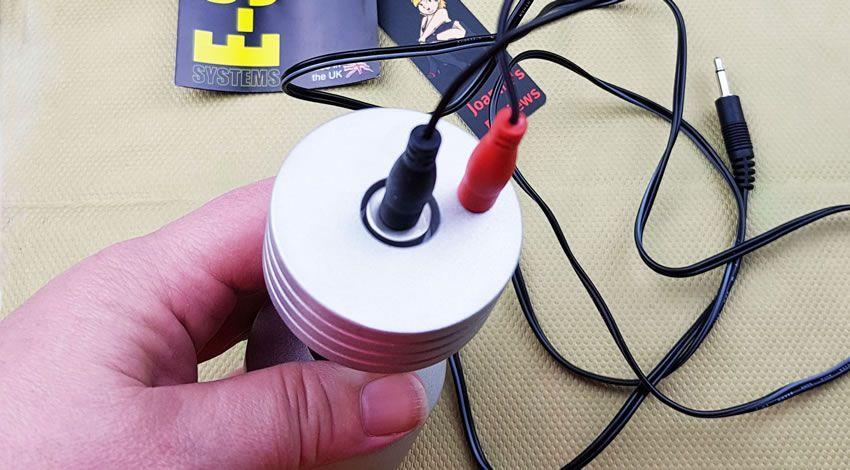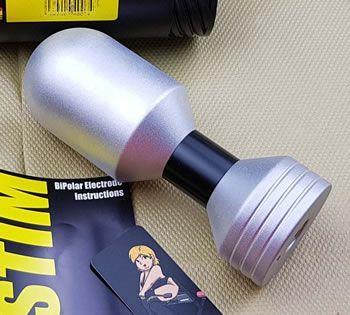 The base features three grooves that make it easier to hold onto with slippery fingers as you remove it after play.
I need to warm up before using this one and so I like to use my 11" inflatable dildo first to get me ready for the Torpedo. It's definitely not an electrode that I could just grab and use unless I warm myself up first.
After applying lots of lube to myself and the electrode it really is quite a squeeze to get it inside my pussy but once in it feels absolutely sublime. I love the feeling of being very full and this electrode delivers that feeling by the bucket load.
I recommend using low profile plugs with this toy as it will be more comfortable if you do. When used with an e-stim control box it delivers everything you would expect it to. Lots of sensations and as my muscles tense with something so big inside of me the feelings are incredible. As it's so tight I feel like I am going to squirt with this one but nothing can come out which helps keep the sheets a bit cleaner for longer.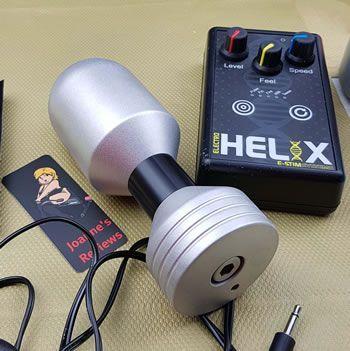 Being such a tight fit it doesn't move about as much as smaller electrodes when on the higher power settings. It's a lot of fun to kneel or stand with it in and to try (in vain) to keep it inside you using your muscles alone and as it's half a kilogram in weight gravity soon takes its toll.
Cleaning after a good session is very easy though as you can strip it down for a deep clean by using an allen key in the bolt at the base of the electrode. This will allow you to get rid of vag-goo and other matter very easily. Wash everything in warm soapy water and then use a sex toy cleaner to kill any bacteria. Make sure that everything is dry before you put it back together and especially before you place it back into its storage tube.
I have had many a happy session with this electrode and I still get a thrill out of the feeling of it just entering me as it's so wide. It's when I attach my e-stim control box that it gets a life of its own and on "Waterfall" or "Squeeze" it really makes my toes curl and has me biting into a pillow to keep quiet.
If you are looking for a larger electrode then this one will hit the mark. As the poles are top and bottom of the electrode rather than side by side it gives deep feelings and it feels incredible. When used anally by a guy you will be able to use a cock loop and the head of the Torpedo to send the current straight through your prostate for some great sensations. Check out my electrode position guide for some ideas.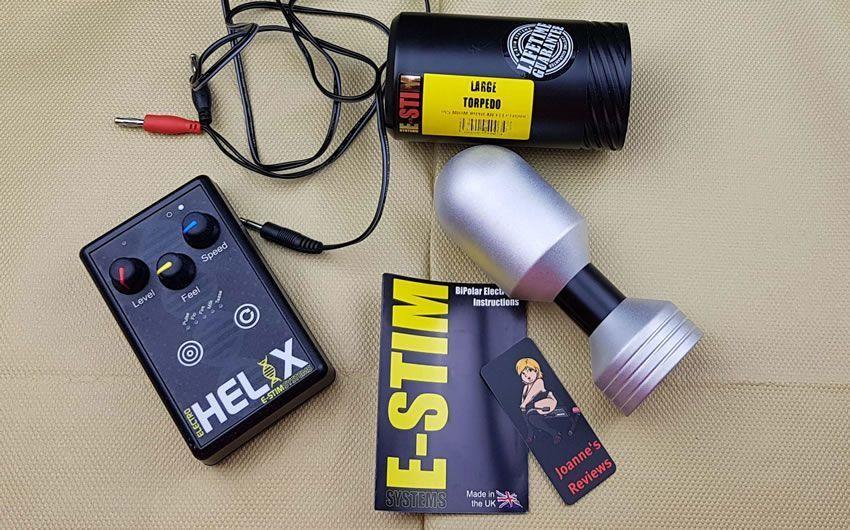 Key Features
Key features:
Bipolar Electrode
Lifetime Guarantee
Quality Construction
Easy To Dismantle And Clean
It's A Big One
Final Thoughts
Once again E-Stim Systems have produced another great bipolar electrode and this one is for the size queens (and kings) out there who like things that little bit bigger. It isn't their biggest electrode but probably my limit as it's a real squeeze for me to get it inside.
I love it for both is girth and its performance as an e-stim electrode for stimming. This is one electrode that I will keep for those special occassions where not being stretched completely is not an option.
I was sent the Large Torpedo E-Stim Electrode by Mick at E-Stim Systems and I would like to thank him and everyone at E-Stim Sytems for giving me the opportunity to review it for them.
Joanne's rating
Where Can I Get One From?
Website links:
Grab one of these very filling electrodes from E-Stim Systems for £89.00, if you are outside the EU make sure you visit their separate shop to save 20% as you won't have to pay VAT.
Check them out and don't forget to tell them that Joanne says "Hi".
---
If you enjoyed reading this review then check out my other reviews of E-Stim Systems products:
CONTROL BOXES
PUSSY & ASS ELECTRODES
PENIS/BALL PLAY
OTHER
Website links:
---
Disclaimer - I was sent the Large Torpedo to review free of charge and this has in no way affected the outcome of this review. This post contains affiliate links and if you purchase something when you follow one of these links I may receive a small commission at no cost to you. For more information check out my disclosure page.