Firstly I have said it before, but I will repeat it. I am a big fan of the minimalistic packaging used by Meo on their products. It keeps costs down and is also good for the environment.
This collar arrives in a clear sealed plastic pocket inside plain, nondescript packaging for discretion on its way to you.
You can see the collar inside the pocket together with an information leaflet giving you information about Safe, Sane, Consensual (SSC) BDSM play and Meo.de are should be commended for that.
We all need to play safely, especially when we get our kink on. The advice given covers SSC play and the safe word system - nice one guys. For more information on safe words check out my Beginners Guide To Bondage.
The collar is a lovely black PU leather collar with gold-plated furniture. The PU Leather is very soft and shiny, and it looks great when fitted around the neck. As with all of the leather collars I own, this one makes me feel all snug and safe when I wear it. Collars have a very calming influence on me, but they also turn me on as well.

This collar is from the MEO LADY line and is targeted primarily as the name suggests to females or anyone with a smaller neck. It caters for neck sizes 11.5"/29cm to 15.4"/39cm.
The most striking feature about it is the metal letters which are 1.4"/3.5cm high, spelling out the word "SLAVE". Now while this word may not appeal to some people, in BDSM play, it can be quite an exciting word. It lends itself to lots of submissives when they enjoy playing in that role.
I was pleasantly surprised to find that the letters are double sided and have a rectangular hole through them through which the collar is threaded. This means that the letters are on the inside and outside as well. It also means that they can be removed from the collar and put onto a belt which is a bonus point.
As each letter is a separate metal block, you can have some fun with spelling if you want as well. For instance, your submissive could be labelled as "SALE", "VALS", or "SALVE" or any combination of the five letters if you wanted to.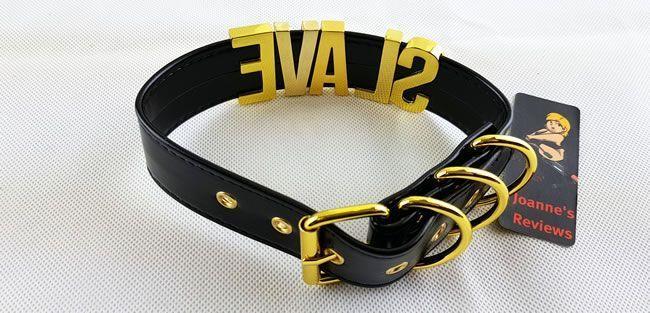 You can slide the letters around the collar to have them where you want, and with this collar, you also get three gold 'D' rings for attaching things.
You may decide to have the buckle and rings at the back of your neck for items such as maybe an anal hook to be attached, or you may want it at the front of your neck so that your Dominant can attach a leash to you.
The PU Leather collar is nicely stitched, and it has a flat seam running around the inside. The holes for the buckle are all riveted for strength, and the clasp is nice and sturdy in use. The finish is rather nice, and the gold rivets look great against the shiny black PU leather.
The three D rings gave this collar a unique look and mean that you could attach multiple items. I enjoyed being on a leash and having my wrist cuffs attached to the collar preventing me from using my hands in one particular BDSM scene.
Like all BDSM equipment, it is there to ignite the fire of your imagination. Your use of it is limited solely to whatever kinky games you can come up with.
I found it very comfortable to wear for extended periods of time, and I like the way that the letter snuggly fits against my skin. I love it, especially when playing out Kajira fantasies (check out the Gorean books for what that is).
The bold golden letters are a fantastic contrast to the black leather of the collar and let's face it black goes with anything. So this is a collar will compliment any outfit - or nothing at all of course.
The first time that it was fitted to me I felt a familiar rush as it was fastened into place. I loved the feeling of the cold metal of the letters when they came into contact with my skin. They sent a shiver down my spine. When I looked at myself wearing it in the mirror for the first time, it blew me away. It just looks so elegant yet slutty at the same time. It's hard to describe, but there is something very naughty about wearing a black collar that proclaims you to be a slave for all to see.
When I wear it I am owned, I am his property, and I will do anything for him. It sets me into a very submissive mindset, and that is something I love. I relish being ordered around and being on a leash. I don't know why but it is just one of the things that presses all of the right buttons on me.
When I am collared, I am putty in my Dominants hands.
However, this definitely isn't one of those discreet collars that you could get away with wearing while out and about. It makes a bold statement that leaves nothing to be misinterpreted. When you wear this, you are a what it says, a slave to your Dom.
Put your submissive in their place with this stunning collar from the kinky guys at @MEO_TEAM.
Click to Tweet
Key Features
Key features:
Soft PU leather collar
Removeable double sided letters
Three metal 'D' rings
Riveted buckle holes
Final Thoughts
Yet again Meo.de have come up with another kinky product that is right up my street. It is excellent quality and makes a huge statement being both ideal for regular BDSM play as well as being exceptionally suited for humiliation play as well.
The gold lettering looks fantastic against the shiny black PU leather, and it is a collar that will get more use by me even after this review is published. Check out the vast range of kinky products at Meo.de; there is something for everyone there.
I was sent the Lady MEO - SLAVE Collar In Gold by Wolf at Meo.de and I would like to thank them for giving me the opportunity to review it for them.
Joanne's rating
Where Can I Get One From?

Grab one of these Lady MEO - SLAVE Collars In Gold from the kinky guys over at Meo.de for £43.88 which a fair price of ra collar like this.
Check them out and don't forget to tell them that Joanne says "Hi".
---
---
Disclaimer - I was sent the Lady MEO - SLAVE Collar In Gold to review free of charge and this has in no way affected the outcome of this review. This post contains affiliate links and if you purchase something when you follow one of these links I may receive a small commission at no cost to you. For more information check out my disclosure page.