This collar just like lots of other Meo products comes with very minimalistic packaging, and this is great both for the environment and also your pocket as it allows them to keep costs down.
The collar arrives packaged very discretely in a package carrying no indication of the kinky contents inside. Meo takes customer discretion very seriously, and that is fantastic.

I love the way that Meo use minimalistic packaging
The Ring of O BDSM Collar comes in a sealed plastic pouch which also has an insert that covers consent. This collar is part of the Lady Meo lines of products.
It can be adjusted using the buckle to fit a neck circumference of 29cm to 39cm (11.4" to 15.4"). This makes it suitable for men and women with a slim neck. I can wear it but only with it at its maximum diameter.
Top Tip: You can buy belt extenders from Amazon or E-bay if you have a larger neck size but still want to use this collar. These work well as I have bought one so that sub 'r' can also wear this collar as her neck is slightly larger than mine.
The Ring of O BDSM Collar is made out of shiny black PU leather with gold coloured fittings. The leather is very soft and comfortable against the skin, and the stitching is both neat and secure. The shiny black surface is such a high contrast to the gold metal, and that gives this collar its striking looks.

The gold metal fittings contrast well with the shiny PU leather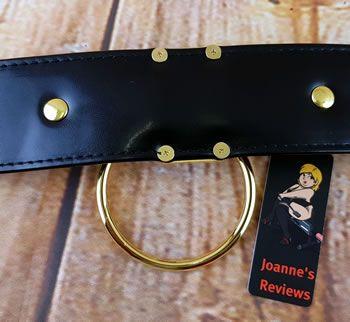 The metal is highlighted against the dark shiny black leather. The front is dominated by a massive golden ring secured to a golden metal plate riveted to the collar. This ring draws the eye in and leaves no doubt that this isn't a fashion accessory, this is a serious collar for someone who is very submissive. Collars always put me in a very submissive state of mind.
The ring can, of course, be used with a leash or used to attach restraints if your Dominant decides to do so.
When Stunt Cock places a collar around my neck, I can feel all of my problems and anxiety fall away, putting on a collar both clears my mind and gets me into my submissive zone. That is a state of mind that I really enjoy as I can just forget everything and concentrate on serving my Dominant.
The Ring of O BDSM Collar takes your breath away the first time you look at yourself in a mirror with it on as it's so imposing yet delicate and this gives it a very kinky character. The black leather looks great against your flesh, and the gold ring really sets the scene, it becomes the focal point for whatever outfit you are wearing.
The Ring of O BDSM Collar has two 'D' rings after the buckle. Both of these are in the same gold colour as the 'O' ring at the front and this contrast of colours is carried on with the two rivets that join the collars itself to the much wider front panel which carries the 'O' ring and its mounting plate.

The gold buckle and 'D' rings look great from the rear
The soft PU leather is very comfortable even if you are wearing this collar for extended periods of time. It's the same PU leather that the Lady Meo Slave Collar is made from, and these two collars compliment each other. They are both firm favourites of mine.
The Ring of O BDSM Collar is a one that makes a statement; it screams out the fact that you are submissive and it definitely isn't a covert choker. There is nothing secret about it, and you couldn't use it as a day collar. When you wear the Ring of O BDSM Collar, you make a statement to the world, that you are at peace with being submissive and you live to serve.
The Ring of O BDSM Collar is a collar that will turn heads, and it will definitely get you noticed. When I go to clubs, I like to people watch and look for other submissives in the crowds. When I see women and men wearing chockers or other collars you have to work out if it is a fashion statement or a lifestyle statement.
When I went to a club wearing this one I enjoyed all of the admiring glances as this collar makes a lifestyle statement and that is that I am owned and most definitely a submissive.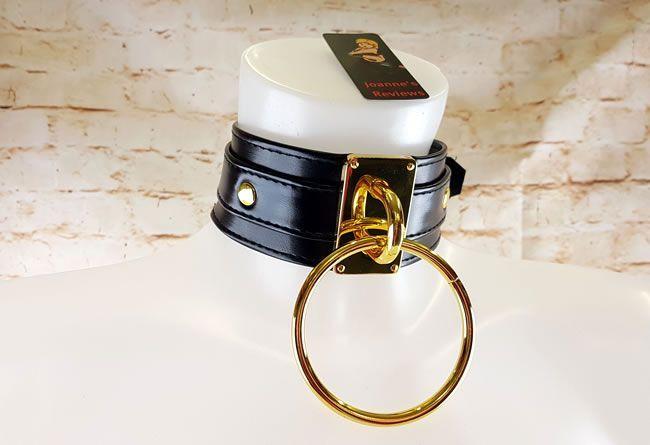 The Lady MEO - Ring of O BDSM Collar makes a powerful statement
There is something genuinely mesmerising about the gold centrepiece and 'O' ring surrounded by the soft and shiny leather. I got lots of very nice comments about it from other people in the club. Some of them were not into the BDSM scene, and it was an excellent talking point. I love educating muggles (none BDSM folk as I call them) about Domination and submission at every opportunity that I get and I certainly got lots of opportunities to do so when wearing this.
The Ring of O BDSM Collar is both stylish and very expressive. It is comfortable, and its decadent looks give it a style of its own. Wearing it is a joy and having it placed around my neck gets my juices flowing and makes me want to be the very best submissive that I can be. After all isn't that what every submissive should desire?
I love this collar and have no hesitation in recommending it to anyone looking for a collar that stands out from the crowd, one that screams submission at the top of its lungs.
Make a statement with this gorgeous gold and black 'O' ring collar from @MEO_TEAM. See why @JoannesReviews rates it so highly.
Click to Tweet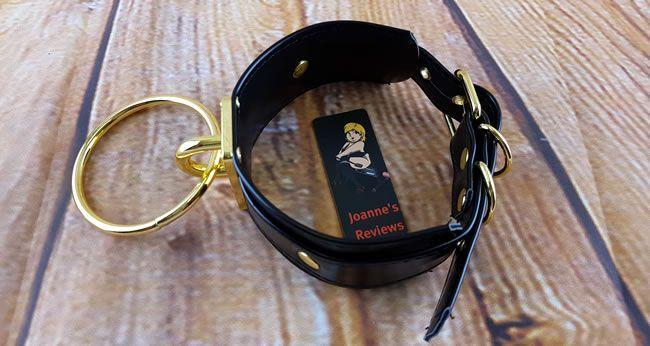 The Lady MEO - Ring of O BDSM Collar is a fantastic collar that will be treasured by any submissive
Key Features
Key features:
Large gold ring provides a focal feature
Two 'D' rings at the rear next to the buckle
Soft and shiny PU leather
Will fit a neck circumference of 29cm to 39cm (11.4" to 15.4")
Final Thoughts
Well, I think that it is safe to say that once again I am enamoured with another collar from meo.de, their range of collars is fantastic. What I like most about this collar is the bold statement that it makes, wearing it will get you noticed and everyone will know that you are collared and owned.
Collars like these make me melt, and when I wear one, I become very submissive and putty in my Dominants hands. If you are looking for a stylish collar that makes a statement, then the Lady MEO - Ring of O BDSM Collar is for you.
Check it out on the Meo website and also check out the rest of their incredible collection of restraints and collars.
I was sent the Lady Meo Ring Of O Collar by Wolf at Meo.de and I would like to thank them for giving me the opportunity to review it for them.
Joanne's rating
Where Can I Get One From?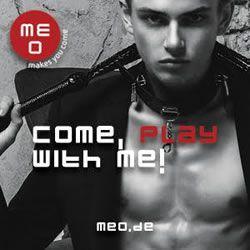 Grab one of these fantastic PU leather collars from Meo.de for just 59,00 € (£51.68). It's a stunning collar that really highlights a submissive by announcing to the world that they are collared and owned. I definitely advise anyone to also check out the amazing range of collars at Meo, they have a huge collection is all sorts of different colours and materials.
Check them out and don't forget to tell them that Joanne says "Hi".
---
---
Disclaimer - I was sent the Lady MEO - Ring of O BDSM Collar - Gold to review free of charge and this has in no way affected the outcome of this review. This post contains affiliate links and if you purchase something when you follow one of these links I may receive a small commission at no cost to you. For more information check out my disclosure page.