The Violet Wand was an old medical instrument that used a Tesla coil to generate very high voltages. In most modern wands electronics produce the high voltages and these units tend to feel sharper. The name Violet Wand and Neon Wands or even Violet Rays are all used to define this style of electrical device.
I bought the Electro Erotic Neon Wand kit from Lovehoney. I was amazed that it actually arrived the next day in very plain packaging. The kit was well padded in the box it arrived in and I couldn't wait to open it up and check it out.
Upon opening the kit and removing the wand I was dismayed to find it had a European style plug. Guess who didn't read the product description properly - 'Joanne whistles and looks at her feet'.
The nice people at Lovehoney actually ship it together with a good quality European to UK plug converter. I had missed it in the box under all the packaging and so with a sigh of relief, it was on with the review.
The box is nicely designed with a lid that you flip open to reveal everything held securely in high-density foam. This keeps everything safe and sound. As you are dealing with glass electrodes you need to be careful with them. Always place them back into their slots when not using them.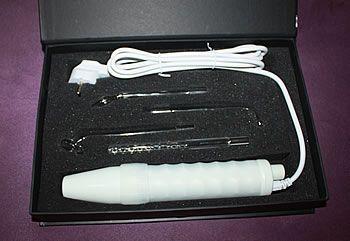 I have a friend who has broken most of her electrodes so do be careful when handling them.
You get four electrodes together with the wand itself in the kit and this is enough to enable you to get creative. Each electrode feels slightly different and my two favourites are the mushroom tipped one and the comb.
Its operation is very simple, first, you should check that it's switched off. Then push an electrode gently into the end of the wand until it is fully seated. You are now ready to play. The cable end of the wand features a rotating knob that acts as an on/off switch as well as controlling the output power.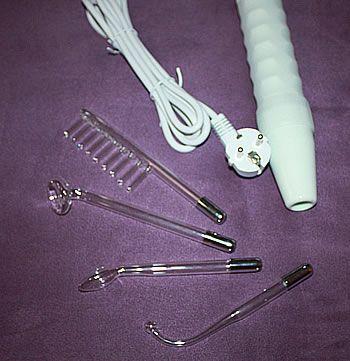 Top Tip: Turn it on and leave it at its lowest setting the first time you try it. Trust me on this one as I learnt the hard way. I switched it on and set it at about half power before moving the electrode to my Vulva. I know, I know. I can almost hear you screaming "Are you mad!" The resulting spark was accompanied by a sharp crack as it arced from the electrode to my fanny lips and it was something to behold. The scream that followed was also quite impressive followed by some choice curse words. It did hurt, but the scream was more from the shock than the pain. Anyway, I digress, always start on a low power setting and try it on your arm and not your fanny lips first.
Right as I was saying, start off on a low setting and move the electrode over your arm to get a feel for it. You will both see and hear the electricity as it arcs to you. The wand will whine and make all sorts of noises due to the high voltage it's producing. The noise of the wand coupled with the cracks as the sparks fly are very emotive if you are blindfolded.
Experiment with holding it over your skin but also touch it against your skin. That gives two completely different sensations. When it's pressed against you the current is spread over a wide area. But when you allow sparks to jump to you it's much more intense.

So what does it feel like? On low settings, it feels like very light pins and needles or the sensation you get when your hairs stand on end. As you move the controls higher the sensations feel more coarse and focussed, you can feel your skin and muscles twitch. The sensations on low power settings are relaxing and quite therapeutic.
However, on the higher settings, it's much more intense when you get sparks flying. You can use the higher settings for pleasure and to deliver painful shocks if you so wish.
A Neon Wand is ideal for BDSM play where it can be used to punish or pleasure.
A Neon Wand is ideal for BDSM play where it can be used to punish or pleasure. Click to Tweet
I particularly like running it around my nipples whilst holding it above them. The sparks that dance all over my areola and nipples feel and look incredible. You see that is one of the best things with any sort of violet wand. Using it is a very visual as well as tactile delight, it's almost mesmerising.
On my vulva, the feelings are even more intense. I can orgasm using the mushroom electrode on lower power settings. I've found that stroking my pussy lips with the electrode in contact with them is mind-blowing. The sensations are similar to e-stim play for obvious reasons. I love the way that my vagina can be made to clench tightly with electrical play.
The comb electrode is great for running over wide areas of the body and the sparks dance from the ends of the teeth. The two other electrodes deliver very concentrated sensations. These are too strong for me to enjoy and so I tend to stick to the two that I do enjoy.
It took me a while to get to learn how to enjoy this kit. It's one of those sex toys that you may not get the most enjoy the first time you use it. I can recommend giving it a few goes to experiment to find what works for you. After my first pussy zapping experience, I am glad that I stuck with it. If I hadn't then I wouldn't have discovered a new way to get myself off.
The best way to use it is definitely in a dark room as the neon glow that is given off is sublime. I have the purple model but you can also get one that gives off a red glow.
You can get lots of different attachments for your violet wand to expand your methods of play. One thing that I want to try is a body contact where your body becomes live and you can use your fingers to tease and pleasure a partner. Sparks jump from your fingertips and this can add a whole new dimension to a slow massage.
Take your time to read the enclosed instructions as they are actually very good and cover safety as well as methods of use. You can use your imagination with a neon wand. Exploring different areas of the body that you may not usually consider erogenous.
Bear in mind that this is an electrical product and so it pays to observe the safety precautions when using it.
Key Features
Key features:
Pleasure or pain - the choice is yours
Four glass electrodes
Included UK plug adaptor
Easy operation
Amazing neon glow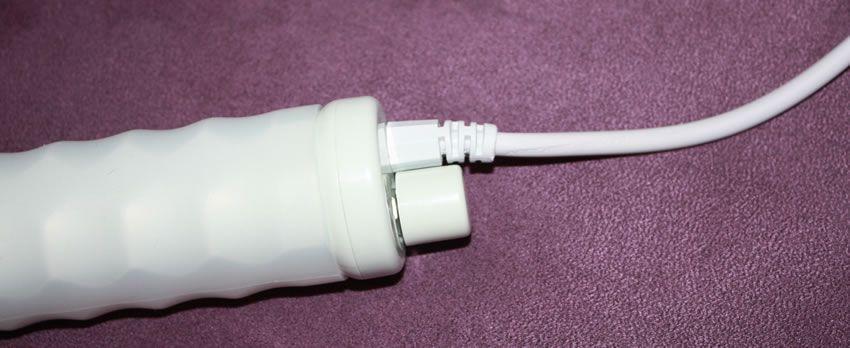 Final Thoughts
I really like this piece of e-stim equipment, it looks and sounds terrifying. But once you get to know how it works and how to use it, you will find that it can generate some very pleasant sensations. I can reach an orgasm easily on my own using it on my vulva and my partner has enjoyed using it on his cock. It really comes into its own in a BDSM session or scene as it can be used to deliver pain as well as pleasure. The whole light, noise and sensations together turn using it into almost a theatrical event. I love using it to tease and please and am really glad that I overcame my nerves to give it a go. Take your time, start on low settings and give it a few uses to really get to learn how to effectively control this great piece of sex-tech.
I bought the NeonWand Electrosex Violet Wand Kit Purple by Kinklab at Lovehoney.
Joanne's rating
Where Can I Get One From?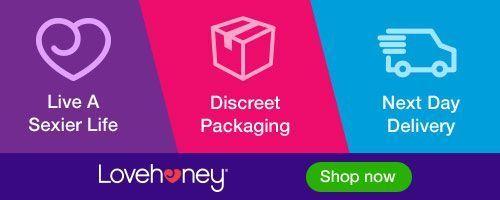 In the UK, grab one of these Neon Wands from Lovehoney, for £99.99 and that is actually the cheapest price I can find on the internet so grab yourself a great bargain.
Check them out and don't forget to tell them that Joanne says "Hi".
Disclaimer - I bought the Kinklab NeonWand Electrosex Violet Wand Kit Purple to review it and this has in no way affected the outcome of this review. This post contains affiliate links and if you purchase something when you follow one of these links I may receive a small commission at no cost to you. For more information check out my disclosure page.