Delivery
The Kinklab Adjustable Steel Spreader Bar was delivered in a very discreet plain brown cardboard box. You will be pleased to know that it carried no indication of the kinky contents on the outside of the box.
The packaging of the spreader bar is very minimalistic, but it was packed securely in the shipping box.
Attached to the spread bar is a small product label, but this is a product that needs no instructions. In fact, all you need to get going with it are some restraints and a kinky imagination.
Design and materials
The Kinklab Adjustable Steel Spreader Bar is made from stainless steel, and the finish on it is very good. I love shiny metal implements, and this one looks good.
It consists of three sections and two retaining pins and is adjutsable from 25"-37" (63.5cm - 94cm). The pins have a springloaded ball on one side that keeps the pins in place once you insert them through the main steel sections.
The two outer halves each have an eyelet bolted to the end, and these are where you attached restraints, rope or anything else you are using in your play session. The outer halves are hollow, and they slide over the centre section.
The centre section has eight sets of holes drilled through it, and that means you have a total of eight different width settings that you can use during a play session to control the amount of "spread" the bar gives.
I think the only thing that lets this spreader bar down is the lack of a centre attachment point. It only has two rings, one on each end. If you want to use it to spread a submissive's arms over their head, you will need to support it from both ends rather than in the middle.
I love that you can collapse this spreader bar to make it much shorter for play sessions or just for storage. It is pretty easy to forget how much room some BDSM play implements can take up in a wardrobe or drawer.
It is also an ideal candidate to take with you on playdates or club visits. It fits into my play bag with ease and increases my flexibility in a clubs dungeon when I want to be evil, LOL.
The pins can sometimes be a little fiddly to get into the holes, but the spring-loaded ball bearings keep them in place well once fitted. Even when held upside down, they haven't fallen out on me, which is an excellent safety point.

The pins do stay securely in place once fitted.
I love the shiny look to it, and I have had a lot of fun putting it to the test with my submissive, the delightful sub'r'.
Performance
The Collapsible Spreader Bar is quick and easy to set up ready for use. I found that having it adjustable means I could fine-tune whatever position I was putting sub'r' into to maximise its effect.
She loved having her ankle cuffs attached to the spreader bar, and that always serves to keep her legs wide open for access or display the delights between them.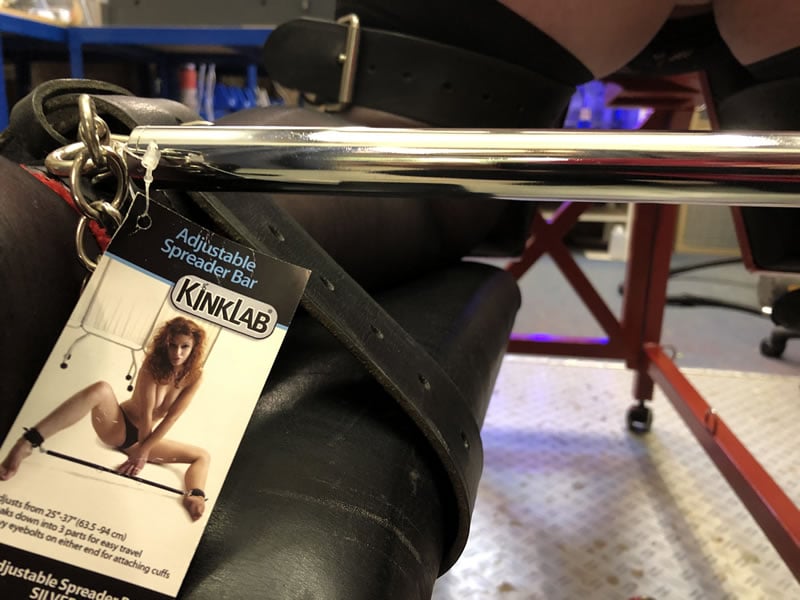 You will need to provide some caribiners or other method of attaching the bar to restraints.
When sub'r' was made to try to walk with it fitted to her ankle cuffs, it made a lovely sound as the pins rattle as she hobbled along, unable to take proper strides or to close her legs.
When using it with her wrist cuffs, it was handy to shorten it to keep her wrists firmly fixed behind her so I could have unfettered access to her breasts for nipple and breast play. I have to admit in taking great delight in using "Chompy", my own nipple clamp design on her nipples. Watching her wince and squirm as they did what they were designed to do was so much fun. Seeing her reaction when I finally removed the nipple clamps and the blood rushed back into her sore nipples was a delight.
I found that without a centre ring on the spreader bar if I wanted to use the spreader to hold spread sub'r's wrists over her head, I needed to attach a rope to both ends.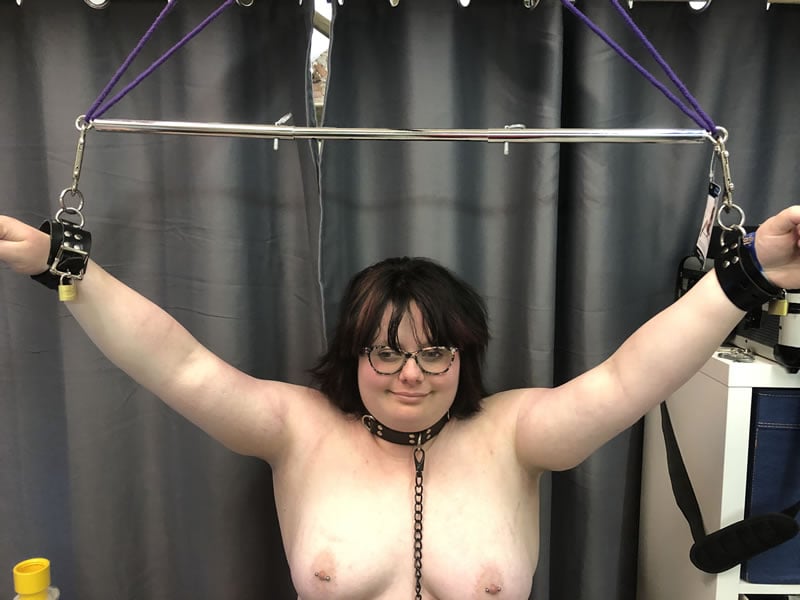 Without a center attachment point you need to support it at both ends for overhead play.
While this doesn't sound like much of a problem, it does limit how you use it in this manner, and it is something to bear in mind. Supporting it from both ends did work, but it required a little more setting up than would be needed with a centre ring.
As the spreader bar is in three sections, you can expect some movement between all three. This can make for quite a bit of noise. This isn't necessarily a bad thing, though, as metal clinking and rattling is something that turns sub'r' on, and so I was able to play on that, which was pretty cool.
I have a regular spreader bar, and in a couple of play sessions, I included that along with this one and using two was so much fun. It enabled me to restrain sub'r' spread eagle, so all her exciting bits were easy to access. Throw in a Doxy, and you have an instant forced orgasm classic scenario that meant lots of laundry afterwards, LOL.

Once stripped down, the spreader bar takes up very little space.
Spreader bars are a quick and easy way to immobilise and control someone. Forcing their limbs apart and that can add to their excitement and feeling of vulnerability. Having an adjustable one makes things so much better. I love my regular spreader bar, but now unless I am using one for overhead play, I reach for this one every time as I love its flexibility.
Check out Joanne's review of the Kinklab Adjustable Spreader Bar from @BettysToyBox.
Click to Tweet
Key Features
Key features:
Stainless steel three part adjustable spreader bar.
Two anchor points, one on each end,
Eight length options set with two pins.
Collapses to a small size making it travel friendly.
I would recommend it to:
Anyone looking for a spreader bar for their play bag.
Anyone wanting an adjustable spreader bar.
I wouldn't recommend it to:
Anyone needing a fixed spreader bar with three anchor points.
Final Thoughts
This is a handy spreader bar. The fact that it is adjustable means you can tailor it to your playstyle and session in hand. With eight settings to choose from, you can get creative in ways not possible with a fixed spreader.
I love how small it collapses as it fits in my travelling play bag perfectly, unlike my fixed spreader, and that means I have new play options when visiting friends or clubs.
Grab one and experiment with it yourself to see just how versatile it is.
I was sent the Kinklab Adjustablr Spreader Bar by Betty's Toy Box and I would like to thank them for giving me the opportunity to review it for them.
Joanne's rating
Where Can I Get One From?

Grab one of these hndy adjustable spreader bars for just $64.99 from Betty's Toy Box and start enjoying yourself with it.
Check them out and don't forget to tell them that Joanne says "Hi".
Disclosure
Disclaimer - I was sent the Kinklab Adjustable Spreader Bar to review free of charge by Betty's Toy Box and this has in no way affected the outcome of this review. This post contains affiliate links and if you purchase something when you follow one of these links I may receive a small commission at no cost to you. For more information check out my disclosure page.