I mean, who wouldn't relish the thought of playing with a new impact play toy. Especially when you have the sexy sub'r' on hand to practice on.
So let me give you my thoughts on the Quad from Doc Johnson.
Delivery
We often receive packages from Latex, Leather and Lace. These are either review items or products that I have bought for my own enjoyment. One thing I can guarantee is that the delivery will be swift and above all discreet.
Latex, Leather & Lace pride themselves in their efficient, discreet service and everything that has arrived from them has been very well packaged. This gives me enormous peace of mind when ordering from them.
Considering how many sex toys I receive in the post, I rely on discreet packaging. Without it, my postie would know just how kinky I am, and that would be good for him but bad for me.
Packaging
I love the dark theme of the packaging for the Quad from Doc Johnson. The dark colours compliment this range of sex toys very well indeed. One thing I love about the packaging is the fact that I can see the Quad inside its box.
I like product packaging that allows you to see the product inside. I often end up visiting Latex, Leather and Lace and I love to browse their collection of sex toys. I relish being able to see a sex toy inside its packaging. I can then get an accurate assessment of its size and colours if I can actually see it as pictures on a box aren't necessarily to scale.
The rear of the box as you would imagine carries a lot of product information. It also carries the following words in a large typeface, in bold - "GEAR YOU CAN TRUST BDSM EXPERTS". Now, usually a statement like this would have me raising an eyebrow and laughing, but this product is a collaboration between Doc Johnson and the fantastic kink.com site and company.
For anyone not in the know, Kink.com are renowned for their hardcore BDSM porn as well as mainstream porn. As such their Kink range of products reflects their experience. It's nice to see positive messages about Safe, Sane and Consensual (SSC) play mentioned on the box.


The back of the box contains lots of information and some safety pointers about BDSM play
Materials and Design
When you open the box and remove the Quad things get very interesting. It's held within a plastic former to keep the fronds straight and to protect them in transit to you.
I really like the blend of silicone used on the Quad Whip as it is very tactile. The Quad is made entirely out of Silicone which is a fantastic sex toy material. It's both latex and phthalate free while also being non-porous.
The black colour of this silicone is perfect for setting the tone of play sessions with the Quad. It's dark and broody and can elicit a feeling of dread if you are about to be on the receiving end of it.
The silicone blend is very smooth and velvety, it is also not too draggy when you run your finger down the handle. It does, however, have just enough drag so that when it hits home, you really feel each strand. The handle is solid in your hand, yet the fronds are very flexible making it a fun whip to swing.

The simple design of the Quad with its four fronds belies a serious piece of BDSM equipment
This is the first all silicone flogger that I have used, and I like it. We have reviewed a Silicone Paddle called the Buch Dich (German for bend over), and it is impressive. So, I had high expectations for the Quad as the Buch Dich is a hard act to follow.
If you think about it, silicone is a fantastic material to use in a flogger. It's both soft and durable, easy to clean and very low maintenance.
A moulded handle like the one on the Quad also has the benefit of being able to be used for penetrative play sessions. This is where the benefits of silicone really come into play.
The quad measures in at 18″/45.7cm in length. The handle is insertable, and as such it has an insertable length of 5.5″/14cm, a circumference of 5″/12.7cm and a diameter of 1.5″/3.8cm.
The gently tapered tip of the handle makes insertion easy. The handle has three ridges that give added stimulation if it is inserted and they also aid your grip when swinging it.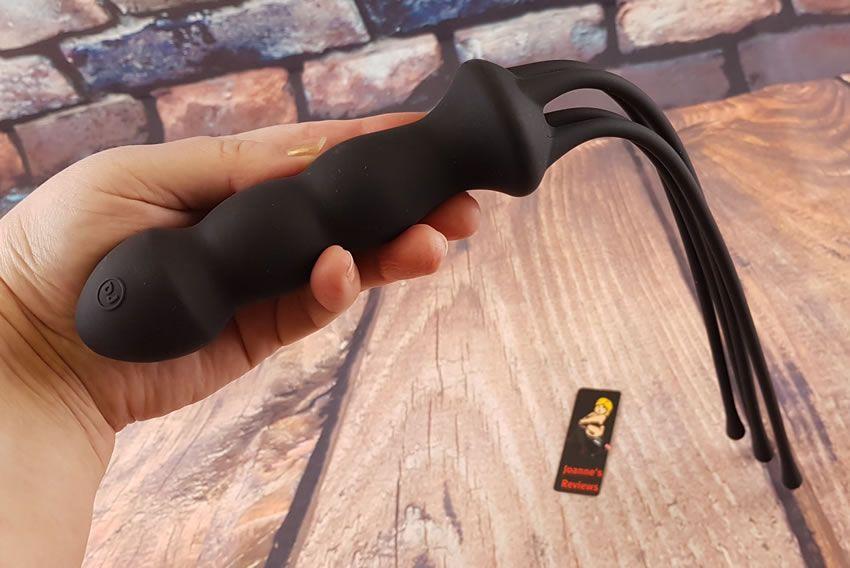 The Quad has been designed with penetrative play in mind and the handle has a nicely tapered tip
You can see a slight mould seam line around the handle which is a legacy of the manufacturing process, but it doesn't affect performance in any way.
The Quad is a flogger-style whip featuring four thick silicone strands.
The end of these strands carries a much heavier weighted bulbous tip, almost teardrop in shape. It's this added weight on the frond tips that give the Quad its formidable bite.
Performance
The first time that sub'r' saw the Quad she giggled because of its relatively short length and it only having four fronds.
She always names impact toys and she quickly came up with "Squidward" after the Spongebob Squarepants character and I can see where she was going with that.
However, after her first session tied to a cross and on the receiving end of the Quad she had quickly renamed it "Squidward the bastard".
This I can totally understand as this is a flogger/whip has a devilish sting in its tail.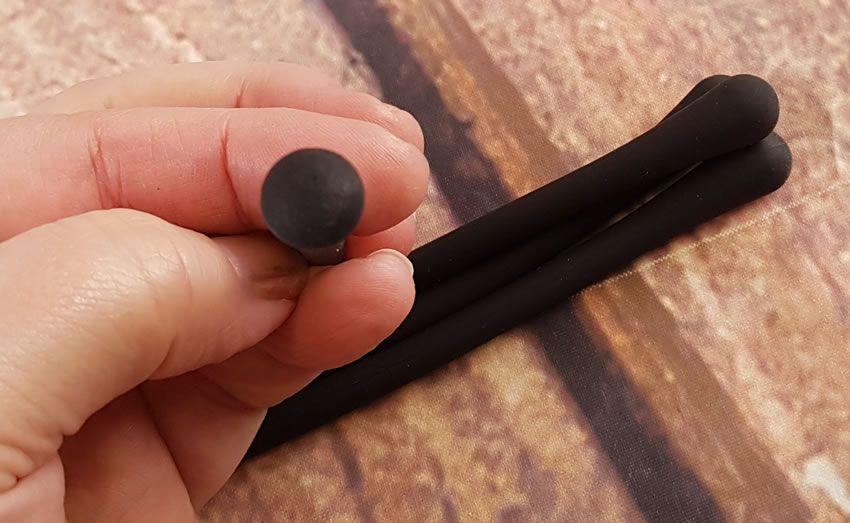 The fronds on the Quad have weighted tips
The fact that it only has four strands leads you into a false sense of security. When the fronds land on your skin the sensations that they deliver are positively delightful in an excruciating way.
The silicone gives no quarter, and unlike suede or leather floggers you get no massaging effect as the fronds dance across your flesh.
All you feel are the profound thuddy impacts as each frond, and their weighted tips find their mark. It really does take your breath away, and it is a big surprise the first time that you use it.
The weighted ends hit home with some force, and this concentrates all of their energy into a small area. This is what gives each tip such a profound bite for such a short and light flogger.
While swinging it is easy and comfortable, the four fronds seem to have a mind of their own. Delivering accurate single strokes is easy. But, as soon as you start to set up any sort of rhythm, the fronds go everywhere.
This is not necessarily a bad thing as it means whoever is on the receiving end cannot predict where they will fall.
When I wield impact toys, I like to leave crisp, neat marks, but the Quad confounds me at every turn. I just can't control it enough to create accurate markings. I can live with that though.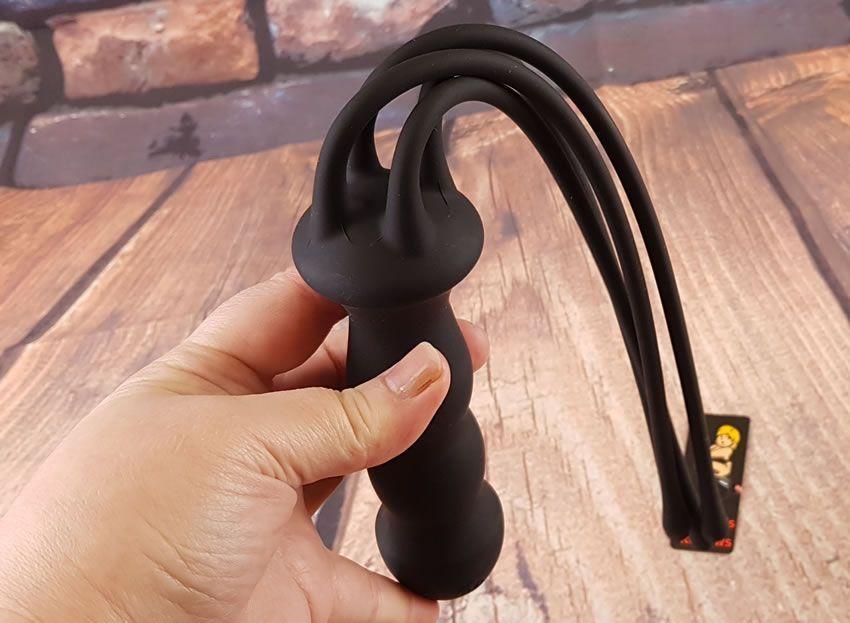 The fronds on the Quad are extremely flexible and have a mind of their own
When used on a back side, the buttocks just get redder and redder, with each blow being more painful than the last.
The crips and painful bites are delivered with every stroke. If swung gently, the Quad is still capable of some wonderful sensations.
It is easy to imagine safe words being used if it is swung hard though, either on purpose or through a lack of concentration.
On the buttocks the pain is delightful, but on the back of the thighs, it is enough to bring tears to your eyes.
As she had been such a good girl on her first flogging session with the Quad, I decided to give sub'r' a treat.
While she was still tied to the cross, blindfolded and gagged I merely pressed the tip of the handle against her labia. They parted due to her wetness, and the whole handle slid into her easily.
As you can no doubt imagine, the combination of her bright red bum still stinging from its flogging and the pleasure of the handle penetrating her did the trick.
After just two or three thrusts an orgasm ripped through her body. I just chuckled into her ear and called her a "naughty girl" for squirting on the floor. This caused some embarrassing squirming, and my work was done.

The handle is easy to insert due to the tapered tip
Having used it on numerous occasions now, I can attest to just how good it is. The Quad is an admirable flogger that is fun to swing, and use as a penetrative sex toy. I know it is good as sub'r' often asks for it to be used on her, so that tells me everything I need to know.
The ridges on the handle make it easy to hold and thrusting with it is so much fun. This is an excellent way to end a hard flogging session.
Cleaning it afterwards is simple. Just wash it with warm soapy water, ensuring it is dry before storing it away until your next impact play session.
One thing you will note about the Quad is the noise it makes when you use it. The sound you get as the fronds land on bare flesh is different from any other impact toy I have used. It doesn't swish through the air like a whip or flogger, and it produces thuddy sounds as the fronds land.
These noises are usually immediately followed by a squeal or yelp from the receiver of its administrations. This lack of an audible swish helps to keep your submissive guessing, and there is no tensing up before impact as you don't hear the strikes coming.
The Kink Collection Quad 18 Inch Silicone Whip with Dildo Handle which is available from @LatexLeather is a total bastard of an impact play toy. By that I mean it delivers delightful sensations that make my buttocks glow while making me shout "Bastard".
Click to Tweet
Key Features
Key features:
100% Body-safe silicone constructions
Four weighted fronds that deliver hard impacts
Contoured handle for peneterative play
Delivers powerful stinging impacts
I would recommend it to:
Anyone looking for an impact play toy thet is easy to use
Anyone looking for an impact play toy that delivers thuddy stinging sensations
Anyone looking for an impact play toy that is also good for penetrative play
Anyone who enjoys higher levels of impact play pain
I wouldn't recommend it to:
Anyone not looking to have themselves pushed
Anyone not into pain and impact play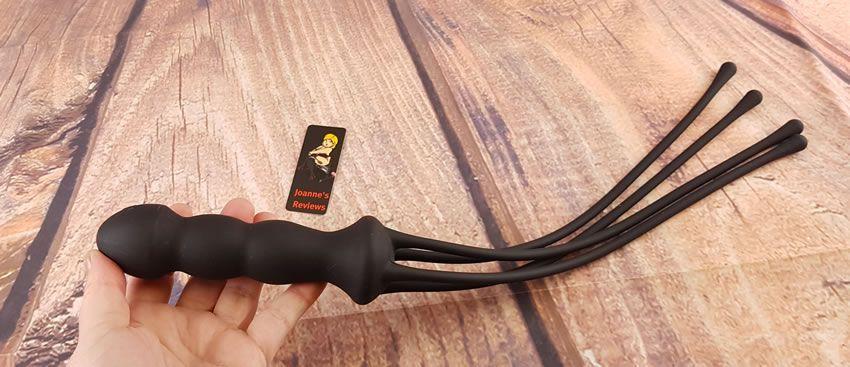 The Quad with its four fronds is a fantastic impact play toy that delivers some serious sensations
Final Thoughts
The Quad from Kink.com and Doc Johnson is a fantastic take on the humble flogger. The use of silicone is genius, and the blend used is really nice.
It makes for a flogger that is small in form but delivers some devilishly harsh impacts. It is ideal if you enjoy the harder end of the impact spectrum. The thuds provided by the tips can be very painful, and it can easily make any backside red in no time at all.
Having the handle designed for penetrative play is a bonus, and it is a very convenient shape for thrusting.
Silicone is a fantastic material. It's so nice to see it being used in an impact toy of this pedigree. I have no hesitation in giving the Quad a huge thumbs up and a solid recommendation. Go on give "Squidward the Bastard" a try.
I was sent the by Kink Collection Quad 18 Inch Silicone Whip with Dildo Handle by Latex, Leather & Lace and I would like to thank them for giving me the opportunity to review it for them.
Joanne's rating
Where Can I Get One From?
Grab one of these fantastic silicone floggers for only £39.99 from Latex, Leather & Lace. That is a superb price for a flogger of this quality and specifications. Grab one if you fancy feeling the sting in its tail.
Check them out and don't forget to tell them that Joanne says "Hi".
Disclosure
Disclaimer - I was sent the Kink Collection Quad 18 Inch Silicone Whip to review free of charge and this has in no way affected the outcome of this review. This post contains affiliate links and if you purchase something when you follow one of these links I may receive a small commission at no cost to you. For more information check out my disclosure page.