About Passion Craft Store
Before I jump into the review itself, let me tell you a little bit about PCS. It was founded in 2017 by two old friends Igor and Alesya.
They had problems sourcing quality rope, and BDSM equipment for their own play requirements as both have exacting standards. They started to produce their own equipment and now focus on promoting Ukrainian fetish products worldwide.
The three products they have sent me have certainly lived up to that aim, both in quality and performance.
Delivery & Packaging
The products all arrived together in very discreet packaging, and I was pleasantly surprised at how quickly they got here.
Upon opening the box, I was delighted to see the attention to detail that went into the packaging. These three ropes and a whip were individually wrapped in tissue paper that carried a nice inspirational message. This is a charming touch, and unwrapping the rope almost felt like it was Christmas morning, and I was opening some presents. They even included a little keyring made from Jute rope in a different colour to tempt me.

I love the tissue wrapping of these ropes, it is minimalistic yet stylish.
First impressions of the service provided were excellent. I love the plain discreet packaging, and the wrapping paper felt like a boutique shopping experience.
Design & Materials
This set of three bondage ropes is made from 6mm (1/4") 3 ply Jute rope. One of the things I love about Jute is its rough texture.

The colour of this rope is mesmerising, it looks fantastic.
PCS hand process their ropes, and they are washed, conditioned and coloured by hand. If you have any particular colour or treatment required for your rope, you can just let them know, and they would be happy to oblige you.
You could consider buying rope from them a bespoke service. Obviously, if you need anything special doing to your rope, it will mean a delay in dispatch, but it is good to see such a personal service being offered.
PCS condition their ropes to feel amazing, have more stretch, and are softer than unconditioned jute rope. That said, though, this is still Jute rope, and it has an element of friction associated with its use.
I must admit that dragging this rope across my skin makes the hairs on the back of my neck stand up; it feels very sensual and erotic.

The feeling of this rope being dragged across your skin is sublime.
When shopping for bondage rope, PCS offer lots of different colour options as standard. At the time of writing this review, they offer this amazing array of colour options:
Natural
Green (Light Green)
Nature Green (Dark Green)
Red
Raspberry
Purple
Light Blue
Navy Blue
Black
These bondage ropes come neatly bound with an overhand knot on each end to prevent them from fraying. You can leave them in this finish or bind them if you prefer.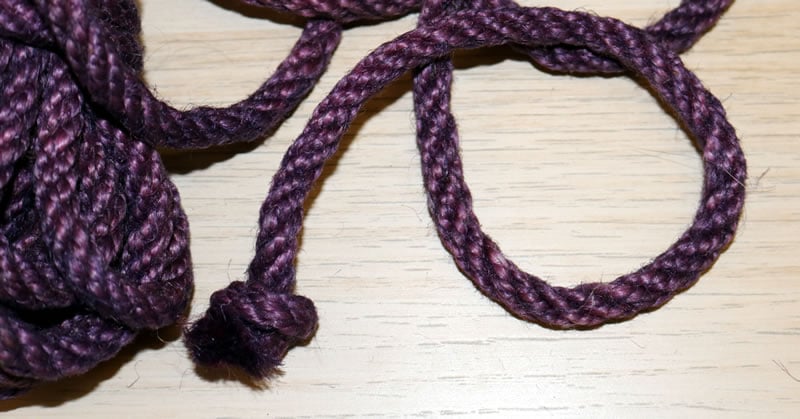 The overhand knot does its job well but I would recommend binding the ends of the rope rather than using the knots.
Performance
Jute rope is often the preferred choice for shibari/kinbaku enthusiasts for its strength and natural feel.
I don't consider myself an experienced rope player, but I have several types of rope in my play bag, and I enjoy rope harness play. Bondage and so I think I can comment on this product with a bit of experience.
I started off with just making some basic rope harnesses on sub'r'. Just so we could both get the feel of these ropes, and I must say, both of us enjoyed it tremendously.
Using it, I quickly appreciated the texture of Jute and how dragging it across the skin slowly can feel delightful. But, pull it quickly, and it soon warms an area up through friction, and this should be borne in mind when drawing it under layers directly against the skin.
I found that sub'r' got incredibly aroused during our rope play sessions; she adored the added friction and the sensory nature of the rope against her skin.
The conditioned nature of this rope meant it didn't tangle, and the mineral oil treatment will mean it lasts a long time and is easy to use.
These ropes are 8m/26ft long, but it is also available in 12m/36ft lengths. I usually play with 10m ropes, so I had to adjust my harnesses to cater for the slightly shorter lengths. That may be one thing to bear in mind when selecting which to go for. I would opt for the longer one as that gives you more flexibility in your play sessions.
I really enjoyed using the Jute rope and the finished effect of it against sub'r's pale skin. Both of us got very turned on using it. Anyone into Shibari play is going to really like this brand of shibari rope. I love the marks that it leaves behind on skin once removed after a play session, they look fantastic.
I thought it would be nice to get some feedback from the other side of the knot as it were. So here is what sub'r' had to say about this Jute rope.
This is the first time I have had Jute rope used on me. I am always getting tied up and love wearing rope harnesses, and I find these a massive turn on. I relish the feeling of rope being dragged over my skin as I feel myself being put further and further into bondage.

I love soft ropes for this and was surprised at how much I enjoyed the added tactile feel of this rope. When Joanne was tying me up, she took care to draw it slowly over my skin but even then, I felt my skin warming and loved that.

I did find that after about thirty minutes, the sensations that I felt with this rope started to become too strong. The rough nature of it is enjoyable but for limited periods for me.

I have to say that when Joanne put a crotch harness on me and the rope slipped between my labia, I was in heaven. The friction actually had me trying to hump the rope, and I had one hell of an intense orgasm with it nestled between my lips. Once the harness was removed, I regretted humping the rope so hard. My lips felt like I had been riding a cheese grater; it did feel great, though.

The rougher nature of Jute rope is something that I definitely like. My preference would be to use it for harnesses on my upper body rather than for crotch harnesses, but that is just me; others will probably love it.

sub'r'
It is always good to know what your submissive likes and also dislikes. Note to self: Keep Jute crotch harnesses as a threat if sub'r' starts to act up a bit, LOL.
Check out Joanne's review of the Jute Shibari Bondage Rope from Passion Craft Store.
Click to Tweet
Key Features
Key features:
Hand dyed and conditioned Shibari Bondage Rope.
Different lengths and pack quantities available.
Three ply 6mm (1/4") Jute rope.
Nine colour options available.
I would recommend it to:
Beginner or experienced nawashi (rope artists).
Anyone looking for rope with more texture.
Anyone looking to have a bespoke finish to their shibari rope.
Anyone looking to take their rope play to the next level.
Anyone looking for rope for suspension or bondage play.
I wouldn't recommend it to:
Anyone with very sensitive skin (due to the mineral oil and rough nature of Jute).
Anyone not into rope play.

I can highly recommend these ropes, they are so much fun to use.
Final Thoughts
We really enjoyed getting to know the Jute BDSM Shibari Bondage Rope from Passion Craft Store. The rough nature of it, coupled with its flexible nature, made it a pleasure to use.
I enjoyed the feel of it in my hands as I used it to restrain and torment poor little sub'r', and she loved the feeling of it against her skin.
Seeing her get so horny, she literally humped the rope was a sight to see and highlighted the extreme sensory nature of this rope. It got her off hard, but it was funny seeing the aftermath of her poor red lips. Would she do it again - of course, in a heartbeat once she feels that rope against her sex - naughty girl.
If you like rope play or want to experiment with it, give this Jute rope a try. I loved the PCS site because of the accurate advice and safety tips about rope play listed on the product page. This is a company to keep your eyes on, and I can recommend checking out their leather harnesses that look incredible.
I was sent these Shibari Bondage Ropes by Passion Craft Store and I would like to thank them for giving me the opportunity to review it for them.
Joanne's rating
Where Can I Get One From?

Grab one of these packs of three Jute Shibari Ropes from Passion Craft Store from just 35$ (approx. £25 at the time this review was published). Take your rope play to the next level and experience the sensual tactile nature of jute ropes.
Check them out and don't forget to tell them that Joanne says "Hi".
Disclosure
This review does not contain affiliate links, for more information about affiliate links check out my disclosure page.