The Joyboxx comes sealed in plastic with a cardboard sleeve around its middle and it is a nice size. The cardboard sleeve is branded for meo.de and carries product information together with the Joyboxx logo.
Removing the cardboard sleeve will allow you to slide the locking catch sideways to unlock the lid.
Inside you will find a set of instructions together with a combination code padlock. You can use this padlock to secure your Joyboxx to stop anyone snooping around. It will prevent them finding what you have locked away inside it.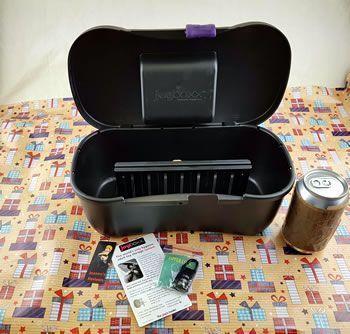 Being able to lock the Joyboxx is a great selling point and the combination lock means you don't have to worry about losing a key or leaving it lying around. Just make sure that you remember your code.
You slide the lock sideways and the padlock prevents anyone from being able to slide the lock to its open position.
The lid features a handy storage pocket with a hinged lid, you can't lock this compartment though. It's great for storing USB charging cables and batteries though.
The lid of the Joyboxx doesn't have a handle which makes it a bit cumbersome when full of sex toys. It isn't really a problem though just more of an observation.
The main compartment has ten small holes around its upper edge and these allow air to circulate. This works in conjunction with the larger hole at the back of the box. This prevents any mould from growing and helps dry anything out that is not dry when you lock it away.
The larger hole on the back of the box also allows you to pass your USB charging cables through. You can then charge your sex toys even if they are locked away.
This is a very handy feature as it means that your sex toys will be charged when you next come to use them.
The Joyboxx also comes with a 'PlayTray' and this is a slotted tray that can also be used as a divider in the box. It's a great idea as you can place next to your bed for something to put sex toys on.
This will prevent any dirty toys from coming into contact with your furniture or anything else for that matter. I think that is a great feature as I'm always struggling with where to put a vag-goo coated sex toys after use.
The Joyboxx sextoy storage box from Meo.de is a great way to hide your genital's best friends.
Click to Tweet
The Joyboxx and the PlayTray are both dishwasher friendly and so you can clean them both in that way. The plastic used is antimicrobial as well as being PVC, BPA and Phthalate free. This means that nothing will leach from it to be absorbed by your sex toys.
Size: 33 x 12 x 17 cm = 13.00" x 4.75" x 6.70"To give you an idea of its internal dimensions you can stand a can of coke up inside it and it will easily hold six average-sized sex toys with no problem at all. You can fit even more if you wanted to.
I like the fact that you can stand lube bottles up inside. So you don't have to lay them on their sides risking leaks (these were the bain of my life in my bedside drawer).
The Joyboxx looks like your average run of the mill makeup case and so it won't look out of place in anyone's bedroom. This makes it very discreet and the perfect sex toy storage solution.
It's quite pricey though but it's a sturdy well-built storage case with some neat design additions. It's a great option for anyone needing discretion and it will give you peace of mind without having to find hiding places for your toys. If you can justify the price then it is a great option for your sex toy storage requirements. I suppose you can't put a price on peace of mind.
Key Features
Key features:
Lockable storage box complete with combination code padlock
Body safe plastics used that are dishwasher safe
PlayTray included so you have somewhere to rest that sticky dildo after use
Large enough for a nice sex toy collection
Holes allowing air to circulate and also sextoy charging even whilst locked
Small storage pocket in the lid suitable for charging cables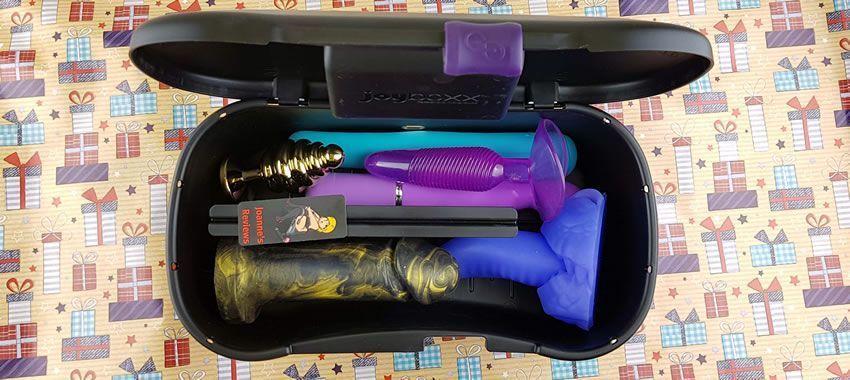 Final Thoughts
I like the everything about the Toyboxx. It's a very ncie solution to the old problem of discreet storage for your sexy toys. The padlock is easy to use and it's surprisingly big inside allowing for quite a good range of toys to be housed within it. It fits most regular sized sex toys, from rabbits to dildos, lube and butt plugs. I like the PlayTray too, no more placing sticky lube and vag-goo coated sex toys on any surface except for the PlayTray. I also love the simplicity of the design of the Joyboxx and the fact that it looks just like a regular make up case.
So, if like me you struggled with discreet storage then definitely check out the Joyboxx from Meo.de, it could be just what you are looking for.
I was sent the Joyboxx by Meo.de and I would like to thank them for giving me the opportunity to review it for them.
Joanne's rating
Where Can I Get One From?
Grab one of these tidy little sex toy storgae boxes from Meo.de for just 59,00 € (at the current exchange rate when this review was published that equates to £52.15). Whilst you are on their site just check out the amazing range of sex toys and BDSM articles that they carry, you will not be disappointed.
Check them out and don't forget to tell them that Joanne says "Hi".
---
---
Disclaimer - I was sent the Joyboxx to review free of charge and this has in no way affected the outcome of this review. This post contains affiliate links and if you purchase something when you follow one of these links I may receive a small commission at no cost to you. For more information check out my disclosure page.