Delivery & Packaging
As I previously commented, the dildos arrived in a plain discreet box. It was well sealed, and it safely held the considerable weight of all four dildos inside. This is no small feat considering the weight of JTT dildos.
Spoiler alert: JTT dildos are larger than life, and you get a lot of silicone with their designs.
I do like that they use paper packaging material, which can either be reused or recycled; I hate those packing peanuts and can safely say that JTT has never used them in anything they have sent me, which is excellent.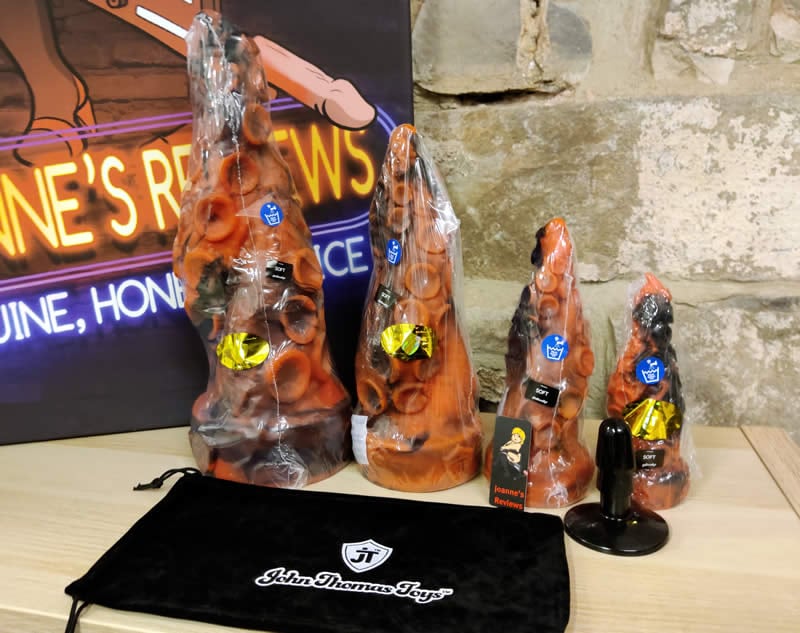 I was sent all four sizes of the Twisted Tentacles dildo.
Inside, each Twisted Tentacle dildo is covered in heat shrink transparent film, which holds a small silica gel sachet. The shrink wrap has several stickers which show the JTT logo, the firmness rating, and last but not least, a reminder to wash before use. This is important with any new sex toy as it ensures that no release agent is left on the toy's surface.
A JTT logo small plastic bag holds the JTT branded faux velvet storage bags and sealed JTT own design of vac-u-lock compatible suction cups. As I received the four sizes of the Twisted Tentacles dildo, I also received the four sizes of the storage bag and four suction cups - bonus.
---
Check Out My Review Video On Youtube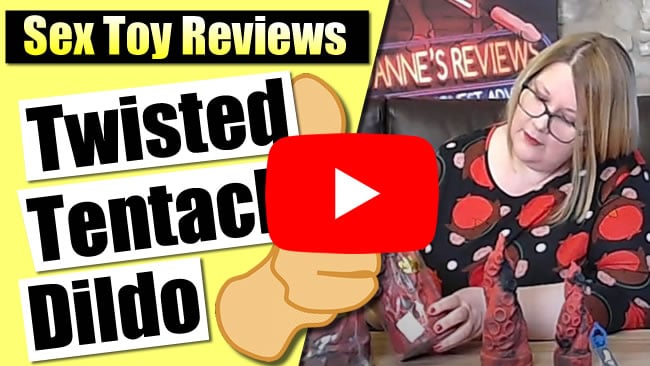 ---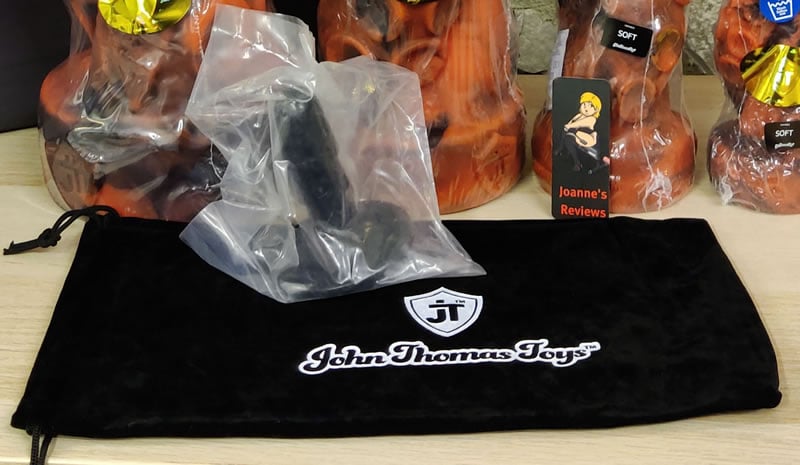 I love the JTT storage bags and their own design of suction cup adaptor.
Materials and design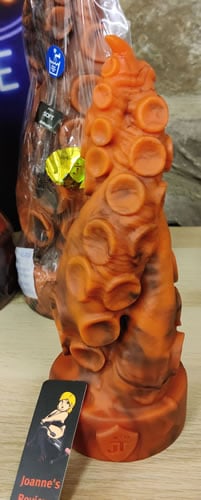 The Twisted Tentacle is another example of a unique design from JTT. I'm amazed by the designers' imagination in finding new ways for people to enjoy themselves or pleasure their partner.
It was designed by Michael Barford who is well known for his creations within the movie industry in the late 1980s.
By taking the standard tentacle dildo and changing it up by adding a twist (literally), JTT has made another fun dildo to enjoy. The design takes two tentacles and twists them around each other. This gives a great mix of smooth and texture surfaces along the entire length for you to relish. Well two are definitely better than one I guess.
The Twisted Tentacle is not a straight dildo. The twist gives extra girth to enjoy. The whole look of the tentacles sets my pussy tingling, and I get that feeling before every play session with it.
To see the large suction cups twist around, then the smooth parts with the deep ridges make me want to dive right in. Or I should say, make it dive right into me :)
I love the fact that once again JTT have designed a dildo to stimulate your mind as well as whichever hole you decide to pleasure with it. Fantasy dildos can be so much fun and the amazing textures and shapes on this one will put a smile on anyones face.
Now I have to note that the Twisted Tentacles dildo is smaller than the usual creations that you find on their website and that is a good thing in my books. It means cheaper prices as less silicone is used and that opens up this incredible toy to a wider audience. That said, still pay close attention to the size table as it is still a large dildo.
John Thomas Toys use medical-grade silicone, which is not only body-safe but non-porous, latex, rubber and phthalate free making it hypo-allergenic. These are the reasons it is my go-to material for insertable sex toys.
You can always be assured of the quality when buying from John Thomas Toys®. They offer a no quibble replacement Life Time Warranty with their products; terms & conditions apply. That said, if you look after it, you will get a lifetime of pleasure from these dildos.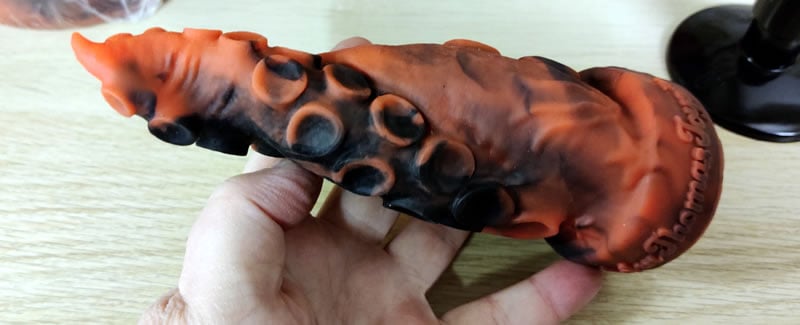 Even the small has some nice girth to it.
Silicone can be hand washed in warm/hot water or even put in the dishwasher. The tentacles and ridges do make this design a little harder to ensure it is thoroughly clean, so I recommend using a dishwasher if you can. Or like me, get yourself a dildo scrubbing toothbrush. Just don't get it confused with your regular one (unless you like that sort of thing, of course).
Always ensure that you allow the dildo to thoroughly air dry before storing it away for the next play session.
I recommend using a good water-based lube with silicone; J-lube is my current favourite for both vaginal and anal play.
With each dildo from JTT, you will also receive a faux velvet black storage bag, large enough to store the size of the dildo you have purchased. These bags stand out with the black faux velvet and the white JTT branding on one side. The material is strong and sewn together well, so it will last well for you.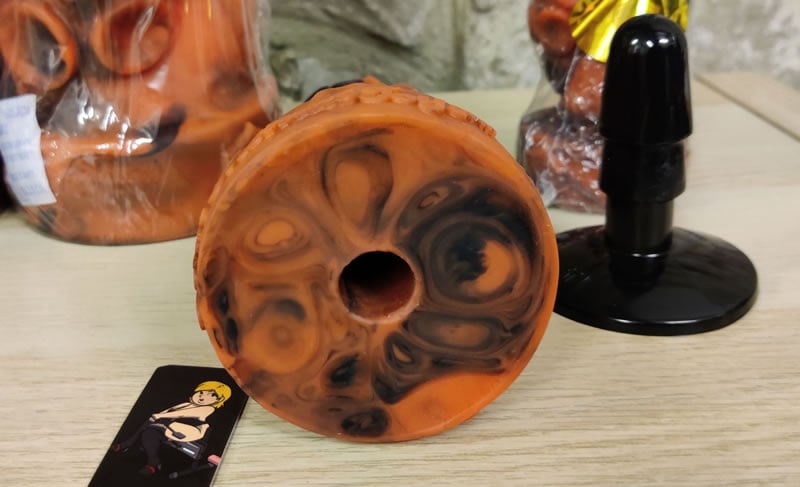 I love the JTT designed vac-u-lock compatible suction cup adaptor and the hole in the base of this dildo means fucking machine fun for me - woohoo!
Another plus point is that the Twisted Tentacle is vac-u-lock compatible and even comes with a suction cup adapter. The suction cup is one designed by JTT and works really well. It holds the dildo firmly in place, allowing you to ride it to your heart's content.
JTT try their best to give you the option to buy the right dildo for you. Offering you four sizes and two firmness ratings to choose from, there is also a choice of colours. Twisted Tentacles is coloured using a hand pouring technique called fusion. This method provides a unique colour finish for every dildo made, and it looks fabulous as far as I am concerned.
| * | SMALL | MEDIUM | LARGE | X LARGE |
| --- | --- | --- | --- | --- |
| Length: | 6.3"/16.1cm | 8.66"/22cm | 11.41"/29cm | 14.96"/38cm |
| Circumference (top of shaft): | 3.93"/7cm | 5.11"/13cm | 6.49"/16.5cm | 8.66"/22cm |
| Circumference (middle of shaft): | 5.9"/15cm | 7.48"/19cm | 10.23"/26cm | 12.99"/33cm |
| Circumference (bottom of shaft): | 6.88"/17.5cm | 8.46"/21.5cm | 11.41"/29cm | 14.76"/37.5cm |
| Circumference (base): | 8.07"/20.5cm | 10.23"/26cm | 13.77"/35cm | 18.5"/47cm |
| Max Insertable Length: | 5.5"/13.97cm | 7.48"/18.99cm | 9.84"/24.995cm | 13"/33.02cm |
| Weight: | 0.254kg (*variable) | 0.554kg (*variable) | 1.32kg (*variable) | 3.08kg (*variable) |
| Price: | £79 | £119 | £199 | £259 |
Performance
Now onto my favourite part of reviewing, the extensive play sessions ;) After all, I need to try a toy out more than once to check it out properly. I have lost count of how many times the Twisted Tentacle has pleasured me over the holiday season.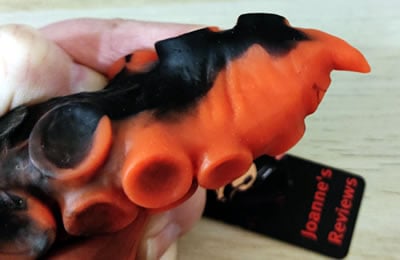 Firstly I ensured to wash my Twisted Tentacle (I decided to try the medium-sized one). I had my bottle of J-Lube on hand, got comfortable and ready to play.
The tip of the tentacle features a little hook. I found this worked wonders by running it over my clit.
Ensuring I was wet and ready to go, I covered the dildo in a reasonable amount of lube. Insertion is easy with the narrow pointed tip, but it was not long before I felt the full effect of the stretch with its girth.
The twist design of the suckers makes delightful sensations at every movement. The further I slid it into me, the more I felt stretched wider and wider.
I could feel each sucker rubbing the walls of my pussy, creating mesmerising feelings. The suckers grow in size as you move down the shaft, and I found myself wanting more and more.
The tentacles twist around each other, creating more of a stretch than a single tentacle. The whole design gives lots of sensations and will have your toes curling. When you are really wet, it generates some deliciously kinky noises as you thrust with it.
It works amazingly well on a fucking machine and is great fun to use in the shower with the vac-u-lock suction cup provided.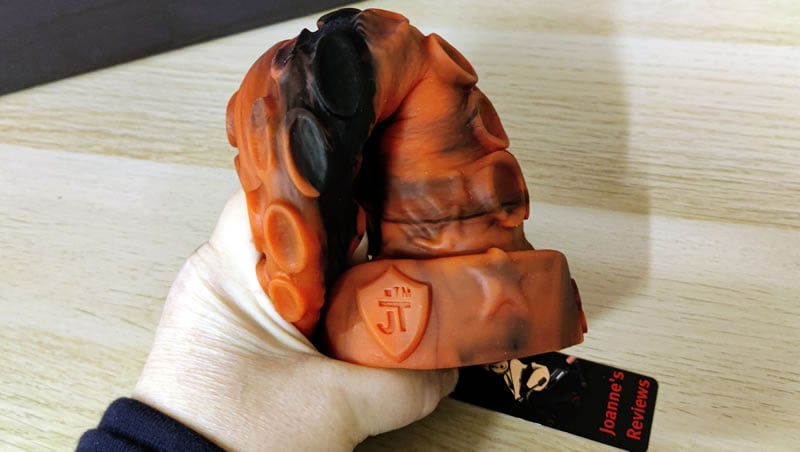 I love how flexibile this blend of silicone is, it makes it very comfortable and easy to play with.
Check out Joanne's review of the Twisted Tentacles dildo from @JohnThomasToys.
Click to Tweet
Key Features
Key features:
Made from body safe silicone.
Lots of suckers on this fantasy dildo.
Twisted shaft providing an interesting ride.
Option of 4 sizes and two firmness ratings.
Vac-u-lock hole in the base.
Lifetime warranty.
I would recommend it to:
Anyone who enjoys fantasy dildos.
Anyone who loves tentacle porn, go on see how it feels.
Anyone looking for a body safe dildo with loads of textures on it.
Anyone who likes dildos with lolts of girth.
I wouldn't recommend it to:
Anyone who doesn't like fantasy dildos.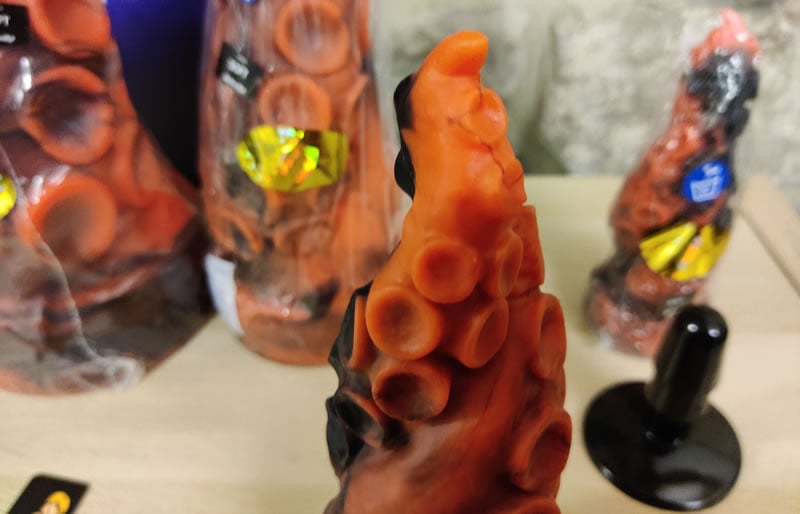 The textures on this dildo blew me away, I am both a texture and size queen and really enjoy playing with this one.
Final Thoughts
I thoroughly enjoyed playing with the Twisted Tentacles. It did not take long playing with it for my toes to curl with the sensations running throughout my body. Every time I played, I thoroughly enjoyed every sensation.
I relish the stretch and the feeling of those pronounced suckers teasing the inner walls of my pussy. I haven't tried it analy, but I can imagine just how good those textures would feel in any orifice.
The suckers mean that you need to ensure that you thoroughly clean the dildo after each session. Using a dishwasher does make cleaning easy. I prefer hot water with anti-bacterial soap.
If you enjoy lots of sensation and like dildos that have a monster feel to them, I can highly recommend buying yourself a Twisted Tentacle for yourself.
You can even take a nice long bath and pretend you are deep in a warm pool with a horny mass of tentacles if that turns you on ;-)
I was sent the Twisted Tentacles Dildo by John Thomas Toys, and I would like to thank them for giving me the opportunity to review it for them.
Joanne's rating
Where Can I Get One From?

Grab one of these superb silicone fantasy dildos from John Thomas Toys and let those Twisted Tentacles loose on your sweetest spots. It is another fantastic design and I look forward to seeing what they create next.
Check out the other colours over at John Thomas Toys, and grab one with prices starting at £79 but with the current sale going on you can save 20% on that. Don't forget to tell them that Joanne says "Hi".
---


If you enjoyed reading this review then check out my other reviews of John Thomas Toys products:
Silicone Dildos
---
Disclosure
This review does not contain affiliate links, for more information about affiliate links check out my disclosure page.