Delivery & Packaging
I received a huge box, which was discreet and well taped. I do always feel sorry for the delivery person lifting it about the place, but needs to an end I guess.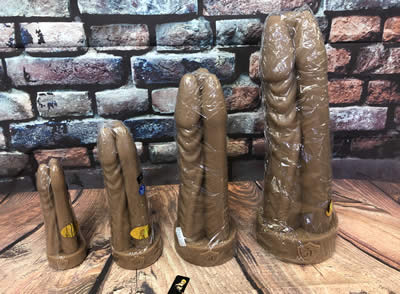 As usual, the box had nothing to say what its contents were on the outside, and on opening it, I could see that everything had been packed into the box extremely well. John Thomas Toys can be relied upon to dispatch their wares very discreetly, which is excellent news.
I received all four sizes of the Tom, Dick and Zoltok dildos, each one individually wrapped in a robust and transparent film with a silica gel sachet inside. The film has the lovely touch of a foil logo on each toy to verify their authenticity.
I also received four plastic bags each held a faux velvet storage bag to fit each size dildo. I really do like the white branding on the black background on John Thomas Toys bags. Of course, I cannot forget the vac-u-lock compatible suction cup holders that came as well. You get both a toy bag and a vac-u-lock compatible suction cup mount with each dildo from JTT.
Materials and design
John Thomas Toys use high-grade platinum cure silicone, so you can rest assured that the materials are good quality and body-safe. Silicone is the best material for flexible insertable sex toys on the market. This is because it is not only body-safe, but it is also non-porous, latex, rubber and phthalate-free.
JTT are so proud of their designs that they go that one step further and ensure that every dildo will have precisely the same features as the last. They do this by using copper moulds. This method is more expensive, but it does mean that the moulds will not degrade over time the same way standard moulds do. So you know it doesn't matter what number dildo you get from the manufacturing line, it will have the same features as the very first one.
The Tom, Dick and Zoltock dildo is unlike anything I have ever seen. It's essentially three dildos in one, you get the pleasure of three different designs in one dildo - nice.


The Tom, Dick & Zoltok dildo is striking and it features three detailed cocks in one
I do have to say this now though, as some may ask "Should it not be Tom, Dick and Harry?", John Thomas Toys have addressed this on the product page by saying that Harry did not turn up to the party and Zoltok took his place. If I am completely honest, there is no complaint from me though, as Zoltok really does liven up the party.
Now when I say you get three dildos in one, I really do mean that it's one dildo. While the design initially may look like three different dildos, it is a single dildo made to resemble three. So you basically get three different finishes, from smooth to fantasy shaped with varying levels of ridges and bumps. I love that you also get three heads. Two of the penises have no foreskin, and the third has the foreskin pulled forward.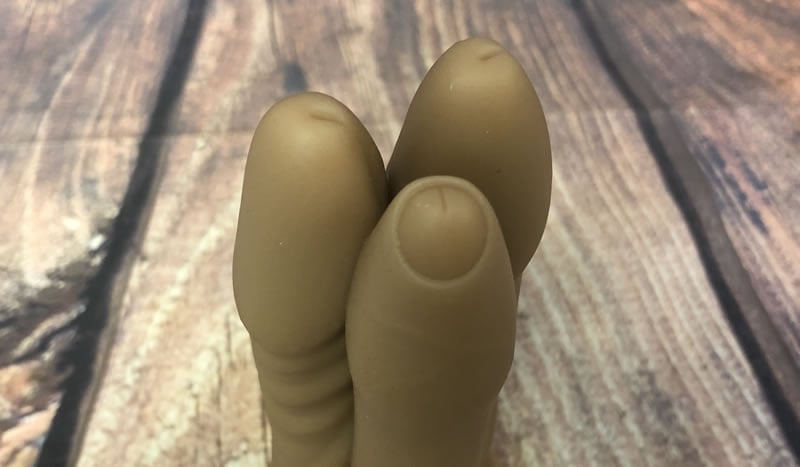 The head of this dildo poses an interesting conumdrum, how do you get it in?
One of the biggest challenges of Tom, Dick and Zoltok is the three separate heads. Insertion is a bit of a fun challenge. The design has not pushed the three heads together as if they are one, so you will face the challenge of squeezing them all in at the same time. This is a challenge I did not win with the larger sizes, and so I opted for the large and that was a squeeze I can tell you.
As you can imagine, this dildo has a wider girth than some of the other John Thomas Toys designs. So, as usual, I will advise you to check dimensions before purchase. There is no small available for the Tom, Dick and Zoltok dildo, you get Medium, Large, X Large and the eye watering XX Large.
| * | MEDIUM | LARGE | X LARGE | XX LARGE |
| --- | --- | --- | --- | --- |
| Length: | 8.9"/25cm | 11.8"/30cm | 15.7"/39.9cm | 19.7"/50cm |
| Base Height: | 1.2"/3cm | 1.4"/3.8cm | 1.9"/5cm | 2.5"/6.5cm |
| Circumference (penis head): | 6.3"/16cm | 7.5"/19cm | 9.4"/24cm | 12.2"/31cm |
| Circumference (middle of shaft): | 6.9"/17.5cm | 8.9"/22.5cm | 12"/35cm | 15.2"/38.5cm |
| Circumference (base): | 9.8"/25cm | 13.9"/23.5cm | 17.5"/44.5cm | 22.2"/56.5cm |
| Max Insertable Length: | 8.5"/21.6cm | 10.8"/27.43cm | 13.7"/34.8cm | 17.1"/43.43cm |
| Weight: | 0.55kg/1.21lbs (*variable) | 1.29kg /2.85lbs (*variable) | 3.06kg/6.8lbs (*variable) | 6.03kg/13.3lbs (*variable) |
| Price: | £99.99 | £169.99 | £229.99 | £419.99 |
The finished product does look absolutely amazing, though maybe a little intimidating for some. Each side offers its own unique features. Plus you get that delicious dip between each cock.
If you are looking for a real stretch, then this could be the one for you. As to quote JTT, "The XXL is 19.7" in height & weighs over 6kg !! about twice the weight of our standard 16" dildos - not for the faint-hearted". That is providing you are strong enough to actually use that one ;-)
If you have a fantasy of taking three cocks at the same time, I highly recommend checking out this dildo. I cannot imagine that it would be possible for three men to squeeze their cocks this close together, JTT designers have done that for you here. Unfortunately, you will need to work out something else for the lack of hands and mouths though lol.
I always like it when a toy arrives with a storage pouch, and JTT does not disappoint in this regard either.
Free with every dildo purchased is a branded faux velvet bags that are large enough to easily fit your dildo inside. These are not thin, flimsy bags that will only last a couple of uses. The material is good quality and with stitching to hold it together. The white branding on the black background makes it really pop too. Each bag is sent out in a small branded reusable carrier bag. These bags are not as large as a standard reusable carrier bag. Still, they can be used for smaller items, providing you do not mind flashing the logo about.
You will also receive a free vac-u-lock compatible suction cup holder.
Performance
When reviewing a vac-u-lock compatible dildo, I like to try it out thoroughly by hand, machine and the suction cup holder supplied with John Thomas Toys dildos.
The fact that Tom, Dick and Zoltok has a vac-u-lock compatible hole in its base means that I can really make the most of it.
I will admit that I decided to try the Large first, as I did think that I would struggle with the insertion of the large one.
After taking another careful look, I decided that I would need to prepare myself first, so got busy to get myself loosened up and ready to play.
John Thomas Toys silicone blend provides a lovely drag to the finish. I enjoy the sensation this causes as it moves in and out. I still need to use a water-based lube like Sliquid H2O, and I needed to use a little extra to get this baby in.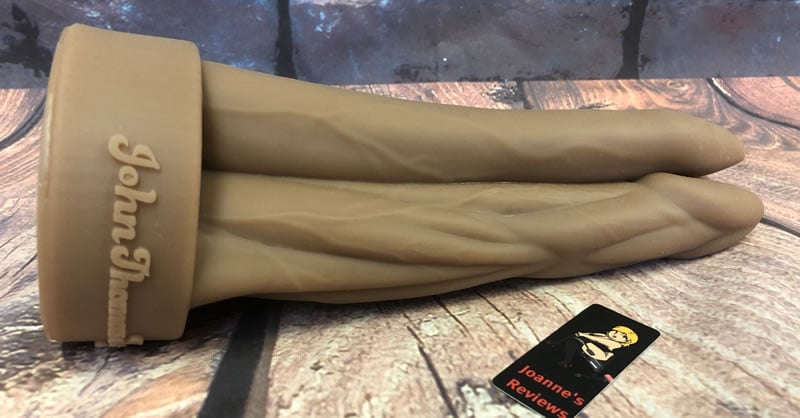 The textures on this dildo are sublime and the shape makes it feel so good if you twist it.
Yes, I could have chosen the medium, but where is the fun in that, I let sub'r' enjoy that one ;-)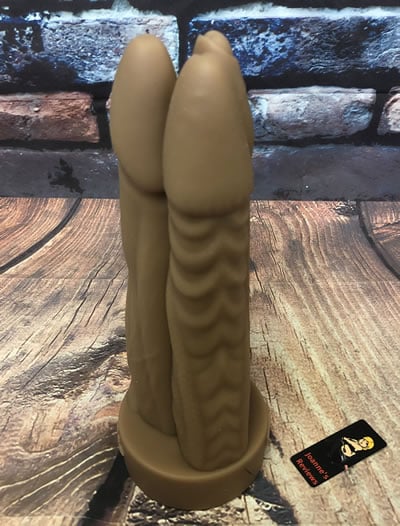 If you enjoy the challenge of a slightly wider insertion, then you will most likely really enjoy this dildo. This was the reason I chose to start with the large and not the XL or XXL one.
Once I wiggled it inside, I found that the three separate heads rubbed along my walls beautifully. The sensation caused was terrific, then to add the three different sides was almost like adding fuel to the fire.
I usually enjoy twisting toys as I move them, and that is where I found the designs of the different sides worked the best for me. To turn this dildo really did magnify the sensations felt and I highly recommend it for you to try.
Because of the vac-u-lock compatible hole in the base, it fits onto a fucking machine really well. You also have the option of the suction cup, or of course, you can enjoy strapon fun with a partner etc.
Conclusion
This is another great design and product from John Thomas Toys, if you want a bit of a challenge, then this one could be for you. Having said that check out the dimensions, you may find a smaller size that will work for you. The features and the entire effect is fun and exciting.
I love the fact that one of the cocks is uncircumcised and all three feature different textures that are so enjoyable as you thrust with it or ride it.
Twisting it feels incredible, and the shape of it produces some interesting noises when it is thrust fast on a fucking machine.
All good things come in threes, and these three cocks will have you 'cumming' in no time. Check out Joanne's review of the Tom, Dick & Zoltok dildo from @JohnThomasToys.
Click to Tweet
---
Check Out The Video Review On Youtube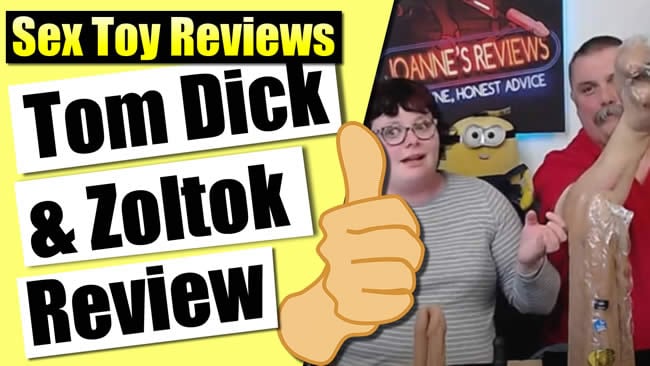 ---
Key Features
Key features:
Three cocks in one fantasy dildo.
Body-Safe silicone.
Vac-u-lock hole in the base.
Four sizes available
Two firmness ratings to choose from
Uncut and circumsised glans.
I would recommend it to:
Anyone who enjoys multiple surfaces.
Anyone who enjoys an insertion challenge.
Anyone who has a multiple partner fetish.
Anyone who enjoys fantasy sex toys.
I wouldn't recommend it to:
Anyone who prefers or needs slim dildos.
Anyone who prefers a vibrator.

Larger than life, the Tom, Dick and Zoltok dildo is a lot of fun to get to know, let the party begin.
Final Thoughts
Tom, Dick and Zoltok is a fun and enjoyable dildo. I enjoyed the pleasure of working out the best way to insert it. Once it was in, I did not want to take it out again.
The whole idea of three cocks in one dildo is novel and undoubtedly enjoyable, just add a twist, and away you go. Okay so you do not have to twist it to enjoy this dildo, but for me personally, it made the sensations that much stronger.
If you are looking for a high-quality silicone dildo, then you should really check out John Thomas Toys website. They offer a Lifetime Warranty (terms and conditions apply), with their products, so you know you are in safe hands.
I was sent these amazing dildos by John Thomas Toys and I would like to thank them for giving me the opportunity to review it for them.
Joanne's rating
Where Can I Get One From?

Grab one of these amazing body-safe silicone dildos direct from John Thomas Toys with prices starting at £99.99. At the time of publishing this review, John Thomas Toys are gaving an amazing sale so grab a bargain before they are gone.
Check them out and don't forget to tell them that Joanne says "Hi".
---


If you enjoyed reading this review then check out my other reviews of John Thomas Toys products:
Silicone Dildos
---
Disclosure
This review does not contain affiliate links, for more information about affiliate links check out my disclosure page.