Delivery & Packaging
As expected from my previous deliveries from John Thomas Toys, the box arrived in very discreet packaging. Nothing on the outside to indicate the contents were some very naughty silicone hole stretchers.
Considering the size and weight of the four sizes I received, the box was securely sealed and robust enough to withstand shipping.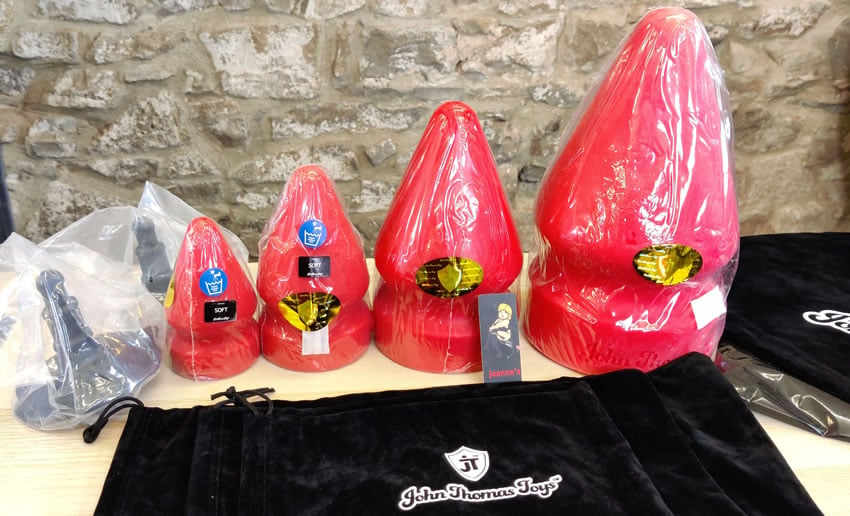 I was sent all four sizes of The Ripper and as you can see they are huge.
Inside, The Ripper is packed with brown paper to ensure the stretchers do not move about much in transit. I like the minimal packaging of heat-sealed transparent film. The film covers each individual stretcher and has a JTT branded sticker and another sticker letting you know the firmness rating.
You will also receive a faux-velvet John Thomas Toys branded storage bag and a vac-u-lock compatible suction cup.
---
Check Out My Unboxing Video On Youtube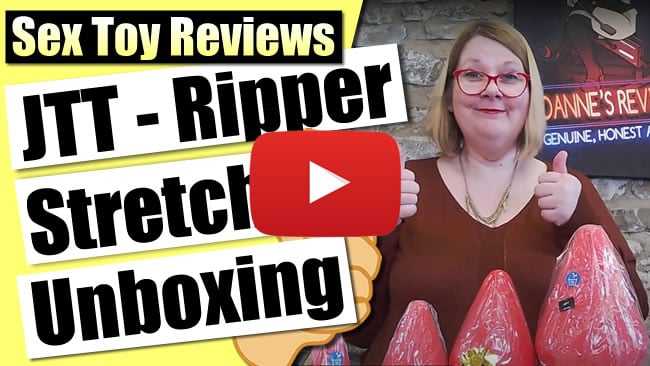 ---
Materials and design
This is a classic butt plug design. Hey, why would you mess with a classic. JTT have just sized it up a little, or in the case of the XL size - a lot.
The Ripper is made with high-quality medical-grade silicone. So you know that the material is body-safe, non-porous, phthalate, latex, and rubber free.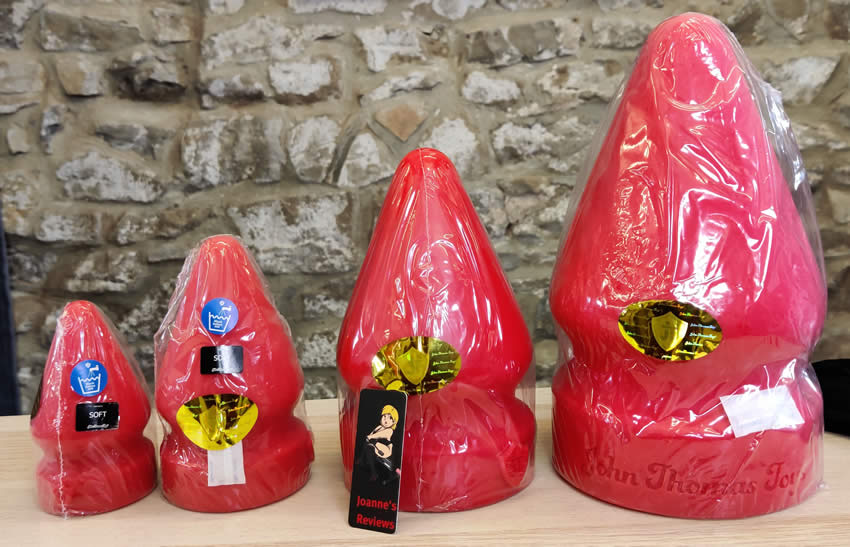 Even the small ripper stretcher is a force to be reckoned with.
If you have read any of my other reviews. You will be aware that silicone is my go-to material for insertable toys. Not only because of the above but also because it's so easy to clean, long-lasting, and you can enjoy temperature play with it.
John Thomas Toys pride themselves on using high-quality silicone together with copper moulds to produce each toy. Copper moulds are a more expensive manufacturing process. But, they help ensure that every toy produced will have precisely the same features as the original one.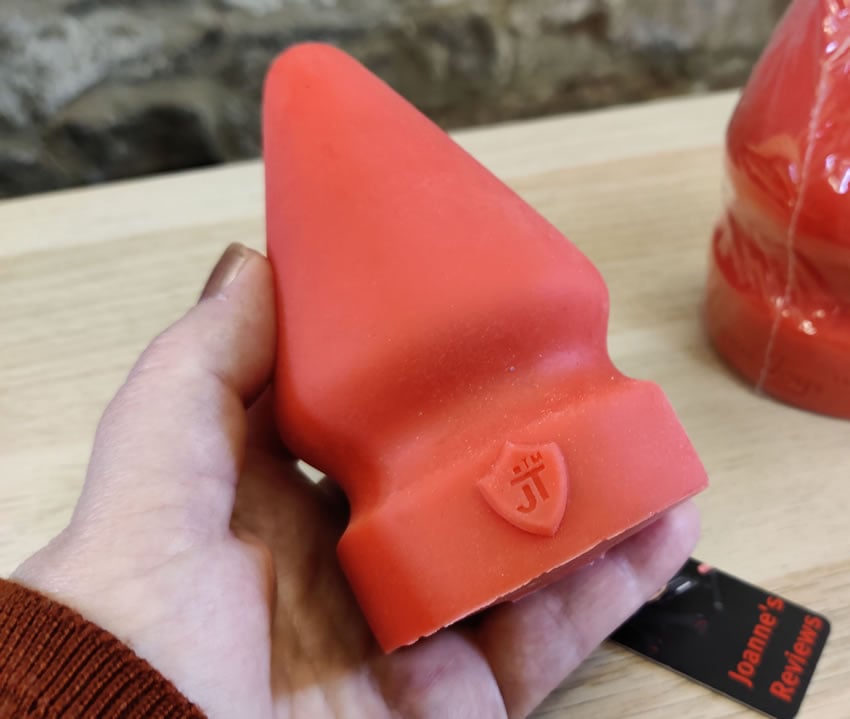 The Ripper has a classic design that fills and stays securely put.
The Ripper, admittedly, has a bit of a terrifying name. Designed to be a stretcher, The Ripper can be used vaginally and/or anally. However, if you choose the size correctly (there are four to choose from), you should have nothing to worry about.
| * | SMALL | MEDIUM | LARGE | X LARGE |
| --- | --- | --- | --- | --- |
| Length: | 5"/12.7cm | 6.5"/15.74cm | 8.5"/21.59cm | 10.5"/26cm |
| Circumference (top of shaft): | 3"/7.62cm | 4"/10.16cm | 5"/12.7cm | 6.5"/16.51cm |
| Circumference (middle of shaft): | 8"/20.32cm | 10.5"/26.67cm | 14"/35.56cm | 12.9"/33cm |
| Circumference (bottom of shaft): | 7.6"/19.3cm | 9.8"/24.89cm | 12.5"/31.75cm | 18.7"/47.5cm |
| Circumference (base): | 8.5"/21.59cm | 10.5"/26.67cm | 14.2"/36.06cm | 19"/48.26cm |
| Max Insertable Length: | 4.0"/10.16cm | 5.0"/12.7cm | 7.0"/17.78cm | 9.8"/22.86cm |
| Weight: | 0.26kg (*variable) | 0.56kg (*variable) | 1.34kg(*variable) | 3.15kg (*variable) |
| Price: | £69.99 | £99.99 | £169.99 | £229.99 |
This classic conical shape ends with a significant groove before the base. It will sit securely in place when fully inserted, acting as a plug. This will ensure nothing can leak out until you are ready to remove it.
The John Thomas Toys branding around the base gives a nice additional look to each plug.
The vac-u-lock compatible hole in the base means that you have more options on how you want to play. You can enjoy using it by hand, machine, suction cup or I suppose, a strap on.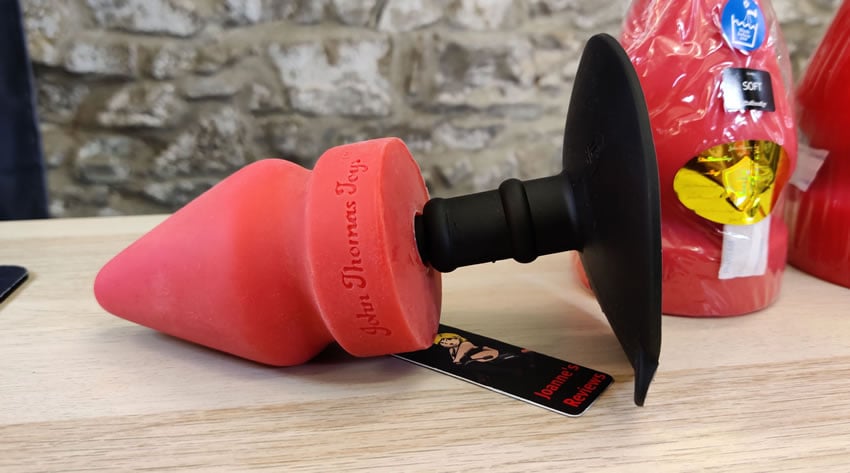 The vac-u-lock compatible suction cup adaptors are very good and hold this plug securely in place for you to ride.
John Thomas Toys also provide a free vac-u-lock compatible suction cup. This is one they have designed, and I do like these as the nodules on the shaft are not sharp and are much less likely to rip the toy on removal.
Top Tip: Use some corn starch in the hole in the toy's base before inserting the vac-u-lock adaptor. This will make removing it much easier after your play session concludes.
You will also receive a faux-velvet storage bag. These are black with white printed branding on one side and a drawstring seal. With four different sizes, you will receive the right size to fit your toy.
I really like these bags as they are well made, and the material is thick enough to safely store my toys for a long time.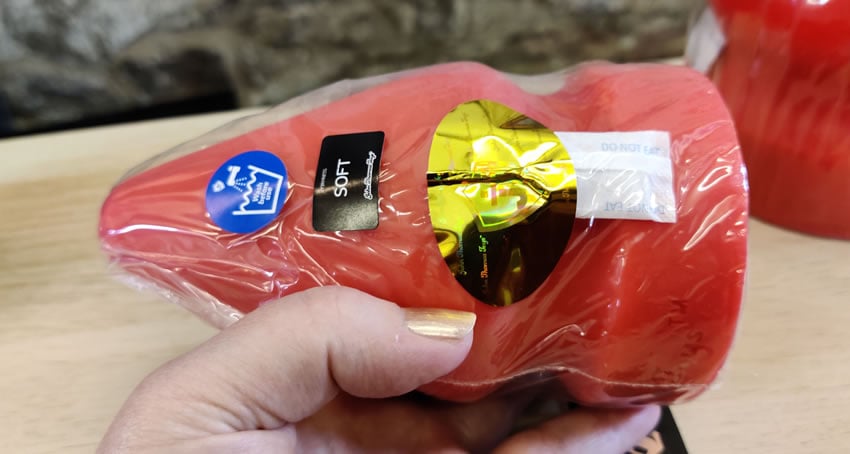 The Ripper arrives shrink wrapped with stickers informing you to clean the toy before use and the hardness rating of the one you selected.
Performance
Okay, so The Ripper is a somewhat intimidating stretcher. After some discussion with sub 'r', we decided that it would be used vaginally and not anally. Plus, neither of us wanted to use anything larger than the small; yes, call us both chickens if you wish.
So I was first to enjoy some alone time with The Ripper.
The conical shape does make for easy insertion (with the right amount of lube). Always ensure to use a water-based lube with silicone toys. JTT have a good selection if you do not have a favourite one as yet. I am working my way through a bottle of Sliquid H2o and J-Jelly.
The small-sized The Ripper still gave me an enjoyable stretch as I pushed the whole top section inside. Once I got to the large recess, I found that I could leave it in place and enjoy some clit fun while feeling nicely stretched.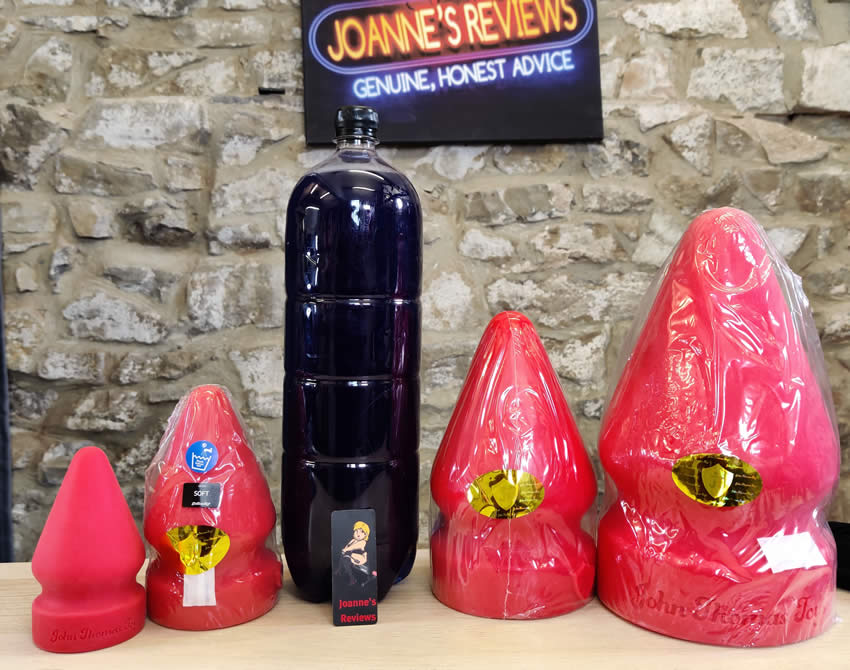 This soft drinks bottle gives a good indication of just how large these stretcher are.
I received the soft blend and found it gave me just enough squish to feel comfortable in use. JTT do offer two firmness ratings, so you can choose the right one for you.
The smooth shape made entry a lot easier than I expected, but part of that could be because I had chickened out from using any of the larger sizes.
As I had not selected this stretcher, I was not sure if I would enjoy my playtime or not. I am happy to say that I did.
It is so easy to clean after play, I use an anti-bacterial soap to clean mine. But you can put yours in the dishwasher or even boil wash it (if you have a pan large enough).
My submissive also enjoyed it but couldn't insert it fully. But with the suction cup adaptor fitted and secured to the floor, she really enjoyed riding it and feeling the stretch. Like me, she loves to feel stretched open and filled utterly, and Ripper certainly makes that easy.
---
Check Out My Video Review On Youtube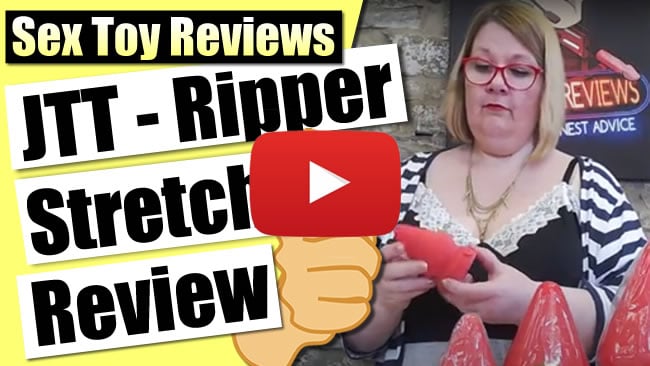 ---
Conclusion
Looking at all four sizes in front of me felt a little intimidating, but the choice means that you can select the right size for you.
I highly recommend checking out the measurements on John Thomas Toys website before you buy one. I do take my hat off (if I wore one, that is) to anyone who enjoys the Large or XL size.
You also have a choice of firmness ratings and colours. What is not to like about Ripper?
If you are looking for a stretcher or simply want a large butt plug, check out this design before making your final decision.
I was surprised to find I enjoyed my playtime with the small vaginally, but it is much too large for me anally.
A classic design but on a "hole" grander scale, The Ripper from @JohnThomasToys is one hell of a stretcher.
Click to Tweet
Key Features
Key features:
Made with high-quality medical-grade silicone.
Copper moulds used to ensure that you will get the same shape as the ones before.
Choice of different colours.
Four sizes to choose from.
Two firmness ratings.
I would recommend it to:
Anyone looking for a stretching challenge.
Anyone looking for a body-safe butt plug.
Anyone who enjoys large toys.
I wouldn't recommend it to:
Anyone not looking for a large butt plug.
Anyone not looking for a challenge.
Final thoughts
If you are looking for a vaginal or anal stretcher, why not check out this classic design. The Ripper is also the perfect butt plug if you want something a little larger.
With the choice of colour, firmness, and size, you should find the perfect one for you.
John Thomas Toys have yet again taken a classic design and supersized it. If you are a size queen or just looking for a challenge, definitely give Ripper a try.
I was sent these silicone stretchers by John Thomas Toys and I would like to thank them for giving me the opportunity to review it for them.
Joanne's rating
Where Can I Get One From?
Grab one of these fantastic body safe silcone stretchers from one of my favourite manufacturers, John Thomas Toys. You can grab one from only £69.99 and keep a look out for their sales where you can save a penny or two.
Check them out and don't forget to tell them that Joanne says "Hi".
---

If you enjoyed reading this review then check out my other reviews of John Thomas Toys products:
Silicone Dildos
---
Disclosure
This review does not contain affiliate links, for more information about affiliate links check out my disclosure page.