Delivery and packaging
As always a lovely, heavy but plain cardboard box was delivered by the courier to my front door. I am sure the postie must wonder why I'm always so excited to see him when he arrives.
Inside the box, the dildos were all packaged securely with brown paper, to ensure they do not roll around in transit. The dildos are individually wrapped in a thick clear plastic shrink wrap, which is finished off with a very lovely gold-coloured JTT sticker.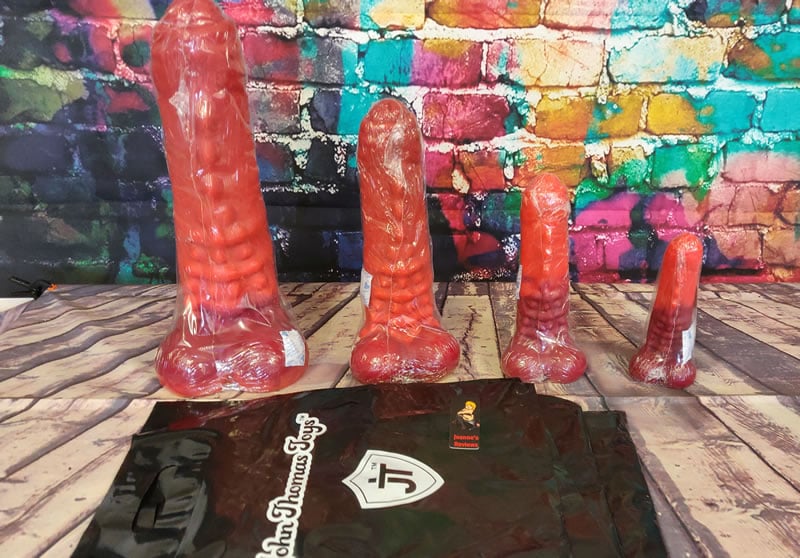 The four sizes are quite a sight together with their storage bags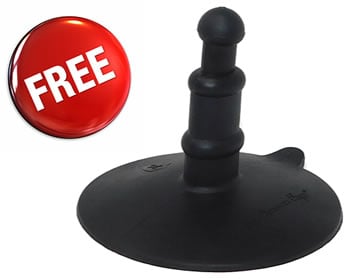 I do like the minimal packaging used by John Thomas Toys. Their dildos do not need more in my personal opinion, and the lack of packaging waste is good for the environment too.
As I delve past the four dildos, I find the black branded small carrier bags, each of which holds a faux velvet storage bag, one for each Predator.
When you buy a dildo from John Thomas Toys, you receive a free faux velvet storage bag. Each bag is black with the white JTT insignia and brand name.
You also get one of their new designs of vac-u-lock compatible suction cup adaptors, but I wasn't sent one for this review. It gives you extra play options, especially if you want to ride The Predator.
Materials and design
The Predator is made using the finest quality medical grade platinum silicone. So you know you are buying a quality product. Platinum silicone is my go-to material for insertable sex toys. While yes it is more expensive, it is also much safer than alternative materials. This is because it is body-safe, non-porous, stain-resistant & is incredibly durable. If you look after silicone properly, it will last you for a very long time. That is why John Thomas Toys can offer a no quibble replacement lifetime warranty on their toys.

The four sizes mean you can enjoy one no matter how you like to play
As with all the dildos from John Thomas Toys, The Predator was made in copper moulding. This method is more expensive but ensures that each dildo out of that mould will have exactly the same features and quality as the one before it.
Having said that each of The Predator dildos will have unique colouring. This is because it has been made using a hand pouring technique called fusion. This dildo currently has two colour choices so you can choose the mix you prefer.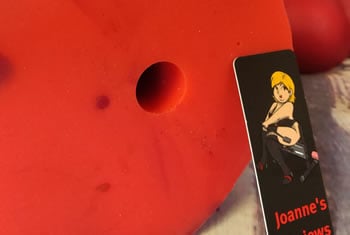 There are two firmness ratings available (soft or medium), I was sent the medium, which is my preferred rating. I like the fact that it is reasonably firm with just enough give that you can squeeze it comfortably, without losing the shape.
With the vac-u-lock compatible hole in the base, you can also enjoy this dildo with a strap-on, suction cup or fucking machine. This means that you really can go all out when playing with The Predator.
The uncut foreskin of The Predator gives you a glimpse of the head peeking through, but this is no tame, smooth dildo. This dildo has lots of bumps, ribs and large nodules, enough for anyone who enjoys the stimulation all these will make.
While yes sometimes a smooth dildo is what you want, sometimes you want the thrill that comes from more. In my opinion, The Predator gives you that.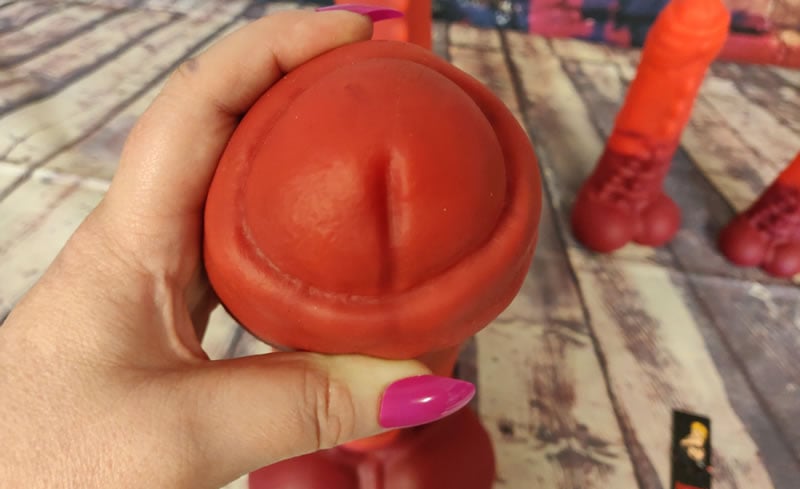 The uncut tip of the dildo looks fantastic and it feels great too
From the top-down, it starts with the head peeking through the raised uncut foreskin, giving you a pleasant ridge around the head. Then you find that the raised foreskin also has ringed ribs spaced around it, leading to a ring of spaced out bumps around the top of the shaft. With most dildos, the head is slightly larger than the shaft, but The Predator does not give you that. It boasts an impressive width all the way down, which is made wider by the numerous ribs, bumps and nodules.
One side of the shaft has impressive-looking ribs spaced out down the shaft, these are quite wide as they slightly wrap the shaft. The other side offers shorter ridges down the centre of the shaft, these are somewhat more intense as they are just as pronounced but much shorter. Then as you get lower, you come across these wonderful deep nodules or bubbles. These form a wedge shape getting wider towards the balls.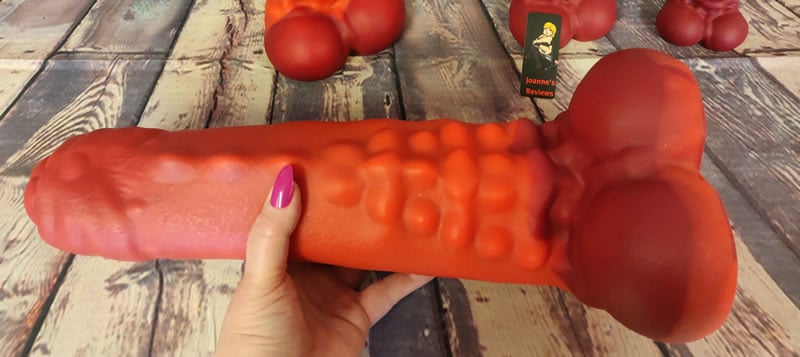 The four sizes mean you can enjoy one no matter how you like to play
I do not know what the rest of The Predator's body would look like, but I am pretty sure that at one look at what he is packing would have many dropping their pants and bending over.
Sizes
| * | SMALL | MEDIUM | LARGE | X LARGE |
| --- | --- | --- | --- | --- |
| Length: | 7"/17.78cm | 9"/22.86cm | 12"/30.48cm | 16"/40.64cm |
| Base Height: | 1"/2.54cm | 1.6"/4.6cm | 2"/5.08cm | 2.5"/6.35cm |
| Circumference top of shaft): | 4.5"/11.43cm | 5.8"/14.73cm | 7.5"/19.05cm | 10.4"/26.41cm |
| Circumference (middle of shaft): | 5"/12.7cm | 6.5"/16.51cm | 9"/22.86cm | 11.2"/28.44cm |
| Circumference (base): | 8.8"/22.35cm | 11.2"/28.44cm | 15"/38.1cm | 20"/50.8cm |
| Max Insertable Length: | 6"/15.24cm | 7.9"/20.1cm | 10"/25.4cm | 13.5"/34.29cm |
| Weight: | 0.25kg/0.55lbs (*variable) | 0.57kg /1.27lbs (*variable) | 1.35kg/2.97lbs (*variable) | 3.19kg/7.03lbs (*variable) |
| Price: | £69.99 | £99.99 | £169.99 | £229.99 |
Performance
So how did The Predator from John Thomas Toys perform in the bedroom? Keep reading to find out ;-)
The shape of the head means that with just a bit of water-based lube it slides in fairly easily, then you get to the first ribs. At this point, it needed just a little more pressure to push each one inside. I loved the slight stretch I get before each one enters.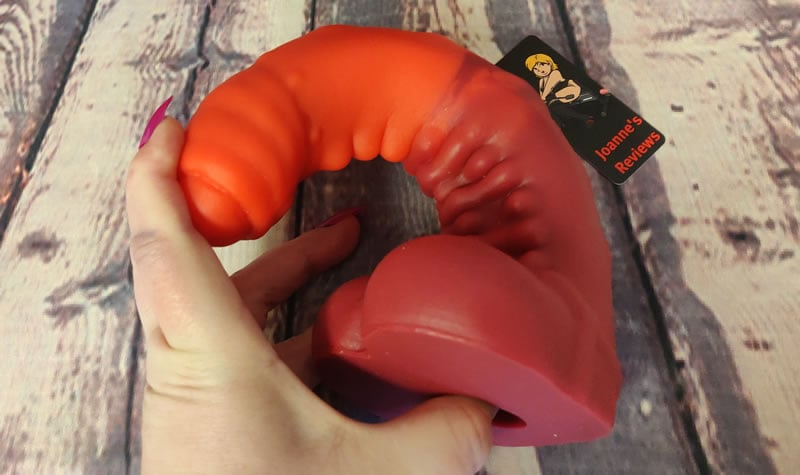 The silicone blend used on The Predator is very flexible and feels fantastic
As the length slides in further the bubbles or nodules come into their own. Positioned properly, they rub over the clit on the way in and on the way out.
This guy really has it all, the ribs not only stimulate the walls of my girly bits but the bumps run across the other side beautifully. Then you come to the bubbles or nodules, they start off with a single one then expand out in number the further down you go. These bubbles are relatively rigid, and rub the clit at every push in and pull out.
With all these raised areas, the amount of stimulation is fantastic and very well received. Hand play with this dildo has me getting sooo wet, get it on a machine, and I am gushing.
The balls do make excellent handholds while pounding it into you. By twisting The Predator, you can increase the simulation even more.
Another excellent feature of silicone is you can temperature play. Heat it slightly or slightly chill it to experience another side of this dildo.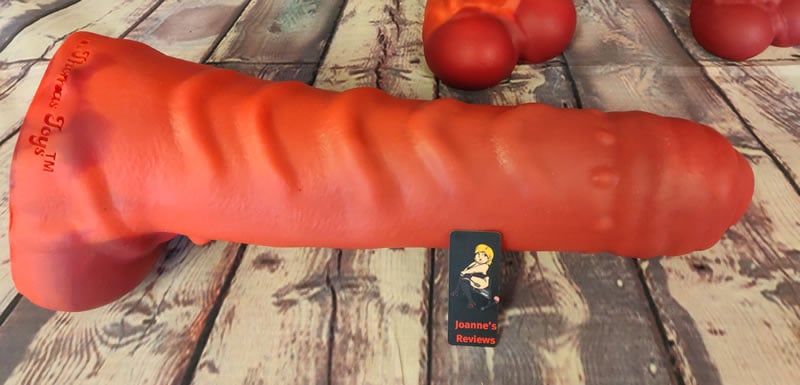 The ridges on The Predator feel amazing on the way in and back out again too
Once you have finished playing you can clean it in hot soapy water or just put it in the dishwasher. Ensure all the vag-goo has been removed from the various raised surfaces and leave to dry.
Once The Predator has finished his bath and is fully dry, place him in the simple but elegant faux velvet bag, so he is kept clean and safe for next time. And if you enjoy this dildo as much as I did, he will not be in the bag for long.
I enjoyed The Predator vaginally while my submissive being a bit of an anal slut really enjoyed using the more modest-sized ones anally. She relishes all of those textures too. With four sizes to choose from those of you who really enjoy a good challenge have something to stretch and please you. As always John Thomas Toys caters for beginners all the way to size queens.
---
Check Out The Video Review On Youtube
---
Looking for a body-safe silicone fantasy uncut dildo with some delightful textures? Check out The Predator dildo from @JohnThomasToys.
Click to Tweet
Key Features
Key features:
100% body-safe platinum cure silicone
Four sizes available
Two hardness ratings
Hole in the base for vac-u-lock attachment
Free - Velvet feel drawstring storage bag
Free - Vac-u-lock compatible suction cup adaptor
Lifetime no quibble warranty
I would recommend it to:
Anyone who prefers an uncut dildo
Anyone who wants a vac-u-lock compatible dildo
Anyone who wants a bumpy ride
Anyone who enjoys lots of stimulation
I wouldn't recommend it to:
Anyone who does not like fantasy dildos
Anyone who does not like ridges and bumps
Anyone who wants a cut design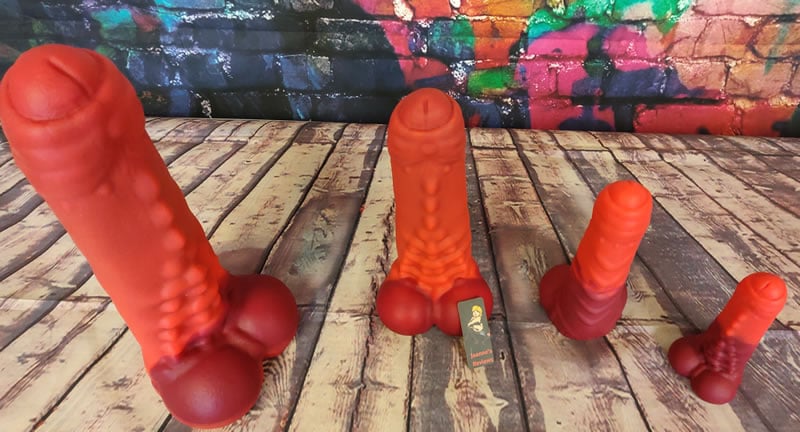 The Predator is available in four sizes so grab the one that will best fit your "needs"
Final Thoughts
I certainly recommend getting The Predator from John Thomas Toys for yourself. If you love the idea of feeling all those ribs, ridges and nodules, then it is surely a no brainer.
Not just for vaginal play, as with all of the John Thomas Toys, this one is also great for smashing your back doors in too. So no matter how you like to enjoy your silicone cock, The Predator is a delight to ride and enjoy.
With four different sizes to choose from, there should be the perfect size for you. Check the measurements before ordering though to make sure you are getting the size you want.
I thoroughly enjoyed time with the Predator, so much so that he will not be put away in my toy box for quite a while, now where did I put that bottle of lube?
I was sent these The Predator Dildos by John Thomas Toys to review in exchange for a fair and honest review, and I would like to thank them for giving me the opportunity to review it for them.
Joanne's rating
Where Can I Get One From?

Grab one of these amazing fantasy uncut dildos direct from John Thomas Toys with prices starting at just £69.99. At the time of publishing this review, John Thomas Toys are having a 50% off sale so grab one before they are gone as I'm sure this design will be flying off the shelves.
Check them out and don't forget to tell them that Joanne says "Hi".
---


If you enjoyed reading this review then check out my other reviews of John Thomas Toys products:
Silicone Dildos
---
Disclosure
This review does not contain affiliate links, for more information about affiliate links check out my disclosure page.