Delivery & Packaging
As usual, these dildos arrived well packaged in a plain box. I always feel sorry for the delivery driver when he brings it to my door. Thankfully the dildos came in a sturdy, well-taped box. So I didn't need to worry about the box coming open while on its journey.
Inside the box, the dildos were packed in with brown paper, and I also received a faux velvet storage bag for each dildo inside a branded small plastic carrier bag. The box also held the John Thomas Toys own design of suction cup vac-u-lock compatible attachments.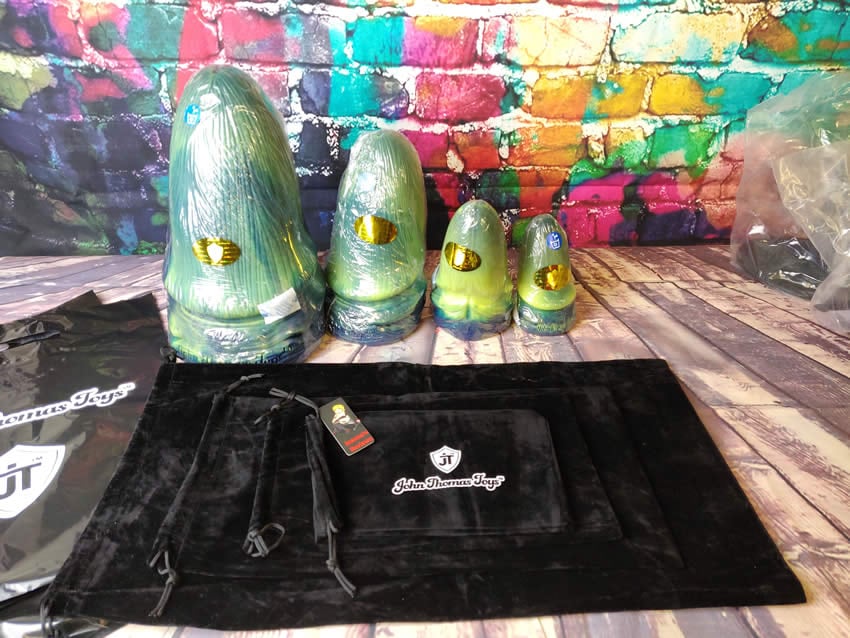 All four sizes of the Dick Head are an impressive sight with immense girth to even the small one
On diving into the box, I was excited to see the newest addition to the John Thomas Toys product range, the Dick Head.
Each dildo was individually packaged in clear shrink wrap, and included on the wrap was the JTT gold foil sticker and another sticker to remind you to wash the toy before use. Something that we should all do before inserting a new toy, not because it is dirty but because it will probably still have residue from the release agents used in the moulds.
The faux velvet drawstring storage bags look great with the white branding, and I do like the small branded bags these are packaged in too. The bags are sized to easily fit the dildo it comes with.
You also get a free vac-u-lock suction cup adapter with every dildo purchased. The small one was the original size and worked well. But the largest one provides a much larger surface area for the suction cup, meaning that they are excellent for the large and extra-large sized dildos.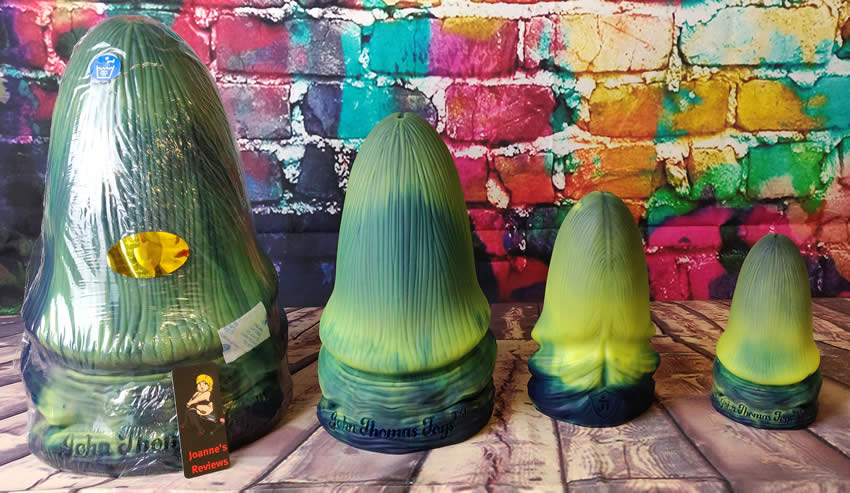 The colour scheme of these stretchers is sublime
Materials and design
I was stunned by the detail put into the design of this toy. At first glance, you may think that there is not much to a Dick Head, but then you take a closer look. The lines you can see in the picture are actually grooves, giving an excellent feel to the head. As you move down the toy, you get a lovely flared glans. Which then leads on to the pulled back foreskin, giving you some great ridges to enjoy. That is if you can get that far down.
I usually think that it would be a challenge to get the whole length of the toy inside you. With Dick Head, it is because of the girth of the dildo. This dildo from John Thomas Toys is a stretcher, and it certainly does the job well.
With the very top being shaped to make initial entry easy, it then widens the width all the way down.
The colour is made using a hand pouring technique called fusion, which gives a slightly different colour on every dildo. The copper moulds ensure that every dildo will have precisely the same features no matter how many have been made beforehand. The colour mix method means that every dildo made with this method will have its own unique colour finish. The colour scheme on this one looks amazing but the other one available on the John Thomas Toys website has to be seen to be believed.
Each Dick Head has a vac-u-lock compatible hole in the base. John Thomas Toys even include a free suction cup vac-u-lock attachment with every dildo. These are their own design, and they hold the toy well on a smooth flat surface. With the large size adapters now you can ensure the large and extra-large size toys are going to be fully secured while you play.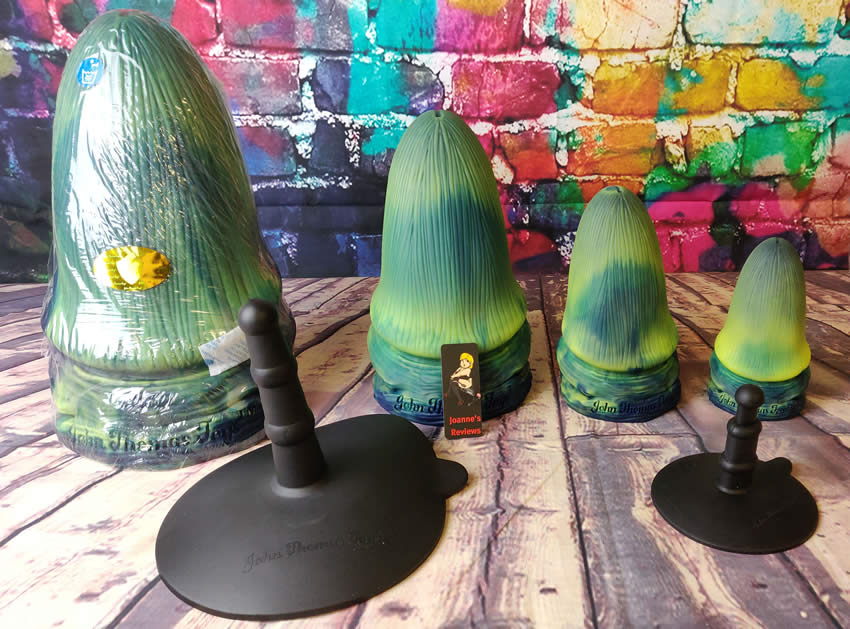 The Large and XL come with their own larger than life suction cup vac-u-lock adaptor to ensure they stay stable in use
I love the fact that all John Thomas Toys are made from high-quality, platinum grade silicone. This is because I prefer silicone toys as they are body-safe, non-porous, phthalate and latex-free. Another great thing about silicone toys is that if you look after them, they will last a very long time, giving really great value for the money.
John Thomas Toys have so much faith in their toys and materials that they offer a lifetime warranty on all of their toys and products.
With four sizes and two hardness ratings to choose from you can choose one to challenge your holes.
| * | SMALL | MEDIUM | LARGE | X LARGE |
| --- | --- | --- | --- | --- |
| Length: | 5.5"/13.97cm | 7"/17.78cm | 9"/22.86cm | 12.5"/31.75cm |
| Circumference (top of shaft): | 6"/15.24cm | 8"/20.32cm | 10.5"/26.67cm | 12"/30.48cm |
| Circumference (middle of shaft): | 7"/17.78cm | 9.5"/24.13cm | 13"/33.02cm | 17.5"/44.45cm |
| Circumference (base): | 8.8"/22.5cm | 11.4"/29cm | 15.3"/39cm | 19.5"/49.53cm |
| Max Insertable Length: | 5"/13.21cm | 6.5"/17.01cm | 8.5"/21.89cm | 12"/30.48cm |
| Weight: | 0.36kg (*variable) | 0.77kg (*variable) | 1.85kg (*variable) | 4.42kg (*variable) |
| Price: | £69.99 | £99.99 | £169.99 | £229.99 |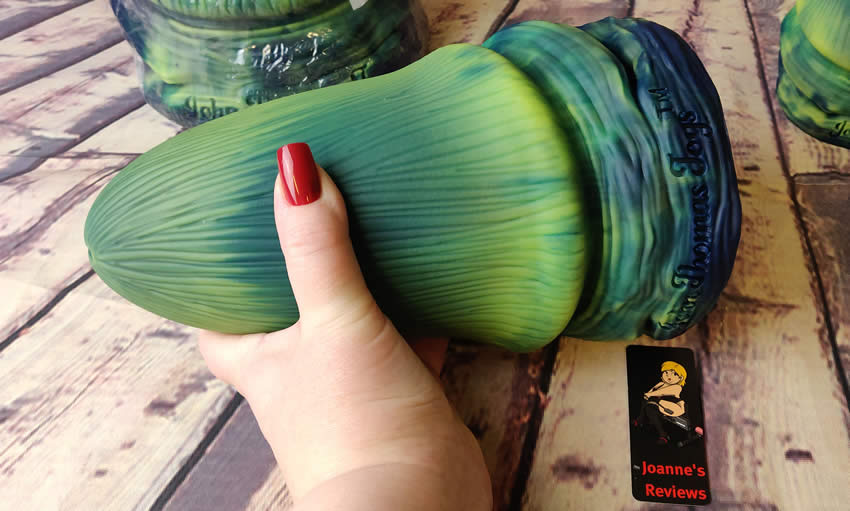 The surface textures on the glans are subtle but they feel great in use
The faux velvet storage bags look great with the black colour and the white branding. They are also practical, as they give you a safe storage bag for your toy.
As with all silicone insertable toys you can wash these in the dishwasher, or in warm soapy water, the choice is yours. You can also enjoy some temperature play.
Performance
Now for my favourite part of the review where I get to tell you how I played with the Dick Head from John Thomas Toys.
Usually, I would prefer to play with the medium or large-sized dildo, however, with the girth of these, I preferred the small and medium. This was because I wanted to enjoy the toy, but not necessarily for the full stretch effect.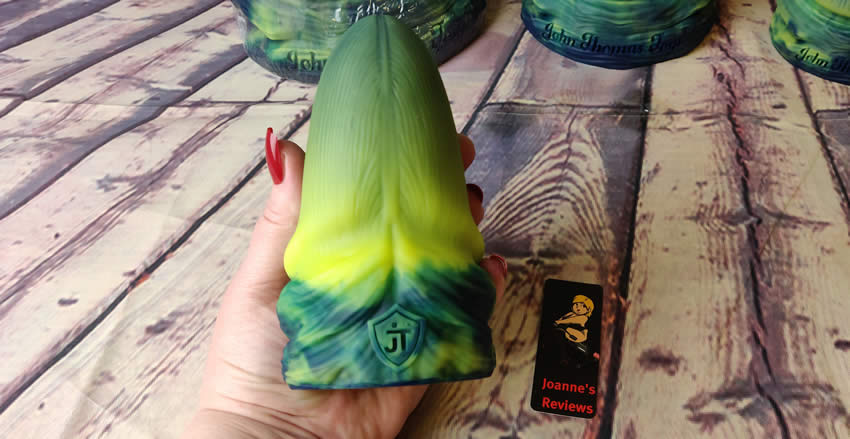 The medium not only felt good but it looks incredible too, those ridges under the glans are amazing
The texture of the silicone together with the grooves and ridges all down the head feels great. The shape of the tip helps for easy insertion before the girth gets larger. As you push more inside you start to feel the stretch, the full feeling does feel incredible, put together with the ridges and grooves, and it is a fun ride.
If you are lucky enough, (or determined enough) to get past the head, you feel the ridge of the glans, then get to enjoy the ridges and bumps of the pulled back foreskin. If you are wanting to take as much of the length as possible, I recommend using it with the suction cup adapter or with a fucking machine.
On the small size, I managed to enjoy dragging the ridge of the foreskin over my clit, the sensations created were epic. It did take quite a bit of water-based lube for me to take that much though.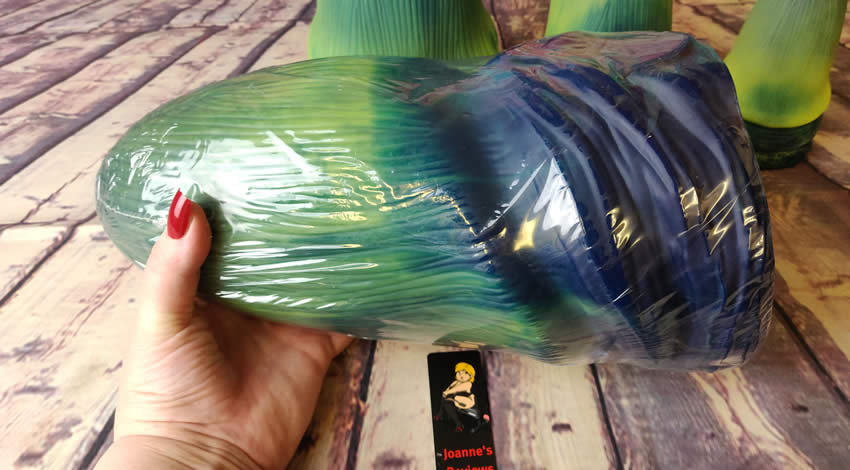 The XL is eye-wateringly large and there is no way I could even attempt to take it LOL
I found it fun to use on the suction cup, as it allowed me to slowly take more of the girth than I managed by hand.
The groves and texture of the silicone give pleasant stimulation on entry and exit, and if you twist it, they are even better. I really enjoy the feel of the ridge of the glans on when pushing in and when pulling out, I felt the pop then the extra stretch.
The Dick Head is exactly that and it has been designed to be the perfect stretcher for any hole it is used on. Check out Joanne's review of this silicone stretcher from @JohnThomasToys.
Click to Tweet
Key Features
Key features:
100% body-safe platinum cure silicone
Four sizes available
Two hardness ratings
Hole in the base for vac-u-lock attachment
Free - Velvet feel drawstring storage bag
Lifetime warranty
Free vac-u-lock compatible suction cup adaptor
I would recommend it to:
Anyone who prefers larger toys
Anyone who wants a vac-u-lock compatible stretcher
Anyone who wants a body-safe dildo/stretcher
I wouldn't recommend it to:
Anyone who wants a standard dildo
---
Check Out The Video Review On Youtube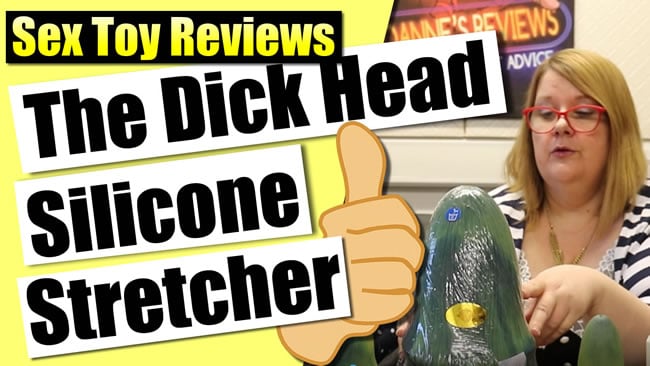 ---
Final Thoughts
True to Dick Head's design, he really does stretch you. You just need to decide which hole you want stretching. Just make sure you have plenty of water-based lube to hand.
If you just enjoy feeling fully stuffed, then you might enjoy the feeling of Dick Head from John Thomas Toys. I certainly enjoyed myself with this guy.
As with all John Thomas Toys, it is essential to check the measurements. You do not want to be disappointed when your order arrives, and it is either larger or smaller than you thought..
Dick Head is ideal if you are looking for the perfect way to stretch yourself, and standard sized toys are no longer working for you.
I was sent these four Dick Head Stretchers by John Thomas Toys and I would like to thank them for giving me the opportunity to review them.
Joanne's rating
Where Can I Get One From?

Grab one of these fantastic body-safe silicone stretchers direct from John Thomas Toys with prices starting at £69.99, and at the time of publication they are having a 70% off Autumn sale so grab one before they sell out.
Check them out, and don't forget to tell them that Joanne says "Hi".
---


If you enjoyed reading this review then check out my other reviews of John Thomas Toys products:
Silicone Dildos
---
Disclosure
This review does not contain affiliate links, for more information about affiliate links check out my disclosure page.